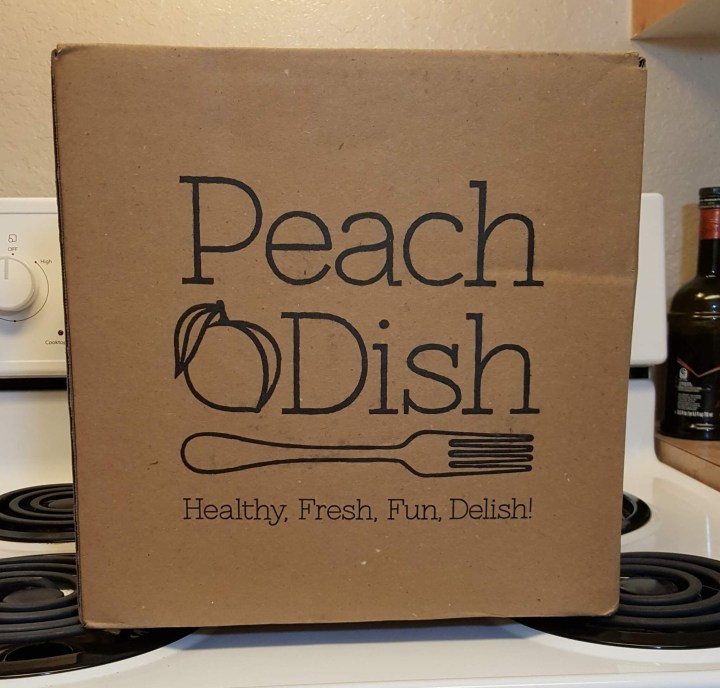 PeachDish is a fresh food/dinner kit subscription, sending the ingredients and recipes for 2 meals for 2 people to your house each week for $50.  They are now using UPS 2 day delivery.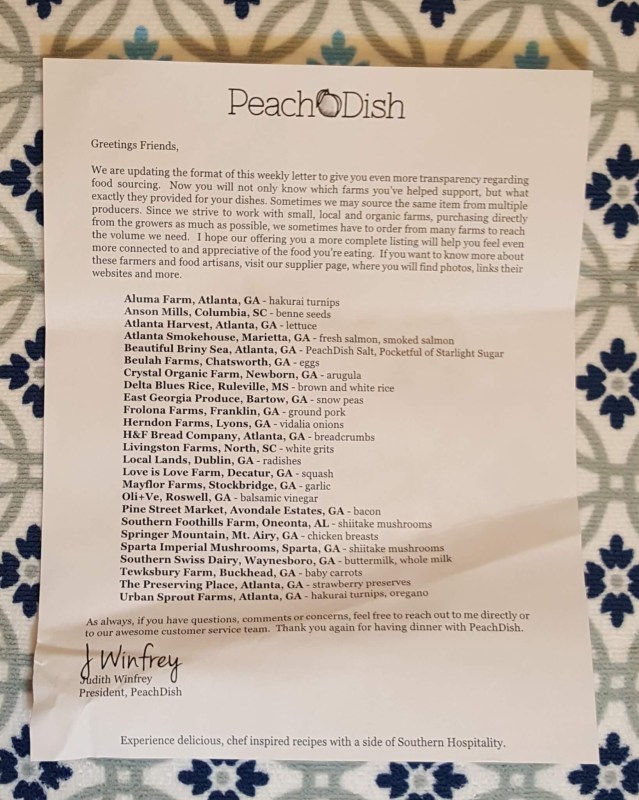 Peach Dish recently updated the format of their newsletter and are now providing details on where ingredients are sourced for the week's menu choices.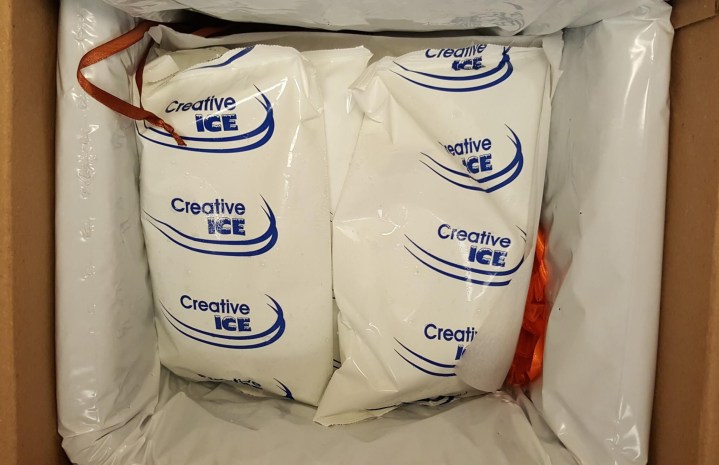 Everything is packed in jute insulation…  And there are multiple ice packs to keep food cold.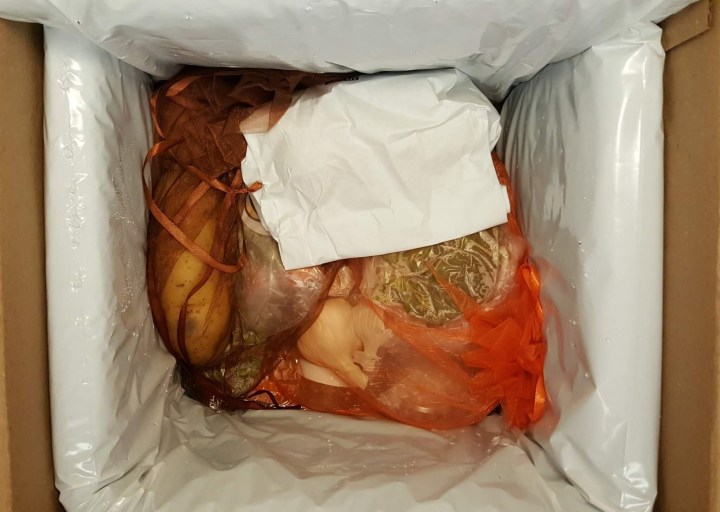 All non-meat ingredients are packed in mesh bags; one bag per meal.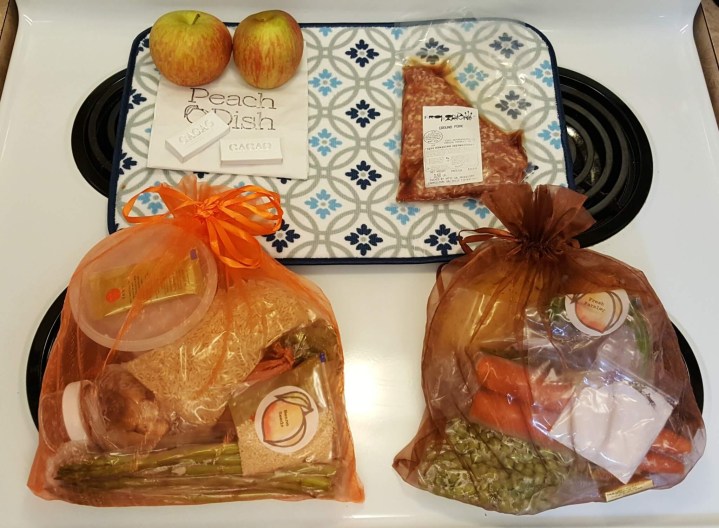 Here are the ingredients for the two dishes I ordered.  The meat was packed in a mylar insulated bag, but I removed it for the picture.  There was an ice pack resting on the bag with meat for additional cooling.
Each dish comes with a fold out information card.  The front shows a picture of the completed dish, and the back of the card provides nutritional information and details on the chef who created the recipe.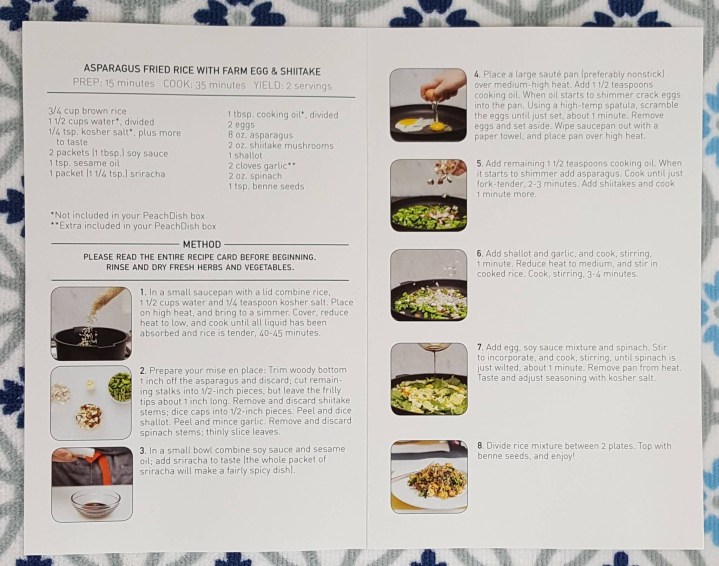 Inside the card, you'll find step-by-step directions to help you make the meal.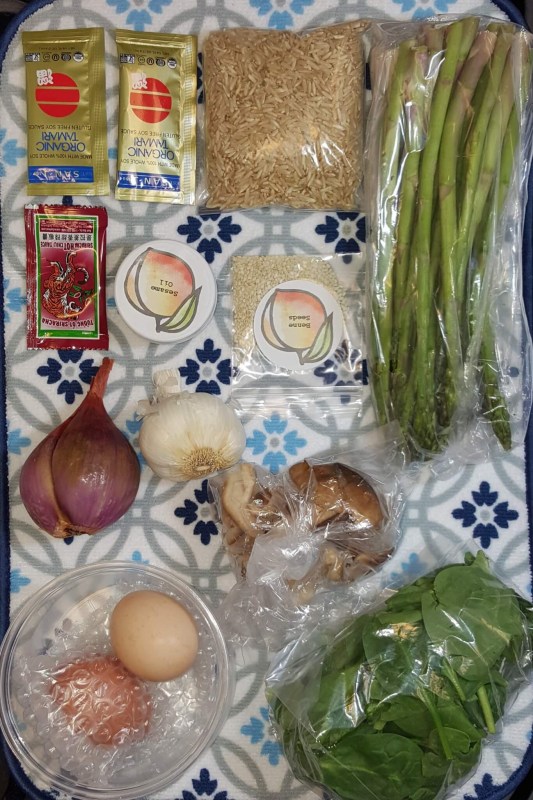 Ingredients – Asparagus Fried Rice with Farm Egg & Shitake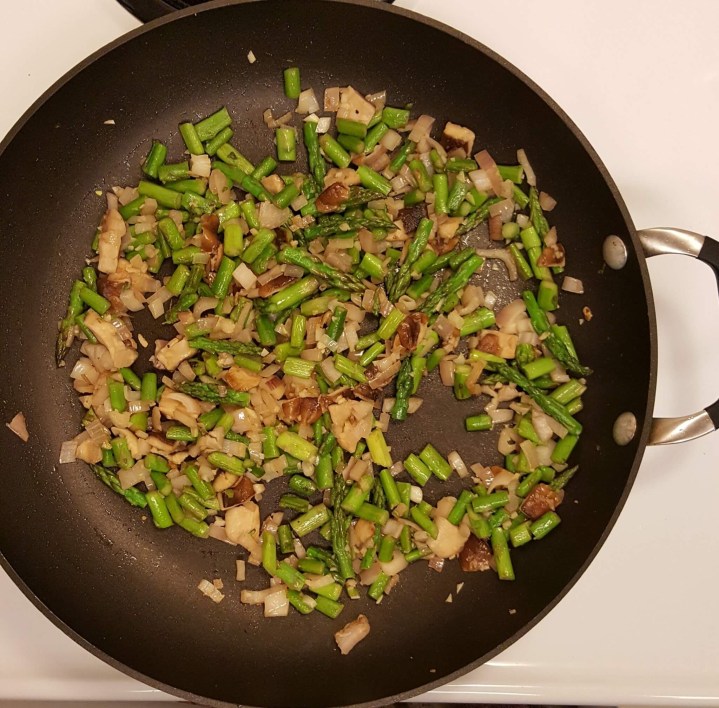 The sauteed veggies look yummy just as they are.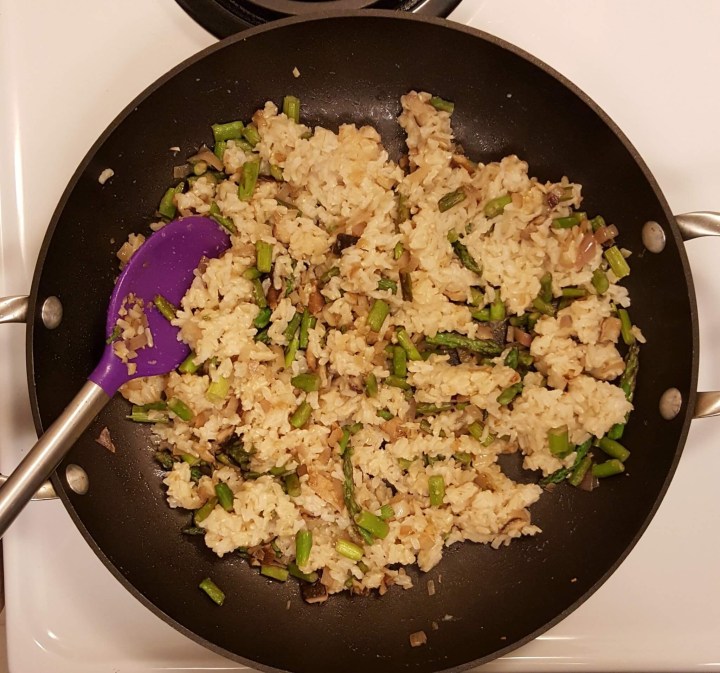 But, the rice brings it all together.
My finished fried rice bowls.  I had some issues making this meal.  My rice wasn't fully cooked in the time noted on the recipe.  I think it may have been simmered at too low of a temperature.  It also came out a bit gummy.  I don't normally make brown rice, so this could have been my goof.  Based on the time the rice was supposed to cook, I timed out cooking the rest of the components.  Since the rice took longer than expected, the veggies and egg had to be reheated before I added in the rice.  Otherwise, this was a very filling and tasty meal.  Also, I was very light with the sriracha since its flavor can be overwhelming.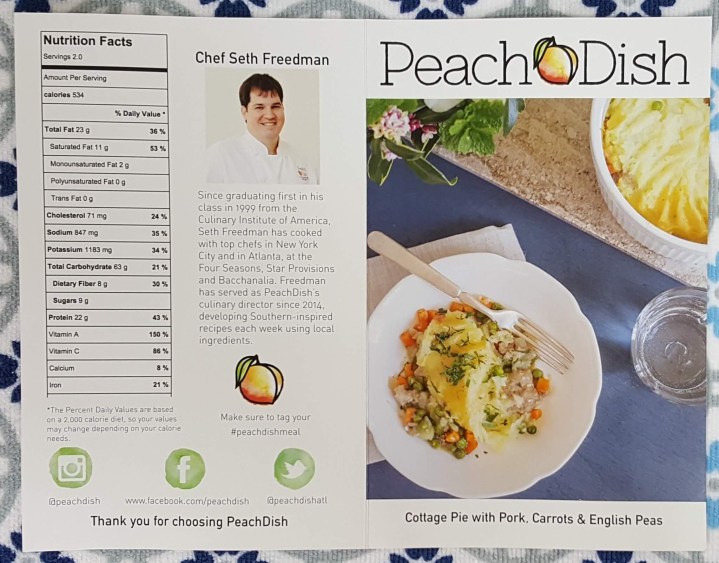 My second dish for the week was Cottage Pie with Pork, Carrots & English Peas.  This is basically a variation on Shepherd's Pie.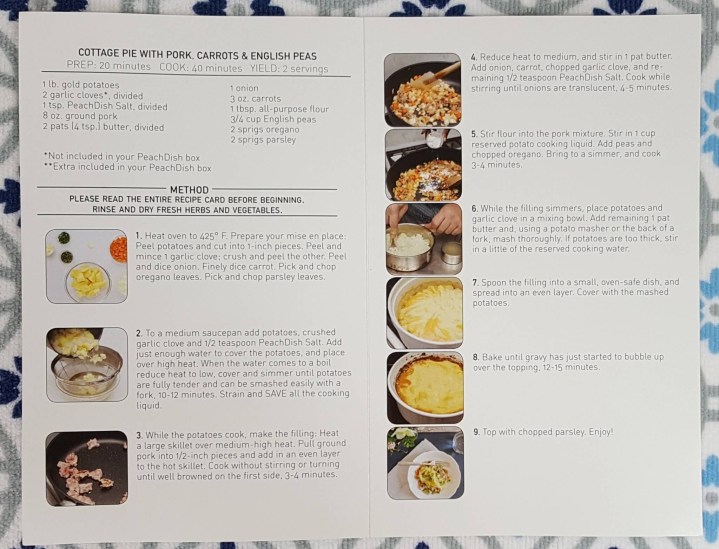 Step-by-step directions with photos.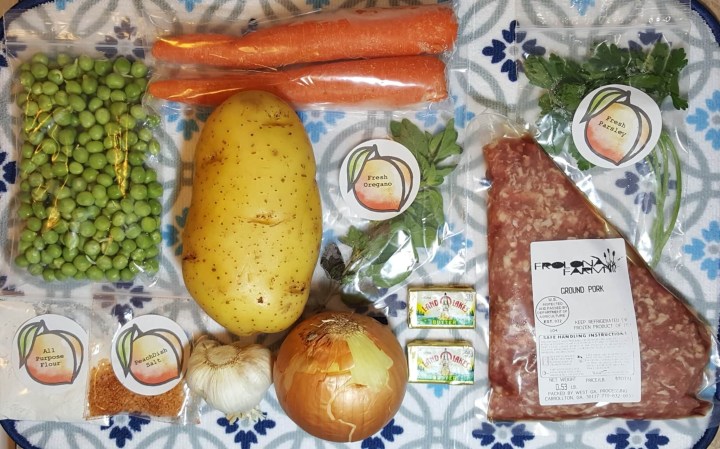 Ingredients – Cottage Pie with Pork, Carrots & English Peas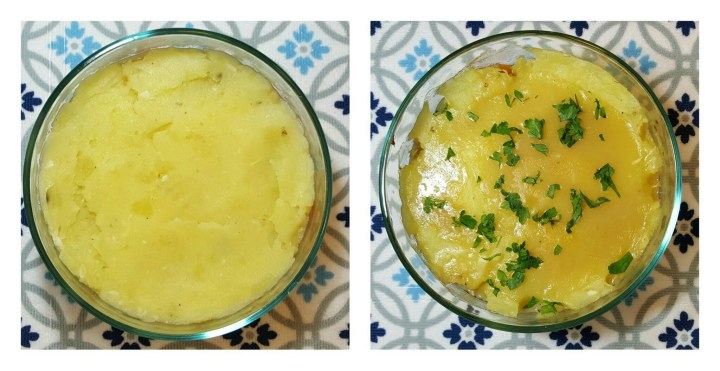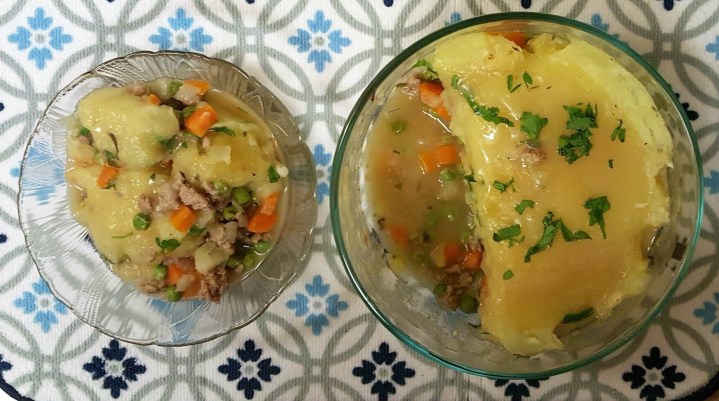 Hello delicious!  This was very hearty and would be great on a cold night.  The garlicky mashed potato on top was surprisingly creamy – there was no milk or cream in it.  I also liked the glaze that was formed on top of the potato by the gravy that bubbled up.  The peas and carrots kept some of their bite and weren't the least bit mushy.  This recipe is a definitely a keeper.
And my bonus, dark chocolate and apples.  Dad totally swiped an apple after I got this picture.  Not sure what variety they were (maybe honeycrisp?), but they were sweet with a slight bit of tartness and crisp.
Again, I was impressed with Peach Dish.  The quality of the ingredients is superb, and they truly give you everything for your meals and then some.  For $50 you get 2 great meals and enough food to feed 2 adults more than comfortably.  Honestly, this is cheaper than eating out twice a week.
On a side note, I did have some account issues and had to contact customer support.  I think everything is fixed now, but I'll have to check billing to be sure.
Have you tried Peach Dish yet? You can get $10 off the first box with coupon code aEQw1MIS.
Visit PeachDish to subscribe or find out more!
The Subscription
:
PeachDish
The Description
: Get a box of recipes & ingredients once per week to make 2 meals for 2!
The Price
: $50.00 every week