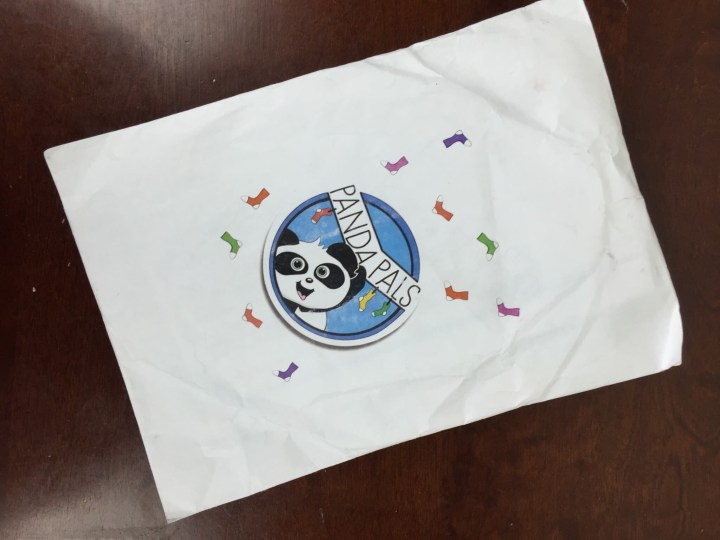 Panda Pals is a play and learn monthly sock subscription for kids.    Every pack contains two pair of socks and an activity pack.  The outer packaging was a bit simple this month — sometimes the illustrations are pretty intense!
Everything in the box.  You get two pairs of cute socks and a story and socktivity pack.  This month's theme was all about helping out.
You receive two pairs of socks — one to wear, and one to use in the activity (and wear later).
The pack included a sheet of stickers featuring our pal the Sock Panda and our new friend, Little Peep, along with some items they can use to help out.

The box also includes stickers and a pack of crayons.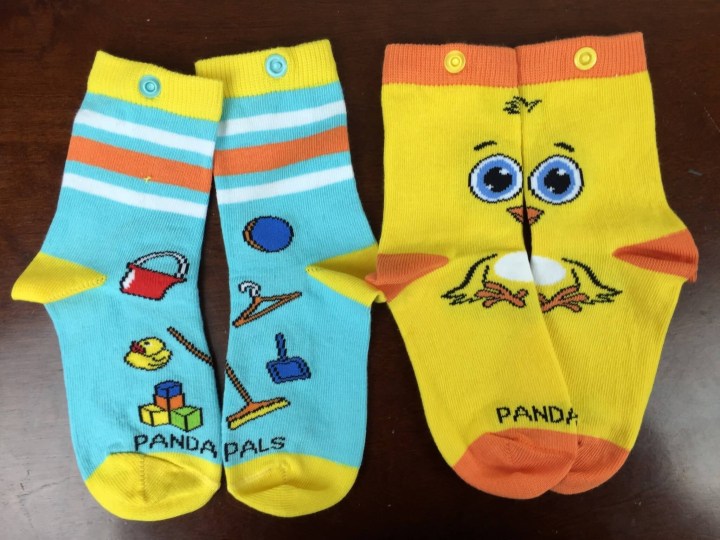 The image runs across the front of each sock when worn (it only looks split across the socks because we are seeing opposite sides of each sock in this photo).  One pair had a picture of items bing picked up, the other has Little Peep!
The pairs are super adorable!  The sizing is very versatile, too.  I've had both my 18 month old and 7 year old in the same size socks, though they were knee socks when worn by the former!  They fit both of my older kids (5 and 7) very well.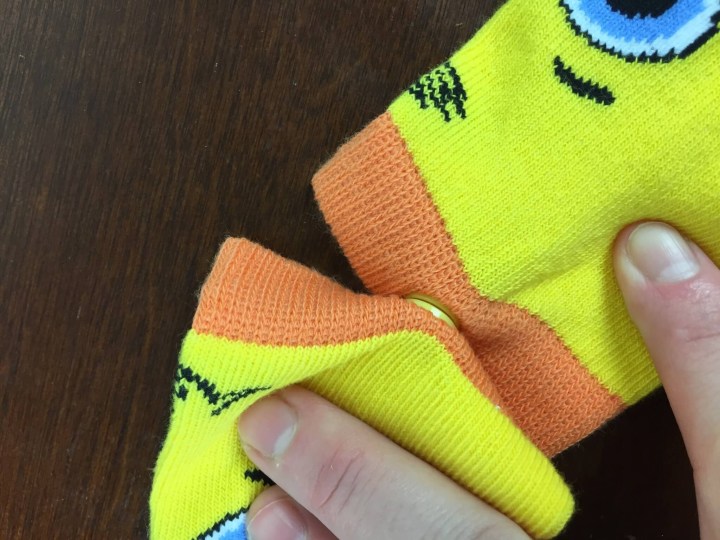 Each pair is constructed of durable Peruvian cotton — they even snap together, so they don't get lost before you get to wear them out!  The snaps are totally awesome!  We have 2 buckets full of unpaired socks in our house waiting for their mates to turn up, and we don't need to add to them!  I've seen this approach with mittens, but Panda Pals is the first I've seen that applied it to socks.
The socktivity packet is meant to engage the kids in fun, sock-inspired learning.  The puppet-like tactile stimuli from the sock increase child interest and involvement in the activities.  This month's activities centered around helping out others in small ways.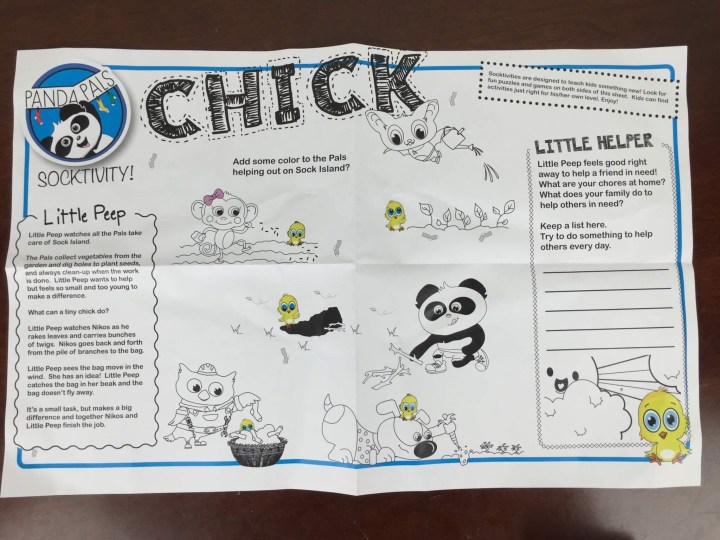 Both sides of the activity sheet have learning activities, including coloring, guided discussion prompts, and a puzzle.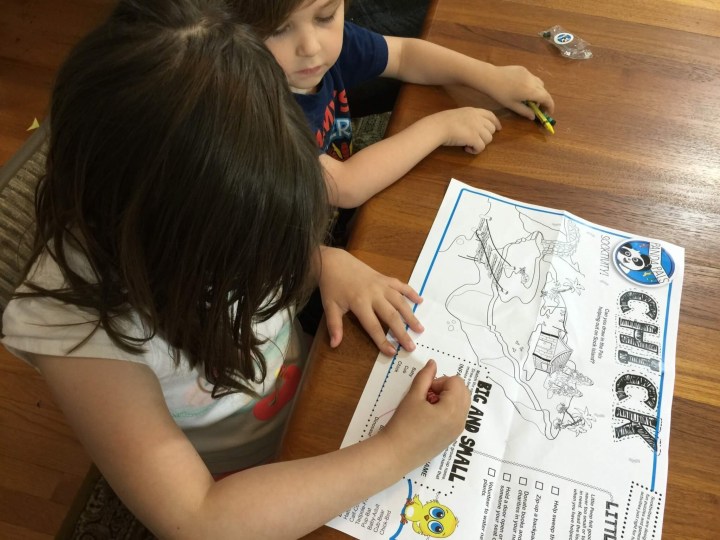 The activities are good for a range of ages — elementary school age kids could do most unassisted, and they are accessible for younger kids if a little help is given on reading the prompts.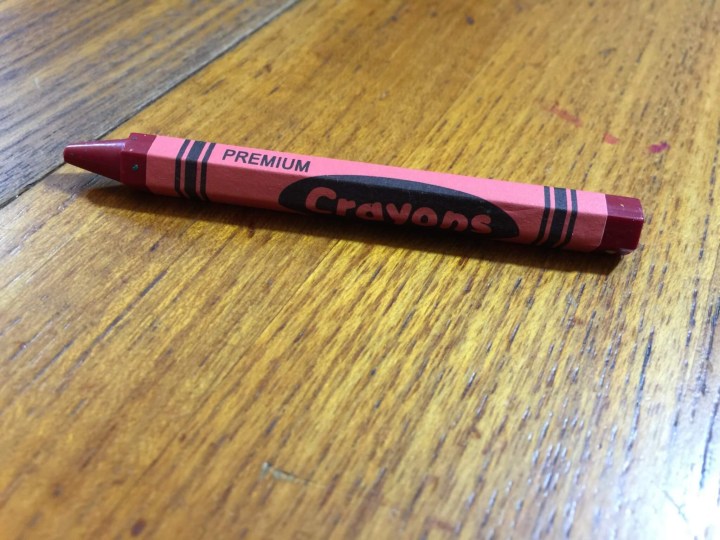 Even the crayons are pretty cool — they are hexagonal to they don't roll away!
The activity sheet has room between the activities for coloring, drawing, and applying stickers.  Panda Pals is a great kit to take along if you are going to be in a waiting room or restaurant for a while, since it is light and has relatively few pieces.
Panda Pals is a very unique subscription, combining practical clothing and fun activity subscriptions in one, with the latter using the socks to help reinforce the lessons.  Our kids had a lot of fun with it — the socks themselves are so cute the kids loved wearing them!
Have you tried Panda Pals? Get a free month added on to any 6 month subscription! Use coupon code SPRINGSOCKS. Expires 05-31-2016
Visit Panda Pals to subscribe or find out more!
The Subscription
:
Panda Pals
The Description
: Play and Learn Sock Subscription! Receive one pair of socks to play, one pair to learn, a story, and an activity! Socks snap together so they never get lost.. Made from premium Peruvian cotton that lasts. We donate socks to those in need with every purchase.
The Price
: $15.00 per month