Pampered Teacher is a subscription box designed by the daughter of a teacher (and a home room mom) especially for educators. It includes items from the fashion, beauty, and classroom categories and aims to help you take time out for yourself during the hectic school year. It is available as a one-time purchase, or a 3- or 6-month subscription. They allow you to customize your box by style (classic, trendy, or eclectic), teacher type (elementary, special education, etc.), hair accessory preference, whether or not your ears are pierced, and if you have a food allergy to chocolate, nuts, or soy. (Note: I am an early childhood special education teacher but I did not get to choose my box as it was sent for promotional purposes).
Please keep in mind that the boxes are geared toward women but there is a one-time purchase gift box for your favorite male teacher available here.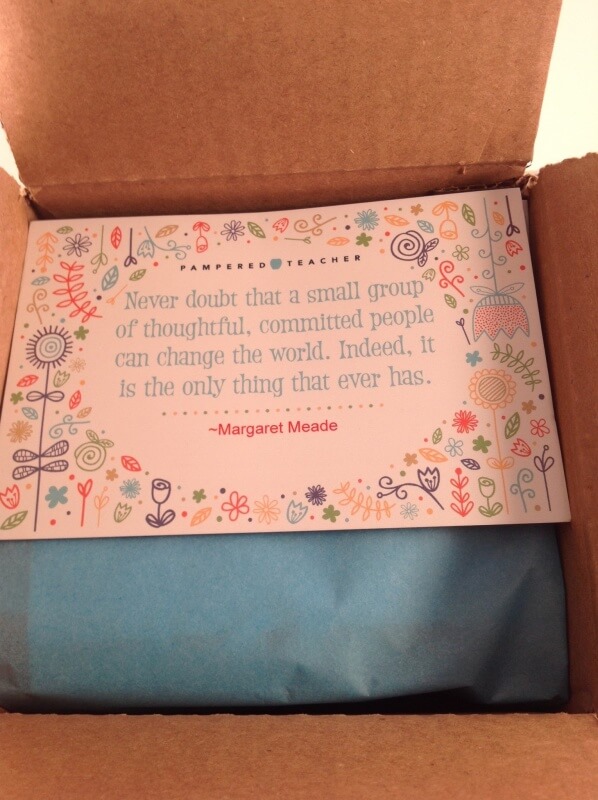 The box size can change from month to month but I am not sure how they got everything in this tiny box! It was much too small to get a picture of everything in it but it did have a nice presentation with a pretty card on top that picked up the blue from the tissue paper.
I thought this alphabet washi tape was so pretty! I wonder where I can get a roll of that?
The product information card had pretty springtime flowers and an inspirational quote from cultural anthropologist Margaret Mead.
The back side of the card listed the items included in the box. No values were given but I will do my best to estimate the value according to Google.
Everything that was in the box. I couldn't wait to see how big the bag was and it was pretty huge!
There was a discount offer included to receive 20% off of a purchase from Vine Street Market, USA.
Vine Street Market Canvas Tote ($24.99) This durable canvas tote with wide pink and white stripes is eco-friendly and made in the USA. It is designed to hold up to 60 lbs and folds up into its own pocket so you can store it when not in use or pack it in your suitcase and then use it to bring home some souvenirs on your next trip.
Here is the tote bag in all of its unfolded glory. This is very useful not just for work but for play. I plan on carrying it to the pool this summer.
Octopus Head Massage Claw  ($6.19) This stainless steel and wood claw-shaped scalp massager has 12 fingers that gently stimulate the nerves on the scalp. It also added volume to my flat hair! Maybe they should rebrand it as a volumizer. Either way, it was gently soothing.
Cosmos Creations Spicy Sriracha Premium Puffed Corn ($1.49) These spicy corn puffs are gluten-free, contain no trans fats, and are made from non-gmo corn. As you can see from the picture there are little pieces of product coming from the bottom of the package. I thought that maybe it happened during processing but when I went to open the package I discovered that the back seal was open too so I was not able to try this item.
4 Small Pastel Binder Clips (29 cents) I can always use more binder clips to keep papers organized and I love the spring colors of these ones. This product is pretty AND practical.
20 pack Horizon Ginko Leaf Cocktail Napkins ($5.56) We have 20 students in our classroom and we have several celebrations a month but most parents forget to send napkins so these are perfect to keep on hand.
I really liked my first Pampered Teacher box! The items were pretty yet practical and fit the idea of the box perfectly. The colors are just right for the season and were exactly what I need right now but probably wouldn't think of to get for myself. If you are an educator or just want to treat your favorite teacher then consider this one-time gift or even a subscription. Of course, they will be happy with a heartfelt written note from your child too but if your child is THAT child consider treating them to some extra love.
What do you think about Pampered Teacher?
Visit Pampered Teacher to subscribe or find out more!
The Subscription
:
Pampered Teacher
The Description
: The Pampered Teacher Box is filled with special surprises in the categories of fashion, comfort, beauty and classroom to brighten your day!
The Price
: $29.00 per month