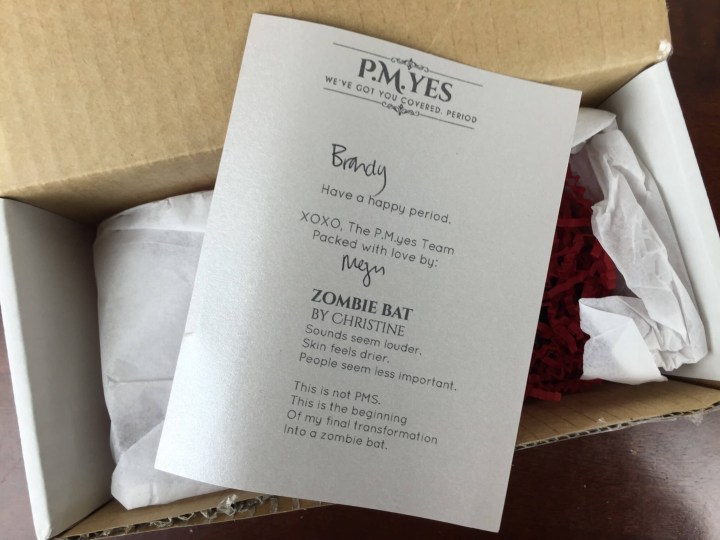 P.M.yes. is a monthly time of the month subscription box to make you feel better during your period. The subscription costs $15.00 per month, and each care package brings you chocolatey goodies, plus other surprises, to satisfy your cravings.
I laughed so hard about the info card! It includes the poem "Zombie Bat" by Christine.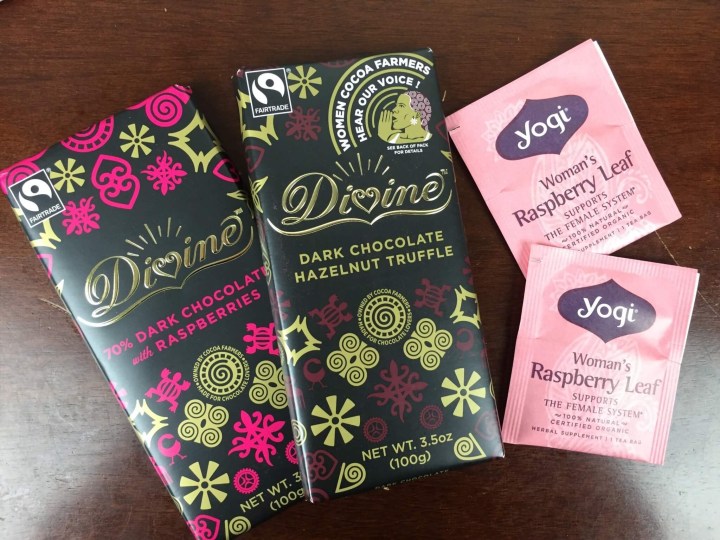 Everything in my May box! It's basically a TOM box with no period supplies, which was pretty much perfect!
When you sign up you will select what week of the month you want the foods delivered!
Yogi Woman's Raspberry Leaf Tea Bag ($0.44) Red raspberry leaf tea is perfect for soothing period symptoms!
Divine 70% Dark Chocolate With Raspberries ($3.99)
Divine Dark Chocolate Hazelnut Truffle ($2.99)
Yum! I love Divine chocolates and the selection was perfect given the woman-focused nature of the fair trade co-op that owns Dicine.
Yes, the co-op actually owns the company. That makes them super special.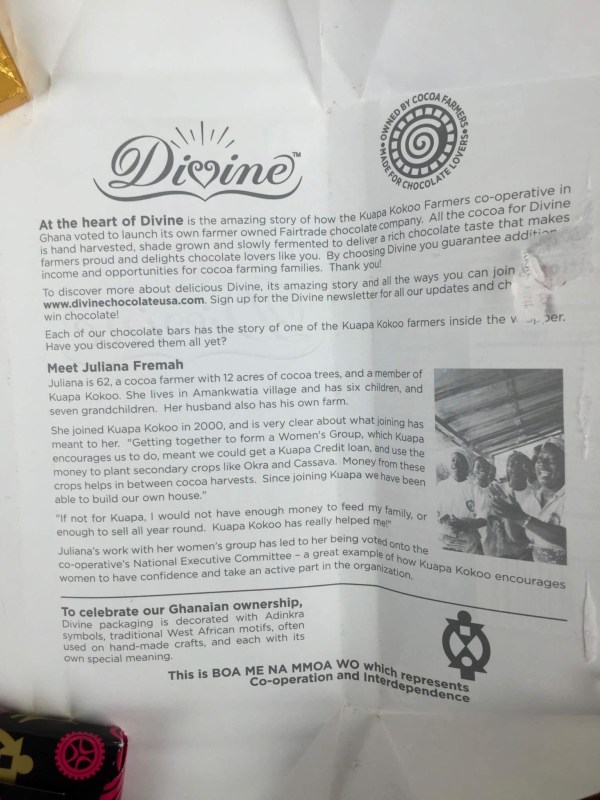 The inside of the wrapper has more info about the Ghanian Kuapa Kokoo collective that works to provide opportunities to women farmers. 
The chocolate is so good! I love the idea of this box – serious amounts of chocolate and a mini therapeutic experience timed with your period. This box costs $15 per month including shipping, but isn't so bad if you opt for the yearly option (it's a 17% discount). Most women do have periods monthly so I would consider it!
What did you think of P.M. Yes? You can save 10% on your first month with coupon code  COVERED.
Visit P.M.yes. to subscribe or find out more!
The Subscription
:
P.M.yes.
The Description
: Simply put, periods suck. P.M.yes. is a monthly subscription designed to make your period better. Every month, receive a care package during your period. Enjoy chocolaty treats that will satisfy your cravings and a couple surprises.Look forward to your next period.
The Price
: $15.00 per month