Oh My Cute is a monthly subscription delivering handmade baby accessories tailored to your little bundle of joy.  You'll receive 5 items for $40.  By subscribing, you are supporting moms with small businesses.
When you sign up, you'll be asked to select your baby's gender.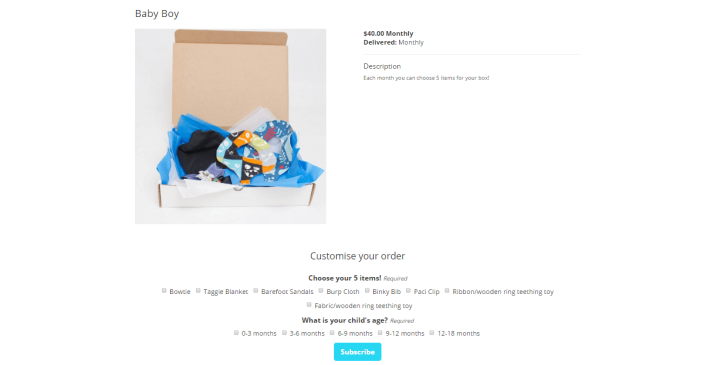 You'll then choose 5 items for your baby and note his/her age.  This box is for my 7 month old nephew.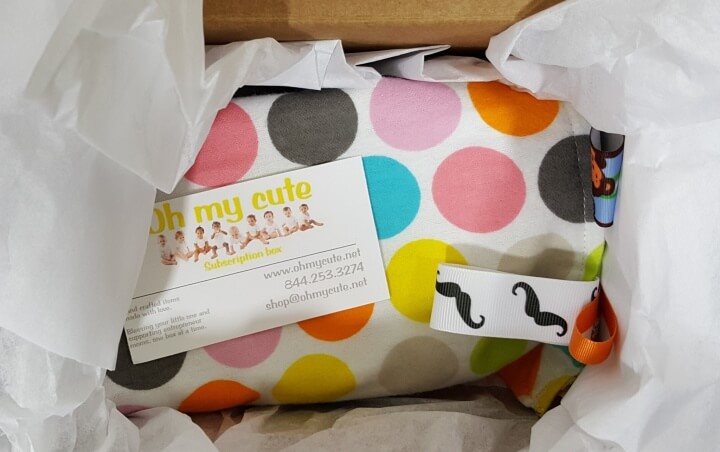 My first peek.  I already like the bright polka dots and fun ribbon patterns.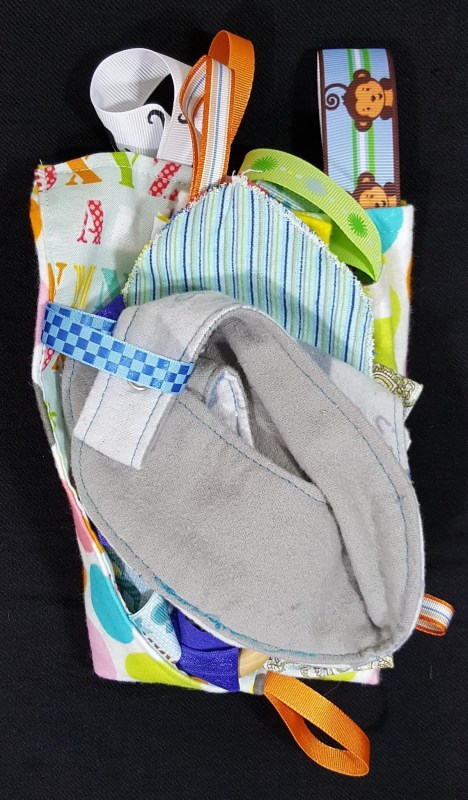 All of the items are bundled together.  Sorry, but no information card included – each box is personalized for your baby!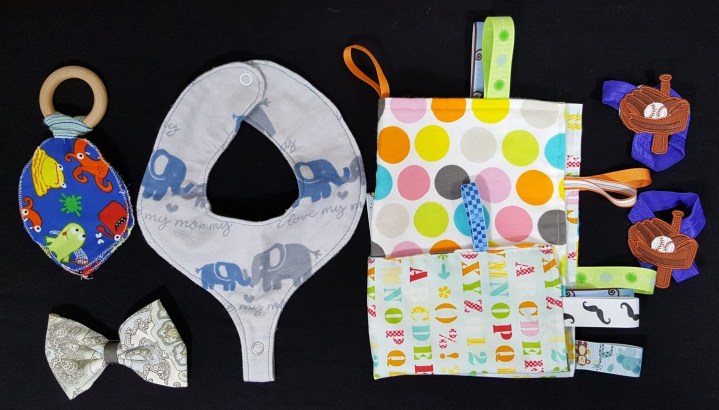 And here is everything laid out!  Super cute.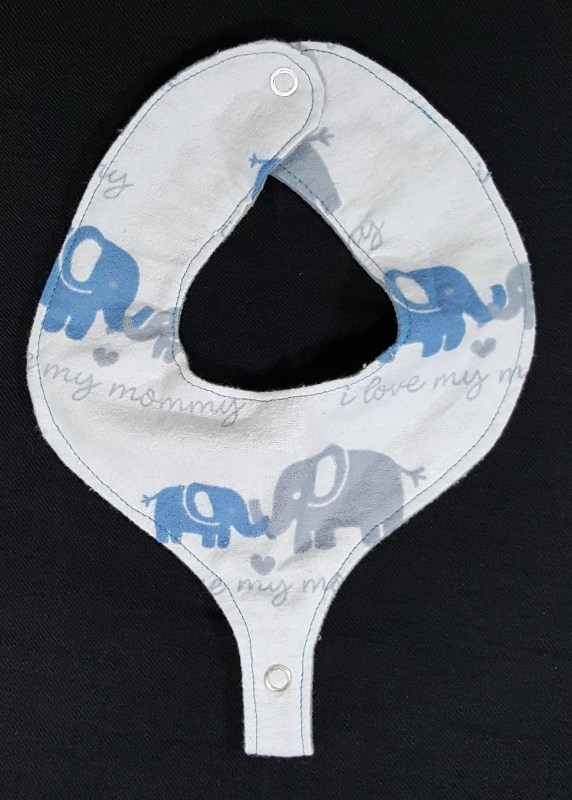 Binky Bib:  This goes on like a regular bib, but has a snap-closure tab at the bottom to secure the handle on baby's pacifier.  For anyone that knows the pain of losing a pacifier (and not having a backup), this could be a life scream saver.  This is made from soft cotton, and has a cute graphic of a mother and baby elephant with the tagline "I love my mommy".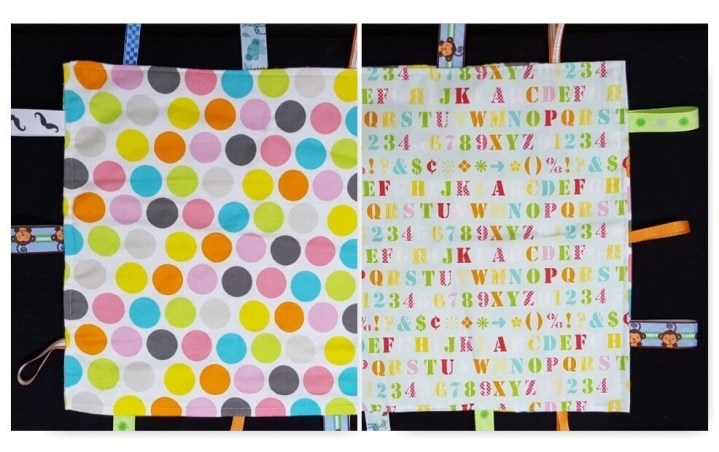 Taggie Blanket:  This blanket measures about 15″ square and has little ribbon taggies around the perimeter.  One side has bright polka dots and the other a colorful alpha-numeric pattern.   The dotted side is brushed cotton, and the other is woven – providing baby with different textures to experience.
Bowtie:  This is a cute cream and olive bowtie.  It was a bit oversized on my nephew, and I wasn't a fan of the pin attachment.  I was afraid that he'd pull the bowtie and get pricked.  This might be better when he's a bit older.
Fabric/Wooden Ring Teething Toy:  Daniel loved this!  The wood ring is unvarnished, so no worries about him ingesting a strange chemical.  It is also thick enough to give him a good surface to hold onto.  It probably wasn't designed for this, but the fabric tail helped to wick away drool as he nibbled on the ring.
Barefoot Sandals:  I've never seen anything like this before, and I hope I put them on correctly.  These "sandals" feature a baseball theme and use an elastic (similar to the no crease ponytail holders) to keep them on.  The most uncomfortable part of these for my nephew was getting them on.  He paid no attention to his feet afterwards.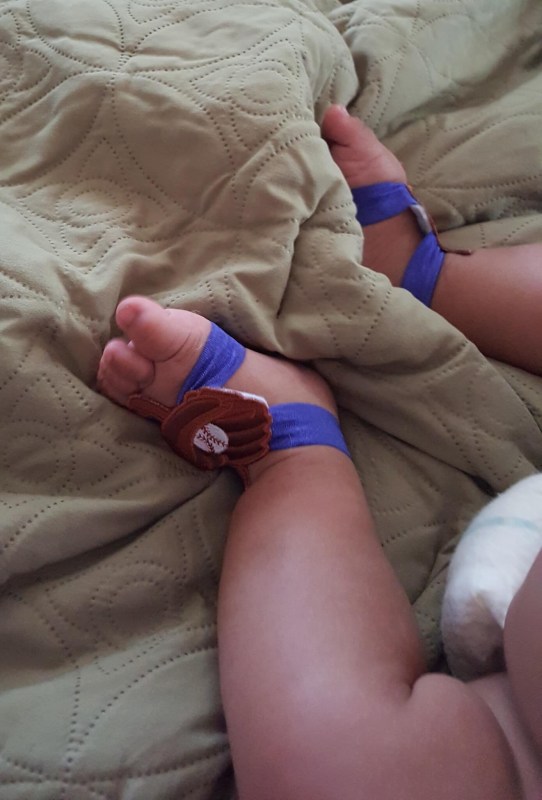 And here are said feet in the sandals.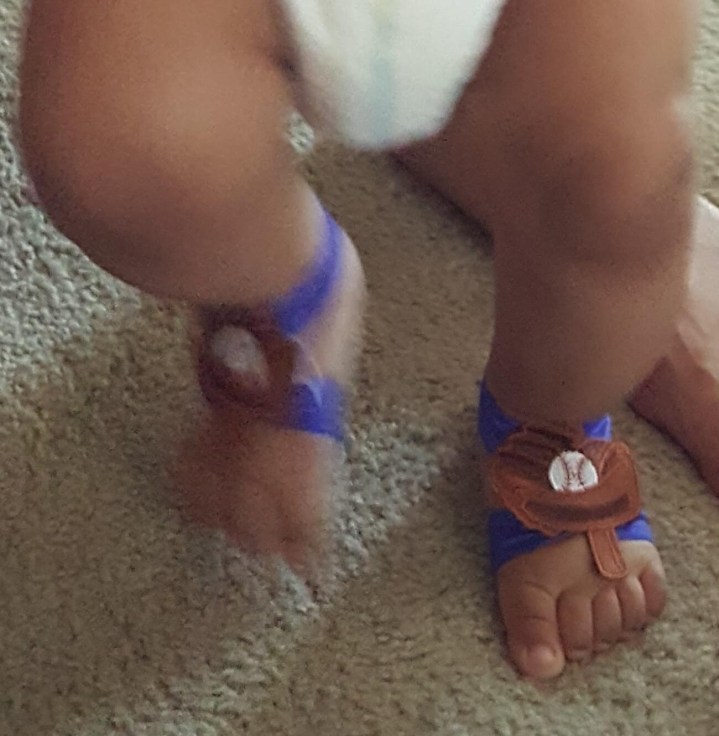 More chubby baby feet!
Oh My Cute does not currently provide the option to purchase items individually, so I could not determine a value for the box.  While I appreciate that the items are handmade, and the time that goes into making them, it is hard for the products to compete with similar pieces from mass retailers when it comes to price.  These are definitely boutique items and perfect for anyone who appreciates boutique baby cuteness made with love by moms!
I'd love to hear your thoughts on Oh My Cute.  Share a comment below.
Visit Oh My Cute to subscribe or find out more!
The Subscription
:
Oh My Cute
The Description
: Baby items made by moms. You can pick your 5 items each month. 🙂
The Price
: $40.00 per month