MiamMiam Box is a monthly subscription box that delivers only the latest and tastiest French snacks right to your door.  "MiamMiam" is how they say "yum yum" in France — like "mmm" and "yum" together!  The subscription has three levels:  Mini, Original, and Maxi — and each has unique and hard-to-find French treats based on seasonal themes.
The box was in a priority mailer, not in the cute custom designed boxes they show on their home page.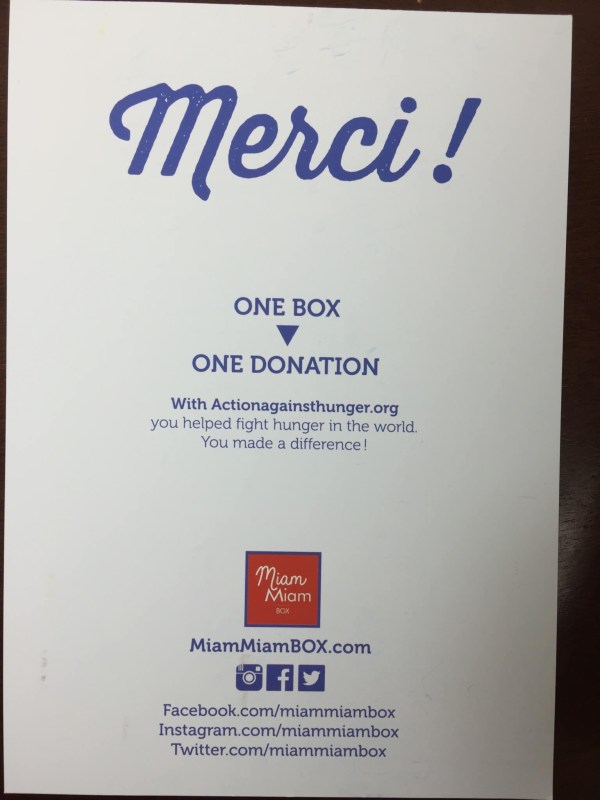 With every MiamMiam Box you subscribe, they donate a portion of their proceeds to ActionAgainstHunger.Org. The Maxi box equals 2 donations to a food bank!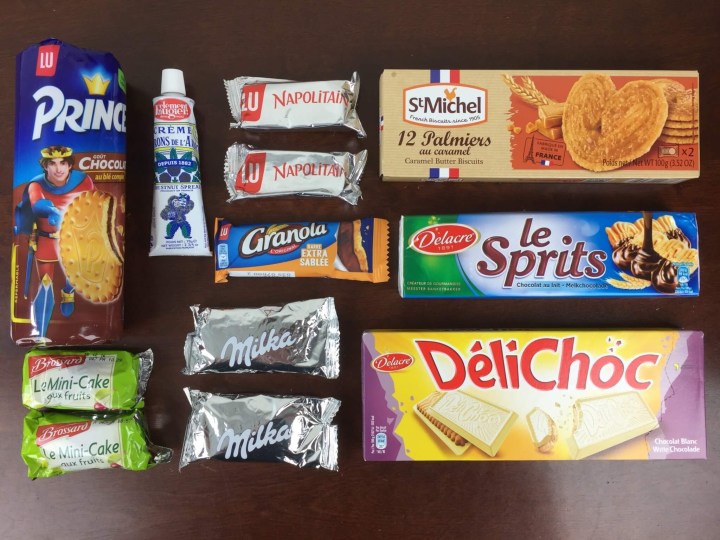 Everything in my May MiamMiam Box! There was no information card about the items or themes. I subscribed to the Maxi box, described as "about 4 lbs of exclusive and premium French snacks, food, treats, swags and much more!" Unfortunately, I can't tell you what the other subscription levels comprise.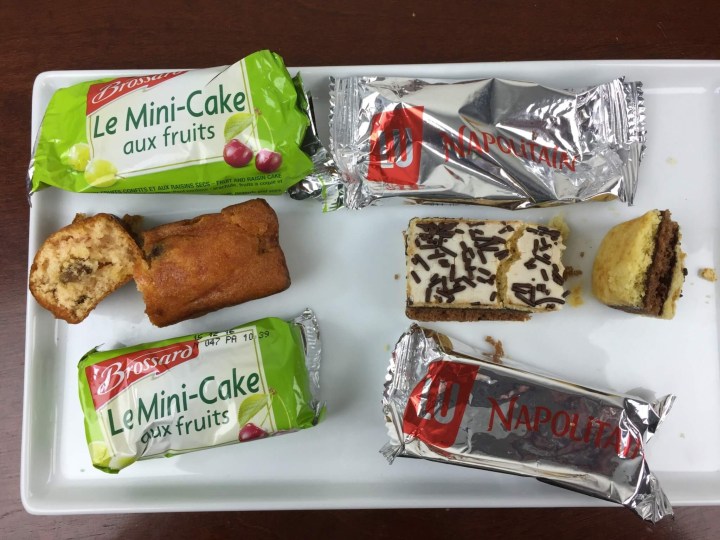 Brossard Le Mini-Cake Aux Fruits: These were like a soft and spongey fruit cake, with bits of dried fruit like a panettone has. Not my fave!
LU Napolitan:  I love anything from this brand and this made up for having fruitcake in the box – the center was a dense chocolate cream.  Like a Napoleon, it was layered — and it even had frosting and sprinkles (take that, Little Debbie!).
The packages for three were loose in the box and although they were a bit beat up the items turned up ok. I think they could pay more attention to this with some packing material.
Milka: This tasted suspiciously exactly like a Japanese moon pie knock off in another box (that isn't like a moon pie at all!). It's a spongey cake with creamy chocolate goo injected into it and tasty.
LU Granola Bar – Extra Sablée: I think this means extra sandy? This is a dry sort of crumbly shortbread bar that bears absolutely no resemblance to shortbread covered in chocolate with a bit of a caramel flavor!  It tasted a bit like a graham cookie, and it certainly wasn't granola!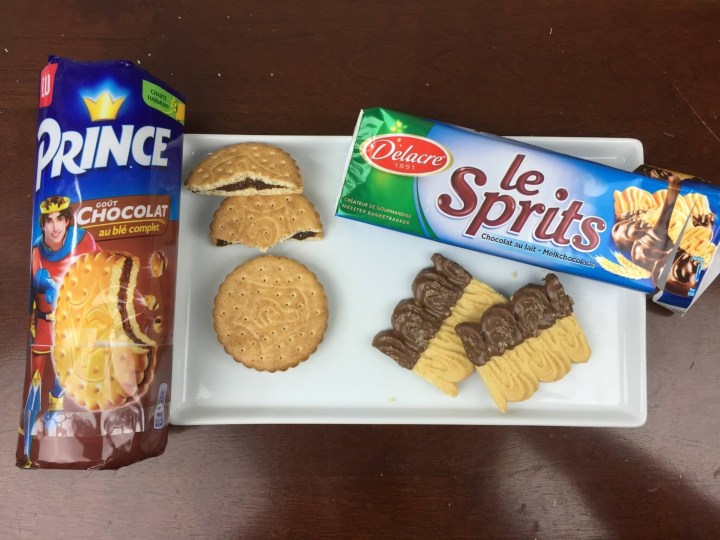 LU Prince Gout Chocolat: Mmm, love these! Typical dry biscuit cookie totally loaded with a creamy chocolate center. Yum.
Delacre 1891 Le Sprits: well I suppose this is like a spritz (extruded) cookie with one half covered in chocolate. It was kind of dry and crumbly.  It has a taste and texture that is reminiscent of pie crust.
Delacre 1891 DeliChoc: My husband's eyes got pretty saucer like when we spotted these in the box. He loved them – and anything with white chocolate!  They are constructed like a Petit Ecolier, but with a thick dry and seemingly unsweetened biscuit.
St Michel Caramel Butter Biscuits: These palmiers were really fantastic – flaky, crispy, buttery, with a sheen of hard caramel. I ate as many as I could stuff into my body at one sitting, it was totally shameful.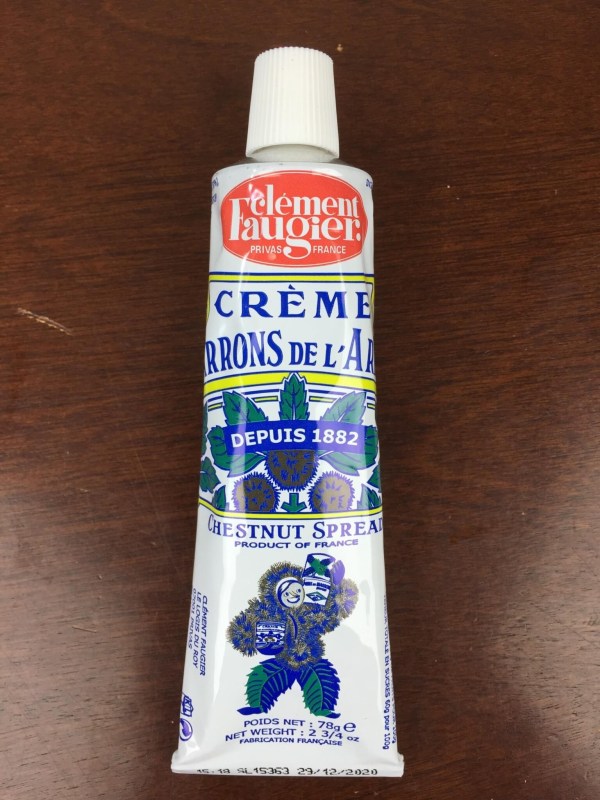 Clement Faugier Gourmet Chestnut Spread – Creme Marrons: Chestnuts, vanilla, sugar and water – this is an extremely common French treat!  In France, it rivals Nutella as a crepe filling.  Ardèche is where the best is made and this was a really nice premium item for the maxi box.
This box had 5 multi-serving packages plus 7 single-serving packages. I didn't do a cost breakdown but this is pretty good for an imported treats subscription!
Have you tried MiamMiam Box? We're looking forward to next month already!
Visit MiamMiam Box to subscribe or find out more!
The Subscription
:
MiamMiam Box
The Description
: MiamMiam BOX helps you discover French snacks delivered to your door every month. Every month, MiamMiam BOX members will receive a curated box of unique, hard-to-find tasty French snacks which varies based on seasonal themes. Say goodbye to boring grocery selections and start discovering your MiamMiam BOX experience!
The Price
: $22.95 per month