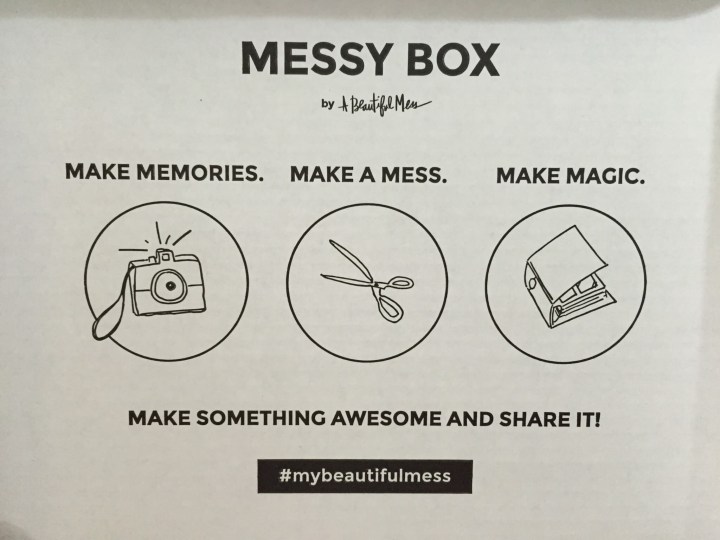 Messy Box is a subscription box by the same brains behind Happy Mail. It's oriented more towards the scrapbooking fans, or really anyone who's crafty! I was drawn to this box because I've recently joined the planner addict culture, and I'm always on the hunt for new papers, stickers, and ephemera. I liked that Messy Box had a monthly theme, which is more cohesive than a pile of random stickers. This month's theme features stripes, polka dots, and gridlines. It's very geometric!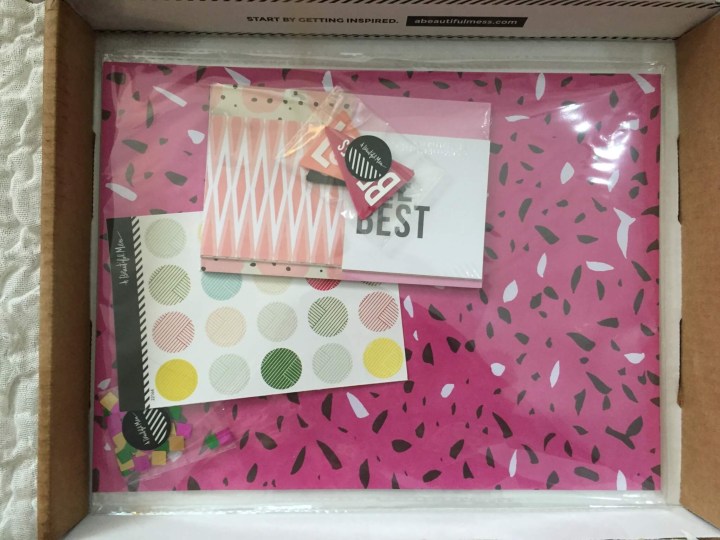 The colour scheme is different from last month! Lots of hot pink with splashes of black and white. The green and yellow work well too.
Everything is packaged neatly together, as there are often little bits that could go floating astray.
There are always three large sheets of scrapbooking paper — this is the second month there hasn't been a transparency sheet. The paper is a nice, thick weight which makes them great for making dashboards and dividers for my planner.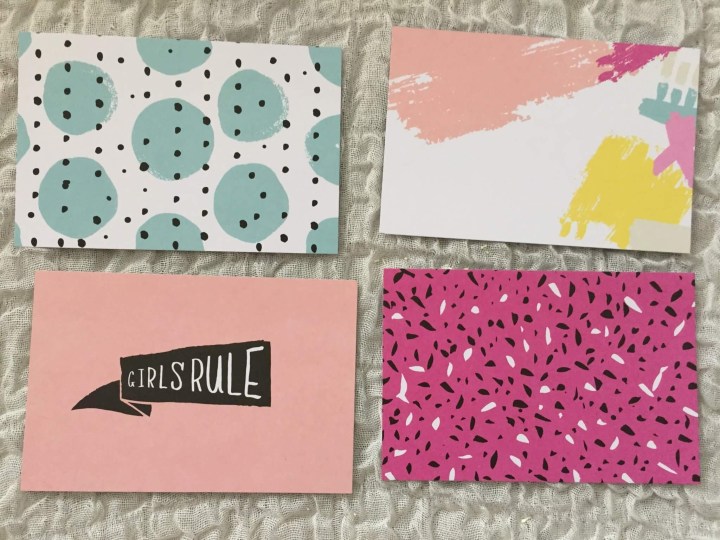 The journaling cards are one of my favourite parts of the kit, because there are so many and in so many sizes. These are all double sided — the backs are less exciting, but are often lined for writing notes or dates on.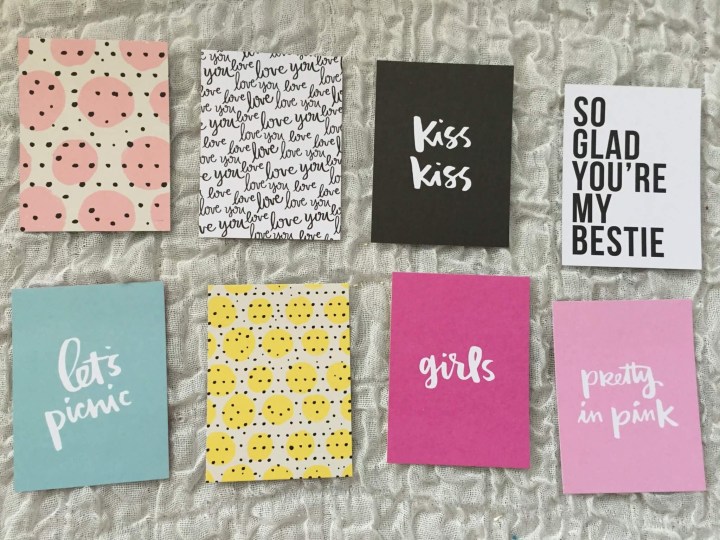 I always get the most excited about these Project Life sized cards — I like to clip them into the front cover of my planner.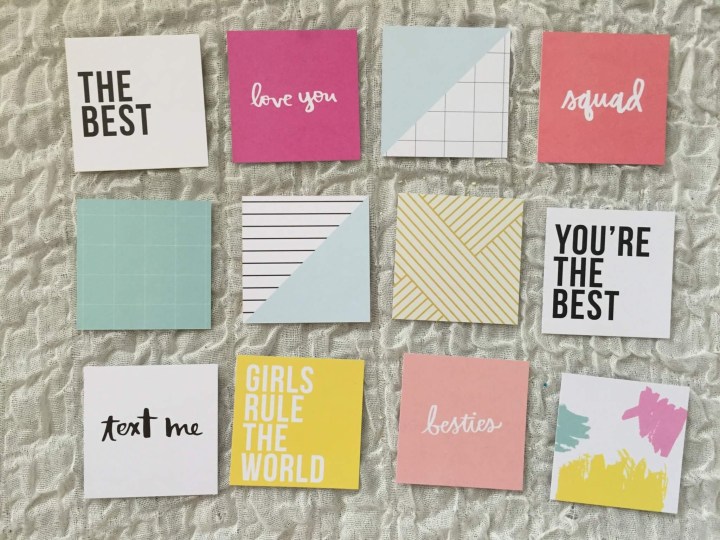 These small squares are awesome for decorating dashboards.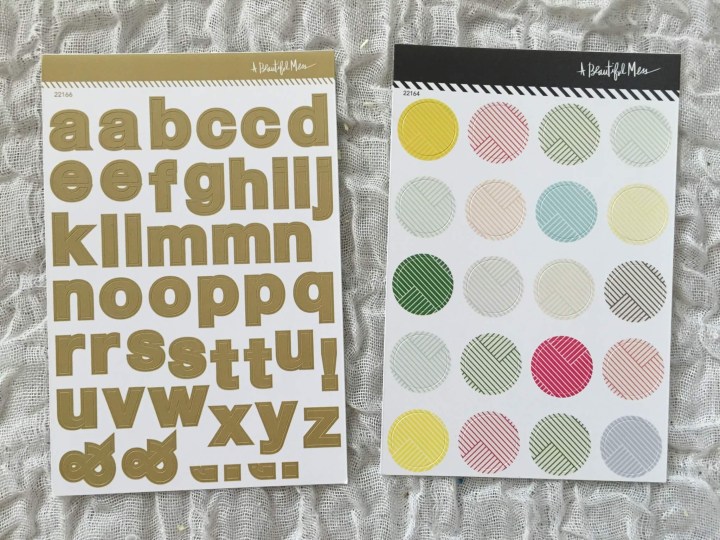 Stickers! We got gold letters and patterned circles. I love how they always include stickers in every month's box.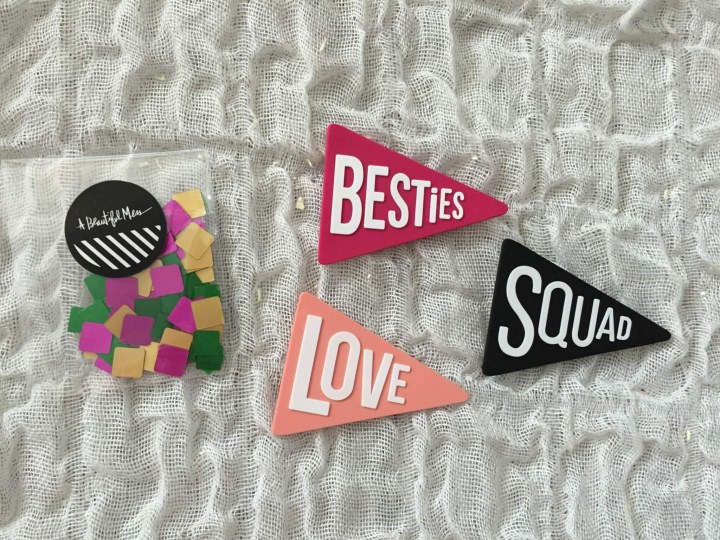 The confetti colour scheme screams Mardi Gras t0 me — I love it! The vinyl banners are so cute!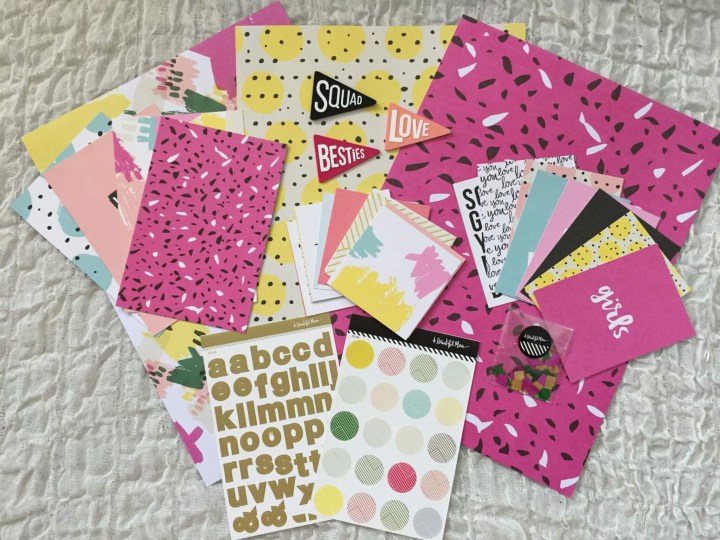 Messy Box is one of my favourite boxes to dig into every month — it's fun making a mess, especially when everything is so well coordinated and styled. I love how everything matches and makes it easy to put together a great spread or layout, even if you only use a handful of the pieces. Scrapbooking can be so overwhelming with so many options, and Messy Box really helps as a jumping off point when you need to be inspired.
FYI, they sell a "Messy Book" and pocket scrapbooking supplies, but you don't have to purchase their items, especially if you already use a different size scrapbook. We found these We R Memory Keepers pages and October Afternoon pages on Amazon (these are the 3×3 ones)!  We also found this site – Kanvess – that does Instagram prints for a quarter (3″ and 4″ squares) ! A Beautiful Mess recommends/is sponsored by Canon Pixma but you have to cut them up. You can also try the Polaroid Zip (3″x4″, also needs cutting). Scrapbook.com also has a wide variety of page protectors!
Visit Messy Box to subscribe or find out more!
The Subscription
:
Messy Box
The Description
: The Messy Box is meant to inspire you to learn new techniques, explore your artsy side and make beautiful, imperfect photo books. Each month is designed around a technique or certain artistic focus so you can take your photos out of your phone and into books in your own style. From the blog "A Beautiful Mess"
The Price
: $24.99 per month