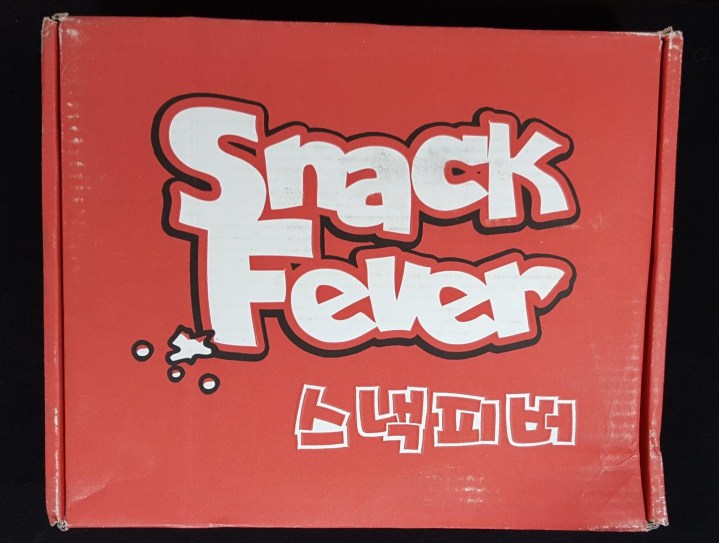 Snack Fever is a monthly subscription box that delivers all your favorite Korean snacks, as well as other hard-to-find Korean treats. Each month, subscribers will get  5 to 12 Korean snacks and treats, depending on their subscription. Snack Fever is available in three boxes, the mini box, the original box, and the deluxe box, and subscriptions are $12, $20, and $40, respectively, every month.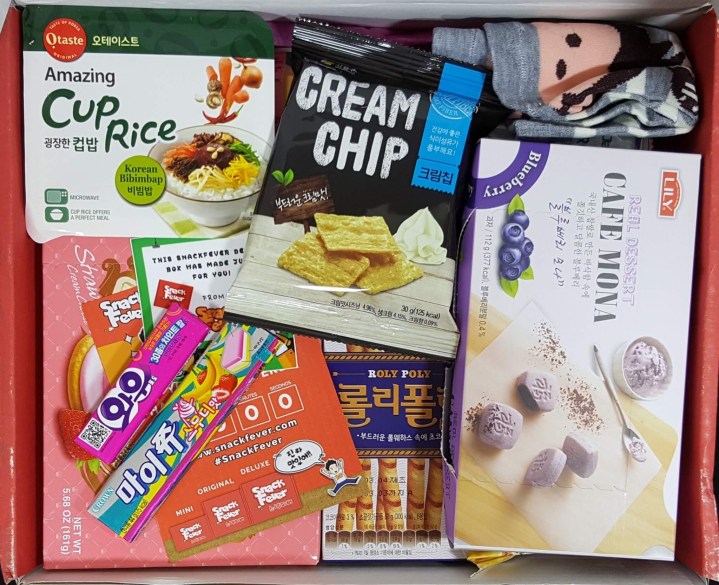 My first look in.  It amazes me how much is in this box.  And, are those monkey socks I see???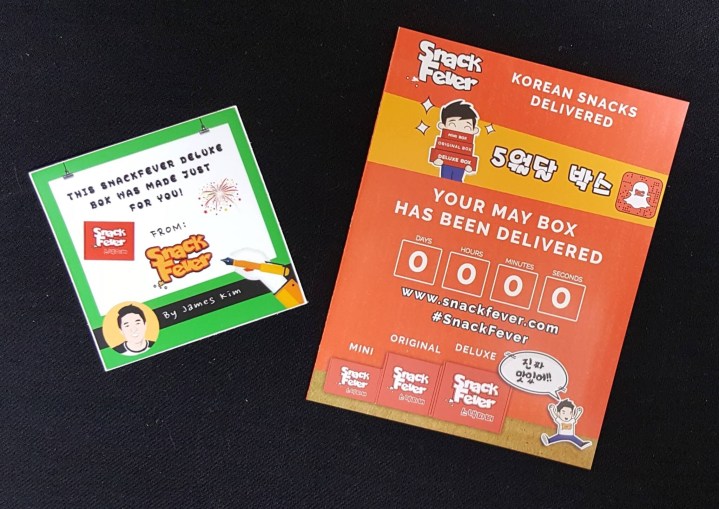 Thanks to James Kim for preparing my box.
The fold out information card provides details on the contents for all three boxes.  There is a picture and brief description of each item to help you on your taste journey.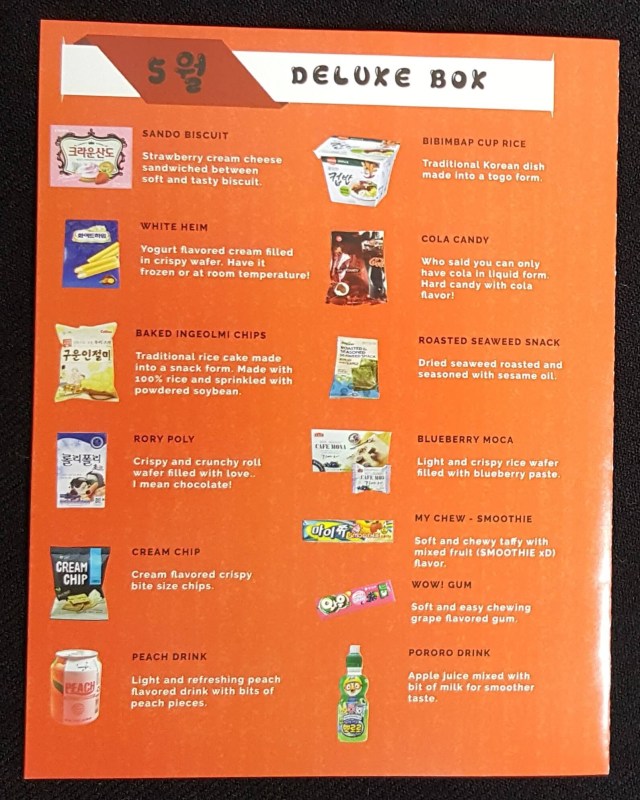 Here is the information on the Deluxe Box.  Some items here are also in the Mini and Original boxes, but the majority of items are unique to the Deluxe box.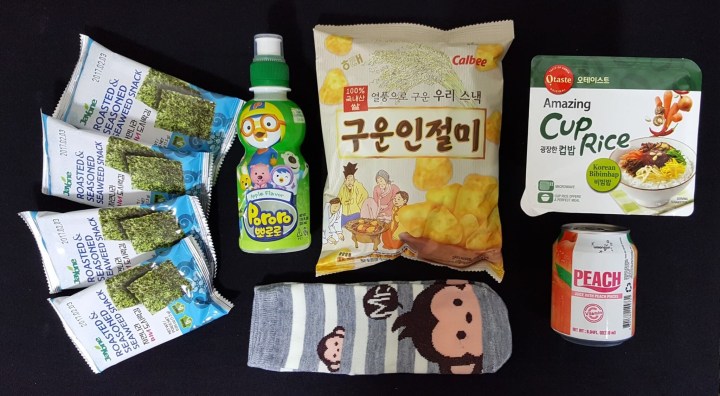 Again, there were was so much that I couldn't capture it all in one photo.  The top picture is mostly of the sweet items – candy and cookies.  The lower picture is everything else; mostly savory items, drinks, and my bonus item.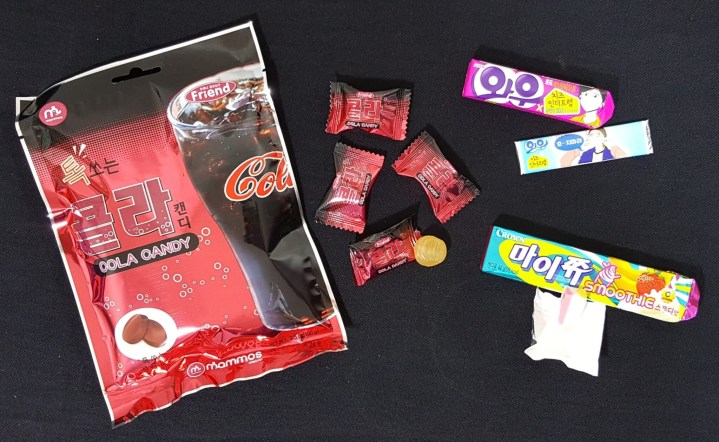 Mammos Cola Candy:  This is a hard candy that actually tastes like cola!  The candy on the bag is brown, but these are lighter in color.  I know it doesn't effervesce, but something about the candy made me feel like there were fizzing bubbles in my mouth.  If you need a cola fix, but are avoiding soft drinks or just can't get to one, these are a great alternative.
Crown My Chew Candy – Smoothie:  If you are familiar with the Japanese candy Hi-Chew, My Chew is the Korean equivalent.  If you've never heard of either, you're missing out.  These are fruit flavored chewy taffy candies, similar to Starbursts but softer.  I received one of the Smoothie flavors – strawberry banana.  The strawberry was definitely the more pronounced flavor.
Orion Wow Gum:  This is a chewing/bubble gum, and I got grape flavor.  This smelled like children's cough syrup, but thankfully didn't taste like it.  The wrapper is where all the fun is at.  Each wrapper has a sticker featuring a character from a Korean webtoon.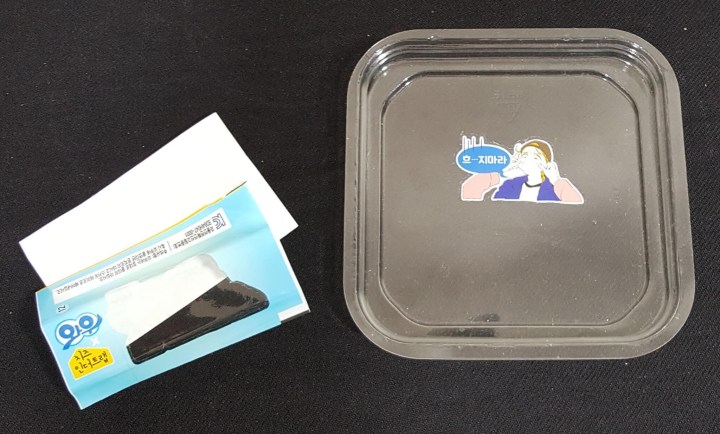 Peel the top layer of the wrapper off the paper backing and affix it to a smooth surface, then carefully peel back to leave your sticker on the surface.  I tested this on the lid of a disposable container, just in case it didn't turn out.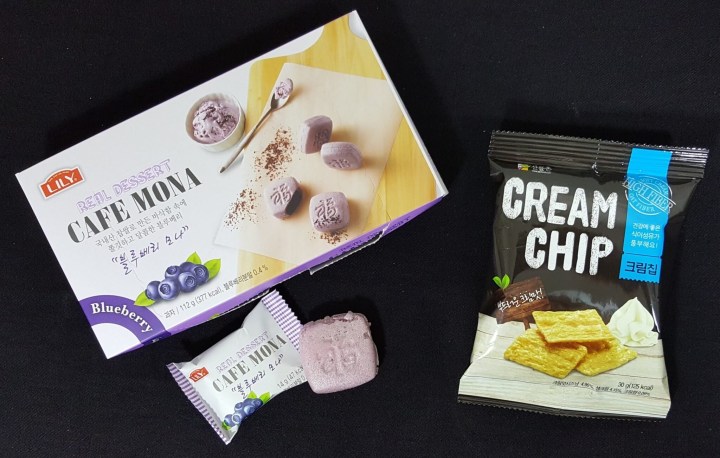 Lily Cafe Mona – Blueberry:  This is a rice wafer filled with blueberry paste.  The taste reminded me of chapsslaltteok,  which is a rice cake with a sweet red bean paste filling.
SDC Foods Cream Chip:  These chips, actually more like a cracker, have a cream/milk flavor.  I haven't tried them yet, but they are definitely going in my snack drawer for the week.  Seriously, a chip that tastes like sweet cream!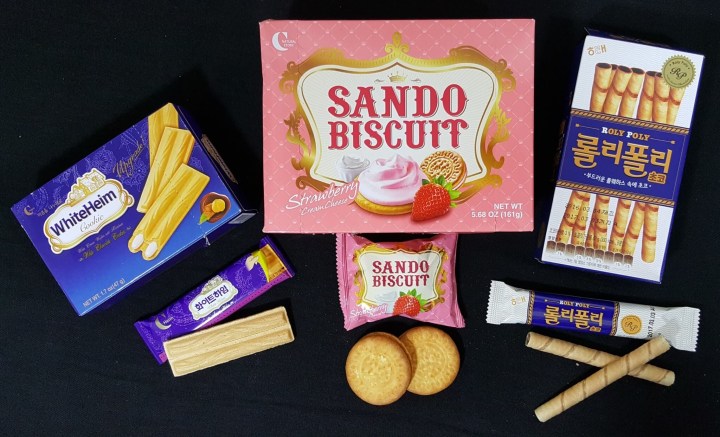 I love that each of these cookies comes in portioned packs!  It keeps me from over indulging and reminds me to share.
Crown White Heim Cookies – Hazelnut:  I'm not a huge white chocolate fan, but this was tasty.  The cookie was like eating a cake cone with white chocolate filling.  The hazelnut flavor was very mild.
Crown Sando Biscuit Cookies – Strawberry:  This is a lightly sweetened biscuit cookie with strawberry cream.  The biscuits help to tone down the sweetness of the strawberry cream.  These would be nice with a hot cuppa.
Haitai Roly Poly Cookies – Chocolate:  This is a rolled wafer cookie filled with chocolate cream, similar to a Pirouette cookie.  I love these types of cookies with nearly any flavor filling, but chocolate is my favorite.  It took a lot of will power to only eat the one package (2 cookies).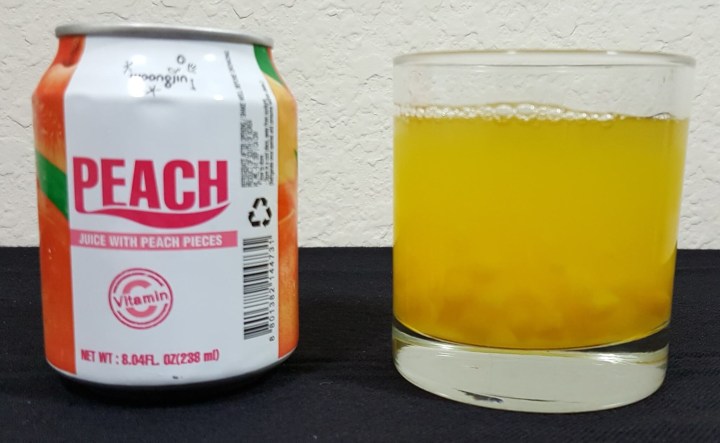 Woongjin Peach Drink:  This drink contains diced peaches and peach puree concentrate, but it is not 100% juice.  There is a strong peach taste to this, but it reminded me of the light syrup you find canned peaches packed in.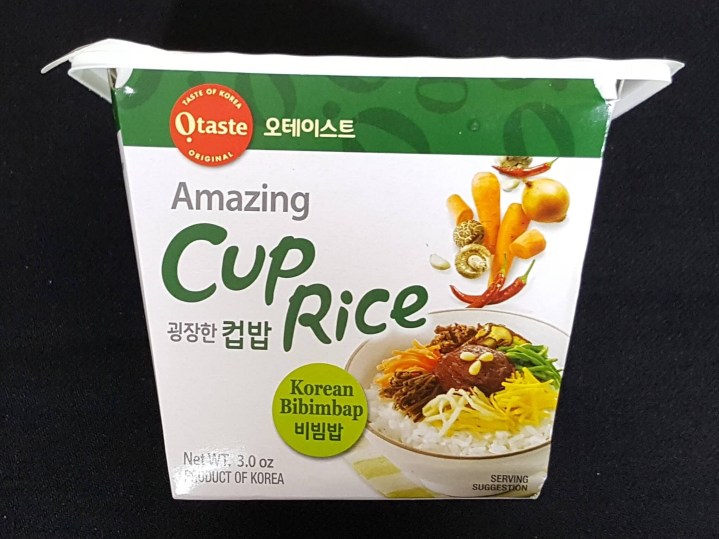 OTaste Amazing Cup Rice – Korean Bibimbap:  This is an instant rice cup.  Bibimbap literally means mixed rice, and is made by mixing rice, various vegetable side dishes, and gochujang/soy sauce/ doenjang.  The only thing missing from this is a sunny side up fried egg.
To make this, add water to the puffed rice and microwave for 1 1/2 minutes.  Among the veggies in the rice are carrots and mushrooms.  Once the rice is cooked, mix in the sauce packet and enjoy.  I love that the spoon was included in the cup.
Haitai Baked Ingeolmi Chips:  Ingeolmi are rice cakes rolled in roasted soybean powder, and they are usually made for celebrations and special occasions.  They also happen to be my favorite rice cake.  These chips truly tasted like ingeolmi (only crunchy instead of chewy), and I ate the whole bag in one sitting.  Thankfully, they are baked so I  didn't feel too bad.
Paldo Pororo Fruit Flavored Drink – Apple:  Pororo the Little Penguin is a popular Korean animated cartoon series.  This beverage combines juice and milk into one drink, giving kids a good dose of vitamin D and calcium.  I haven't tried this yet, but I'm guessing that the flavor is similar to Yogupoder or Yakult yogurt drinks.
Jayone Roasted & Seasoned Seaweed Snack:  These are small packs of roasted and salted seaweed sheets (laver).  I buy these out of convenience – I don't want to take the time to roast, oil, salt, and cut laver sheets at home.  These are generally eaten with meals in my house instead of as snacks.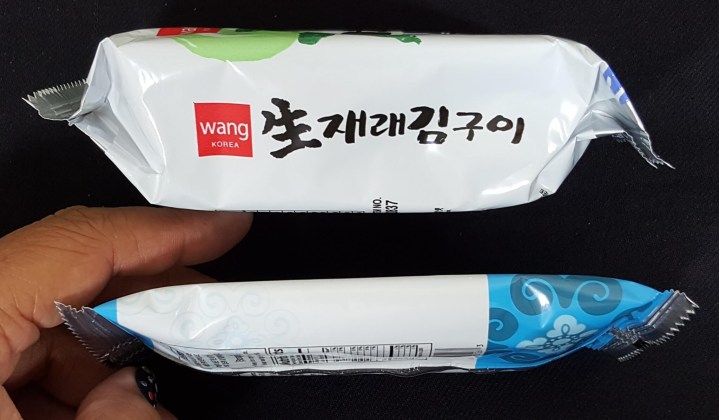 As you can see, these are definitely snack size packs.  The packs I buy are about 3x the size of the packs that were in the Snack Fever box (bottom package).
Monkey Socks:  These were a bonus in the box.  I'm not sure if they are adult or youth sized, but they do seem fairly small.
The May Snack Fever Deluxe Box was filled with a ton of good eats to keep me satisfied until June's delivery.  This month's box had a lot more familiar foods for me, but there were a couple of new items.  My favorite thing was the Baked Ingeolmi Chips.  Whether you grew up in a Korean household or just love Korean food, this box will absolutely satisfy your cravings.
Have you tried Snack Fever? What did you think about this box?
Visit Snack Fever to subscribe or find out more! Save 10% on your first original box. Use coupon code  NEWSF10.
The Subscription
:
Snack Fever
The Description
: SnackFever delivers SURPRISE Korean snacks in a box to your doorstep once a month – anything from the popular Pepero, Choco Pie, candies to even seaweed and noodles! We'll carefully handpick the snacks for you. Each box contains at least 10 FULL-SIZED snacks even including Ramen & Chapaghetti. Mini box available for $12 monthly.
The Price
: $20.00 per month