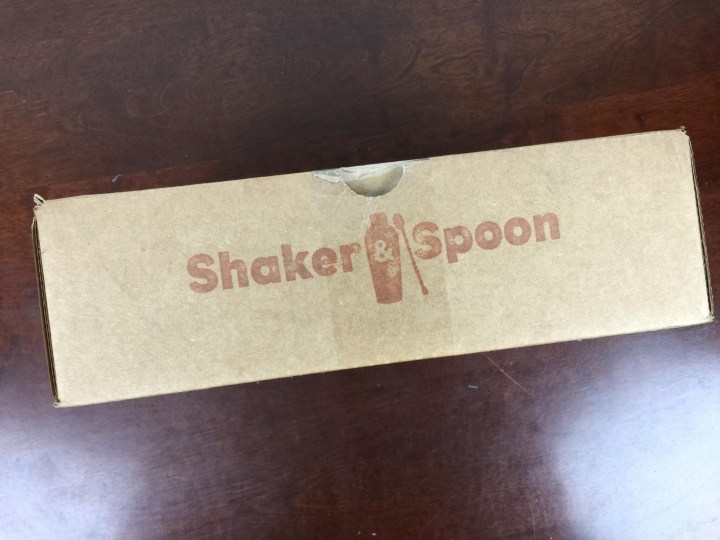 This month's Shaker & Spoon guided us through a few very creative recipes using the country' most popular liquor:  Vodka!  Shaker & Spoon Cocktail Club is a monthly subscription box that is a great way to discover new drinks.  It gives you all the ingredients you need (except the booze itself) to make high-caliber mixed drinks. This is a really awesome idea for people that prefer to procure their own liquor, or live in a state where it cannot be shipped to them!
I loved the thoroughness of this box — it included the syrups, bitters, citrus, and even herbs and jam this month — aside from ice and the liquor itself, the box came with all the consumable ingredients.  Shaker & Spoon sends a handy email to let you know what spirit will be needed for the box, along with a value and mid-range option.  They ask high-end bartenders for advice on the brand of liquor to choose, so some suggestions may be craft or small batch, of limited availability in your area, or a little pricey for your taste.  I went with Russian Standard Vodka, an award winner that happened to be on sale — it was still literally a top-shelf liquor at my local store!
The card gives an inventory of the contents of the box and some information on the nature of the drink, as well as the recipes provided.  A useful glossary card introduces the novice barman to the tools and terminology that will be used in the recipes.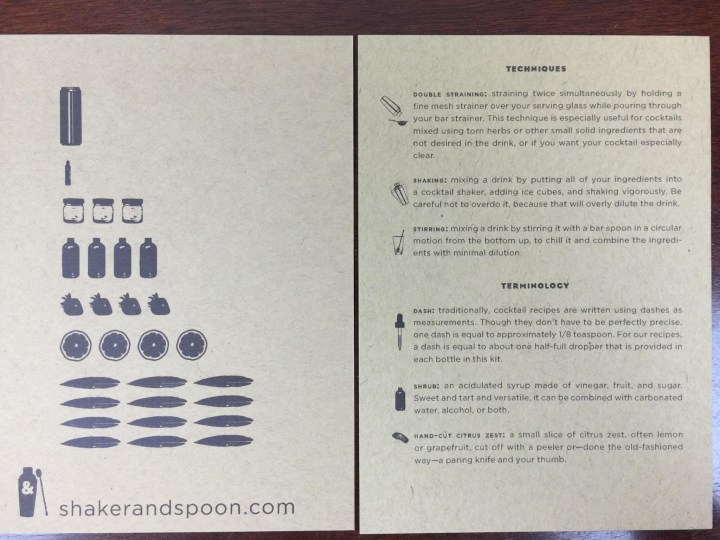 A visual inventory of the box allows a quick assessment of the contents, though everything is labeled, too! This card was super-helpful, describing the techniques and measurements peculiar to mixology.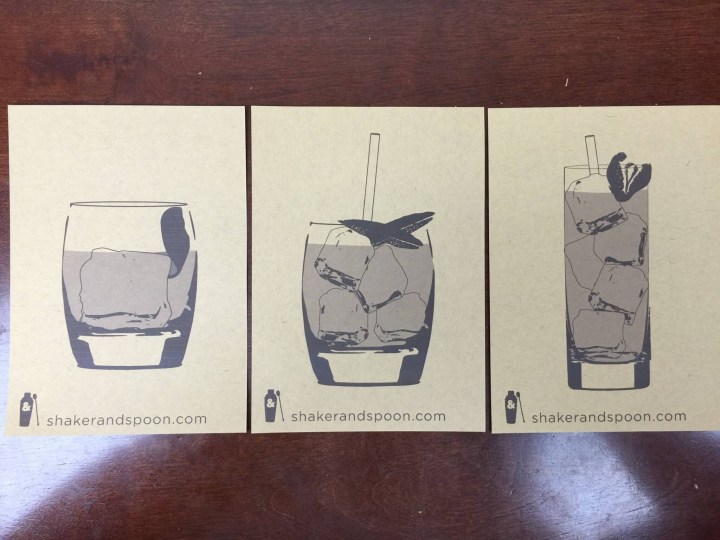 Pictures of the drink when served in the recommended glassware.  These recipes called for rocks glasses and a highball — typically the box will feature one recipe using a rocks glass, one suited for a highball, and one coupe-served recipe.  We use a rocks glass for most drinks, and we use either the pony glasses (quarter-pint glasses) we received in our Craft Beer Club subscription in place of a coupe, or we go with a pint glass, Teku glass, or wine glass — whatever seems to work with the volume and style of drink.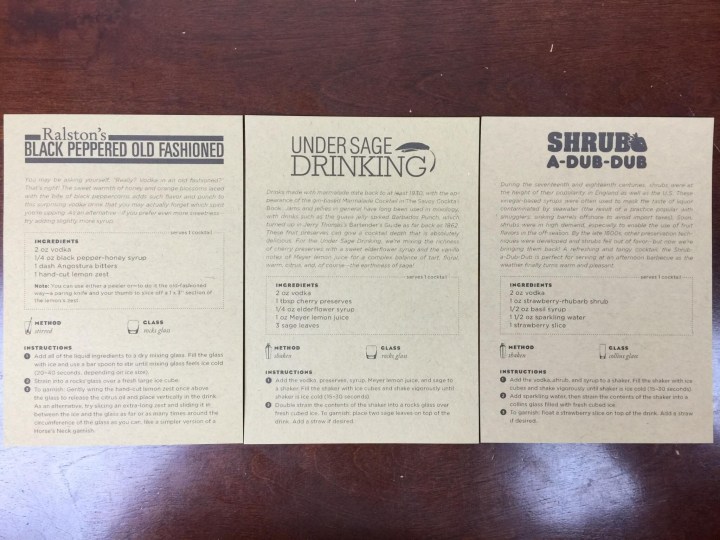 The three vodka-based recipes, each described in detail with recipe and instructions.  This set of recipes is very typical of what you'll see in most Shaker&Spoon boxes — a featured liquor-based formulation of an Old Fashioned, an original cocktail that speaks to the theme of the box, and a very drinkable remake of a classic, such as the shrub.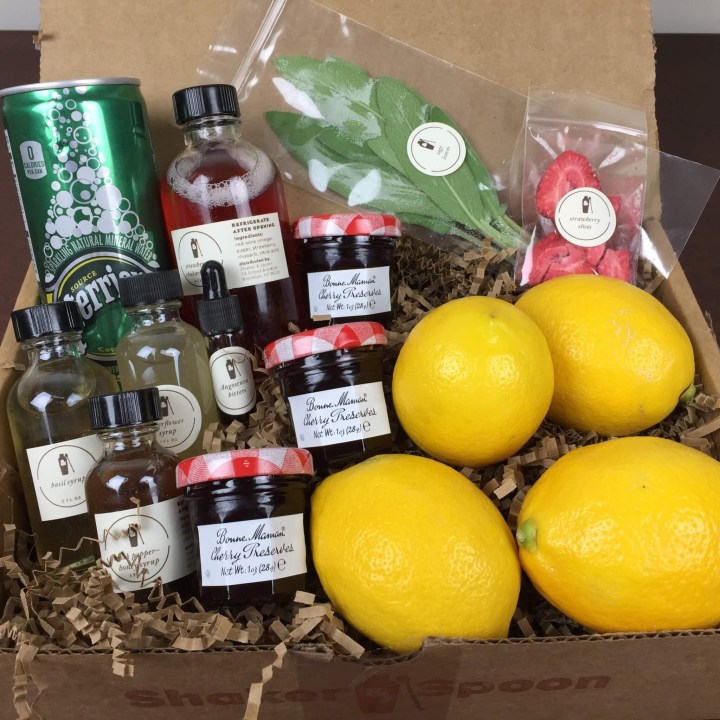 Everything in my box!
The syrups and bitters provided with the kit.  I love that the box usually has both staples you can use in tons of drinks (like Angostura bitters) and interesting flavors to experiment with.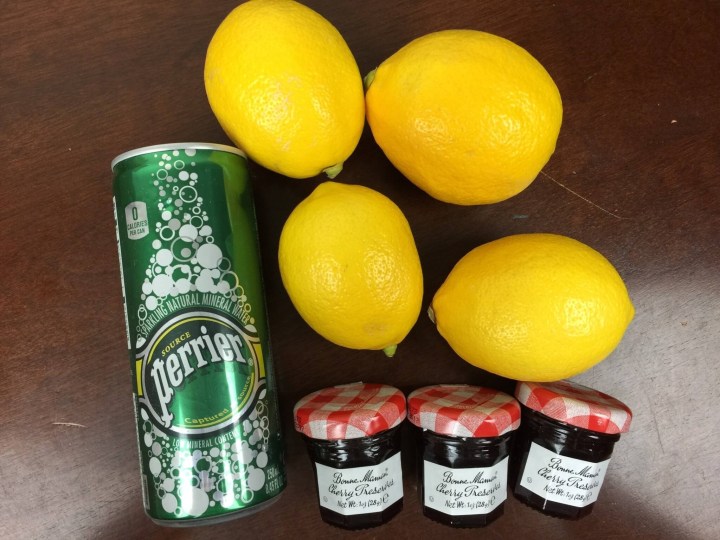 The kit usually includes a mixer and fresh citrus — this one had Meyer lemons and even incorporated cherry preserves!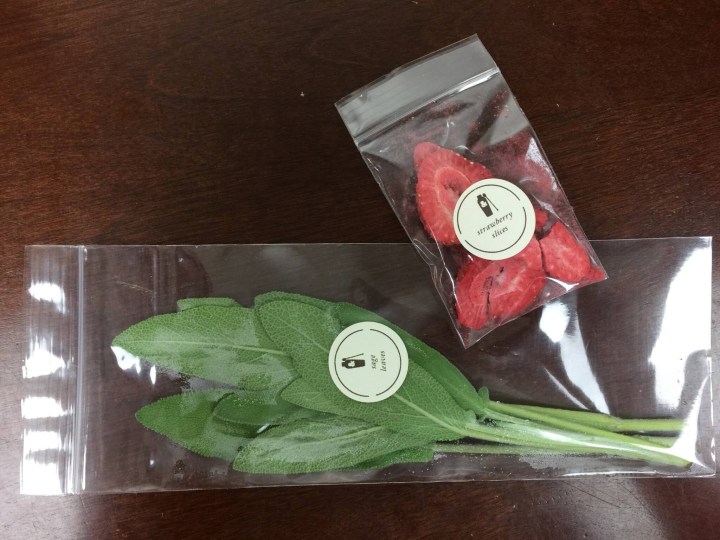 The original drink used some beautiful fresh sage, and we had freeze-dried strawberries to garnish our shrubs.  .
Here's what we made:
Ralston's Black Peppered Old Fashioned:  This was the strongest and least remarkable of the drinks.  The curators have made a point of creating a version of the Old Fashioned with every featured liquor, but the vodka doesn't have the body of a bourbon or rye that would work best here.  The syrup added a nice bite, but vodka is really at its best either unadulterated or buried in strong flavors — this felt like a Martini misfired.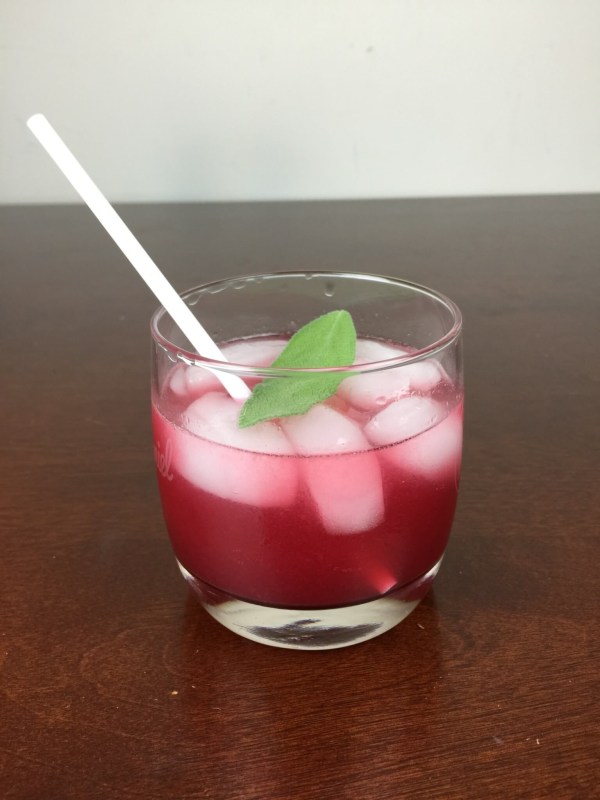 Undersage Drinking:  The featured, original drink was really tasty.  Also very strong, this drink combined Meyer lemon, cherry, sage, and elderflower, creating a nuanced drink with a tart, cranberry edge to it.  It was a bit like a Cape Cod'r, but with much more to offer in the way of fruit, floral, and herbaceous notes.  It was super-tasty and made a nice presentation piece with the sage floated on top, the drink being served literally "under-sage."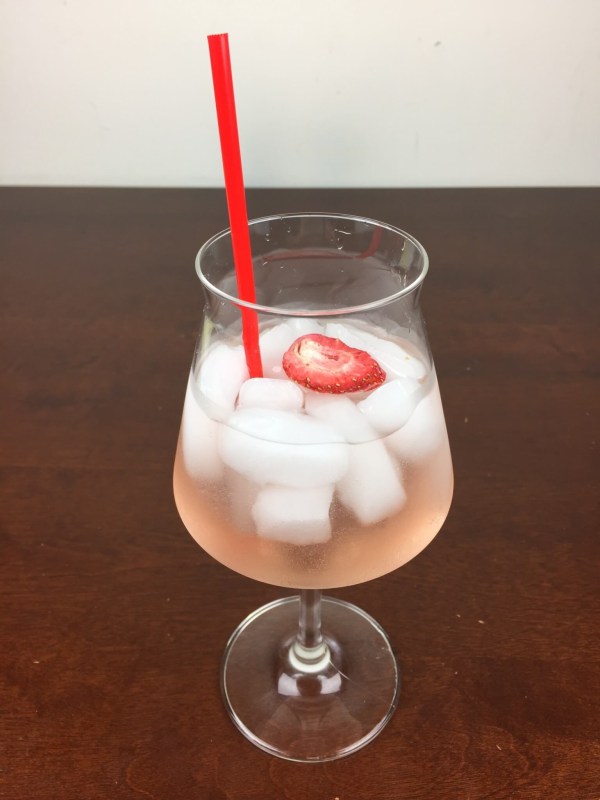 Shrub-A-Dub-Dub:  We love the refreshing and taste of shrubs, and we are glad they are resurgent in the craft cocktail community.  The vinegar is diluted and sweetened, so it is not at all like drinking actual vinegar.  Instead, you get a cocktail with an engaging mouth feel that cuts right for your tongue.  The hot notes of the vodka are also brought to heel — with the addition of the Perrier, the resulting drink has the character of a flamboyant Champagne.  Strawberry-rhubarb and basil syrups lend a nice balance of sweet, tart, and herbaceous.
I love the "just add liquor" concept of the subscription — especially since the recipes are versatile enough to work with any decent brand — they provide a mid-range option, so you don't have break the bank (and who wants to mix drinks with premium "sipping" liquor, anyway?).  Shaker & Spoon Cocktail Club fills a void in the drink prep world, and they do a great job!  This set of recipes included a couple fantastic ones, and all the mixers and add-ins are fun to mix and match to create new combinations on your own. I really look forward to this subscription every month.
What do you think of Shaker & Spoon? Save 15% off 1 & 3 month subscriptions! Use coupon code  HELLO15. Cannot be combined with any other deal, only for first time subscribers.
Visit Shaker & Spoon Cocktail Club to subscribe or find out more!
The Subscription
:
Shaker & Spoon Cocktail Club
The Description
: Every month you'll get a box with 3 recipes for 12 drinks (4 from each recipe) and everything you need to make them—syrups, bitters, garnishes, citrus—besides the alcohol. You'll be exposed to new flavors and combinations, inspiring you to see your liquor cabinet in a whole new way. Subscribe today and be your own bartender before you know it.
The Price
: $55.00 per month with shipping.