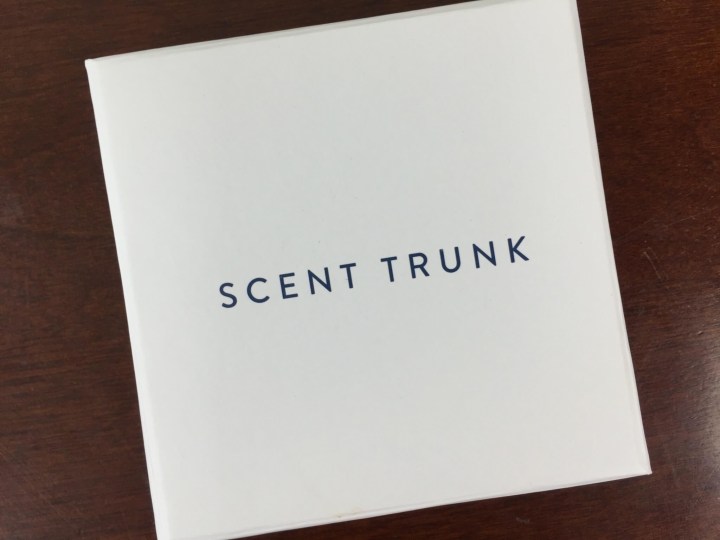 Scent Trunk is a scent discovery subscription.  Of the three men's fragrance subscriptions we regularly review, Scent Trunk is the subscription best triangulated between niche and mainstream — the fragrances are from niche designers, but they are closer in profile to mainstream scents than Olfactif's themed sets.  They offer both a men's and women's version. Every month you'll receive 3 niche scents to experience, try out, and enjoy!  Fill out a brief profile on their site and you'll receive a customized box of fragrances. They have a beautiful new website as well.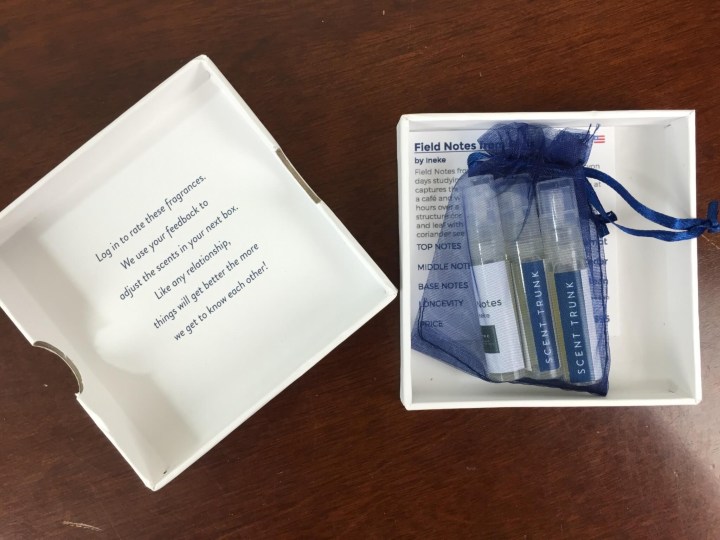 The three fragrances come in an organza bag inside a little box. You'll get 6mL of each fragrance.

There are 3 information cards in the box – one for each fragrance, and you can spray them with the scents and make your own little card catalog. The cards have information on each scent, the longevity, and the sillage, which describes how far the perfume ingredients disperse (are you just smelling it or is everyone smelling it?), and the price. You get to sample extremely expensive fragrances in this one.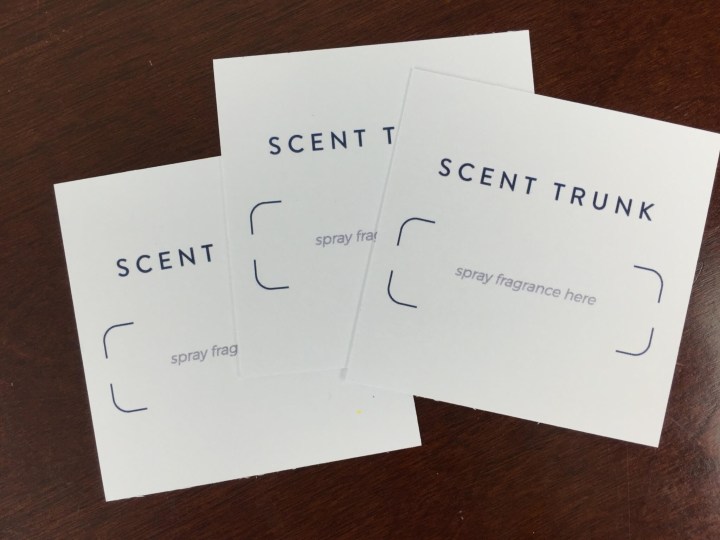 The tester cards are handy for a couple reasons — they let you separate the scents (which is very difficult when testing them all on your skin), and they let you test the sillage (which is nearly impossible without a separate test card).  You'll still want to actually wear the scents, though — the character of the fragrance can be quite different on skin.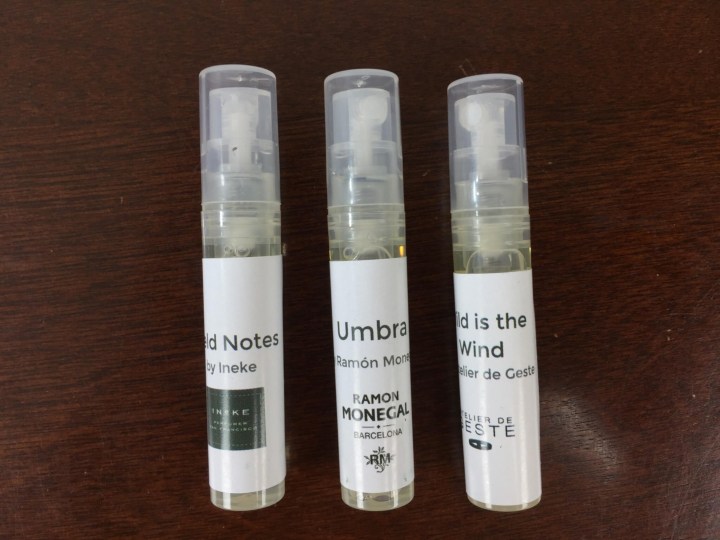 Each of the sprayers has a cap and a label to identify the fragrance.
Field Notes from Paris by Ineke:  This fragrance leads with a very spicy coriander and pleasant bergamot.  Patchouli and cedar create a wonderful cloying broadness.  The early notes create a wonderful spicy melange that reminds me a bit of Clove chewing gum.  Vanilla and tonka bean soften the sillage, and a pleasant muskiness emerges as the fragrance ages.
Umbra by Ramon Monegal:  Sweet and slightly powdery, this fragrance has strong notes of geranium early, and Canadian fir and musk after setting.  The fragrance melds together seamlessly, creating an overall impression that is neither distinctly floral, nor overly musky.
Wild is the Wind by Atelier de Geste:  This fragrance retains its floral character after extended wear, with a pleasant rose and geranium call.  Light musk and warm leather pair with slightly smoky pine notes to support the sweet floral head notes.
This collection was very approachable, and I would wear any of these fragrances without hesitation.  The patchouli in the Ineke selection, and the geranium in the others create wonderful sillage effects, carrying the fragrance without themselves playing too bold a role.
Visit Scent Trunk for Men to subscribe or find out more! Save 40% on your first box. Use coupon code HELLO40. Or while supplies last get a free trial! Use this link to get the deal.
The Subscription
:
Scent Trunk for Men
The Description
: We don't wear the same clothes every day, so why wear the same scent? With Scent Trunk, you get a variety of fragrances, every month. Each box is customized to your unique tastes, so you'll love every box. You fill out a Profile which let's the Scent Trunk team know what you like, then, they scour the world to find the most unique fragrances which will suit you. Fragrance is the ultimate fashion accessory, and like fashion, we're all different. Scent has the power to change moods and evoke emotions, so 1.5% of sales go towards fighting mental
illness. Women's
also available.
The Price
: $18.00 per month