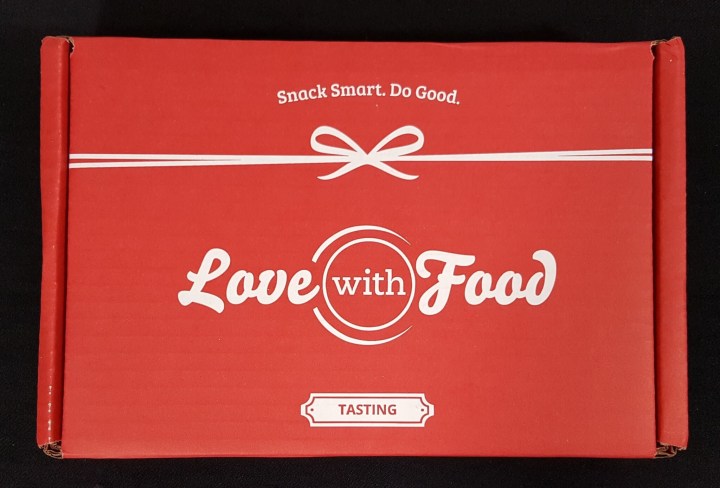 Love with Food's May theme is Love is Empathy.  This is a fun snack discovery subscription available in three versions:  Tasting box, Deluxe box, and Gluten-free.  Below is a review of the Tasting box.  Be sure to check out our reviews of the other May boxes. You can see our reviews of all 3 varieties of Love With Food boxes here.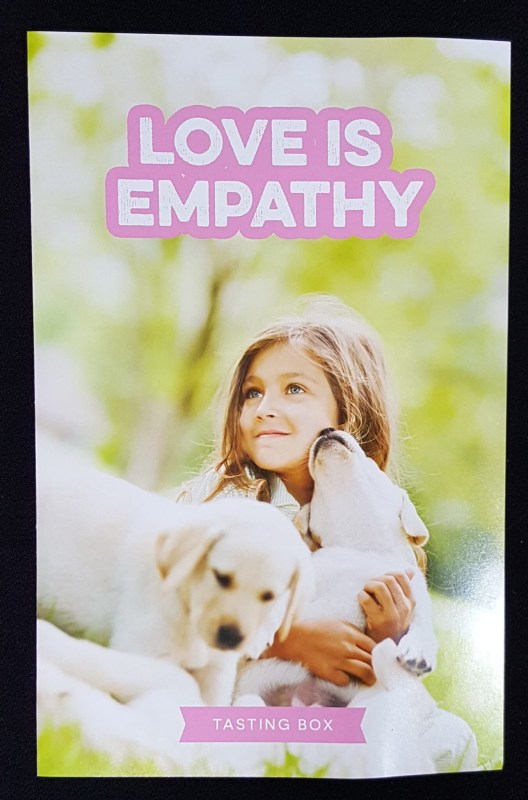 LOVE IS EMPATHY

Empathy is about understanding what others feel and go through, and understanding the struggle of people with Celiac disease and other food allergies is more important than ever these days.  To mark Celiac Awareness Month we encourage you all to support your loved ones affected by Celiac disease.  Why not give them the gift of a Love With Food gluten-free box!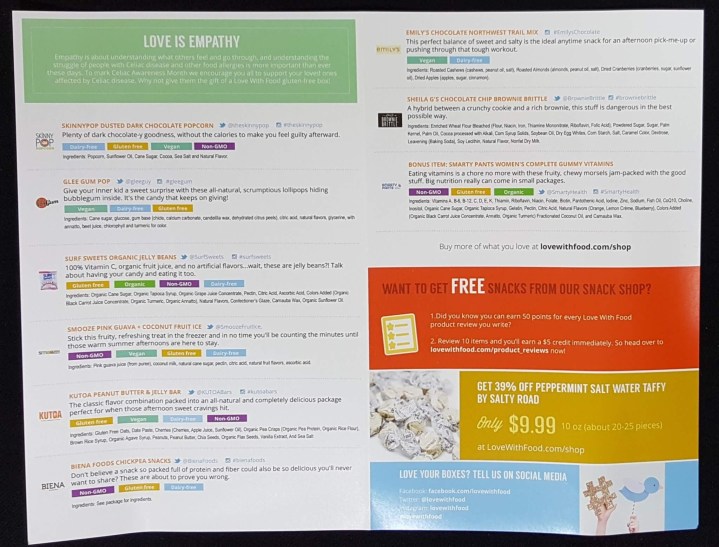 The information booklet contains a brief description of each item and its ingredients.  There is also a color-coded legend identifying which items are gluten-free, non-GMO, vegan, organic, and dairy-free.  This is a nice, quick way to identify foods for those with special dietary needs.
All of this month's treats!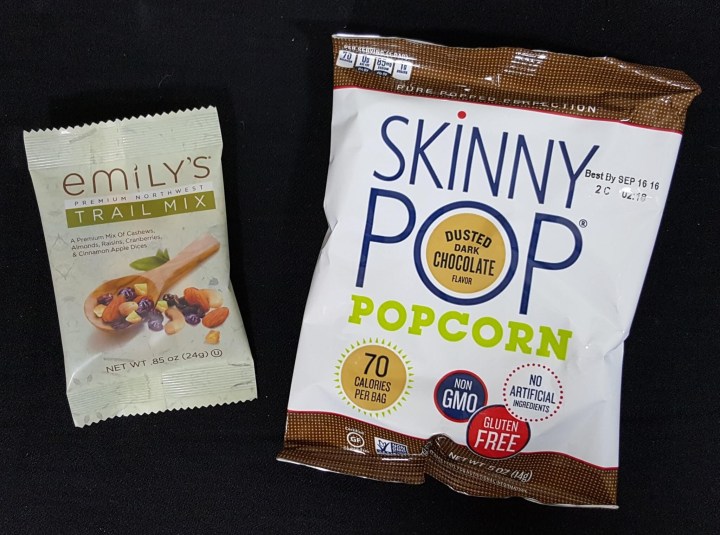 Emily's Premium Northwest Trail Mix:  My only complaint with this was the size…  I wanted more!  This trail mix has a good balance of flavor with the nuts providing salt and the fruit adding sweetness.  The dried apples have a touch of cinnamon and are diced instead of sliced, keeping the all the fruit roughly the same size.  I also liked the limited ingredient list (cashews, almonds, raisins, cranberries, and apples) because there weren't a bunch of filler ingredients like you find in some trail mix blends.
Skinny Pop Dusted Dark Chocolate Popcorn:  Popcorn is such a guilty pleasure, which is why I like Skinny Pop.  It satisfies my popcorn cravings, but without the guilt.  This wasn't sweet like kettle corn.  Instead, it was really like eating salted popcorn with a touch of lightly sweetened cocoa.  So, I got a little bit of a chocolate fix too.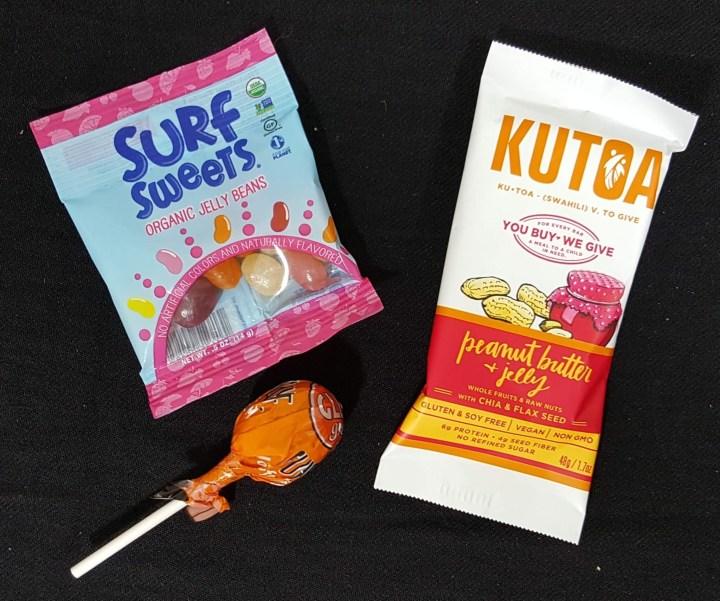 Surf Sweets Organic Jelly Beans:  Made with organic ingredients and no artificial flavors, these are a really nice fruity treat.  As the jelly bean fanatic in my house said, "these are better than the X-brand ones that you bought."
Glee Gum Pop:  Like a Blow Pop but better for you.  And, lucky me, I got orange.
Kutoa Peanut Butter & Jelly Bar:  This looks like a protein bar but has the texture of a chewy brownie.  You can definitely smell and taste the peanut butter in this.  The jelly taste (cherry) is more pronounced after a few bites in.  It was interesting to say the least.
Sheila G's Chocolate Chip Brownie Brittle:  My favorite brownie is the corner piece – kind of crisp with a bit of chew.  What Sheila G has done is take the goodness of the crispy part and bagged it up.  Lots of chocolate brownie flavor in a cookie-type body.
Biena Foods Chickpea Snacks:  These are like a corn nut cousin.  The look and flavor are similar, but the texture is different.  This has a softer crunch and a powdery mouth feel when chewed.  The ranch flavor was good without being overly salty.
Smooze Pink Guava + Coconut Fruit Ice:  So, double whammy on this – I am not a fan of guava or coconut.  I'll hold this in the freezer for my niece.  If you like tropical flavors like these, this push pop is a perfect treat for hot summer days.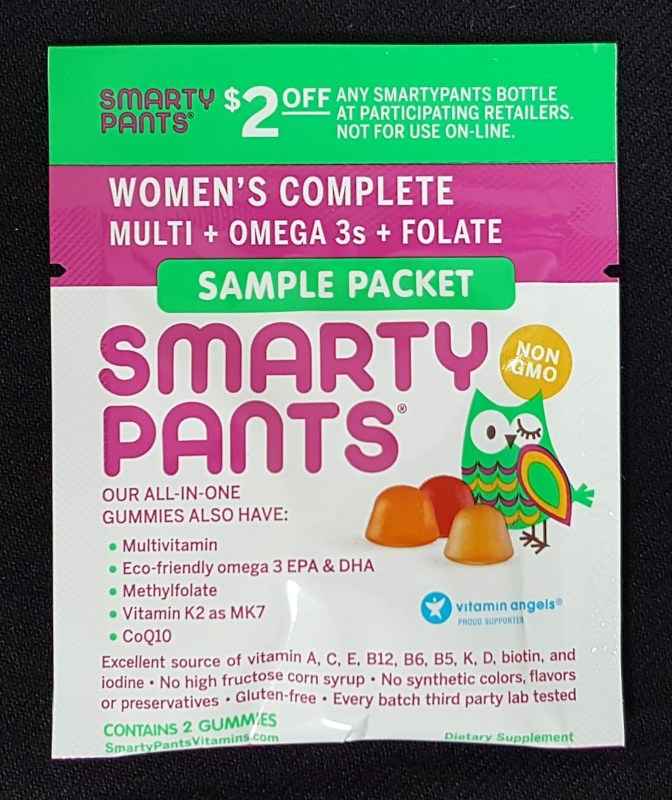 Bonus Item – Smarty Pants Women's Complete Gummy Vitamins:  Gummies are a fun way to get your daily dose of vitamins and nutritional supplements.  These contain heart healthy ingredients, along with folate and vitamin K which are beneficial for women of childbearing age (baby friendly, but also help with anemia and osteoporosis).
And of course, the coupons.  This month's group also included a sample of Simple Micellar Cleansing Water.
Love With Food has yet again delivered a tasty and healthy box of yum.  I continue to discover great new snacks each month.  The brownie brittle was definitely my favorite item.  I hope you enjoyed your box.  Happy noshing!

You can try out Love With Food by using this link to get your first Deluxe Box for 40% off (save $8 – first box is $11.95!) or get your first Classic Size Box for $7.99 . You can also save 50% on your first Gluten-Free box by using this link.  Use coupon code HELLOSUB20 to save $20 off any 12 month plan too! (That's $6.32/box for tasting, $14.83/box for deluxe, and $18.32/box for gluten-free) As always, Love With Food donates meals to charity with each box purchased.
Visit Love with Food to subscribe or find out more!
The Subscription
:
Love with Food
The Description
: Love with Food is a gourmet sampling and discovery subscription box filled with 8+ gourmet treasures centered around a monthly theme. The deluxe box contains 16-20 items.
The Price
: $9.99 per month