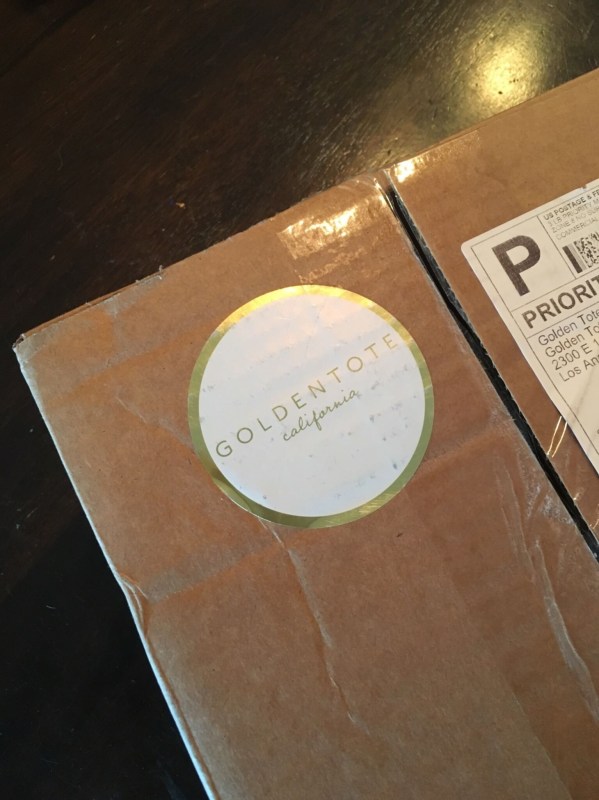 Golden Tote is a monthly fashion grab bag – Get new pieces monthly that are fashionable, seasonable, and affordable. When you pick the $149 tote you select two pieces and then you get 5-7 pieces with a total value of up to $600! When you get the $49 tote you pick one item and get 2 (or sometimes 3). Unlike regular subscriptions you have to purchase it every month, but you can return it. If you decide to keep part of your tote, any kept 'chosen items' will be sold at boutique price and surprise items for $35.
This is a review of the $149 tote. See my review of my $59 tote for May 2016 here.
Golden Tote is also streamlining the tote offerings! Here are the changes beginning May 2.
Note that you get free shipping at Golden Tote if you spend $149 or more, but regular shipping charges will be $5.95. Yay! There will also be a new returns process so you will be able to see the cost to keep each item in your tote.
The information sheet shows a list of all my items in this box.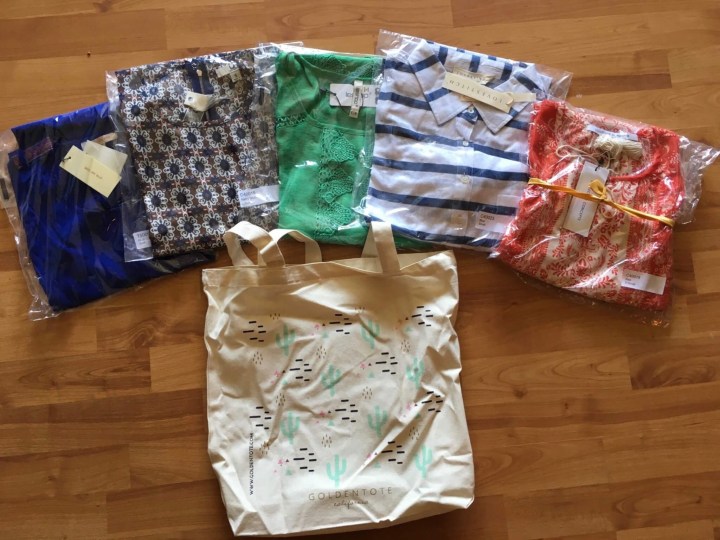 Everything in my box!
Front & Center Dress
This is one of my faves.  I chose it and got this is an XS and the fit is perfect.  Casual enough to wear to work and dressy enough to wear to an afternoon event.  I love that is lined.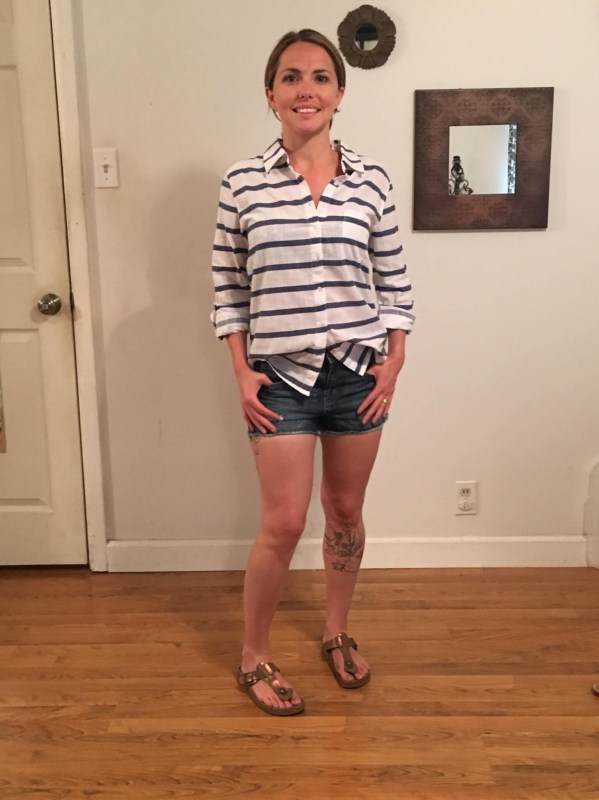 Beach Bound Buttondown
Beach bound Buttondown is one I chose and I'm glad I did.  I paired it with cut offs and Birkenstocks.  The fit was loose and liked it with sleeves rolled and top unbuttoned.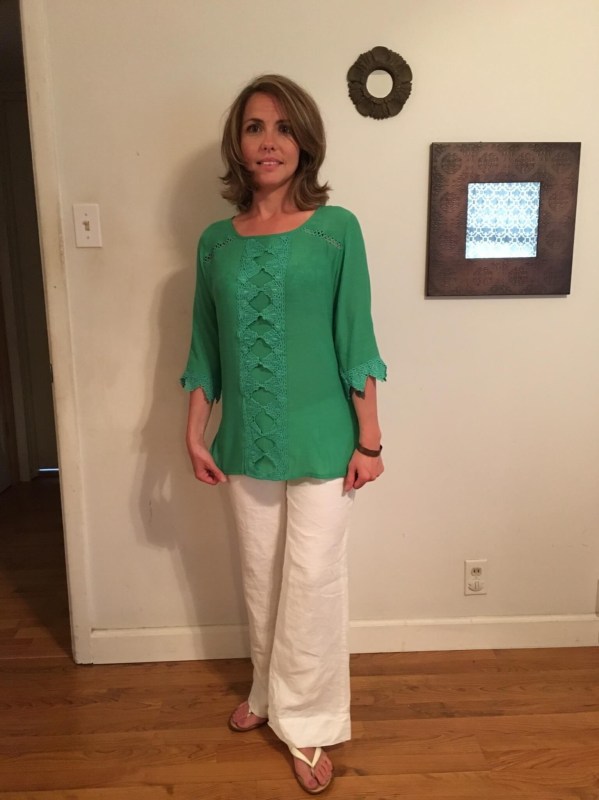 LeShop Top With Lace Detail
This is a surprise item. The green top fits nice, but a bit matronly.  I paired it with white linen pants.  The fabric is nice and its true to size.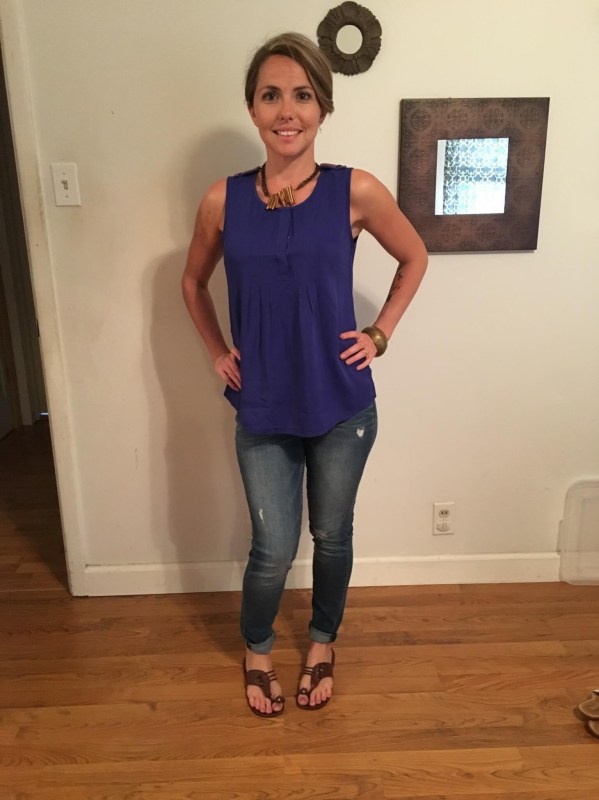 Skies Are Blue Embroidered Epaulet Tank
Another surprise item. This came in stunning rich blue.  It's wearable with a ton of items.  I've paired it with skinny jeans-white and regular, cut offs, and bell bottoms. Chunky jewelry, and messy hair set the look off.
Ya Border Print Shift
My last surprise item. This dress is fun.  The rayon fabric makes in comfy and lightweight.  The fit is off though.  The cut makes it difficult for me to lift my arms.  I love the look and wished it had fit better in the arms.  Positive point-the length is perfect.
This is my first Golden Tote Bag. I'm excited about it but am going to be more specific on my profile! What did you get in your tote this month?
Visit Golden Tote to subscribe or find out more!
The Subscription
:
Golden Tote
The Description
: Golden Tote is a clothing surprise bag. Each month you'll get either 5-7 clothing and accessories picks in your tote ($149) or 2-3 items ($49).In creating your Tote, Golden Tote allows you to select one item out of two for your first item ($49 tote) and two out of four for the larger tote. The Tote itself is reusable lightweight canvas!Sizes XS-Large. No individual returns but you can regift or exchange with friends. Alternatively you can return your entire order but you cannot return a single item or two.
The Price
: $49.00 per month