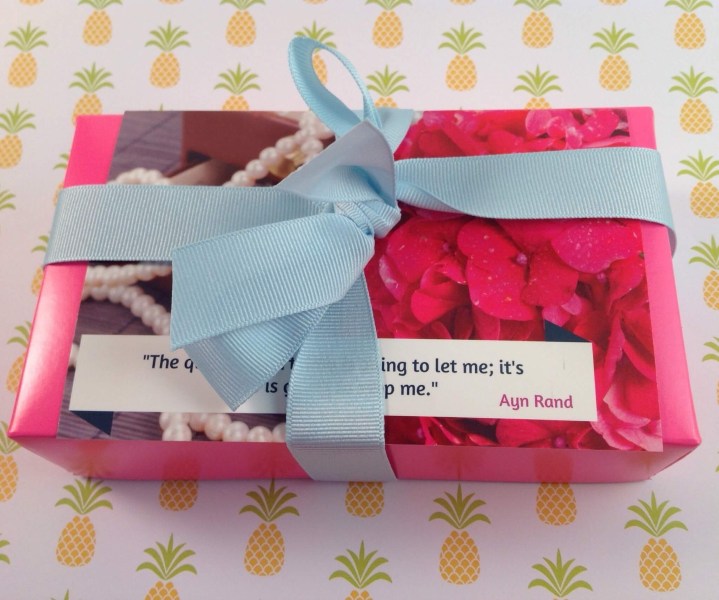 Luxe Pineapple Post  is a monthly beauty subscription box that features 4 or more beauty and beauty lifestyle items a month curated around a theme and packaged in a cute pink box. Luxe Pineapple Post is $24 a month and is available in 1, 6, or 12 month options. Monthly subscriptions are billed on the 1st of the month; 6 and 12 month subscriptions will autobill after their term is up. You can subscribe to Luxe Pineapple Post here. Luxe Pineapple also has a shop where you can purchase items similar to the ones they send in their boxes and offers a rewards program on shop purchases.
The May box included an introduction letter that explained the theme for the month and how the items in the box fit into that theme. This month's items are geared to help you transition from spring to summer.
The box was packed inside a white mailer and was wrapped with a pretty blue grosgrain ribbon. My younger daughter is currently wearing the ribbon in her hair.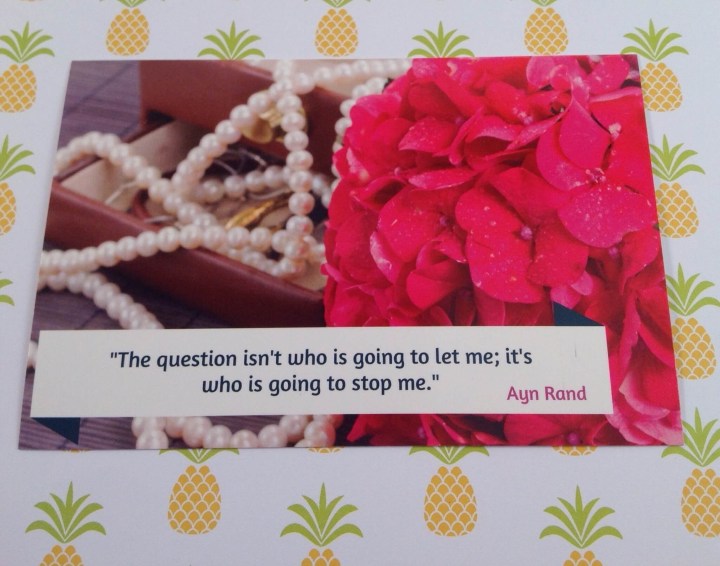 There was a card with a quote from novelist Ayn Rand on top of the box.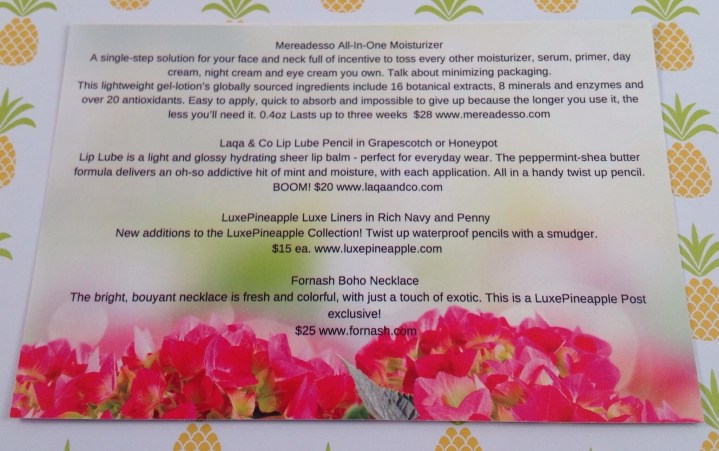 On the flip side of the card was the product information. It lists the products, how to use them, and their value.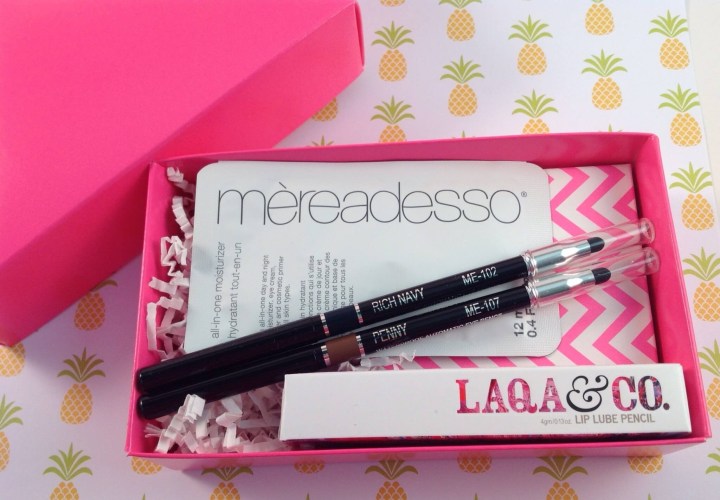 Everything in the box! There was shredded paper to cushion the items and a separate box containing a necklace was on the bottom.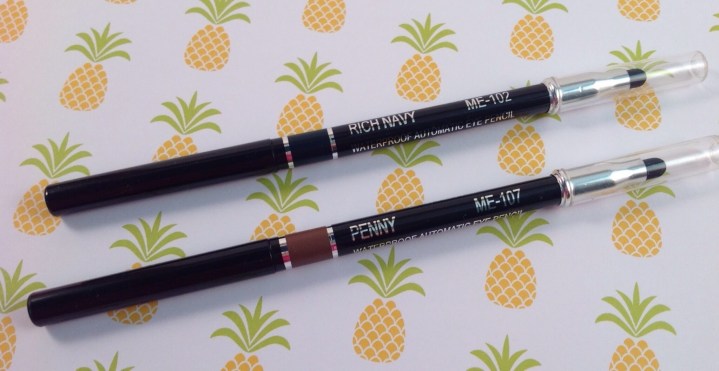 Luxe Pineapple Luxe Liners in Rich Navy and Penny (Full Sized! $15 each) (Note: I couldn't find these items in the shop for purchase.) Luxe Pineapple offers their own brand of makeup and sent not one but TWO of their eyeliners. If you have ever subscribed to any beauty box for longer than a month or two then you probably have a stash of black eyeliners but the goal this month is to try something other than that basic standby. The liners were very smudgeable and conveniently twist up so you can take them with you for touch ups. The Penny shade was too light for me but I ended up applying it just above my regular dark brown liner on my upper eyelid.
Mereadesso All-in-One Moisturizer (Deluxe sample size, $28) This one-step product aims to replace your regular moisturizer, serum, primer, day cream, night cream, and eye cream and is for all skin types. This product contains 16 botanical extracts, 8 minerals and enzymes, and over 20 antioxidants all squeezed into a travel sized resealable pouch that you can take with you on vacation or even to the gym and should last about two weeks. Personally, I couldn't get over the scent; either mine was off or it is just stinky in general.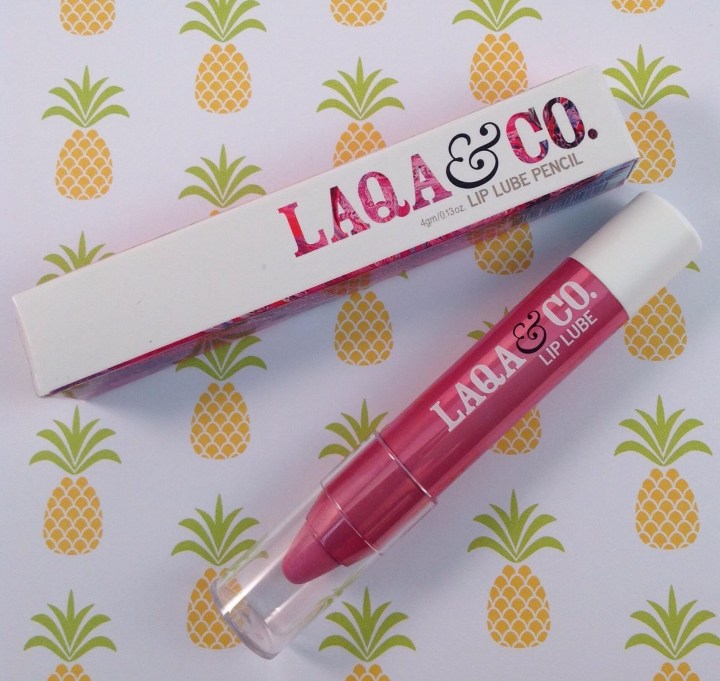 Laqa & Co. Lip Lube Pencil in Honeypot (Full sized! $20) Subscribers received one of two colors (the other was Grapescotch) of this moisturizing lip balm. I love peppermint scented/flavored ANYTHING and the color is very light so this immediately made its way into the makeup bag in my purse. It also twists up so it is convenient for travel.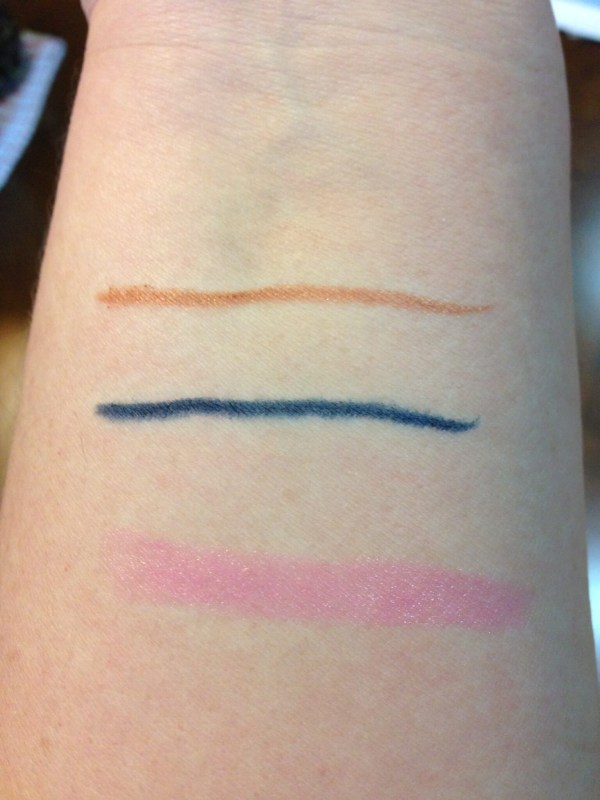 Here are the eyeliners and lip balm swatched on my arm.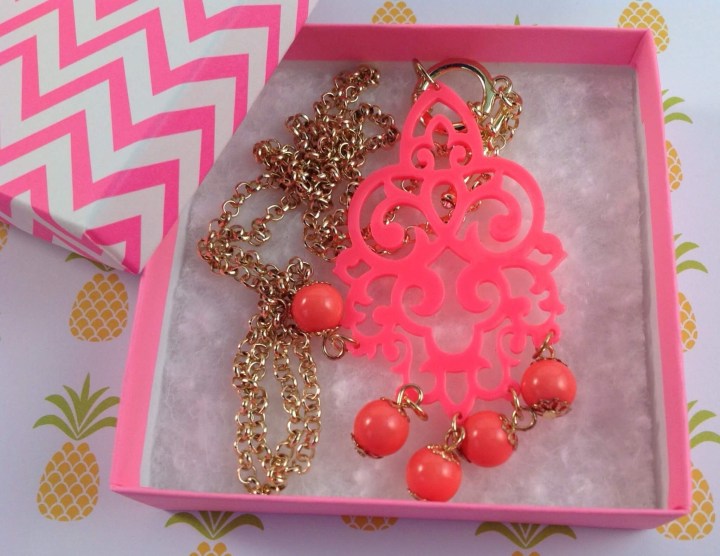 Fornash Boho Necklace ($25) The beauty lifestyle item included this month was a lovely necklace with a long chain that would add a colorful touch to a long dress or even a white t-shirt and jeans. I received a bubblegum pink colored medallion but noticed a few different colors on social media. This necklace is a Luxe Pineapple exclusive and doesn't appear to be available for individual purchase.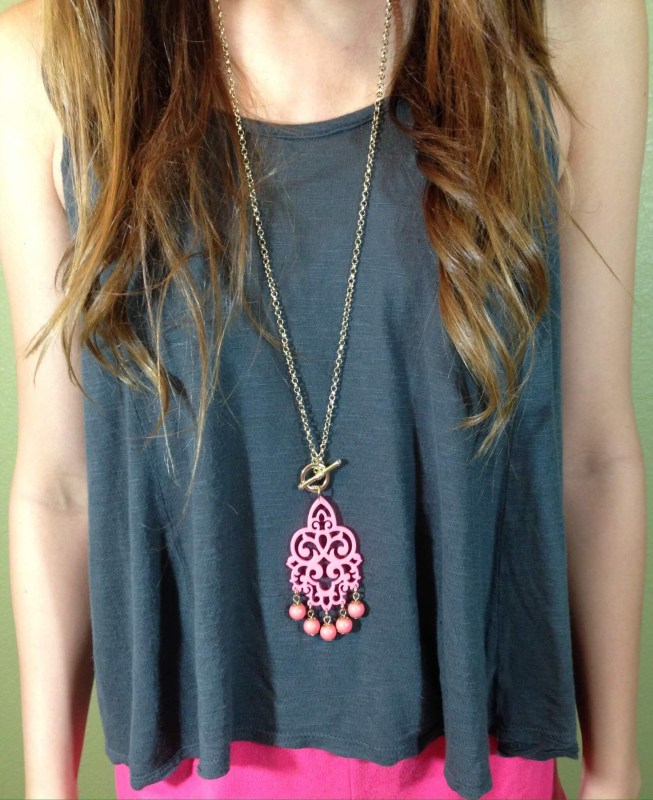 Here is the necklace as modeled by one of my girls.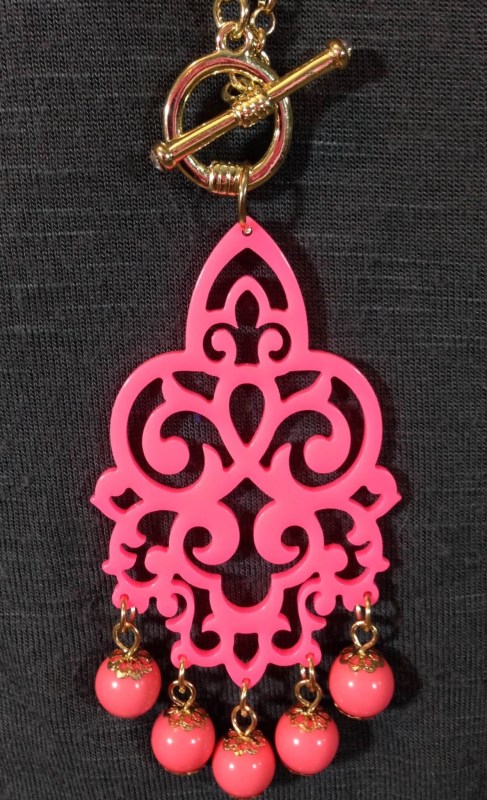 My May Luxe Pineapple Post had an incredible value of $103! My favorite item was the lip balm but each of the items this month are perfect for both spring and summer.
Did you get a Luxe Pineapple Post this month? If so, what was the color of your necklace?
Save $5 off of the first box with coupon code HELLO5.
Visit LuxePineapple Post to subscribe or find out more!
The Subscription
:
LuxePineapple Post
The Description
: The thrill of beauty discovery brought to you monthly by LuxePineapple! Each month we'll send you 4 or more beauty and beauty lifestyle items packaged in a pretty pink box. Boxes can include anything in the makeup, skincare, hair care, beauty accessories, jewelry, clothing accessories, categories and more.
The Price
: $24.00 per month