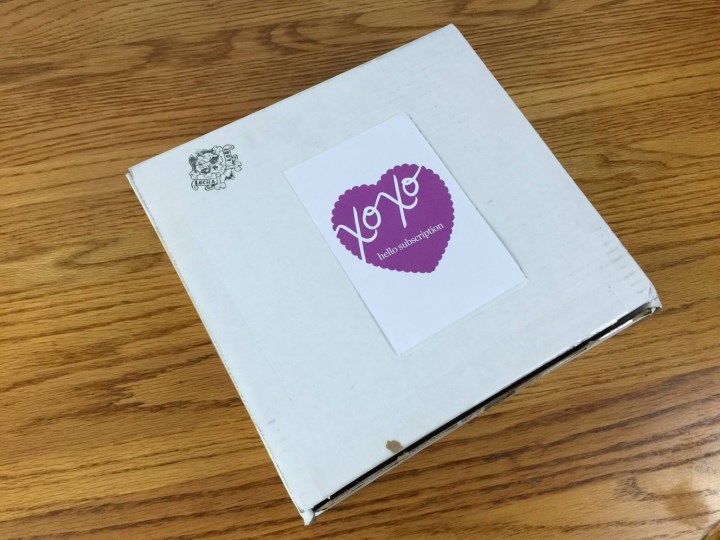 Lucha Loot is a monthly subscription box devoted to all things Lucha Libre! Lucha Loot is committed to officially licensed 100% items with lucha libre collectibles including DVDs, magazines, posters, art and more, plus lucha masks, all with royalties paid to or purchased directly from luchadores.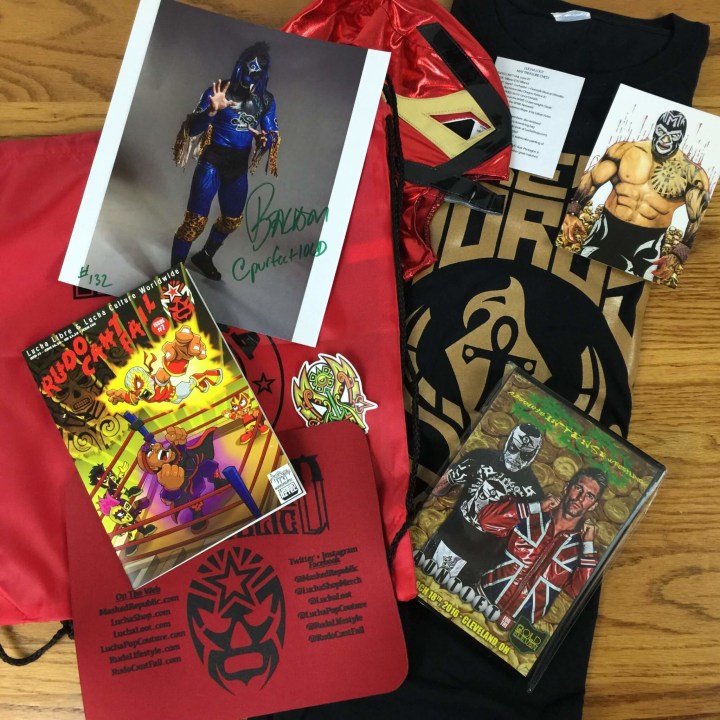 T-shirt, autographs, DVD and more.  There is a lot of loot packed into this treasure box.  There are two sizes of Lucha Loot – the Lucha Loot Standard Chest ($19.95 + $8 shipping), and the Lucha Loot Deluxe Booty Chest ($29.95 + $8 shipping). I subscribed to the Deluxe Booty chest!
Rey Horus T-Shirt.  Many fans now know Rey Horus as Dragon Azteca Jr.  I like the black t-shirt with the gold logo.  Very cool looking!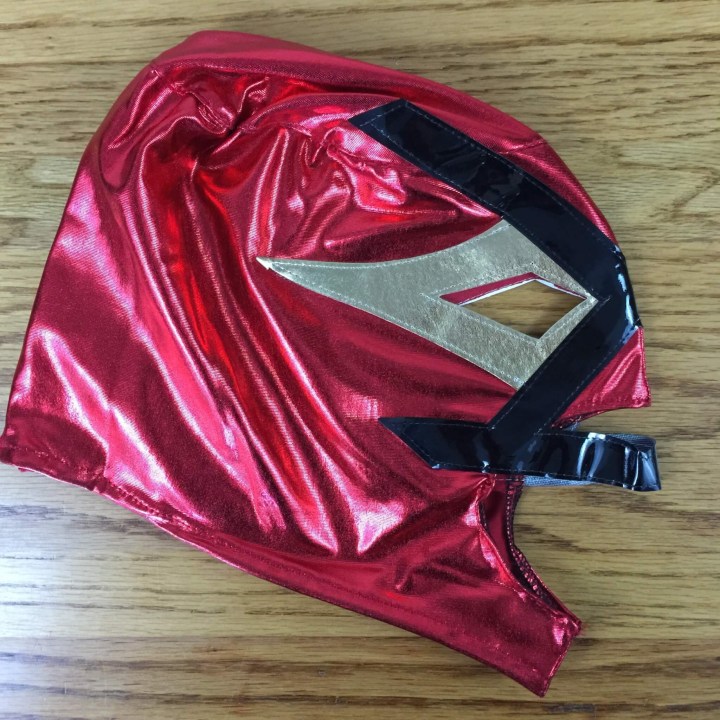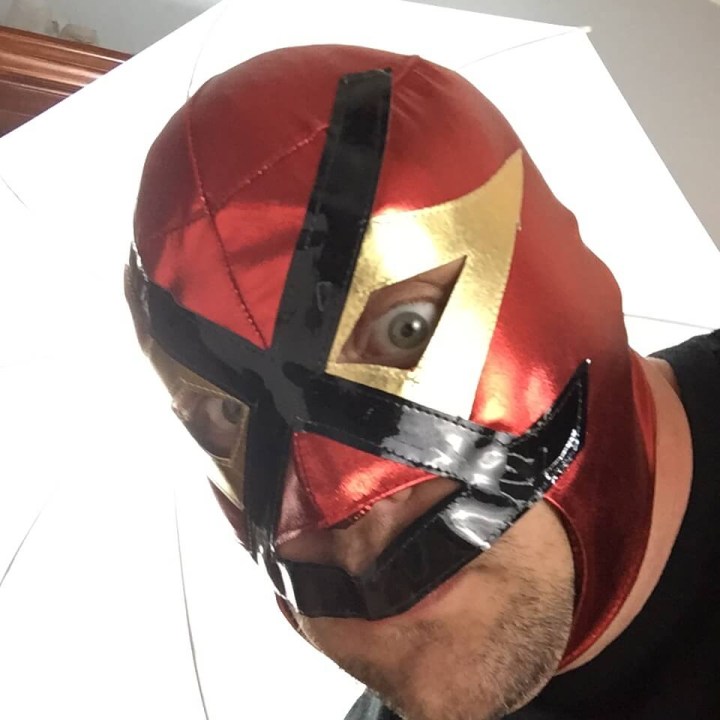 Villano Mask.  This mask looks amazing and wears well.  The mask uses a zipper as opposed to being tied in back.  I was hoping to receive a red mask and look what came in.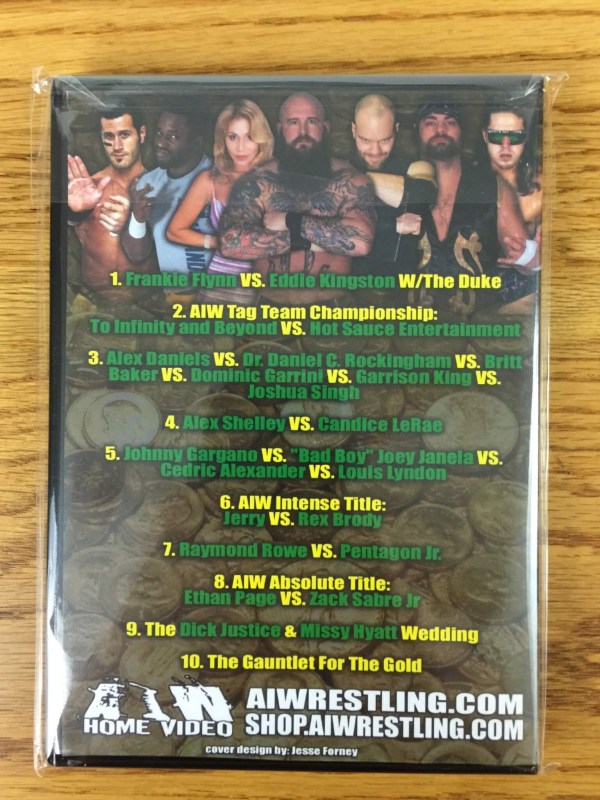 AIW Gauntlet for the Gold Eleven.  Just look at the lineup of wrestlers on the card.  What an incredible event!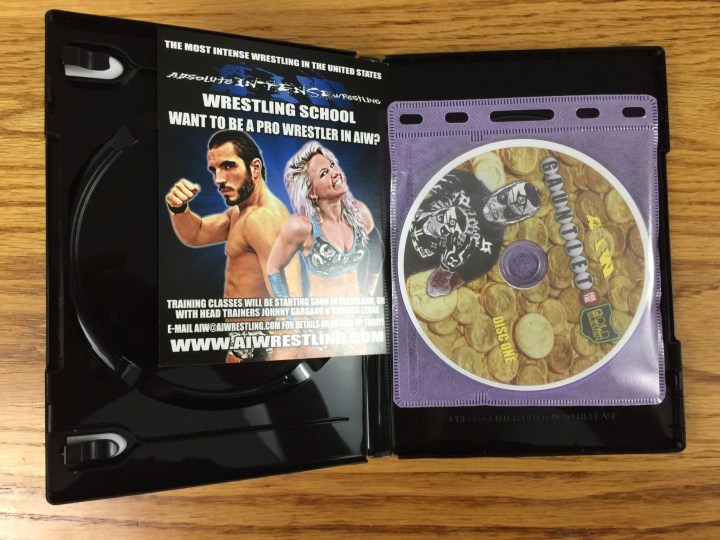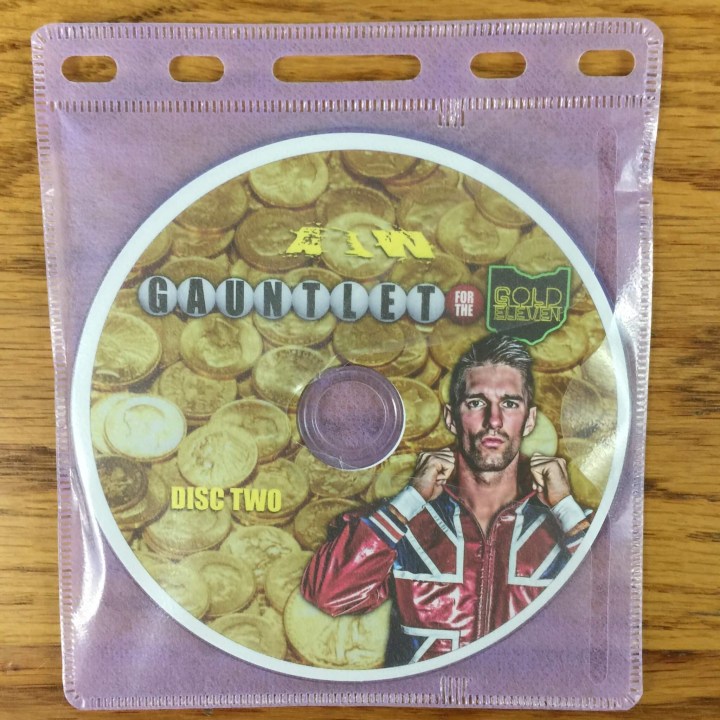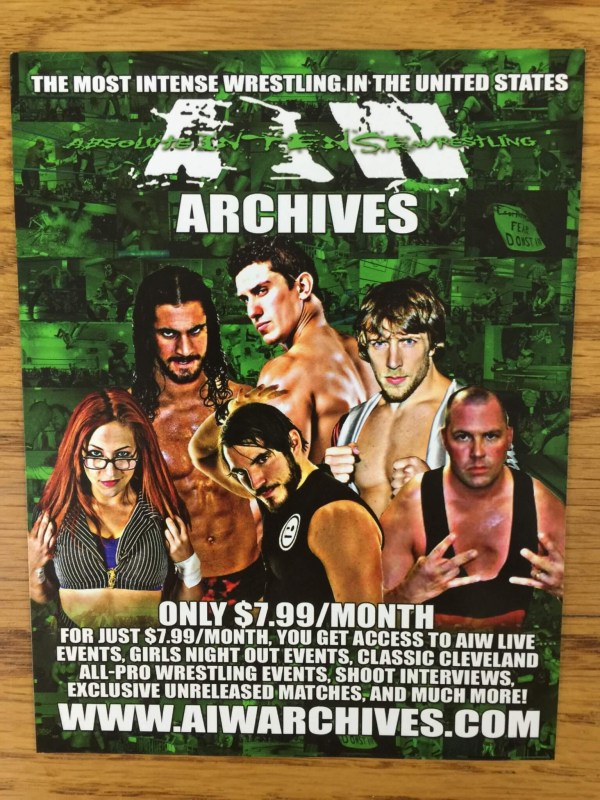 The DVD also comes with an insert from Absolute Intense Wrestling.  AIW Archives gives you access to many of the AIW events that have taken place.
On the other side of the card is information on where to enroll to become a wrestler for AIW.  For anyone interested in becoming a professional wrestler, the biggest thing I learned from interviewing many wrestlers on my podcast was: get trained.  Don't try to teach yourself in your backyard.  Get enrolled into an actual wrestling school and learn the right way.
Mil Muertes postcard.  The art is excellent and incredibly captures the likeness of this amazing luchadore.  If you mail this postcard, I would imagine the recipient would believe you're never coming back based on the reputation of this feared competitor.  Watercolor painting by Leo Garcia.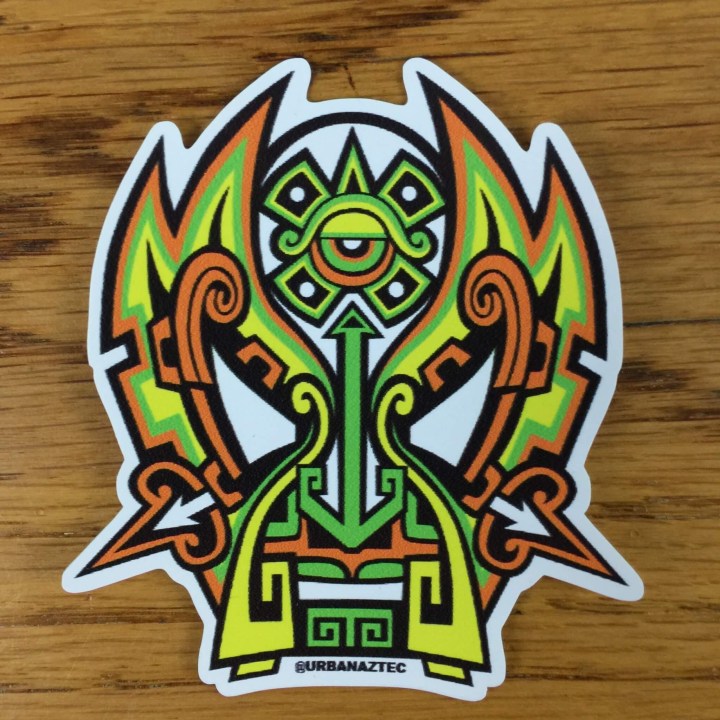 CMLL's Guerrero Maya Jr Sticker by Urban Aztec.  I can't get enough Lucha Libre items and this is a great addition.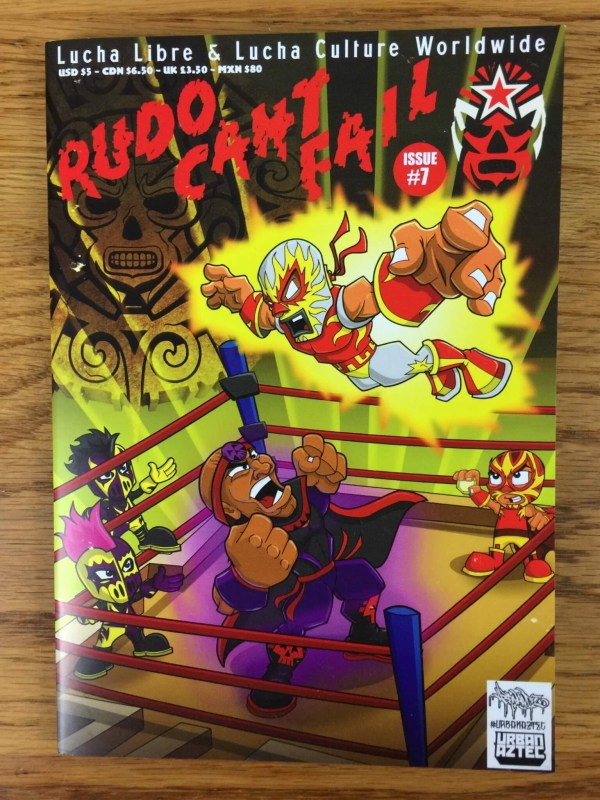 Rudo Can't Fail magazine.  Issue #7 has tons of news and photos from the world of Lucha Libre.  I enjoy receiving this magazine each month with Lucha Loot.  I just wish I was able to get my hands on issue #1.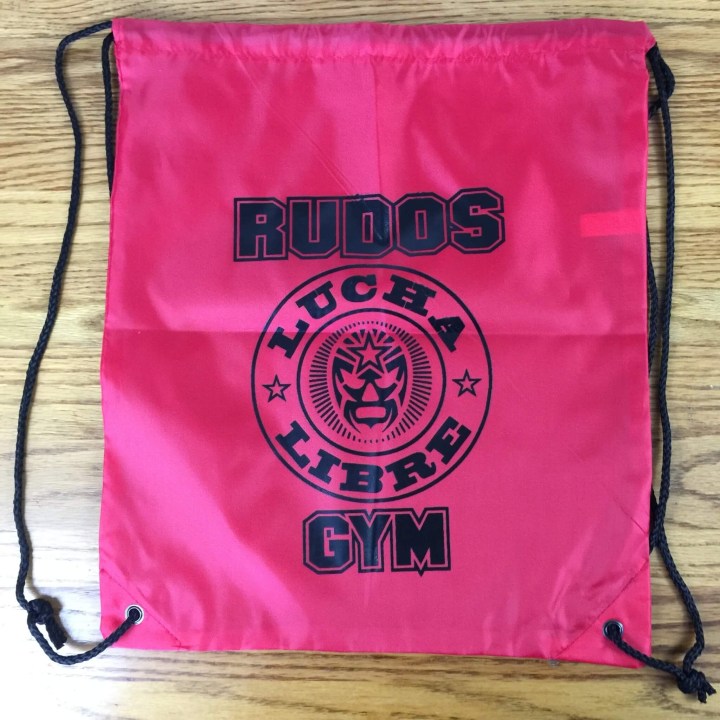 Masked Republic Rudos Gym Bag.  It's always nice to have one of these drawstring bags handy and Masked Republic has an awesome logo.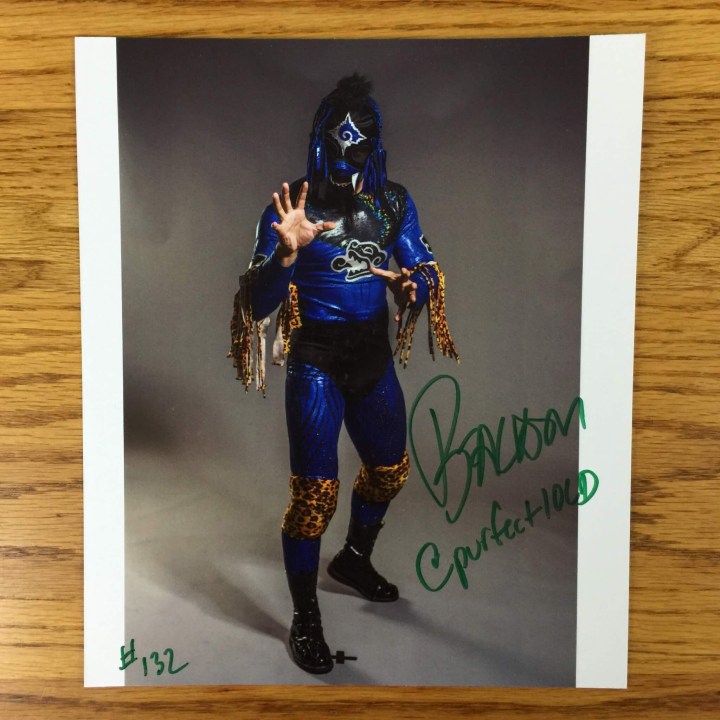 Lince Dorado/Balam Autographed 8×10 photo.  Lucha Loot is amazing with the way they include autographed items from some of the greatest in lucha libre today.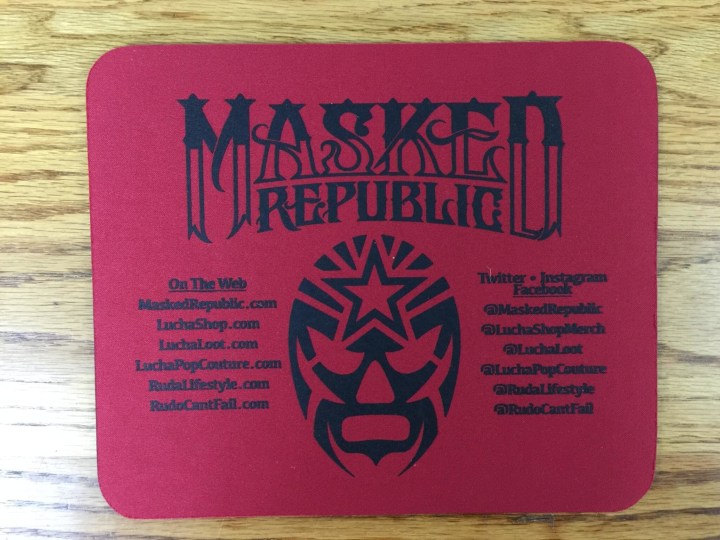 Masked Republic Mouse Pad.  One of the best looking logos around definitely belongs on a mouse pad.  I'm looking forward to tossing out the old mouse pad and putting this red and black one in its place.
Lucha Loot Description List.  A nice and concise list of everything packed inside this extraordinary subscription box.  I look forward to seeing what's in these boxes every month!
This is easily one of my favorite subscription boxes.  There is a nice variety of items which is something I definitely love about this box.  I'm looking forward to seeing what Lucha Loot has in store for the upcoming months!
Visit LuchaLoot to subscribe or find out more! Save 10% on your first box! Use coupon code TRYLL.
The Subscription
:
LuchaLoot
The Description
: Lucha Loot is the first monthly subscription lucha libre themed "blind box." Every month we curate a new box full of lucha libre related treasures – guaranteed to include an adult "commercial" mask, t-shirt and the latest issue of Rudo Can't Fail, a new English language lucha libre zine – PLUS bonus goodies, many exclusive to Lucha Loot.
The Price
: $19.95 per month