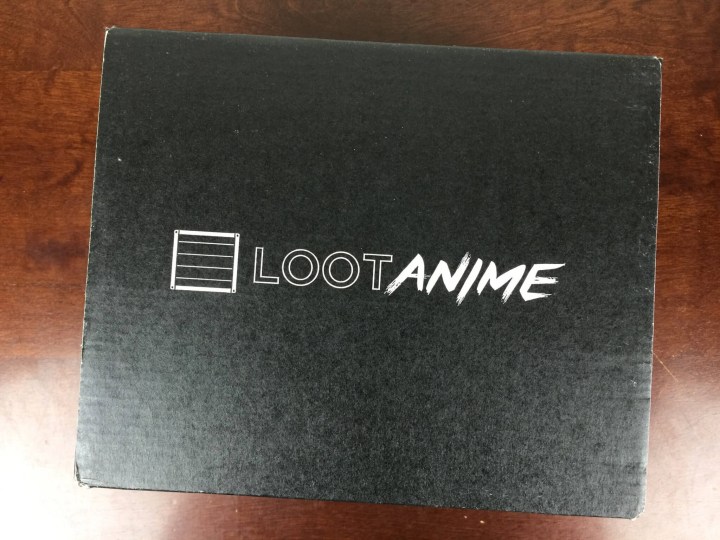 Loot Anime is a monthly subscription box from Loot Crate, just for Anime and Manga fans! Every month you'll get $60 worth of figures, collectibles, manga, apparel, accessories and more.
This month's theme is Duel! This box shipped extremely late. Loot Crate says it was due to a quality control issue. While I am happy they are ensuring subscribers get quality items, I think every single box in this subscription besides the first has been late. Our April box has already shipped!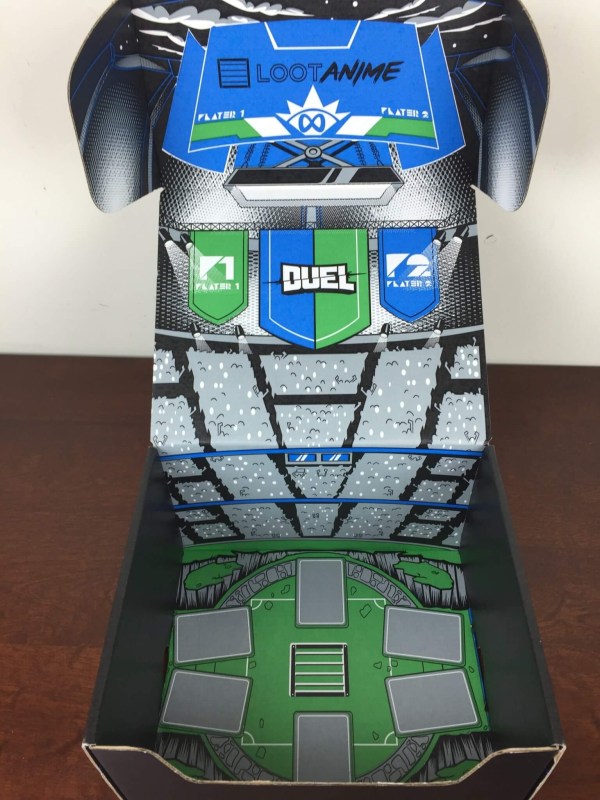 I love that the inside of the box is designed as well. It looks like a stadium ready for an upcoming duel.
Everything in the March 2016 DUEL crate!
Quite a few of the most popular anime and mangas feature dueling as a main theme.  Duels are usually governed by specific rules and make use of certain items, such as cards, to fight for them.  This needn't always be the case, but typically, when one hears the term 'duel' in the world of anime, this is what comes to mind.   Let's investigate what Loot Anime offers this month.
Poster Artwork by Stephanie Koo. I wish Loot Anime would write a back story to their characters, but I guess it unfolds through the unboxings!
The poster of this box features Loot Anime's original character facing off against an opponent.  The comic book style of art nicely shows both while the middle depicts an action shot.  As always, the artwork is fantastic!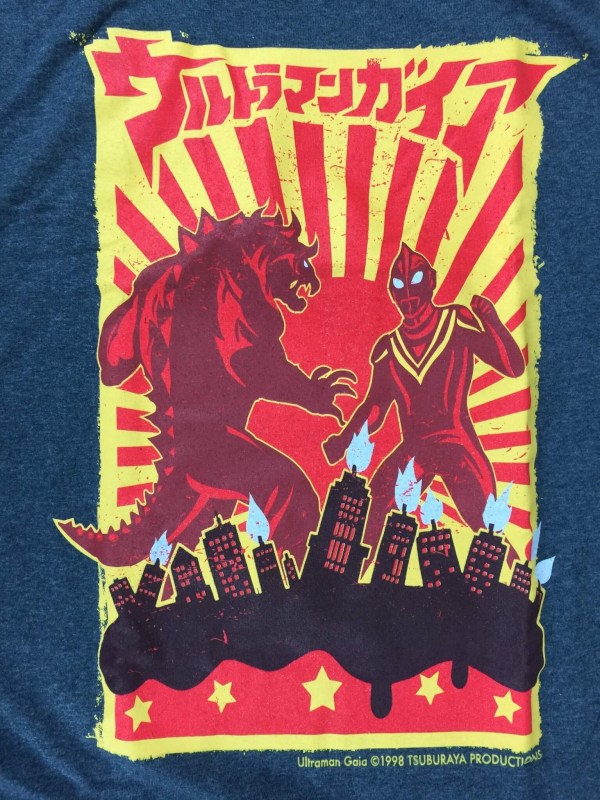 Loot Anime Labs Exclusive Ultraman Gaia Tee: Ultraman Gaia is a Japanese tokusatsu, or a live action show which makes considerable use of special effects (think Power Rangers).  It is the thirteenth show in the Ultra Series and features two Ultramen who initially differ with each other's philosophies greatly, but eventually put this aside for the sake of protecting the Earth.  The shirt is soft and nice quality and the more minimalistic design is pleasing to the eye (also, very Shepard Fairey, who seems to have taken clear inspiration from this style).  The scene on the shirt features one of the Ultramen facing off against a serious looking threat to Earth amongst some buildings.  The lettering at the top reads, 'Ultraman Gaia'.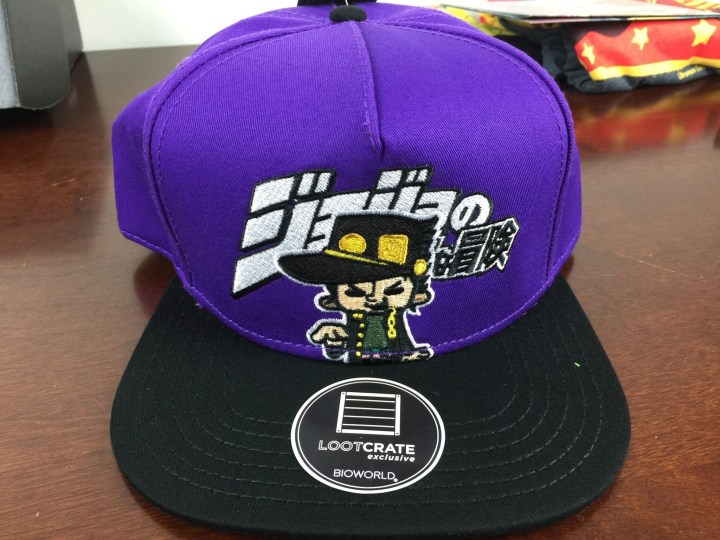 Bioworld Exclusive JoJo's Bizarre Adventure Snapback Hat:  This well-loved manga features the Joestar family and their various adventures.  Each member has a supernatural power that can defeat a certain foe and the various volumes in the series follows one family member at a time.  The hat is a vibrant purple and features the words 'JoJo's Bizarre Adventure on the front. 
The stitching is good quality and under the brim is decorated with different characters from the series.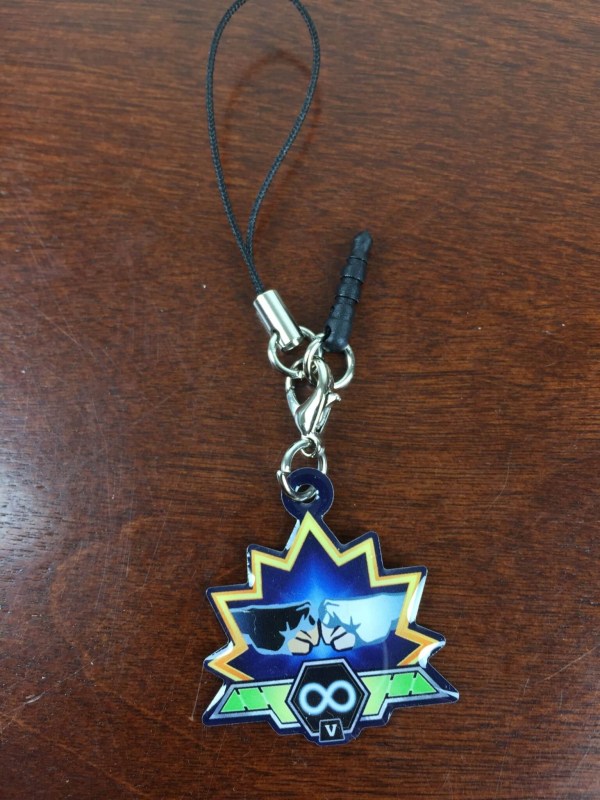 Loot Anime Labs Exclusive DUEL Phone Charm:  This box's phone charm deviates in shape quite a bit.  It features a spiky rim surrounding two fists meeting in combat and what looks to be a life gauge at the bottom.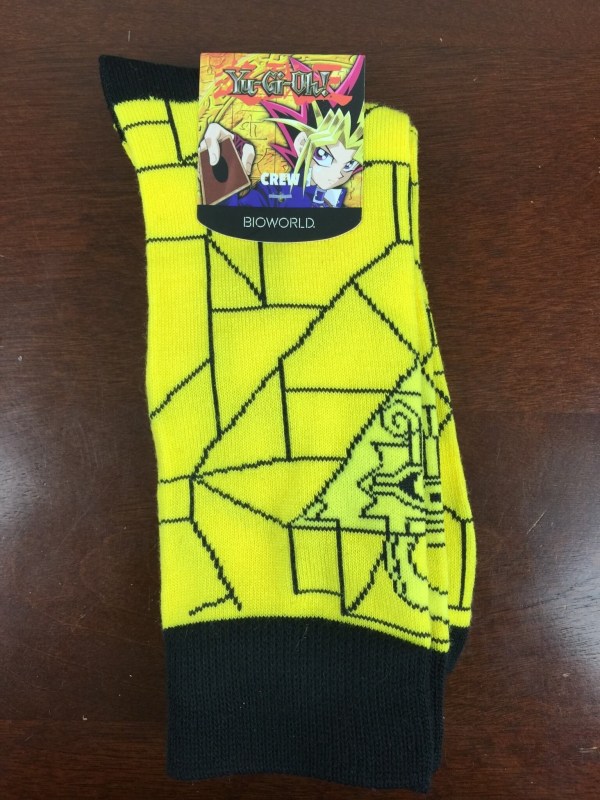 Bioworld Exclusive Yu-Gi-Oh! Crew Socks:  Never lose your way in the dark with these brightly colored threads again!  Yu-Gi-Oh! protagonist, Yugi Mutou is a rather meek boy who loves games of any kind.  Frequently bullied, the tables are turned when Yugi solves the Millennium Puzzle and suddenly finds that a mysterious pharaoh from the past takes over his body and battles fearlessly when he or his friends are in trouble.  A new aspect to the story comes to light as strange enemies appear and Yugi and his group of friends decide to help the pharaoh, who has lost his memories, to reclaim them. 
The socks feature the Millennium pattern and are good quality.  Slip these on before heading out to your next duel.  We can't promise a win, but hey, at least you'll good even if you do lose!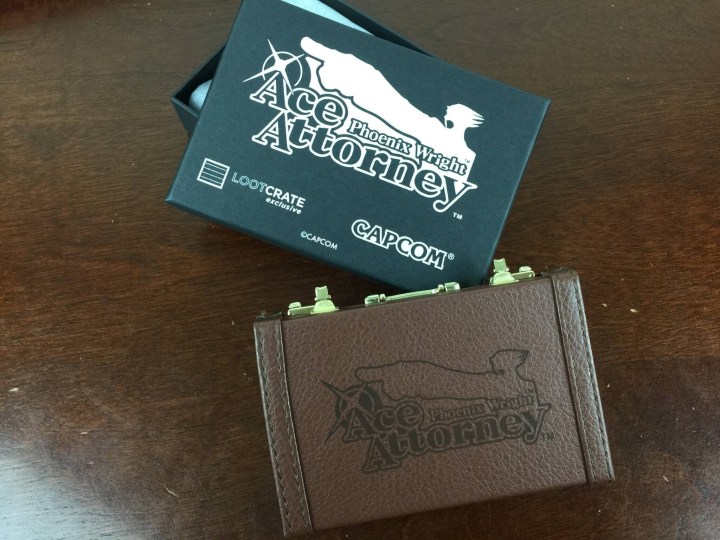 Capcom Exclusive Phoenix Wright: Ace Attorney Business Card Case:
Pheonix Wright is a visual novel game in which the player takes the role as an attorney to defend his clients.  As the player, you must talk to various people and look around your environment to gain clues about what happened.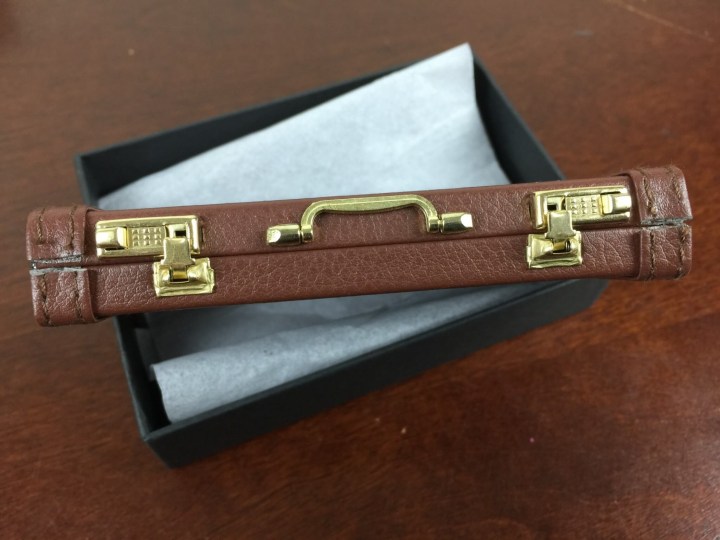 Display your credentials with this stylish and sweet briefcase for your business cards.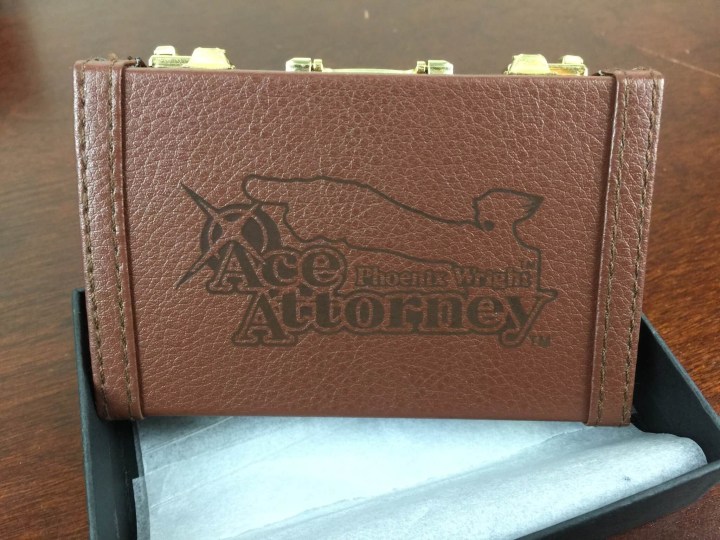 Made to look exactly like an attorney's brief case, this holds business sized cards in two pockets.  It is made well and opens in the same manner as a brief case. 
Skybound Superfight Anime Deck 2: The last item of the box puts you in the heat of a duel!  This fun game has you take a fighter card and then has you choose two power or problem card.  Your goal is to argue your way to victory!  Happy dueling!
It's worth noting that this box shipped so late that we've already received our April box!  While we respect Loot Crate's commitment to high quality products, we are hoping to see all future crates ship on time.
Have you tried Loot Anime? What did you think about the DUEL crate?
Visit Loot Anime to subscribe or find out more! Save 15% on any subscription plan when you use this link and coupon code HELLOSUBSCRIPTION15.  HELLOSUBSCRIPTION.The box cut-off is on the 27th – see Loot Anime spoilers here. Please note that this box has sold out every month – and some shirt sizes before others.
The Subscription
:
Loot Anime
The Description
: Loot Anime is a monthly mystery bundle of figures, collectibles, manga, apparel, accessories and more from some of your favorite anime and manga series with a new theme every month! $60+ value in every crate! From Loot Crate!
The Price
: $29.95 per month