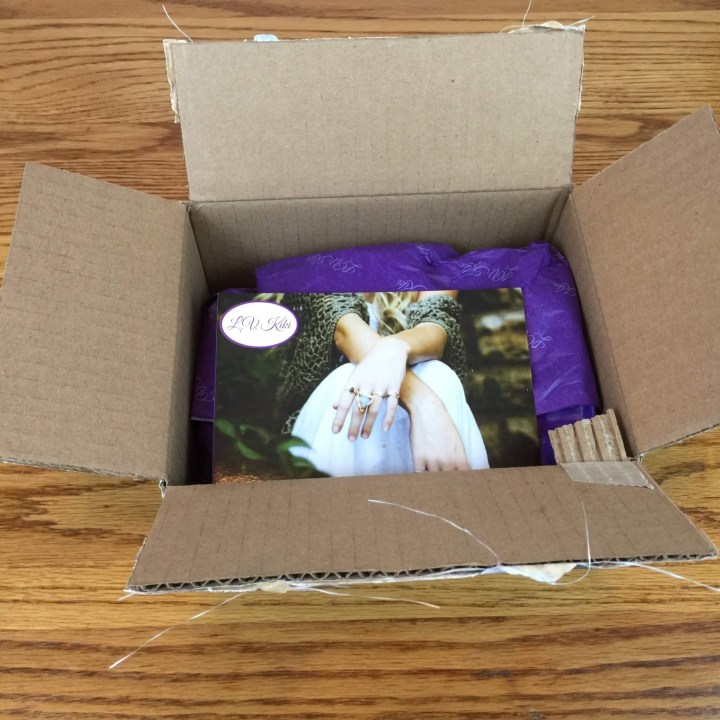 L.V. Kiki is a high quality fashion accessory subscription box featuring 4-6 accessories for $19 a month with free shipping. The website boasts shoppable collections from head to toe with affordable prices.
I look forward to this box because I love to accessorize but don't ever go out of my comfort zone.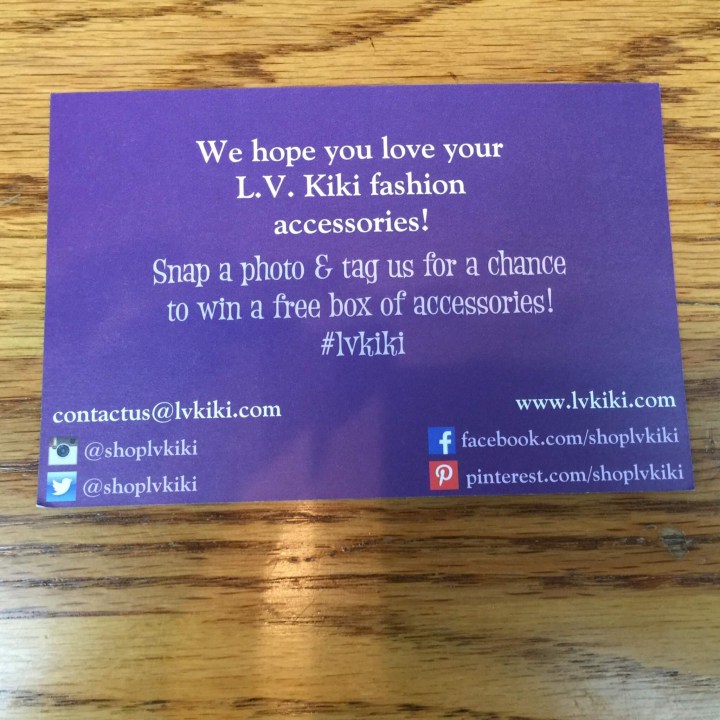 Information card does not give deatils about the contents of the box just how to stay connected via social media and enter for a free giveaway.
I love how this box arrives wrapped in tissue paper then in individual bags, feels like getting presents each time. The bags are sheer enough to allow me to see what is in the package but still keeps me guessing on other items. I also like that I can reuse the bags for other things or to keep my accessories organized.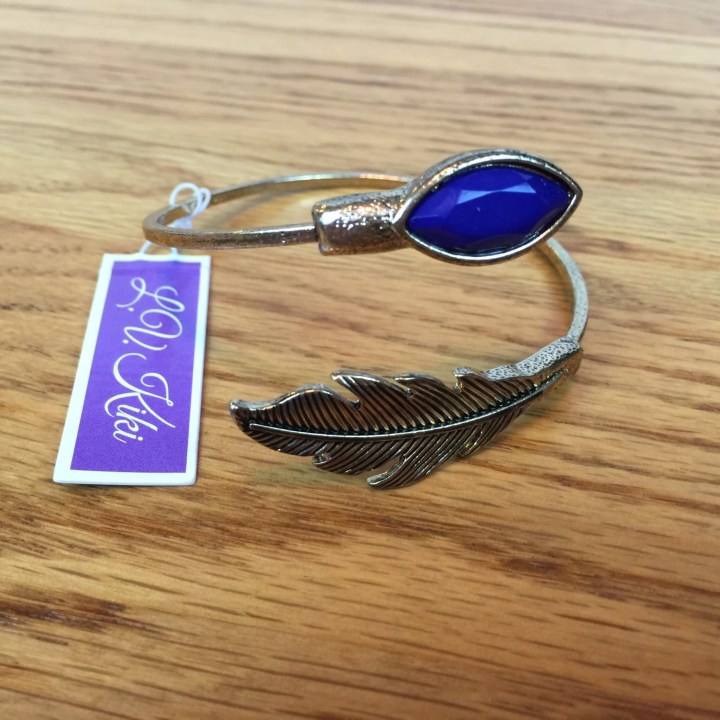 Adjustable feather and blue stone bracelet is just stunning. The brushed gold gives it an old feel with charm. I wore it to work the other day and fell in love because it adjusts small enough that I don't hear clanking as I type all day.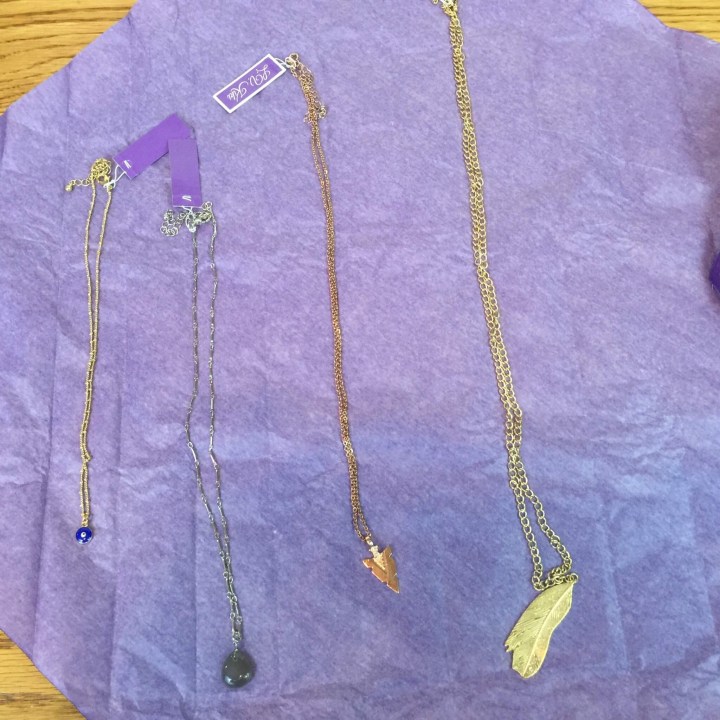 Four necklaces came all wrapped together, but still separated so they didn't tangle. This was an improvement from the April box.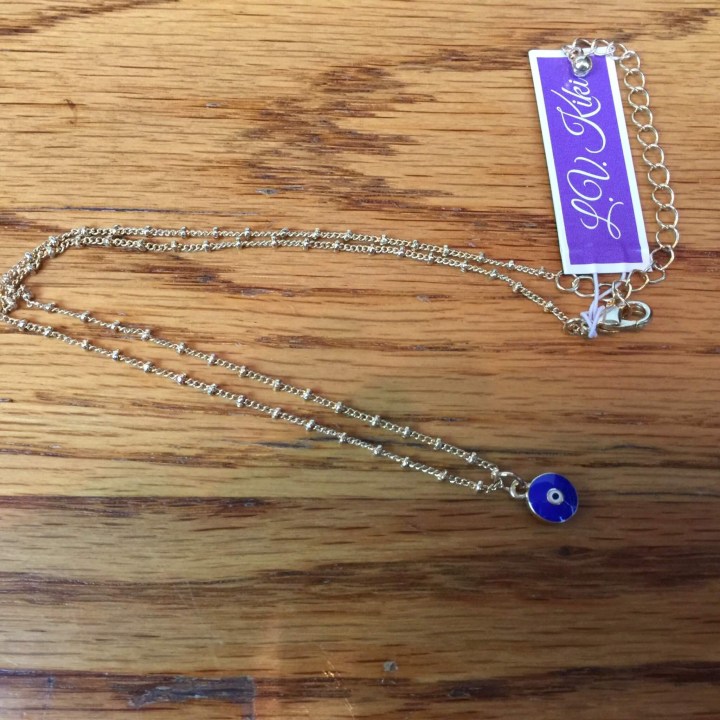 This gold and blue necklace is unique, but not the same blue as the bracelet. The detail in the chain is wonderful, links with small circles that perfectly match the circle pendant.The pendant has a smaller inner circle with a white ring then a black dot in the middle, kind of reminds me of an eye.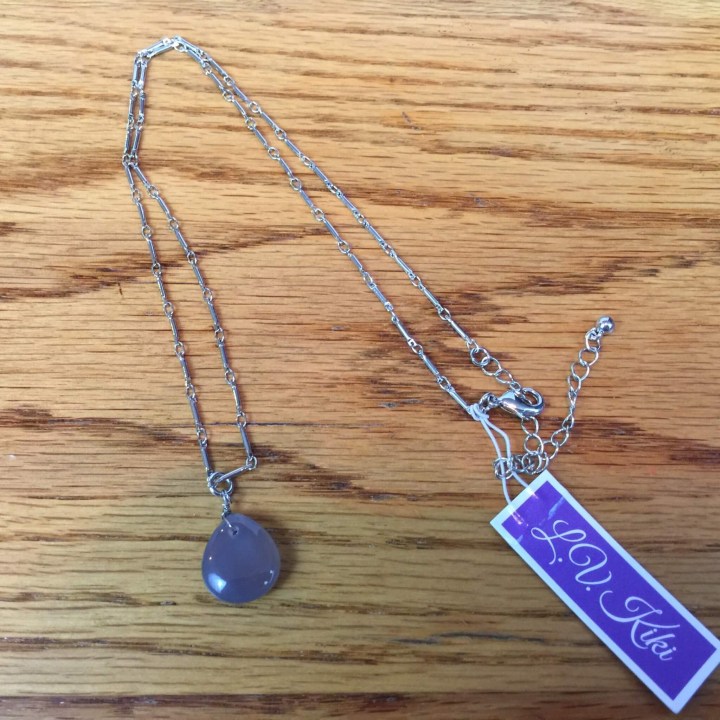 This is my favorite necklace from this months box, silver with a teardrop pendant in gray. The chain reminds me of a horse bit and the length is perfect for making the necklace stand out.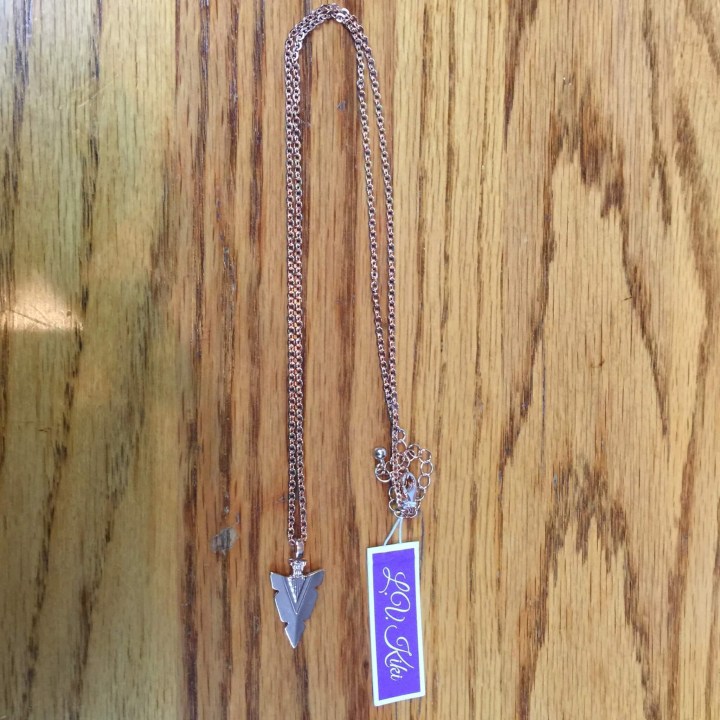 Rose hued arrowhead. The chain on this necklace is longer than the others and allows for layering.
Long gold chain with feather pendant complements the bracelet perfectly. I love the small details in the feather that truly bring it to life.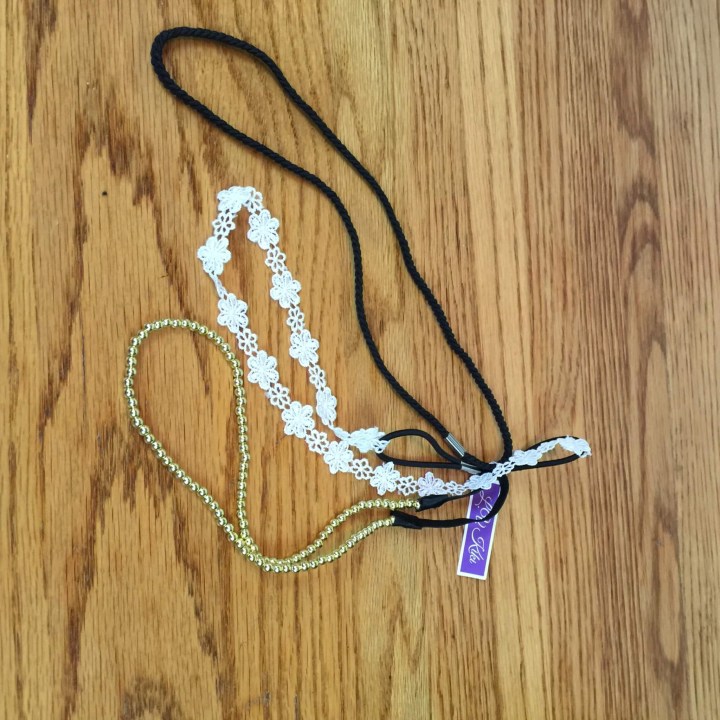 This headband trio can be worn together or separately. Each headband is comfortable and doesn't pull hairs out as it shifts during the day. The black braided one also worked as a ponytail holder in a pinch the other day at the gym.
The most amazing thing from this months box was a multicolored fringed cape. It's light, flowy and covered my belly while still being stylish. I was a little disappointed that the fringes fell off during the day I wore it. I really enjoy that it looks great with a pair of jeans or I could use it as shawl over a dress for a nice dinner out.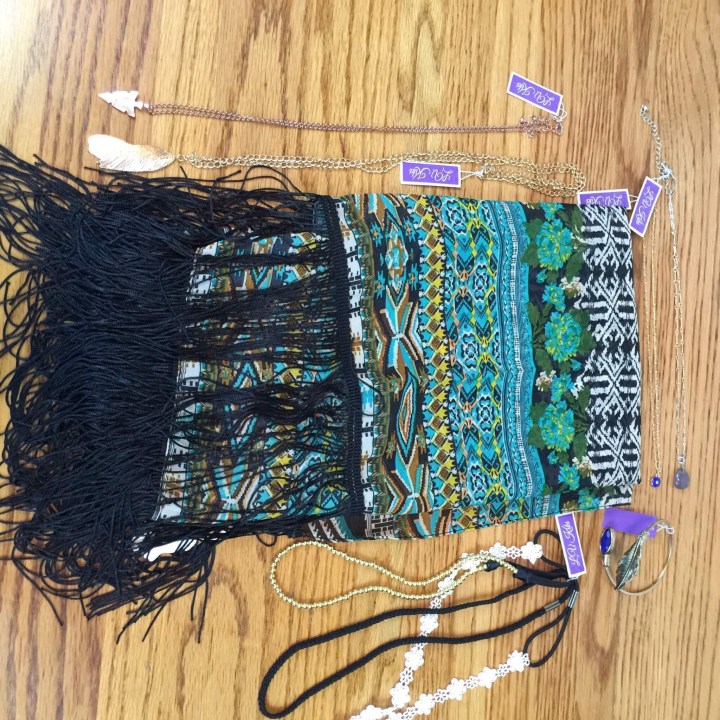 I love this box, it's so much fun to get items that are multi-use and  easy to care for. The fact that each box goes together but allows for creativity and individuality is a high point for me. I look forward to seeing how many different fashion statements I can make with L.V. Kiki.
What do you think of L.V.Kiki?
Visit L.V.Kiki to subscribe or find out more! Save 20% on your first month! Use coupon code HELLOTAKE20.
The Subscription
:
L.V.Kiki
The Description
: L.V.Kiki fills your accessory box with the most exciting fashion trends and delivers them straight to your door every month! Each carefully curated box includes 4-6 high-quality surprise seasonal accessories to ensure that you look fashionable from head-to-toe. You will receive a combination of the latest jewelry, shoes, scarves, gloves, hats, legwear, belts, and hair accessories.
The Price
: $19.00 per month