Kidbox promises to always bring cool brands inside their boxes. If you don't like what they've sent your children, they give you 7 days to pick the items you want to keep or return. You'll need to login to your account online to complete the checkout process within a week, if not, your credit card will be charged for the complete box. Every time you keep a Kidbox, they will donate new clothes to a kid who needs it.
Your kids can use the crayon to color the small booklet that was included in this box.
The booklet also listed a set of instructions on how you'll be able to return or exchange your items.
I noticed there's a small Tops Malibu Unwind Surprize Ball that came with the outfits. I haven't opened it yet, but it says that it comes with 12 prizes for adults and kids. I grinned when I saw this – my son will love it!
When you sign up there's a short survey. I can't find what we picked – it was either modern/hip or city/cool. It is not alterable in your profile or indicated anywhere. Based on the clothing we received, it was probably city/cool.
Diesel Baseball Cap ($12) This is a sturdy well-made cap with the DIESEL label.
US Polo Assn. Boys Contrast Henley Tee ($10) I liked the cut of this tee for my slim 5 year old, but this one was pretty big. I would have preferred it without the POLO logo.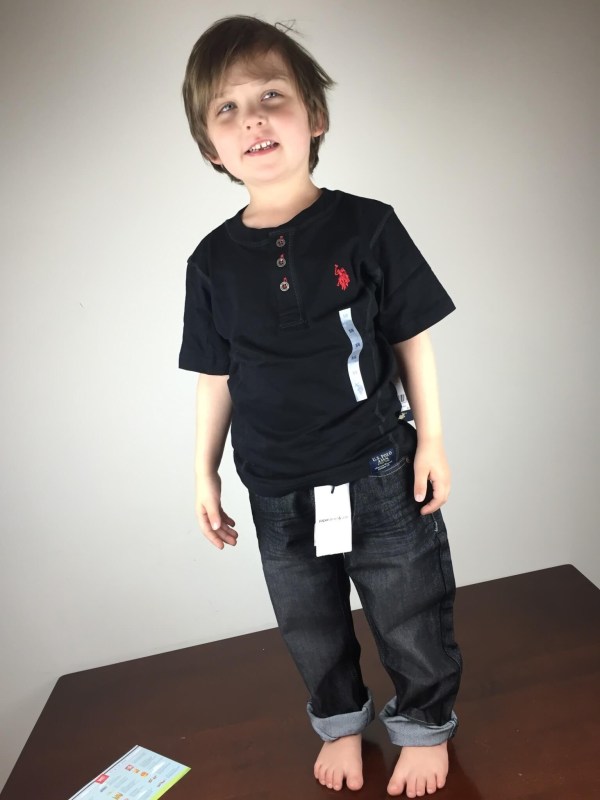 This shirt is sized 5/6 and I probably would go down a size.
Paper Denim & Cloth Boys Belted Denim Jean ($18) I was thrilled with these. Great style. They were really long though. I think department store clothing runs bigger than what he's been wearing.
CB Sports Boys Performance Short ($11) This item was a complete miss for us.
It's 
giant
and my five year old doesn't need these sort of shorts at all. These are sized a 5/6 and I'm thinking about giving them to the next door neighbor (finishing up 6th grade). I have zero doubt they'd fit him perfectly (and he does wear these kind of shorts – but he's also 13 or so).