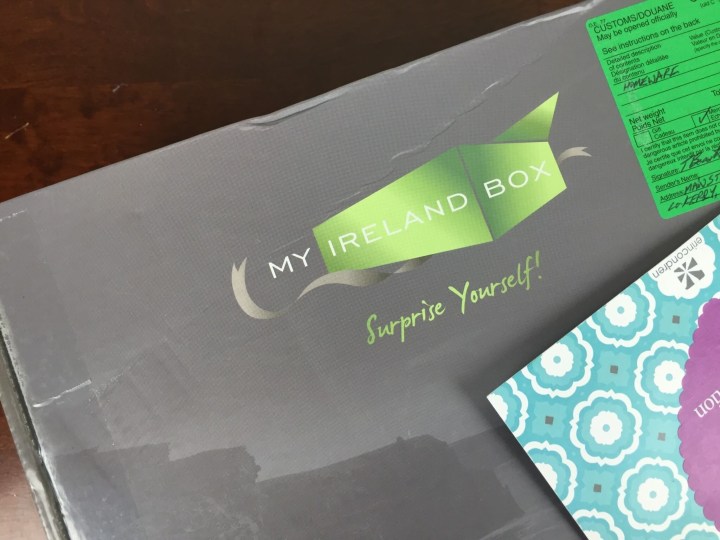 My Ireland Box is a monthly subscription box from Ireland filled with the best of Irish-made craft (artisan) goods.  You can expect to receive Irish made jewelry, housewares, and craft and beauty products. They ship to the US, Canada, EU & Australia (anywhere with a significant proportion of people with Irish last names live!). This box ships from Ireland!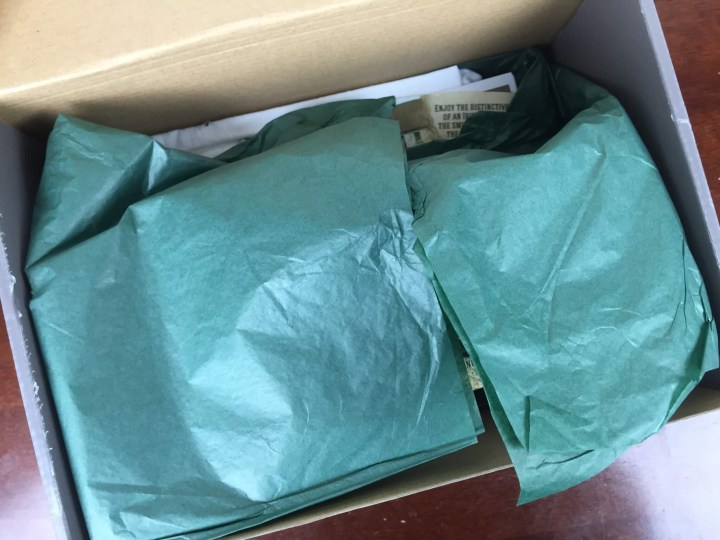 I've ordered one time boxes and three month subs from MyIrelandBox.
Everything in my May MyIrelandBox! The theme is  "The Irish Cottage," incredibly appropriate for a box that prides itself on delivering wonderful cottage-made (small producer) items!  This would make a fun gift for anyone of Irish heritage or that loves beautiful artisan products from Ireland.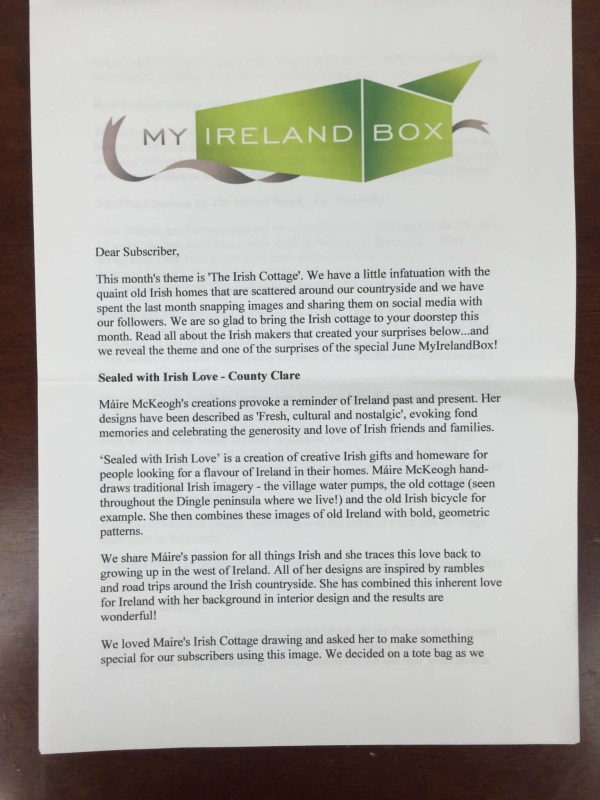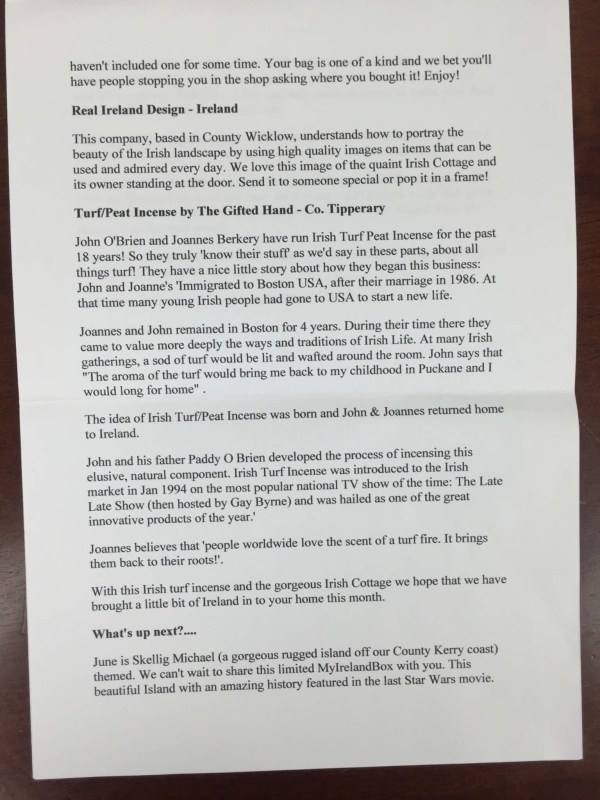 A letter containing extensive information about each product and its maker/designer comes with the box. We really like their information sheet because it gives each item a real sense of place and we get to learn about the influences of each item, the inspirations of the designer, and more!  I is really one of the most detailed information sheets you'll ever see in a box.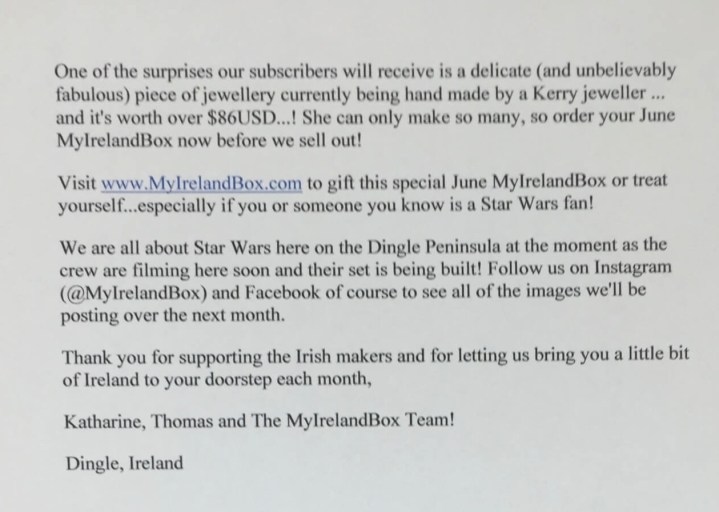 The last pages of the curator letter lists upcoming spoilers. Next month features Skellig Michael, a charmingly rugged island off the coast of County Kerry!  Apparently Star Wars has been doing extensive filming on the island, so I am very curious to see the Star Wars influenced box they are cooking up!
Real Ireland Design Ireland Post Card:  This lovely card captures an iconic slice of Irish history preserved in present day.  This portrait of a thatched cottage is perfect for framing.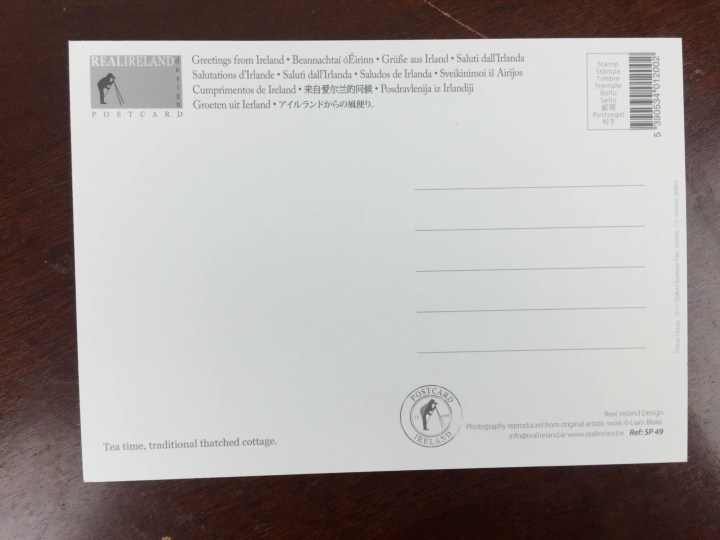 It is, of course, also perfectly suited for mailing!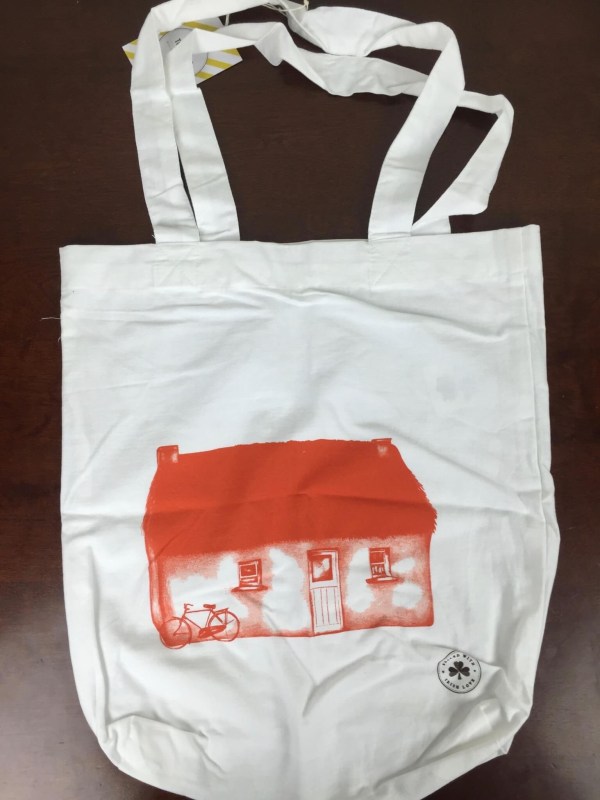 County Clare Sealed With Irish Love Tote Bag:  This tote features a beautiful design by Maire McKeogh, and artist who draws her inspiration from the Irish countryside and nostalgic imagery of Ireland's past.  This image of a country cottage and bicycle reflects the iconography of rural Irish life.  The sturdy tote is purse-sized with long handles.  Made from 100% cotton, it is an ideal library or shopping bag.
The Gifted Hand Irish Turf Peat Incense Cottage Burner Set ($44.48):  This is the first I've ever seen of an incense burner of this kind.  The cute ceramic cottage sits over a slate hearth, upon which natural peat incense burns.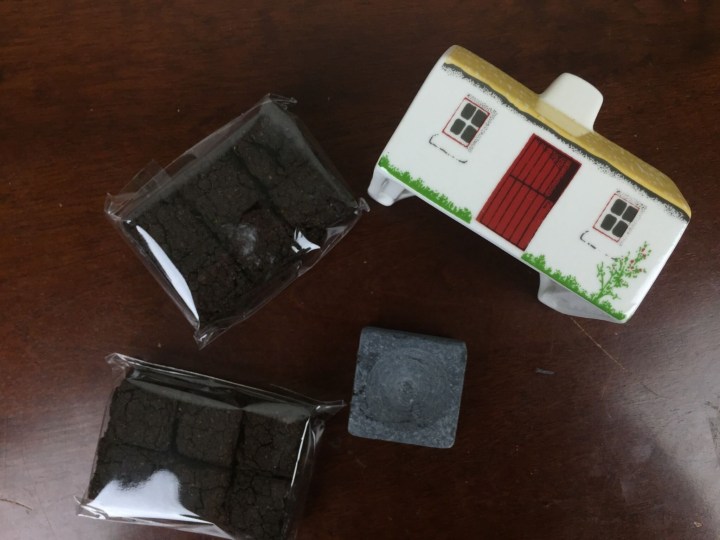 The incense actual wafts right out of the cottage's chimney!  I think this is absolutely adorable.  It comes with twelve chunks of peat incense.  Long used as fuel, the scent of burning peat is about as Irish as one can get.  This piece is a really cute decorative item, even if you don't care for incense.
This was another great box, and a totally unique subscription! Everything is beautifully made in Ireland.  I love the clever way they've addressed the theme of the box.  Each box typically contains a postcard or print, but the incense burner blew my mind a bit.
What did you think of this month's selections?
Visit My Ireland Box to subscribe or find out more!
The Subscription
:
My Ireland Box
The Description
: MyIrelandBox curates the best of Irish made craft: jewellery, homeware, craft, and beauty products, delivering a monthly box of surprises to your door!
The Price
: $45, €6.20 to Ireland & Great Britain, $10.50 internationally