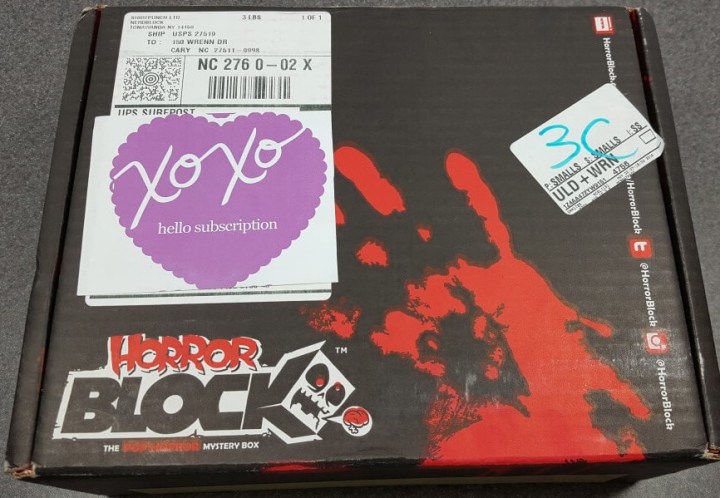 Horror Block is a monthly subscription box filled with some awesomely gruesome horror toys and collectibles. I've said it before and while this box is for me my boys love it and get so excited when it comes.  They don't know the shows and movies that are represented they do love the concepts of them and the products are always great for all of us.
This is the inside fold when you start to open the box. I'm a huge Walking Dead fan and I get excited every time I see this.  It also has my boys running around saying this for hours after we open each box.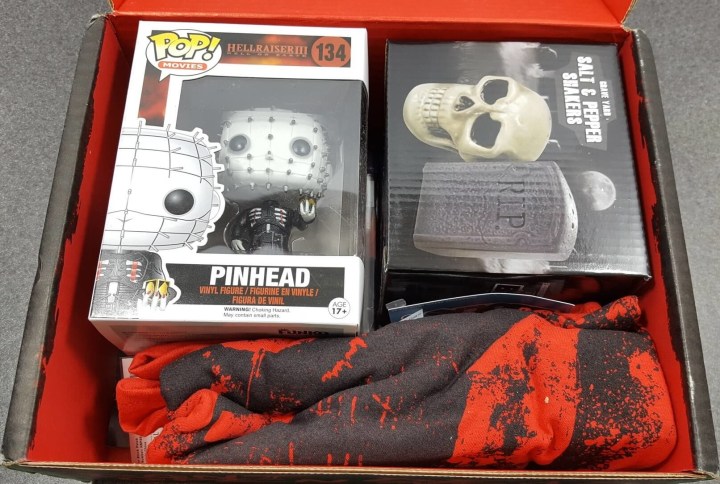 First look at all the contents. This was a well packed box.  They didn't need to add any filler and everything had its own spot.
Everything that came in this month's box.  Each month you will get 5-6 horror themed items.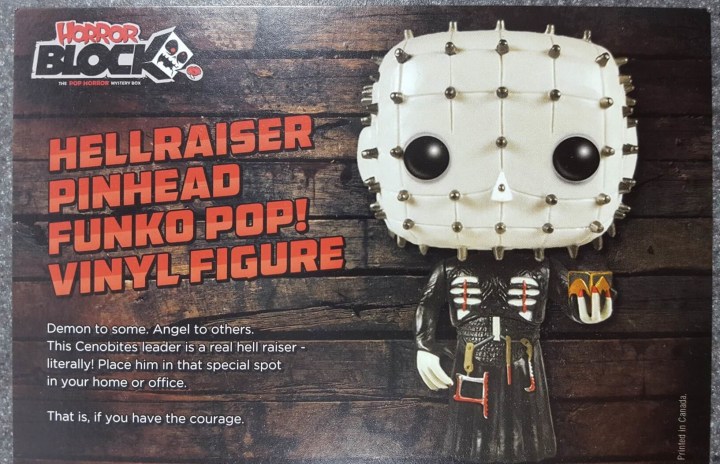 The front side of the information card.
Back side of the card and all of the descriptions.
Rue Morgue May 2016 Issue ($9.95) – Horror box includes a monthly magazine from Rue Morgue.  I'm really enjoying these magazines each month. I'm one of those people that still likes to read actual books and real magazines so I love getting this.  It is a really nice quality to with thick pages and a good feel.
Funko POP Hellraiser III: Pinhead ($12.48)- Exciting.  I LOVE getting Funko POPs in boxes and while some people collect them with my little guys we always take them out of the boxes and play with them and put them on display.  Its been awhile since I've seen Hellraiser but I love Pinhead and this is a great figure.  He is currently on my mantle while I'm waiting for some new shelves to be put up.
The Editor Blu-Ray ($19.51) – I've never seen this movie but I feel like I've heard of it before. I do like that they sent it on Blu-Ray since that is all I buy now. This looks to be a spoof/horror movie and it gets really good reviews.
Rey Ciso (Adam Brooks) was once the greatest editor the world had ever seen. Since a horrific accident left him with four wooden fingers on his right hand, he's had to resort to cutting pulp films and trash pictures. When the lead actors from the film he's been editing turn up murdered at the studio, Rey is fingered as the number one suspect. The bodies continue to pile up in this absurdist giallo-thriller as Rey struggles to prove his innocence and learn the sinister truth lurking behind the scenes.

Functioning as a straight-up send-up of Dario Argento, Mario Bava and the cinematic sorcerers of 㥎s slasher films, Canadian horror comedy The Editor is a charming tribute to the unsung classics of giallo, an Italian subgenre known for its gory and gruesome erotic horror.
Shirtpunch 28Days Later T-shirt (This is an exclusive but other Shirtpunch shirts go for $19.99) – So while I know that 28Days Later is a movie I've never seen it. I have no idea why since it sounds like one I would like but I haven't.  Looking it up for this now makes me want to see it so I'll have to see if its on any of the movie sites and catch it.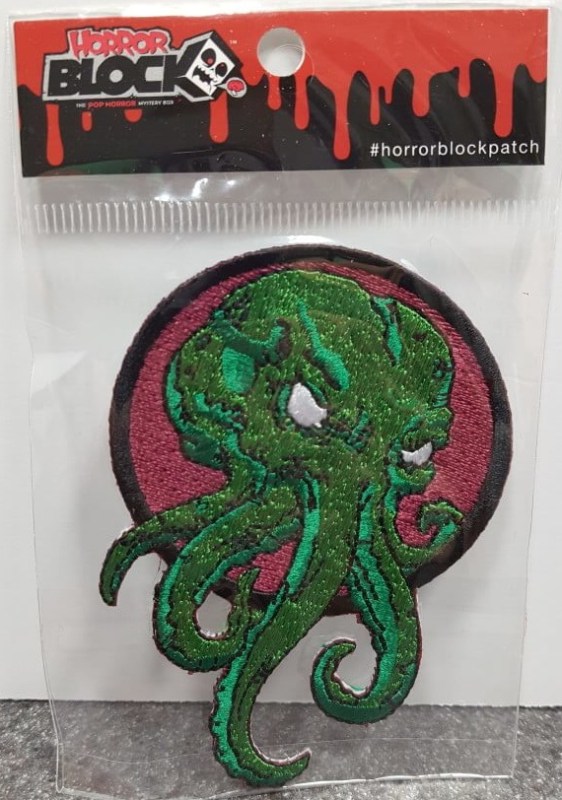 Cthulu Patch – I  need to find a way to display my patches since they are so great. I'm not big on putting them on my clothes so I think I need a decorative pillow or a wall hanging or something. I love the details in this one and I want it to be out where it can be seen.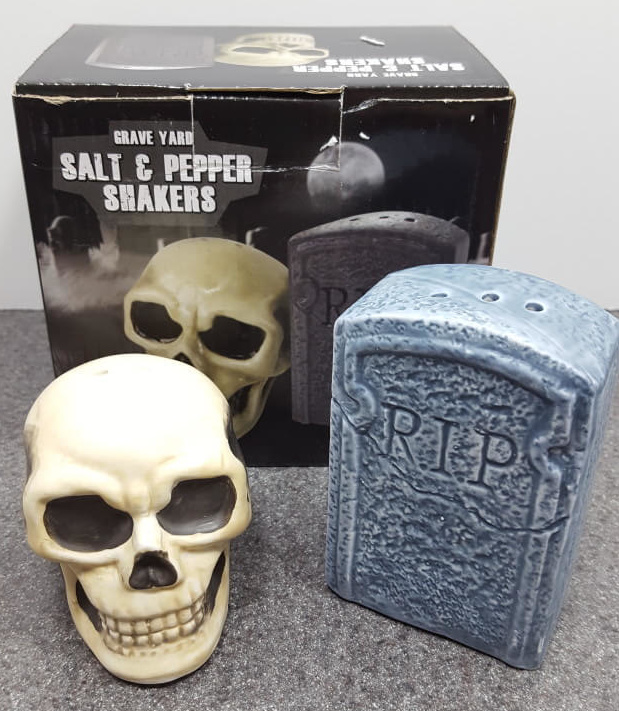 Gravestone Salt & Pepper Shakers- These are freaking awesome. I have a think for salt & pepper shakers so these are perfect for me. They are really heavy and well detailed that I can't wait to use them. Actually my sister is having her college graduation party at my house this weekend and I asked and she loves these so we are going to set them out. We are actually setting out and using all the horror block kitcheny stuff I've gotten in boxes so it will be an interesting addition to our decorations.
Another month and another great Horror Block this month.  I love the variety of the items and that many are exclusive to the box so they aren't things I've seen everywhere.
What did you think about this month's Horror Block?  Grab 15% off your first Horror Block with coupon code SAVE15, or save even more with a longer subscription. Enter this code right after pressing the big green review order button.
Visit Horror Block to subscribe or find out more!
The Subscription
:
Horror Block
The Description
: A monthly mystery package delivered right to your door filled with gruesome horror toys! Every Horror Block comes with 5-6 epic items for you to tear into plus a custom shirt in every block
The Price
: $19.99 per month + $9.50 shipping to the US