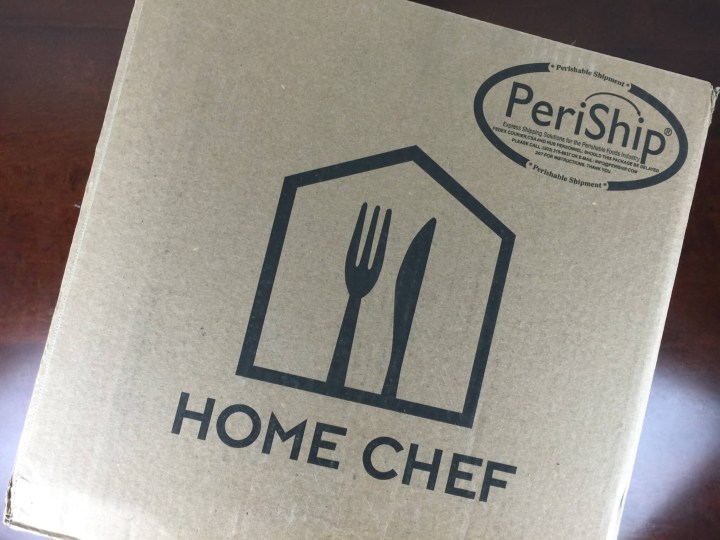 Everything looked good, but we were able to whittle our Home Chef selections down to four meals this week!  Home Chef is a meal in a box subscription – every week choose from a variety of recipes and have all the ingredients and preparation instruction delivered to your door.  It's similar in concept to other weekly meal delivery services, but it has its own unique features and perspectives.
Meal selections are suggested automatically according to a profile you fill out noting your family's preferences, but you can change your selections any time. Home Chef offers an incredible 10 selections available for 2, 4, or 6 people, a breakfast choice, a smoothie choice, and a fruit basket selection.  The portions are huge, and this is currently the least expensive and has the most choice out of any similar major subscriptions (for 2 people) – $9.95 per person per selection (they typically have one meal a week that's a premium meal).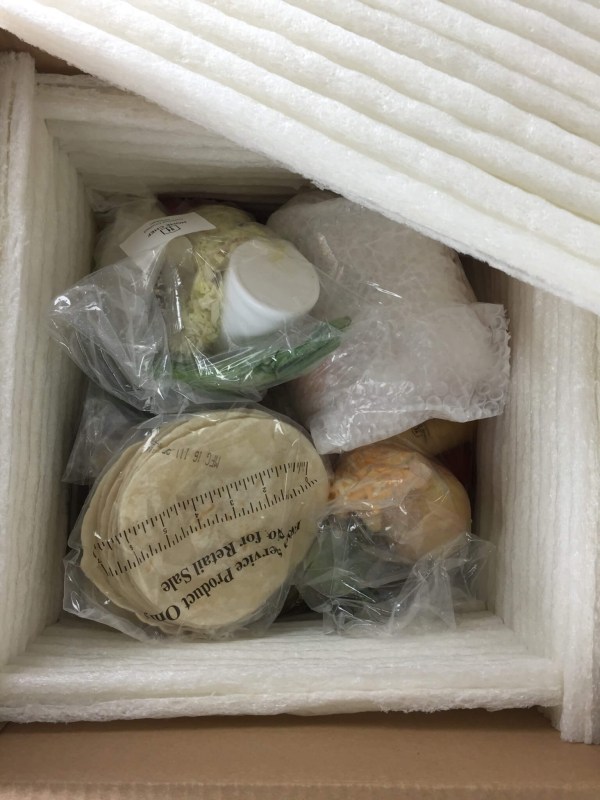 Everything arrived within well-insulated (water-dissolvable) cooler padding, atop ice packs.
Each bag has nearly everything needed to make a complete meal.  You have to have a basic kitchen setup (stove/oven, cookware, etc), but a couple tablespoons of cooking oil and salt and pepper are usually the only ingredients you have to have at home. Unlike other boxes, Home Chef includes liquid egg when needed — once they even included a bottle of oil for shallow-frying.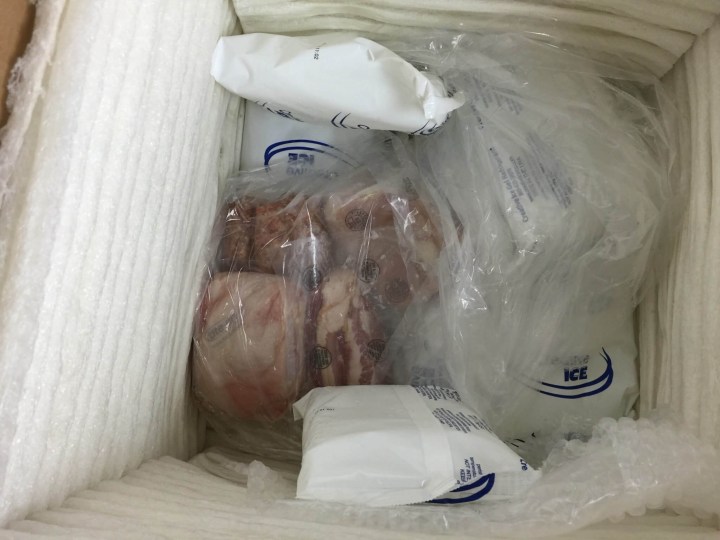 The meat is placed in the bottom of box and packed with several ice packs.  I suspect there are enough to keep it cold for a long time, even when summer arrives.  The meat has an extra clear bag around it, which I like — it is extra protection in case any meat leaks, and it makes it easy to pluck the meat from the box (the packages start collecting condensation because they are so cold).
The recipe cards have prep time, difficulty,  a "best cooked by" time frame, and even a spice level, but they just show calories instead of full nutrition info.  They list everything you might need from your pantry and kitchen equipment stash in a single lists.  And, of course, there is a picture of the lovingly-prepared food.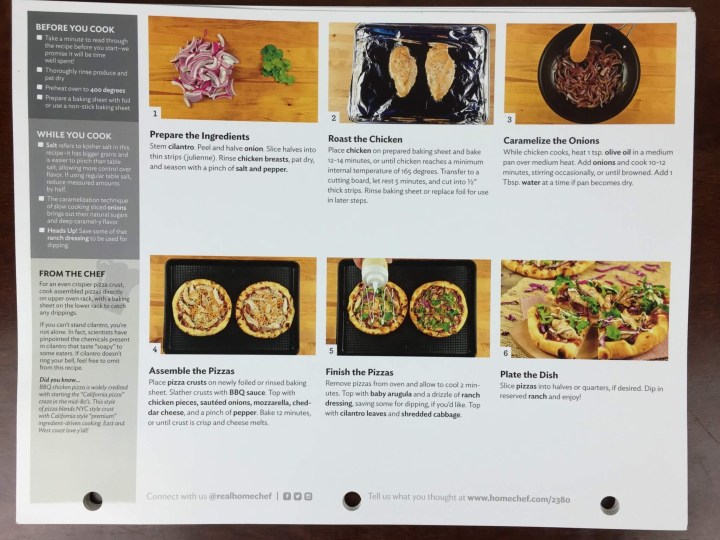 The back of the card has the actual recipe guidance, complete with pictures and boldfacing of ingredients.  Extra guidance and chef's tips appear in a sidebar, freeing the step-by-step from verbal clutter.
They've shifted from a strict mis-en-place prep order toward a more project-management-driven required-lead-time approach — it gets your meal to the table faster, and with everything finishing cooking closer to the same time.  I like it for these reasons, and because it saves me from having a completely overflowing cutting board when I start cooking.  The recipe cards have pre-punched holes so you can store them in a recipe binder.
Each recipe was packed separately, and neatly, in its own bag.  Unless otherwise noted, each of the pictures of prepared food below show one of two servings made by each recipe. Due to our selections, this box cost us $89.50.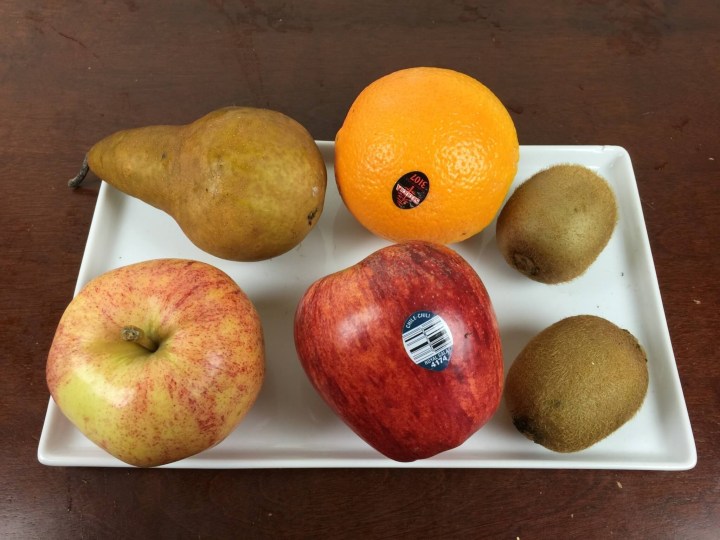 Springtime Fruit Basket With Kiwis, Gala Apples, Bosc Pear, And Orange.  The fruit is really high quality, and we've always found it to be very firm and in good shape (btw, that is the proper color for a Bosc :-)).  This is a pic of the whole fruit basket.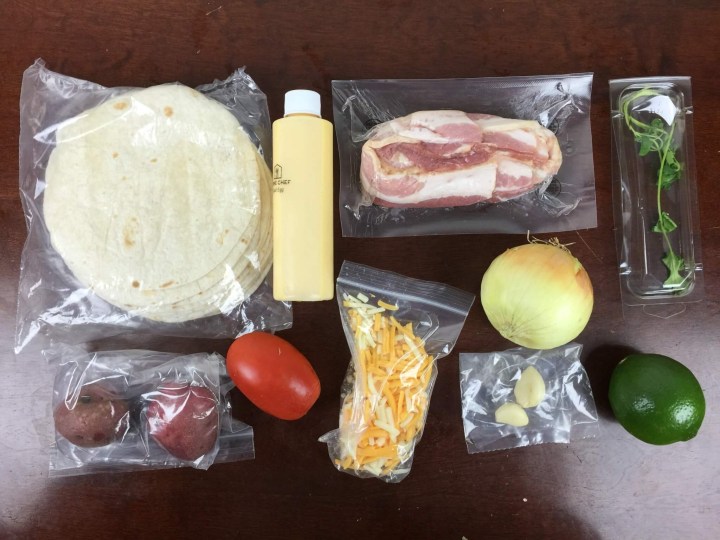 Bacon Huevos Rancheros Tacos With Salsa And Crispy Potatoes. 30-40 minutes, intermediate, 809 calories per serving.
This was a great spin on the breakfast burrito concept.  The potatoes took a little while to fry, but the prep was otherwise very fast, with the bacon painlessly cooking in the oven while everything else was being prepared.  A full breakfast in a single package, these were super satisfying.  The homemade pico de gallo really puts the dish over the top!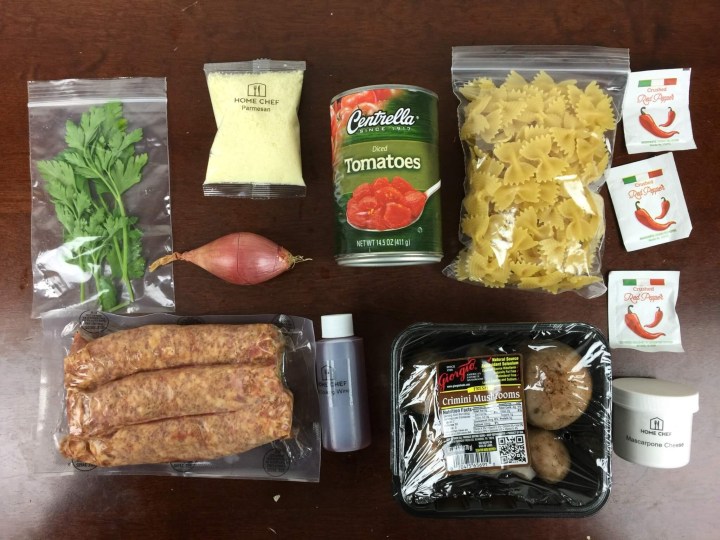 Italian Sausage Farfalle With Mascarpone Parmesan Sauce. 30-40 minutes, easy, 934 calories per serving.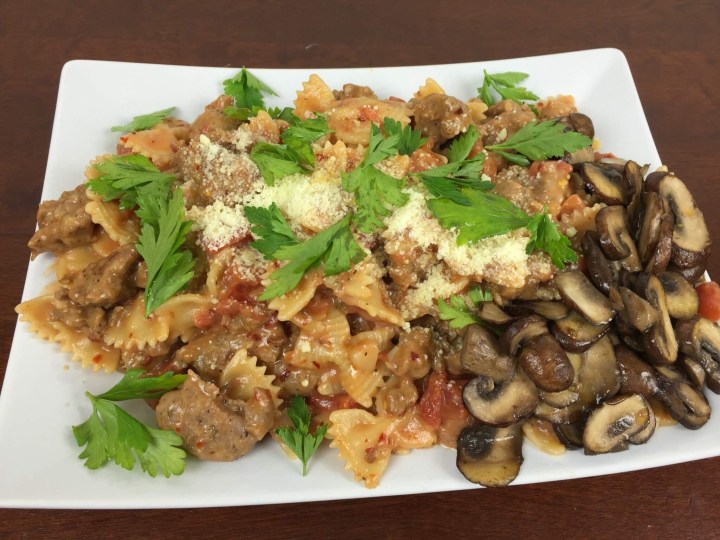 The mascarpone cheese gives this dish a rich, Alfredo-like character.  As expected, this recipe made a giant pile of food, which is a beautiful thing (both portions pictured).  The sauce has a bit of red wine in it, but otherwise draws its seasoning from the sausage, scallions, pepper flake, cheese and mushrooms (which I prep separately and mix in).  The pasta also stood up well to the sauce, the bowties maintaining good integrity.
Coconut Crusted Chicken With Pineapple Slaw And Sweet And Sour Drizzle. 25-35 minutes, intermediate, 605 calories per serving.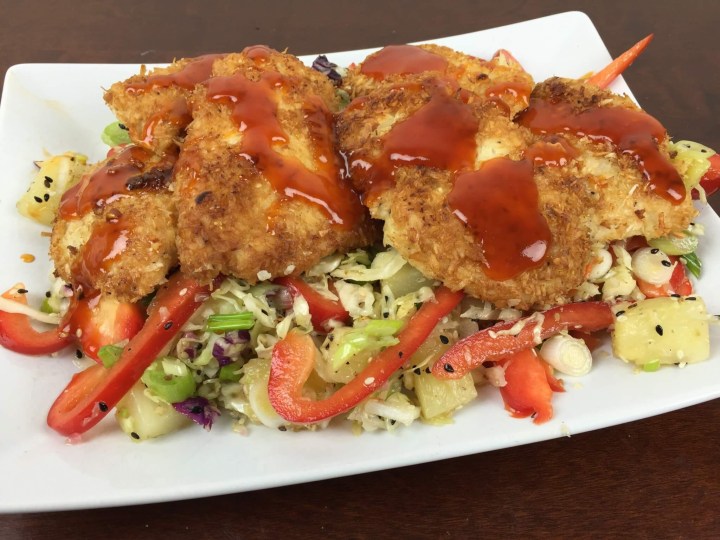 This dish was pretty exotic, and it had really great flavors.  The coconut breading on the chicken worked out well, adhering nicely and adding a pleasant texture, and it was very fast and easy to do.  The slaw was tangy from both the vinegar and pineapple, but it was a mayo-free slaw, so it didn't have creaminess or a binding agent.  Lots of crunch and bold flavors here, with a good bit of sweetness, too.  This was a lighter profile, fun change of pace meal.  This pic shows both portions.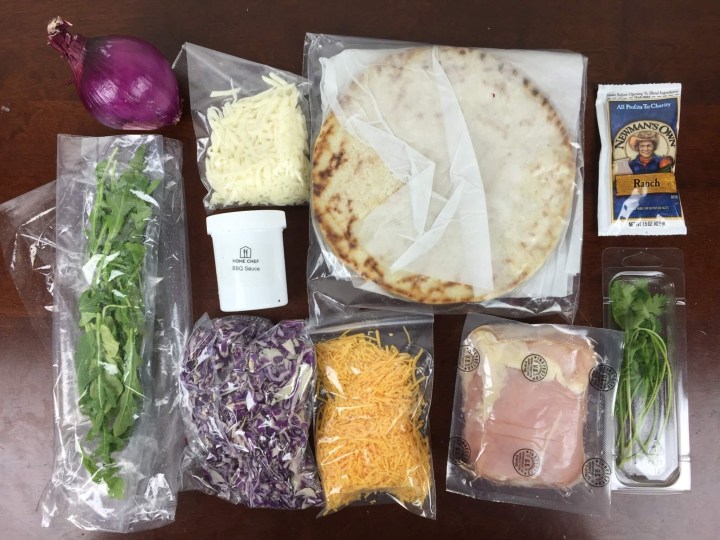 Wood-Fired BBQ Chicken Pizza With Cheddar Cheese, Caramelized Onions, And Ranch Drizzle. 25-35 minutes, easy, 862 calories per serving.
You can't really go wrong with barbecue chicken pizza!  This recipe made two pizzas like the one shown above.  Easily our favorite meal of this set, the pizza was superbly balanced — the greens and red cabbage were a great counterpoint to the sweet and smokey sauce.  Lots of chicken, cheese, and ranch dressing in the mix, too.  I had to cook the chicken before assembling and baking the pizza, but the pre-fired crust saved some time and effort, so the dish was pretty easy overall.  We paired it with one of the selections from our latest Wine Awesomeness box, which has a pizza theme!
Home Chef has a huge selection of meal options to choose from each week, and the portions are very generous!  As you can see, we got one of their great breakfast selections this time and grabbed a fruit basket, as well.
Have you tried Home Chef? What did you think of your meals?
Visit Home Chef to subscribe or find out more! Get $30 of free food when you sign up – just use this link to get the deal!
The Subscription
:
Home Chef
The Description
: Receive fresh ingredients and visual, step-by-step recipe cards on your selected delivery day every week. Cook like a seasoned chef in your own kitchen with ease.
The Price
: $60.00 every week