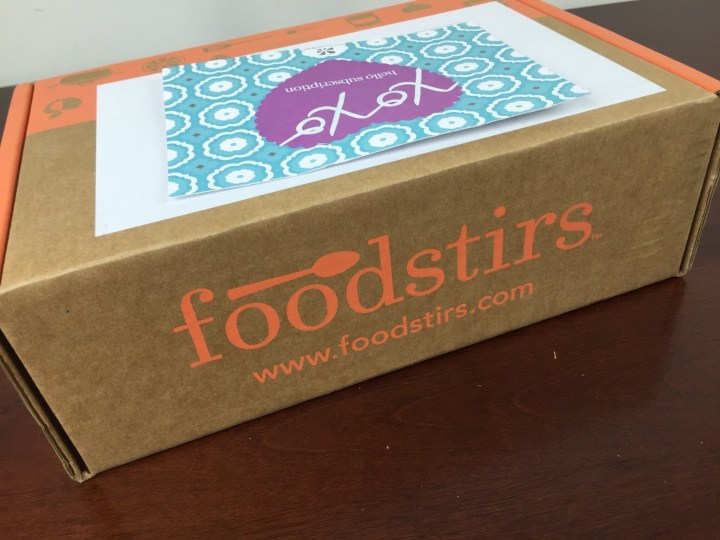 Foodstirs is a monthly baking subscription box created by Sarah Michelle Gellar. Every month you'll receive family-oriented baking kits made with premium and real ingredients, free of preservatives, artificial dyes and flavors. The mixes use organic and non-GMO ingredients when available.  You can also choose to subscribe monthly to their sugar cookie, brownie, or vanilla cupcake mix. You can choose to get the monthly kit or start your subscription with one of the kits in the store.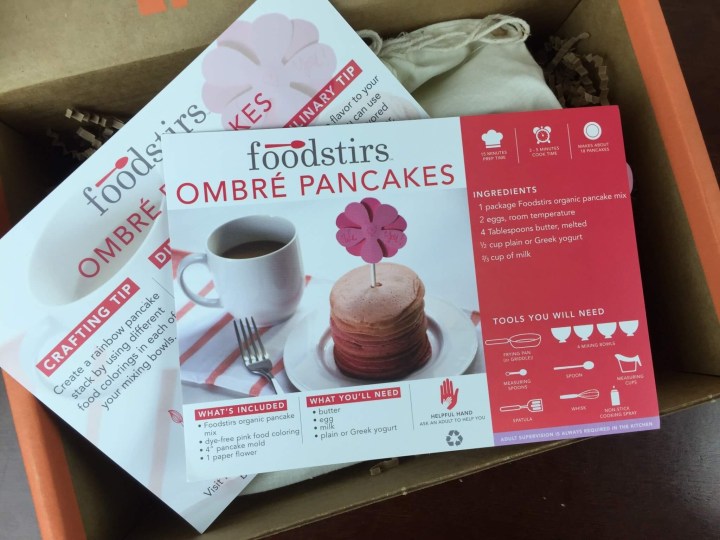 The theme for April was Ombre Pancakes, and we made them as a Mother's Day breakfast.  When the treats have a holiday theme, this subscription comes way in advance of the holiday, so you'll have it not only in time to make for the holiday itself, but also in time for pre-holiday parties, if you like.
The box includes a card letting you know the ingredients needed, tools, baking time, quantity, etc.  I liked that it broke down the ingredients you need twice (the second time being what you need at home).   The kit includes all dry ingredients and decorative items — you supply eggs, butter, and other dairy when needed.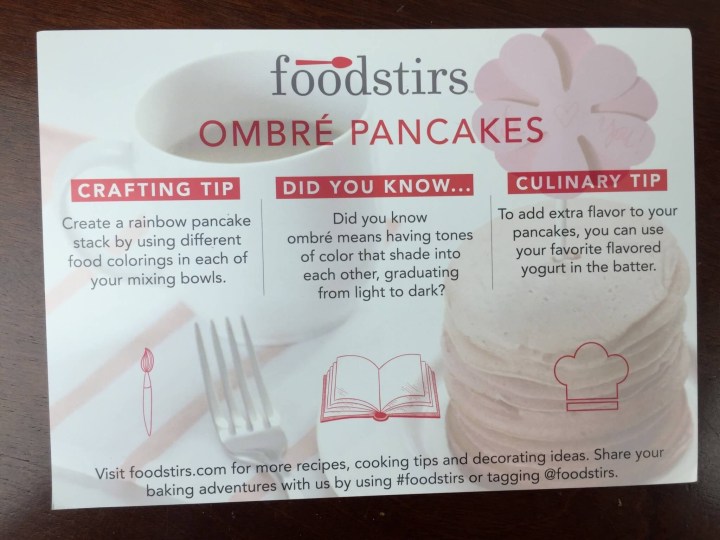 The information card also has useful tips written on it.
The box includes complete nutritional and ingredients information.
The instructions. They are step by step with a photo for each step.  We've found them to be a bit awkward in the past (having you separate eggs only to recombine them, or chilling butter , making it difficult to blend), but this recipe was well-designed and worked perfectly as written. The decorative portion of the kit required no work whatsoever, as it arrived assembled.
The contents arrive bundled in a Foodstirs cloth sack and nestled in squiggles.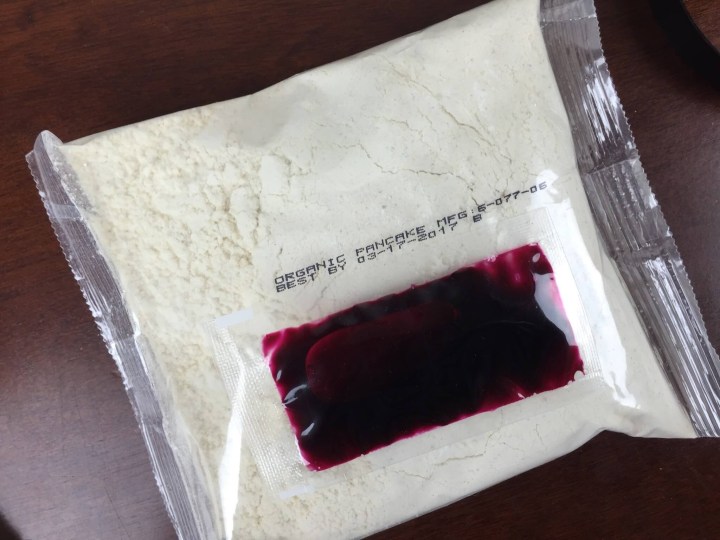 Each bag is labeled, though it's fairly easy to tell what the contents are through the bag.  Here we have a bag of pancake mix and a pouch of food coloring.
The kit came with a decorative flower to hold the stack together like a sandwich pick, as well as a folding pancake mold.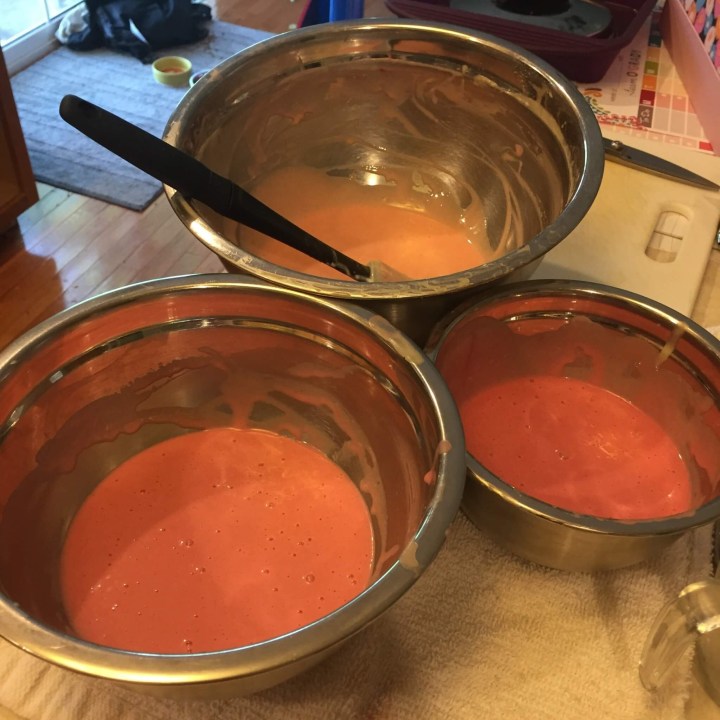 The dye is apportioned between three bowls, each with a cup of batter — the recipe made precisely three cups of batter.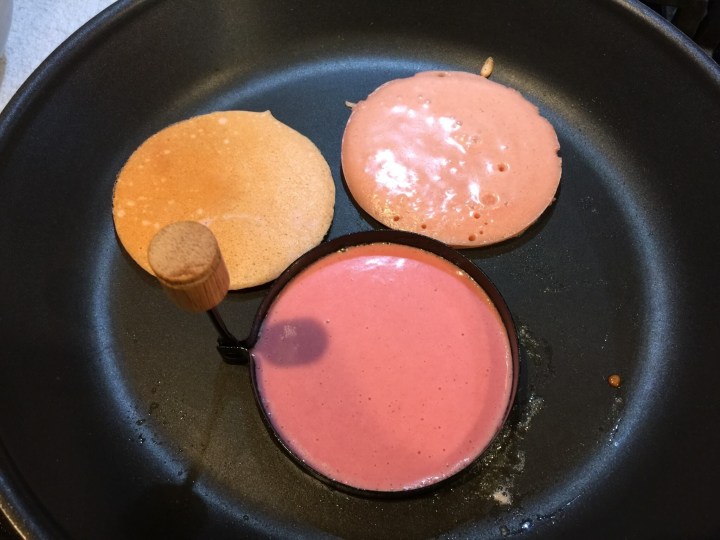 The cooking process was very drawn out.  Each pancake had to cook in the mold for a minute or two, so there was not way to simultaneously start a batch of pancakes.  The cooking process reminded me of the rounds that elementary kids sing — the second starting as the first moves on to the next measure — I had three pancakes, each in a different state of cooking, going at once.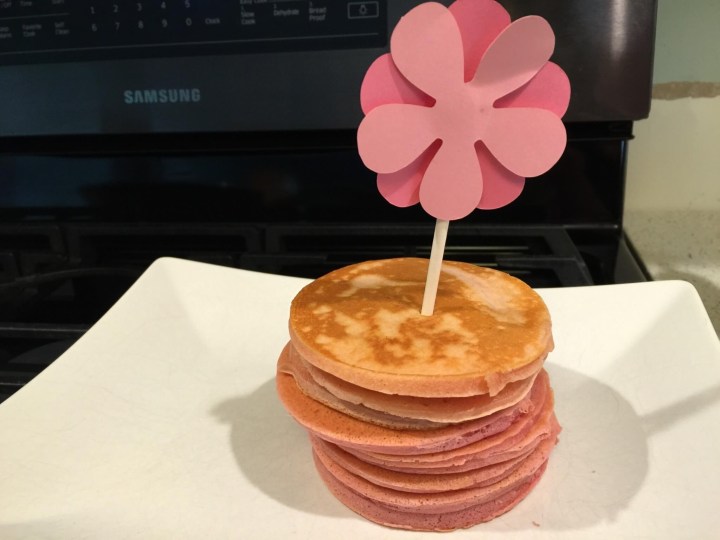 A completed stack of pancakes.  The batch made three stacks this size, but they took over an hour to cook because of the restraint imposed by the pancake mold.  There wasn't enough dye in the included packet (I used all of it) to create a very dark pancake, so the contrast from darkest to lightest is barely visible.  I ceded editorial control on the final stacking of the pancakes, so they are a little lopsided in the pic, but even perfectly aligned, they made a relatively ho-hum presentation.  They were really delicious, though, and I have to compliment Foodstirs on the quality of the mixes.
The whole premise of this box for $20 per month is that you can have a pinterest-perfect project, but Foodstirs is one of the lowest value subscription boxes we've seen. This month included food coloring ($1, generously), a paper flower ($1), and a Foodstirs organic pancake mix ($7.95).  Brandy likes to describe this subscription with the Mean Girls quote: "stop trying to make fetch happen," but sometimes I think "It's a whole big sucking thing" is more apropos on many levels.  You provide all the expensive ingredients yourself (usually a stick of butter every month), and so many of the recipe preparations are unduly arduous.  $9.95 in product isn't ok for a $20 box. We suggest buying the mixes instead (which are tasty!) if you want the organic mix and doing the crafts on your own, although we applaud Foodstirs with partnering with an Etsy shop for the flower.
Note from Brandy: This is a call to cancel box and inevitably, I forget to cancel. Next month is Father's Day so I don't mind so much, but it's time for us to let this subscription go!
If you'd like to try it out we're happy to enter your information so you can get a $10 coupon – just fill out the information in this form.
Visit Foodstirs to subscribe or find out more!
The Subscription
:
Foodstirs
The Description
: Get curated themed baking kits delivered straight to your door every month. A convenient, delicious and healthier way to bring families together in the kitchen. Get family-oriented baking kits made with premium and real ingredients, free of preservatives, artificial dyes and flavors. Organic and non-GMO ingredients when available.
The Price
: $19.99