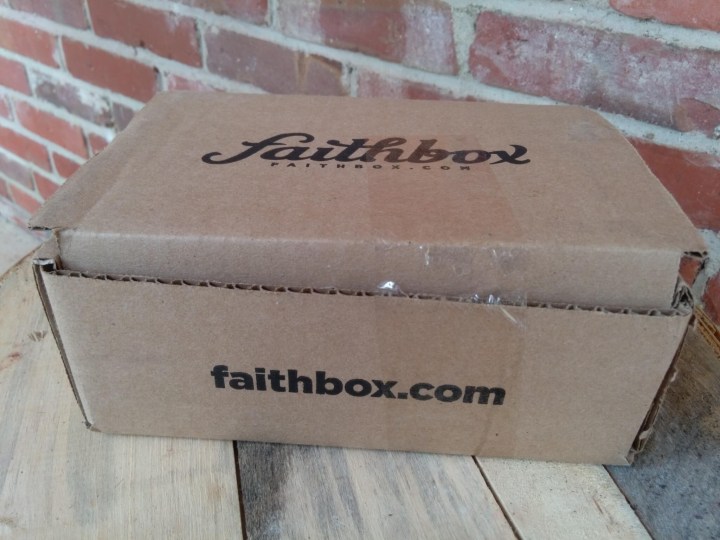 FaithBox is a Christian company that seeks to help strengthen your faith in God with their devotional and bring joy with their great products from companies that do good.    With the purchase of each box they provide 3 meals for hungry children through a partnership with Rice Bowls.  In 2015 they were able to provide over 100k meals for hungry children.
Feeding hungry children should transcend all political and religious ideologies.    I don't care who you are, feeding hungry babies is a good idea.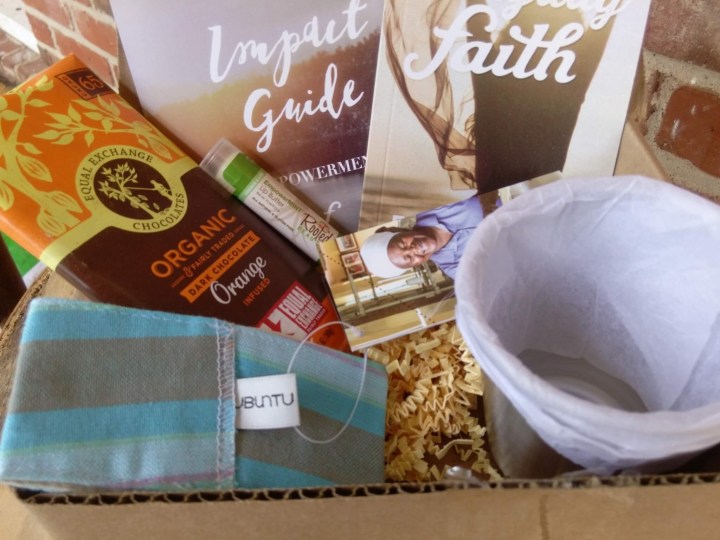 Plus, you get a box full of cool stuff in the process.
You can subscribe to Faith Box with a month to month plan, a 3 month plan or a one year plan.  With the month to month plan you pay $20 plus $5 shipping each month.  The 3 month plan reduces the price per box to $19 plus $5 shipping when you pay for 3 months ahead of time.  For the best price per box you can pay for one year at a time and get each box for the price of $17 per box plus $5 shipping.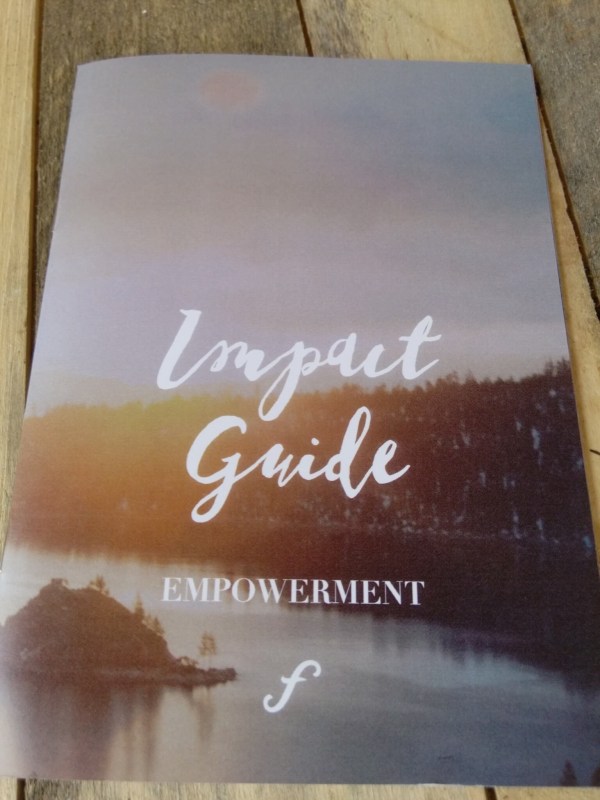 The Impact Guide in each box will give you a detailed description of each product in the box and tell you a little about how the companies that make each one are striving to impact the world for good.
The Impact Guide really goes into detail with a glossy picture for each product, a description of the product and the company that makes it, and a verse that corresponds to the products.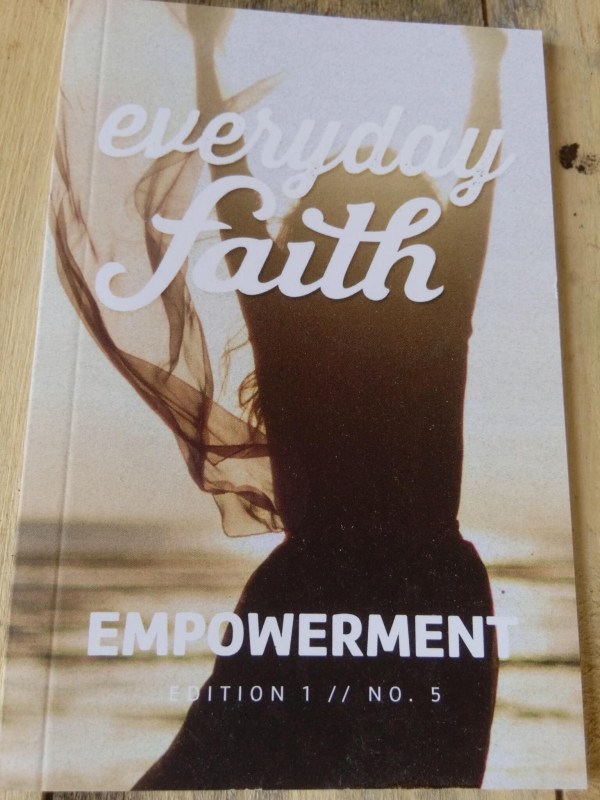 This is their monthly devotional book, Everyday Faith, that was in the box.  They are now offering a monthly subscription called Every Day Faith for just their devotionals.   If you pay month to month you can get the book for $8 a month, shipping included.  If you prepay for the year the price drops to $6 a month, shipping included.  They also provide meals to 3 children for each of these purchased.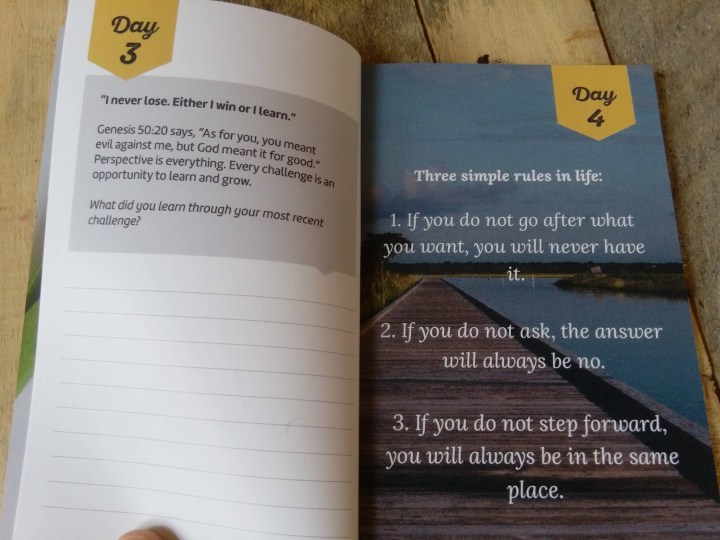 Each day is numbered 1-30, but not dated so you can start whenever you want.  Most days begin with a verse from the Bible, a couple of sentences elaborating on the verse and encouraging you in the faith, and then end with a challenge to bring the verse to reality in your life (plus space to write down your own thoughts).  Other days just have bits of wisdom for you to absorb like "Day 4" above.
Do they know me?  It's really like they know me.  I love metal cups.  I love metal cups because water tastes better out of them, they stack well in the cabinet and 2 year olds can't break them.  This cute little steel cup is 18/8 food grade stainless steel from Klean Kanteen.  It will last for years and is meant to inspire you to eliminate single-use cups. You can find this 10 oz size on their site for $7.95.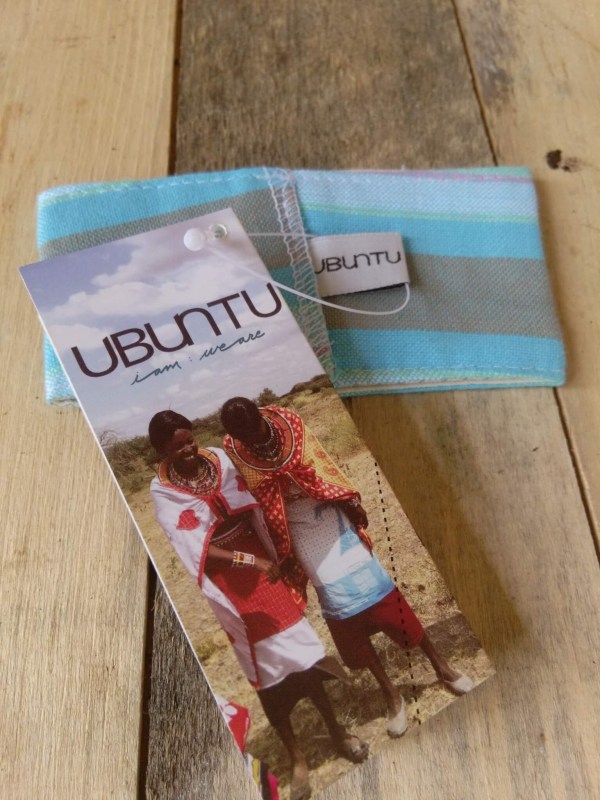 This delightful reusable coffee sleeve was in the box.  It was handmade by women in Kenya for a company called Ubuntu which empowers them by providing much needed jobs.  "Each sleeve features a multi-colored kikoy fabric exterior, with a canvas printed lining. The striped kikoy patterns vary, and each one is individual and unique."  It is a very nice quality sleeve and is going on my favorite coffee cup.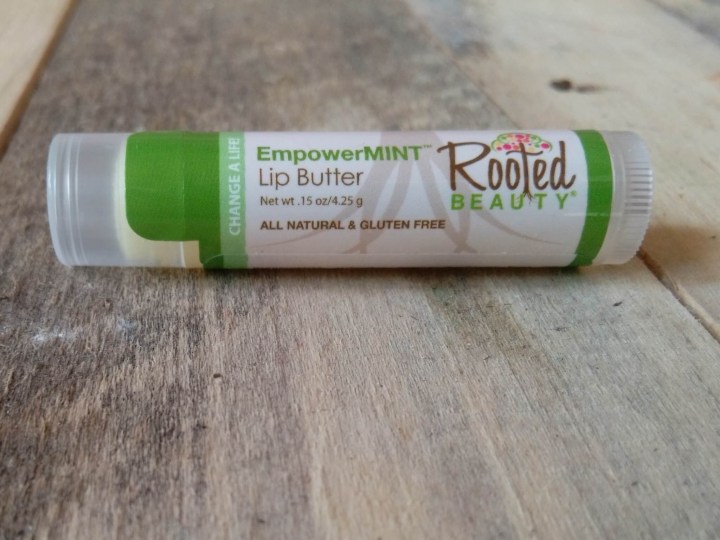 This little tube of awesomeness was in the box.  The name is a little corny, EmpowerMINT Lip Butter, but you'll forgive them once you try it.  It's just the right the level of minty and goes on oh so smoothly.  It's made by a company called Rooted Beauty and you can find it on their website for $3.29.  The impact of this product is that it helps a woman escape for extreme poverty and trafficking through their Woman2Woman Project and other empowering initiatives.
Did someone say chocolate?  This bar by Equal Exchange's Fair Trade Chocolates is organic and fairly traded dark chocolate infused with orange.  They use partnerships with co-ops and small scale farmers to ensure the fair trade of the cacao.  You can order a 12 pack of the bars on their site for $37.50.

This digital song sampler card of The Brilliance powered by faithbox was in the box.  It has instructions on the box for going to a website, entering the given code and downloading your songs.  The process was very simple and seven songs by The Brilliance were included.  The music was totally not what I was expecting.  It is kind of folksy, but very complex with lots of different instruments including some mesmerizing piano and violin playing.  The Impact guide tells us, "This is not your average worship band and we love vibing to this duo!  The Brilliance fuses classical with modern, experimental, and traditional music and instruments, encompassing themes of confession, repentance, forgiveness, blessing, and other forms straight from the Church's history and prayer books."
Faithbox is meant to encourage you to analyze your impact on the world and those around you and to increase the net positive effect you cause.  Subscribing to the box is really just the beginning to the changes. Save $5 on your first box with coupon code SAVENOW.
Visit Faithbox to subscribe or find out more!
The Subscription
:
Faithbox
The Description
: Faithbox inspires positive Christian living by helping people grow in their faith, impact their community, and discover meaningful products. Faithbox hand-picks the products from companies and organizations who share our vision of a triple bottom line: people, planet, purpose.
The Price
: $25.00 per month