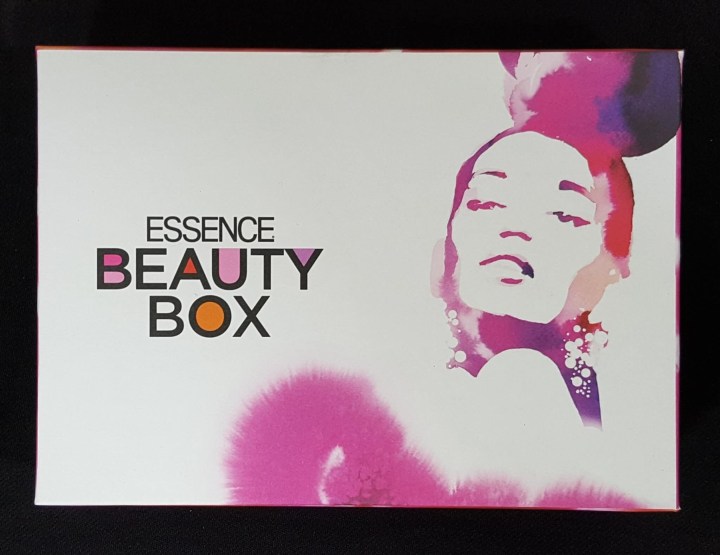 The Essence BeautyBox theme for May is Bae-cation.  Essence BeautyBoxes are curated by their trusted beauty experts and deliver 5 luxe samples to your door each month starting at $15 for a single box.  For recurring 6 or 12 month subscriptions, the price drops to $12.50 per box.  You'll have the opportunity to test some of the latest and most innovative products, as well as proven favorites.  Additionally, to honor and support beauty entrepreneurship in the Black community, Essence BeautyBox also strives to feature a product from a Black-owned business in each box.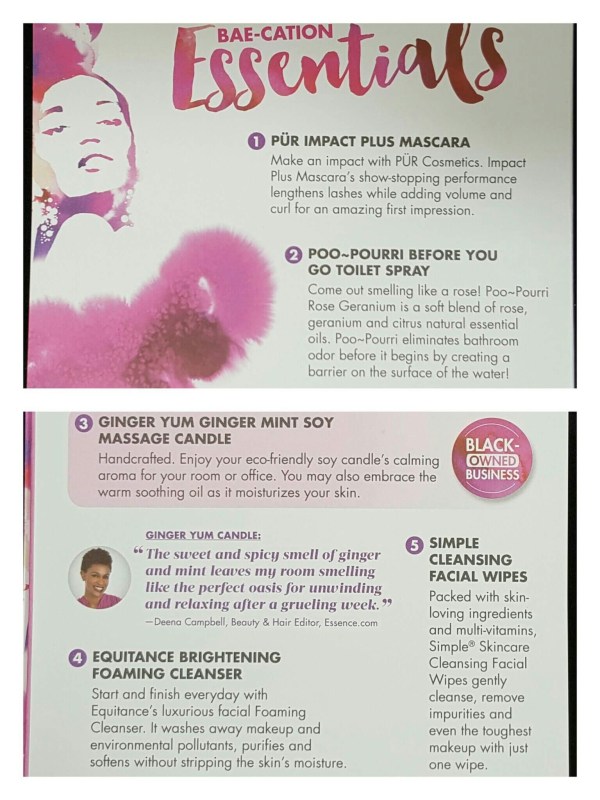 The information packet contains a note from the Essence BeautyBox Team explaining the theme, as well as information on each item and the Essence beauty editors who chose it and why.
Hey Gorgeous!

Trends come and go, but a simple beauty routine is forever.  As we continue the transition into warmer weather, a locked and loaded makeup bag is bound to be your most coveted accessory.

We're also reminded that spring is prime time for traveling, no matter one's relationship status.  Married, complicated or single and ready to mingle – achieving effortless beauty on the go should never be a chore.

Thankfully, our May box is stocked with the essentials that'll make your next solo getaway or last minute bae-cation a moment to remember.  Don't forget to try it all and share your spicy spring selfie with #EssenceBeauty on social media.

Until Next Time,

The ESSENCE BeautyBox Team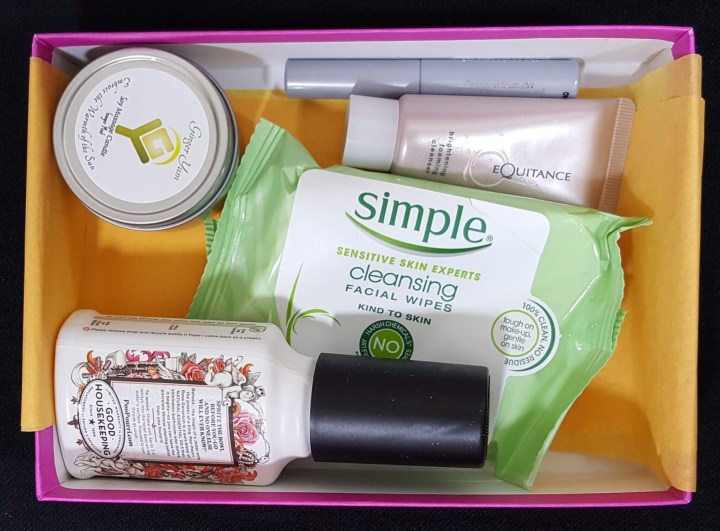 My first look!
The May Beauty Box!
Simple Cleansing Facial Wipes ($1.62):  I am a fan of Simple products and these wipes were a part of my regular routine (recently switched to Simple's Micellar Makeup Remover Wipes).  These are gentle to even the most sensitive skin, but tough enough to remove stubborn makeup like water-proof mascara.  They are free of dyes, artificial perfumes, and harsh chemical irritants.  Vitamin B5 is used to nourish and moisturize skin.  This sample size is perfect for traveling, and I am saving these for my upcoming vacation.
Pur Minerals Impact Plus Mascara ($13.41):  This is a deluxe sample (0.12 oz vs. 0.17 oz full size).  I am lash challenged and have not mastered falsies.  So, any mascara that helps to lengthen my lashes and make them look fuller is a winner in my book.  This mascara did both, while maintaining a natural and clump-free look.  This goes on smoothly, and the brush glides through lashes.  I only wish this was a waterproof formula.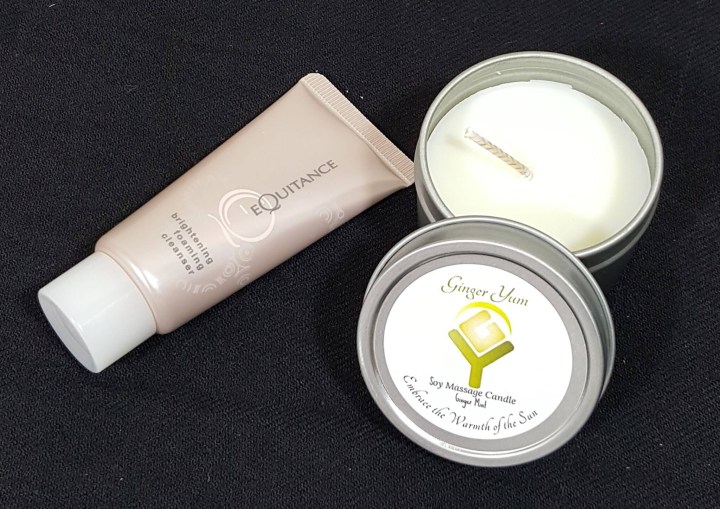 Equitance Brightening Foaming Cleanser ($4.00):  I really like the scent of this cleanser, it's a light floral with a bit of spice.  That must come from the cherry blossom leaf and shell ginger extracts.  The foam was nice, and my skin was not only thoroughly cleaned but also softer after using.
Ginger Yum Soy Massage Candle in Ginger Mint ($5.00):  When I opened my Essence BeautyBox, I immediately smelled the mint in this candle and was reminded of my mom – she always had Wrigley's spearmint gum on her.  These candles are made with Kosher soy wax and pure therapeutic grade essential oils.   BONUS – Once the soy wax has melted, it can be used as a warm massage body and cuticle oil.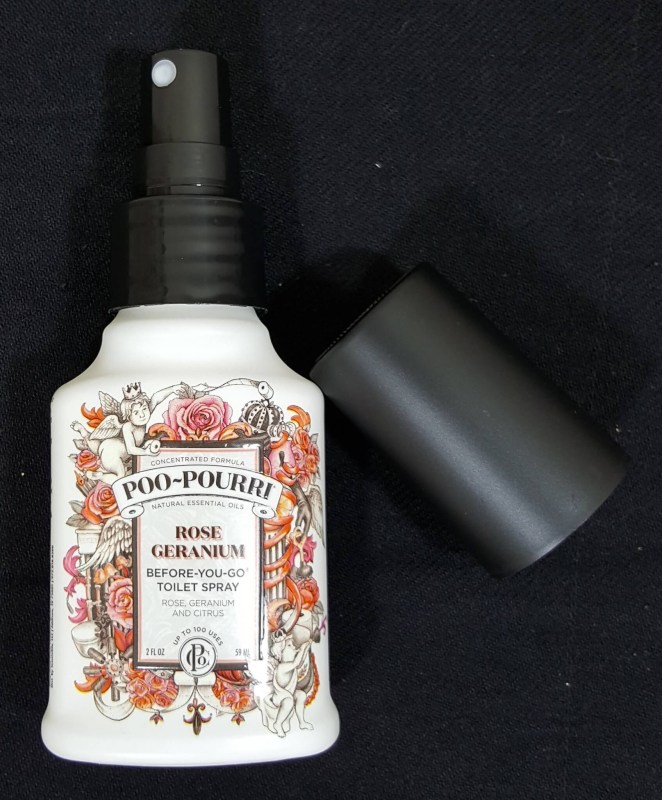 Poo~Pourri in Rose Geranium ($9.99):  Nobody wants to talk about it, but we all poo.  Sometimes, the worst part is the odor that lingers and gives your bathroom business away.  Well, Poo~Pourri is here to eliminate odor before it begins by creating a barrier on the surface of your toilet water.  So, now you really can think your poo don't stink 'cause it smells like roses (and geraniums and citrus).  I can honestly say that this made quite a difference in our bathroom experiences.  If nothing else, get it to read the bottle's label.  The makers of Poo~pourri have quite the sense of humor:
There once was a lad from Rhone, whose odor he'd rather disown. Now he's taming his poo, by anointing the loo, and now happily sits on his throne!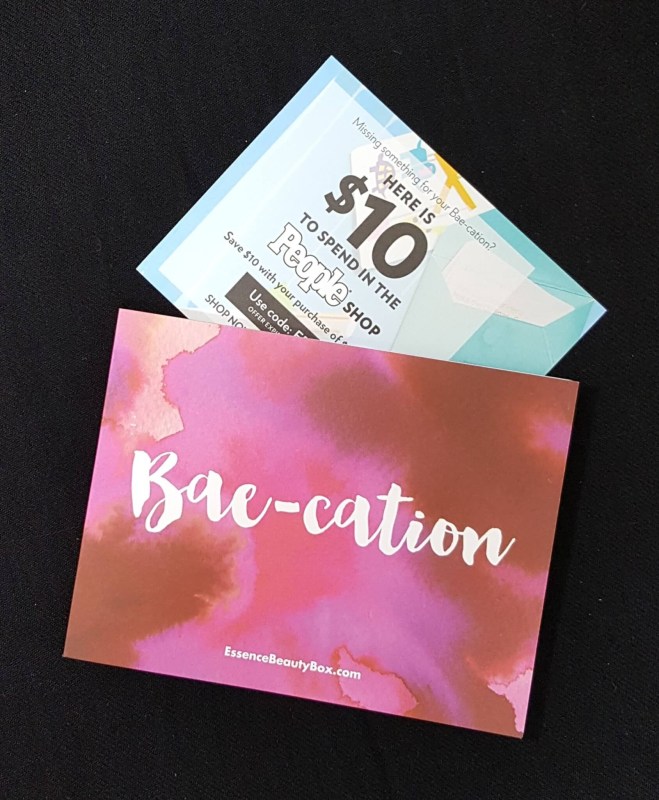 There was also a discount coupon for $10 off in the People shop.
The May Essence BeautyBox had a value of $34.  I think that the featured products are great for a Bae-cation (trip with your Bae) or any time.  I'm embarrassed to admit it, but I was very excited to receive the Poo~pourri.  I'd heard of it before and have a couple of friends that swore by it (they even carried it in their purses).
What did you think of this month's Essence Beauty Box selections?  Leave a comment below to share your thoughts.
Visit Essence Beauty Box to subscribe or find out more! Use code HELLO10 to save 10% on your subscription!
The Subscription
:
Essence Beauty Box
The Description
: The ESSENCE BeautyBox celebrates your unique beauty and delivers coveted beauty finds directly to your door each month.Receive 5 luxe samples monthly, along with beauty info, tips and tricks from the ESSENCE experts.
The Price
: $15.00 per month