Endorfin Foods is a monthly chocolate subscription that specializes in creating their own vegan chocolate using no dairy, soy or refined sugar. Their high quality cacao is blended only with whole food sweeteners, spices and essential oils. Inspired by the chocolate of the ancient Mayans, the founder of Endorfin foods views chocolate as a vehicle for consuming other nutrient-rich ingredients. Endorfin Foods's chocolate is never roasted, thereby preserving the chocolate's antioxidant load.
Endorfin Foods's boxes come in three sizes: Joy ($20), Euphoria ($40) and Transcendence ($80). This review is for April's Euphoria box. The Euphoria box usually contains: four full-size limited edition bars only available to subscribers, four smaller bars from either the single origin or dark mylk collection and one additional full-size bar from their inventory of best sellers. This month, I received three full-size limited edition bars and two full-size bars from their inventory of best sellers.
As this was my first box, I received a description of the monthly subscription along with the values underlying the chocolate produced by Endorfin Foods.
April's theme was Wild California. I can't tell you how awesome I thought this was! I've recently become fascinated by wild edibles, and to combine them with my favorite thing in the world, chocolate…it doesn't get much better than that! Also, I consider the Bay Area my home away from home, so to get a tour of their wild edibles via chocolate sounds terribly exciting to me!
To make the absinthe-flavored 70% dark chocolate bars, the founder studied old absinthe recipes, and used similar plants from California to recreate the flavor profiles of the old recipes. The result was fantastic.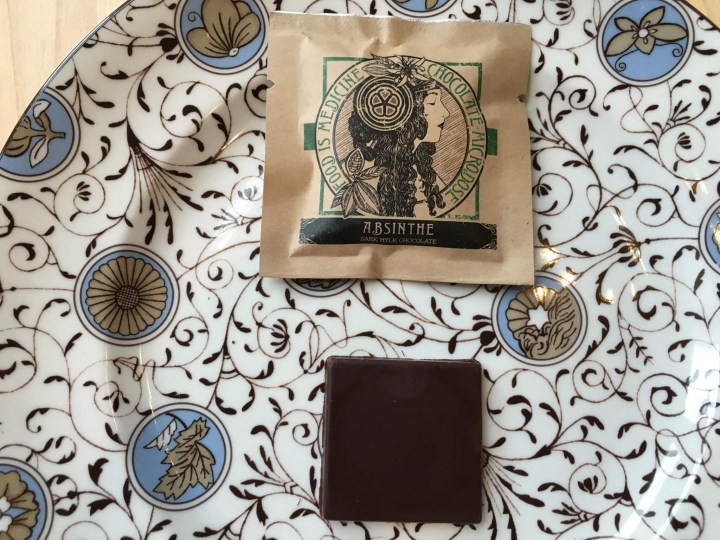 No less intriguing were the limited-edition douglas fir with mesquite smoked sea salt 70% dark chocolate bars.
Coming from Texas, there are few things better in this world than mesquite smoke. To incorporate that into a chocolate bar is pretty awesome! By combining it with douglas fir essence, the founder hopes to transport his devotees to the woods, where they can relax and immerse themselves in the rich bounty of smells, textures and experiences only nature can provide.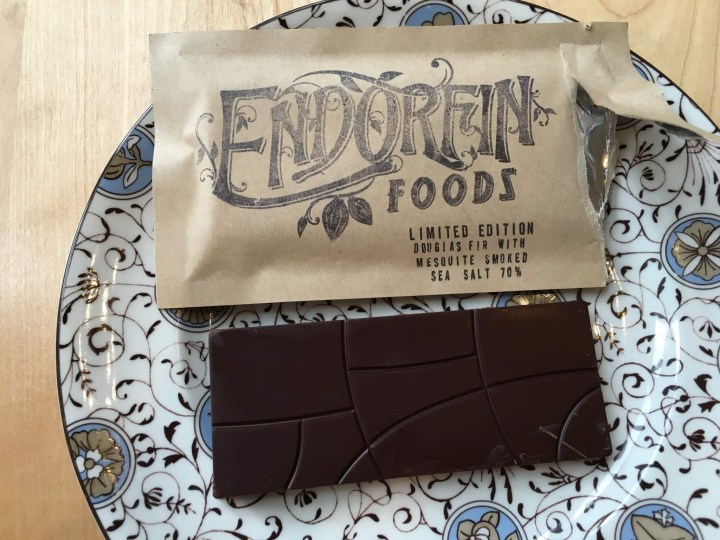 Finally, we received a lovely limited-edition white sage 70% dark chocolate.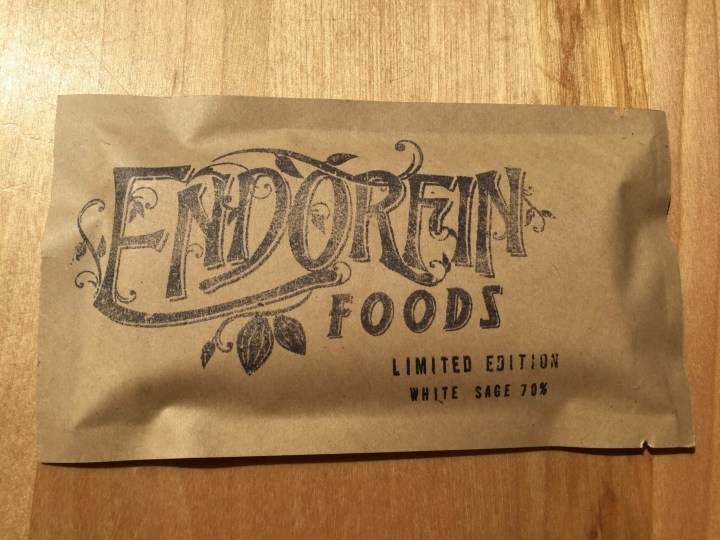 The light sage played off the dark chocolate nicely. After gobbling this up, my son and I went out back to our sage plant and felt it, smelled it and tasted it. He thought that was pretty cool.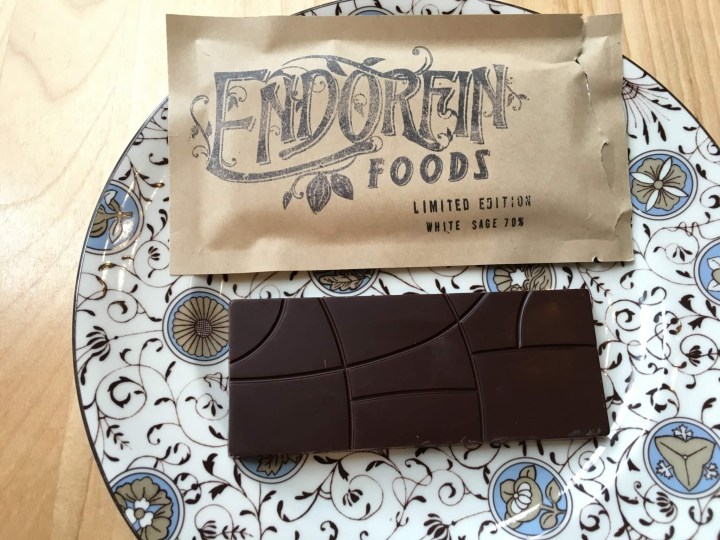 All of this month's chocolates arrived along with a beautiful sack. After tasting all of this month's flavors for the review, we placed the rest of the chocolate bars in the bag to save for future desserts this month.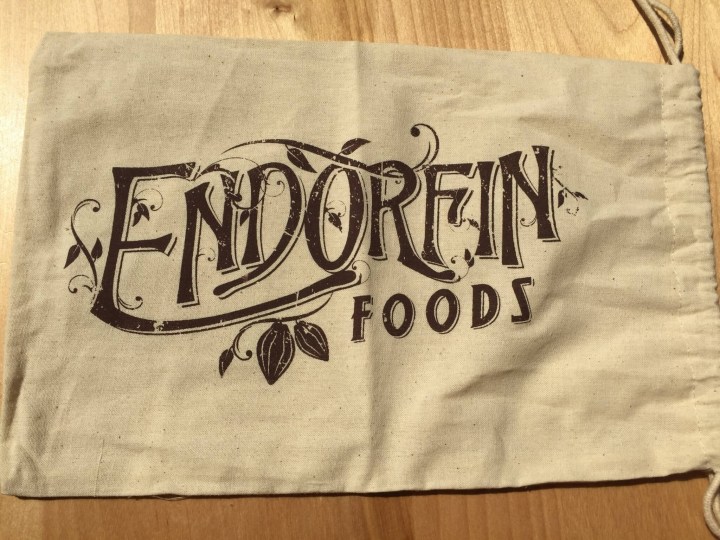 I think Endorfin Foods is a fabulous subscription! The chocolate is absolutely delicious, and much of it is only available to subscribers. I also really appreciated the unique mission of Endorfin Foods: to create the best vegan chocolate inspired by the traditions of the ancient Mayans and Aztecs by using only unroasted heirloom cacao and combining it with spices, essential oils and whole food sweeteners. I can't wait to see what they create next month!
What do you think of Endorfin's chocolate subscription?
Visit Endorfin Community Supported Chocolate to subscribe or find out more!
The Subscription
:
Endorfin Community Supported Chocolate
The Description
: All of the products in our monthly chocolate subscription boxes are crafted with care & integrity in Oakland, California using ethically traded, unroasted heirloom cacao,coconut mylk, and coconut sugar (a low-glycemic whole food sweetener). We are committed to making pure, wholesome chocolates with real ingredients, which means everything we produce is approved for vegan, paleo, and/or whole foods diets. All of the organic chocolate bars featured in our monthly chocolate subscription boxes are dairy free, soy free, gluten free, agave free, GMO free, and never contain refined sugar. Additionally, we strive to make the earth a better place one chocolate bar at a time, and are committed to utilizing plant-based biofilms, vegetable-based inks, and compostable/recyclable materials for 100% of our packagin
The Price
: $20.00 per month