Ecocentric Mom is a monthly subscription box that delivers goodies for moms-to-be and moms at any stage of motherhood (Pregnancy, Mom and Baby, Mom). During the sign-up process, you get to specify where you are in the journey of motherhood and the folks behind Ecocentric Mom curate a box specifically for you! Thus, moms-to-be may receive different products than I did, as my daughter is about one and a half years old. All selected products will be ecoconscious. They may include products for one's home, health, beauty and baby. You can also choose bimonthly deliveries!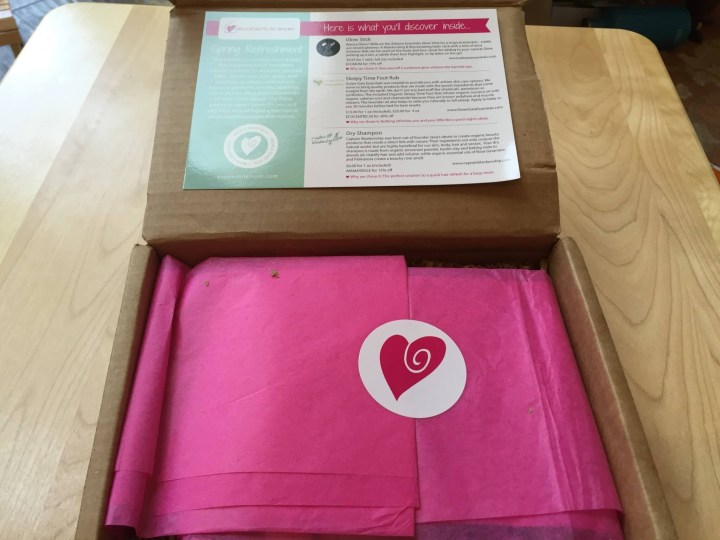 My box arrived well-packaged. The tissue paper was very attractive.
When I opened up the tissue paper, I was really pleased with the range of products: beauty supplies for moms and babies, books, a bib and a snack.
All of the products come listed on a nice large notecard.
Note that I'm reviewing the Mom & Baby edition – although I'll probably switch to the Mom edition soon!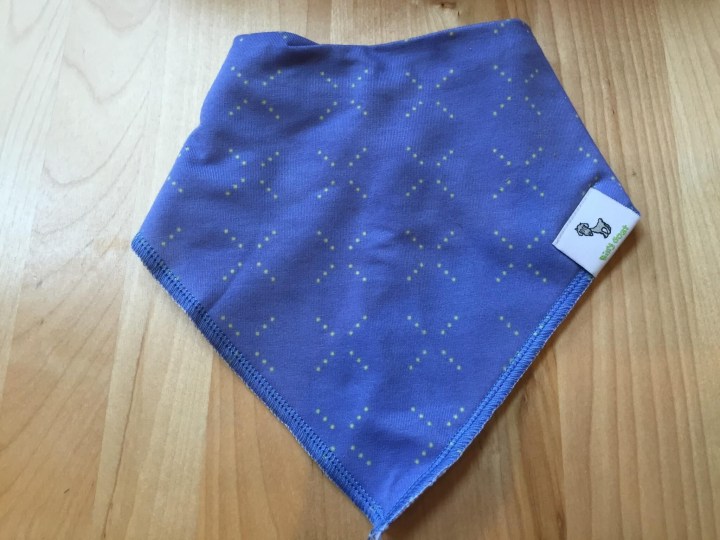 This billy goat bib (4 for $29.99; on sale for 4 for $18.95, or about $4.74 each) is made with an organic cotton outer layer and a soft, fluffy polyester inner layer. It has a snap closure. Although part of me wishes the organic cotton were on the side that touches the baby, this was still a very nice bib. Since my daughter doesn't tolerate bibs, though, I'm going to gift this to a friend.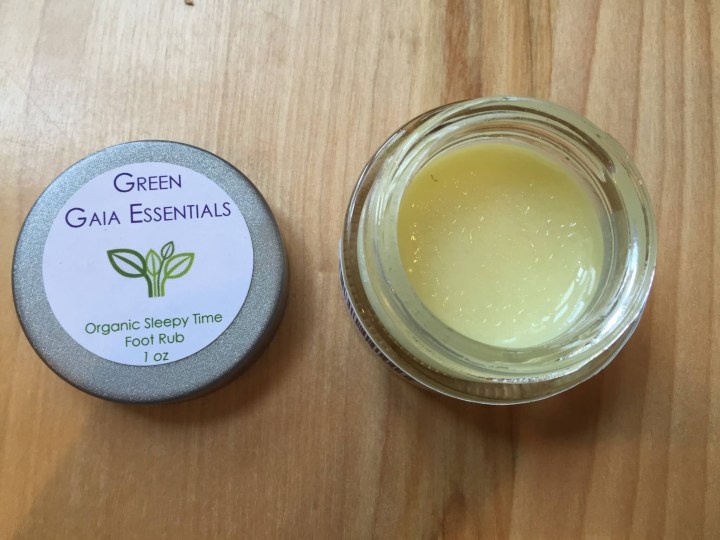 Green Gaia Essentials Organic Sleepy Time Foot Rub ($15) is a vegan, cruelty-free all-natural foot moisturizer. It smells of lavender and grass. Although it appeared slightly grainy when I put it on, it easily melted into my foot and felt great. My feet are very happy right now. For what it's worth, Green Gaia also produces organic diaper cream, stretch mark cream and sunscreen, among other things.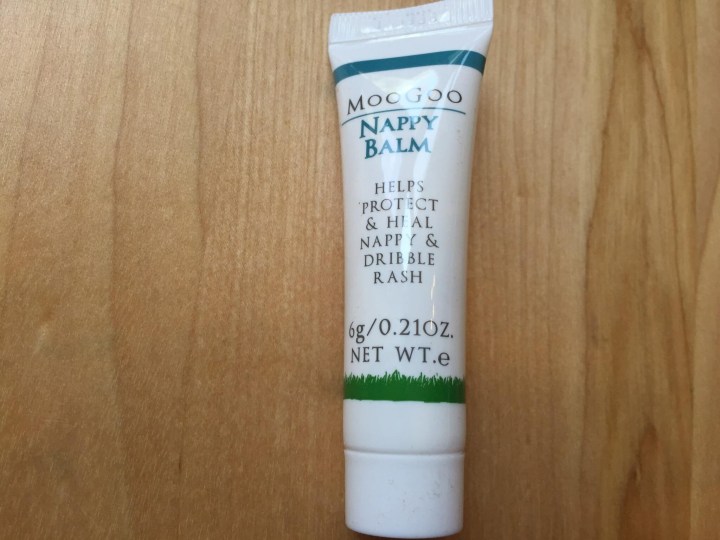 Moo Goo Nappy Balm ($13.50 for a full-size bottle) is a zinc oxide-based diaper cream. It seems to work well, although we just received enough for one diaper change. Moo Goo is happy to list all of their ingredients on their website, which I love. I also love how they went out of their way to include edible ingredients in this! (They also left out nut oils, for peace of mind.)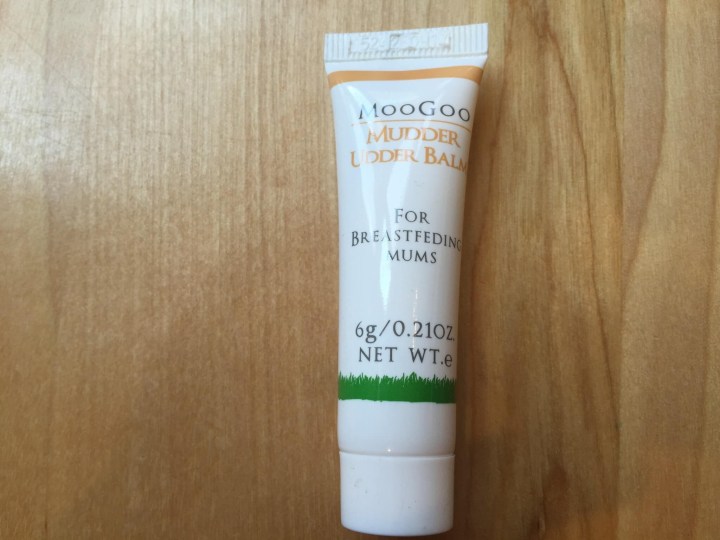 Moo Goo's Mudder Udder Balm ($11.90 for a full-size bottle) has a faint but pleasant scent, and it feels great on the skin. What's more, it's edible, so you don't have to worry about washing it off before your baby latches on. Interestingly, it contains Australian honey, which Moo Goo claims has never been infected with botulism. The honey is pasteurized and retested before being put in the salve. Although I wish this were organic, it's still nice to have a soothing and edible nipple balm on hand.
Captain Blankenship's Mermaid Dry Shampoo  ($6 for 1 oz) is a really neat idea. Composed of mix of organic and nonorganic ingredients, it looks and smells like baby powder. Despite the delightful scent, though, it didn't agree with my extremely temperamental scalp. While I bet this would work for some people (and would be especially useful for a newborn with lots of hair!), I need to rinse it out and rewash with my teatree shampoo. It's too bad though–I had high hopes of using it on my next camping trip!
Zabana Essentials Glow Stick Bare Beauty ($9.95) is a vegan beauty product produced with many organic ingredients. In addition to moisturizing, it provides a subtle, sparkly, artificial tan for new mothers who want to look sun-kissed without the hassle of getting a professionally-done fake tan. While I'm not the target audience for this product, I know other people who would love it, so I'm going to gift it to one of them.
My daughter loved the two cute, small books that came with this box! As soon as I opened the box, she started to tug at them. We read them immediately. Puppy Pals ($1.99 each) are cute early reading board books. They are short, which is perfect for my young daughter's attention span. She is very excited about animals right now, so these were perfect for her.
While the first was about a dog, the second was about a rabbit. My daughter asked me to name all of the animals on each page of both books. She loves learning about animals. While I preferred the text of the bunny rabbit pal book to the puppy pal book, these were wins for us.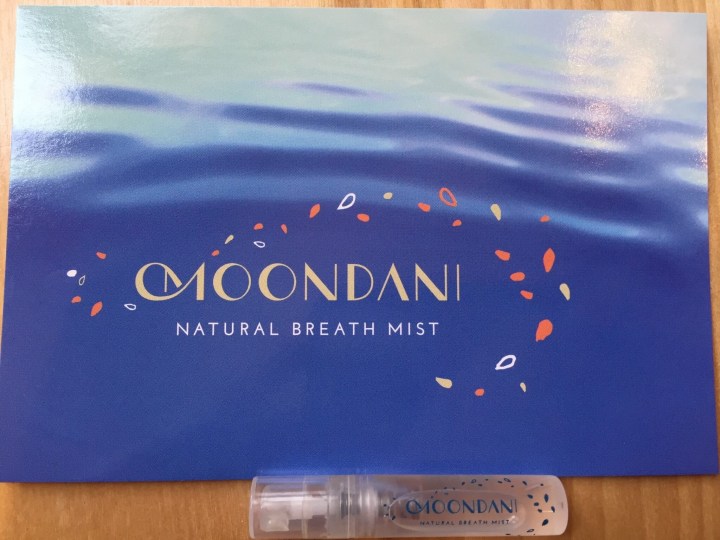 Moondani Natural Breath Mist ($7.50 for 5ml) is a strong herbal blast that perks up your breath instantly. I was a big fan of this. It's going in my purse for a quick spray on the go.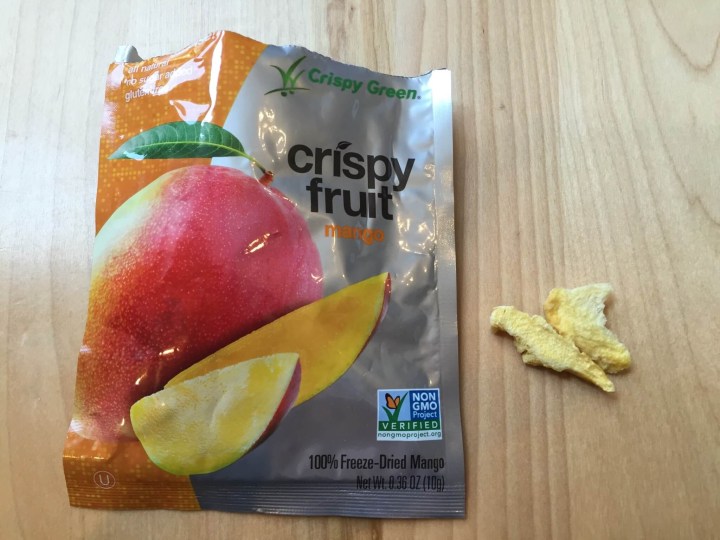 Crispy Fruit's Mango ($1.49) is a light, freeze-dried GMO snack. The freeze drying process takes out a lot of the density of a mango and changes its texture, while preserving the flavor I love. While I wish these were organic, I did find them quite tasty.
This was my first month receiving Ecocentric Mom, and I enjoyed it! While I won't use all of the products myself, I'm sure others will, and some of the products were real wins for me. I look forward to seeing what they send out in two months!
Have you tried Ecocentric Mom? Save 50% on your first box – just use this link!
Visit Ecocentric Mom to subscribe or find out more!
The Subscription
:
Ecocentric Mom
The Description
: Discover conscious brands and products for home, health, beauty and baby delivered to your door every two months. Whether you're a mom-to-be, a new mom, or have kids of any age, your baby box will contain goodies selected for your stage of motherhood. As your family grows, update your box choice so it always fits your needs.
The Price
: $24.00 every other month