Eat Feed Love Taste Club is a monthly gourmet food and cooking box.  There are three boxes to choose from: The sample box, the snack box, and the pantry box.  The sample box sends sample sizes of artisanal products.  The snack box sends tasty artisanal snacks with no cooking required and you can just un-pack and enjoy.  With the Pantry box you get full size artisanal products to build your ultimate pantry.  I'm reviewing the sample box.
First look and while I couldn't see the products I could see lots of squiggles and a note and info card.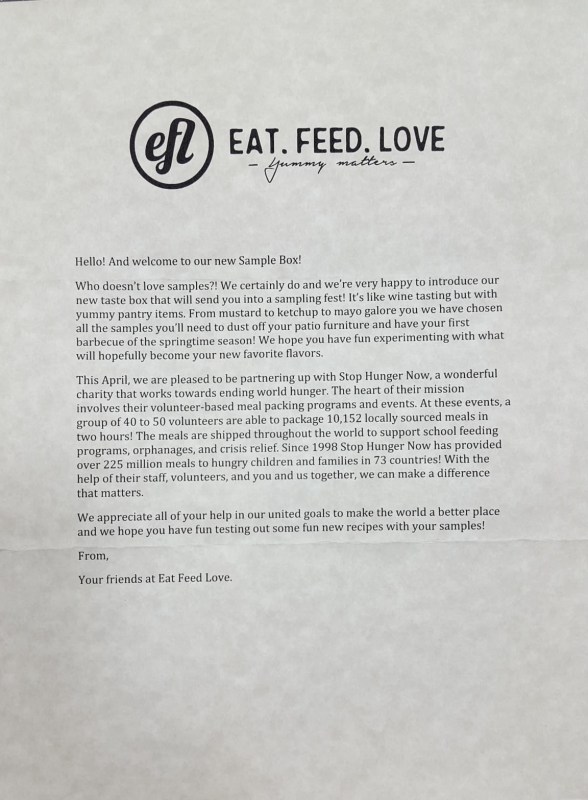 The note welcomes us to the new Sample Box from Eat.Feed. Love and tells us that they have teamed up with Stop Hunger Now this month.  If you go to the main Eat Feed Love Taste Club site you can see how many people they have fed based on their boxes.  As I'm writing this they are almost to 43K people!
Starting to dig in and all of the individual items were wrapped up and then placed in the box. This is just building the suspense as I can't wait to see what is in here.

The information card folds out and tells about the item and then some info on the creators. Since all of these are artisanal products I like learning more about the small businesses and people that are creating them. It adds a fun touch for me to read through.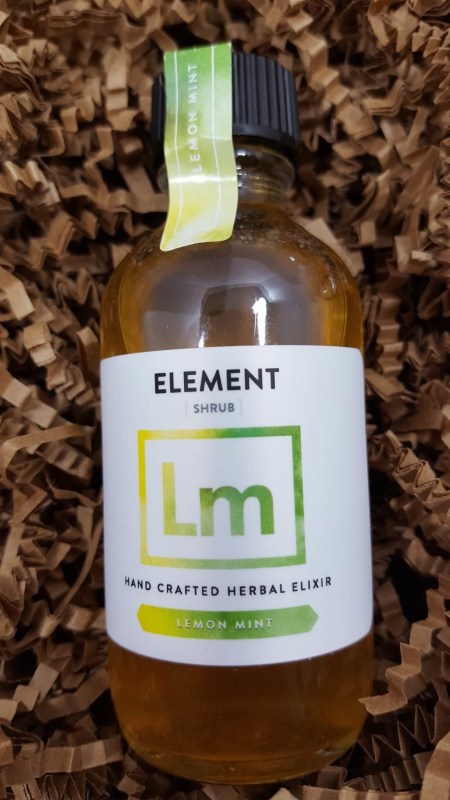 Element Lemon Mint Shrub ($8.00 for a full size bottle) – this is a tart drink that tastes like a lemony soda without the chemical and sugary aftertaste.  I'm a little scared to just drink this straight since I'm not sure I want a lemony flavored drink but the info card says it can be used as the base for a vinegary salad dressing and since I'm having people over this weekend I'm going to do that and make some fresh dressing for our salad.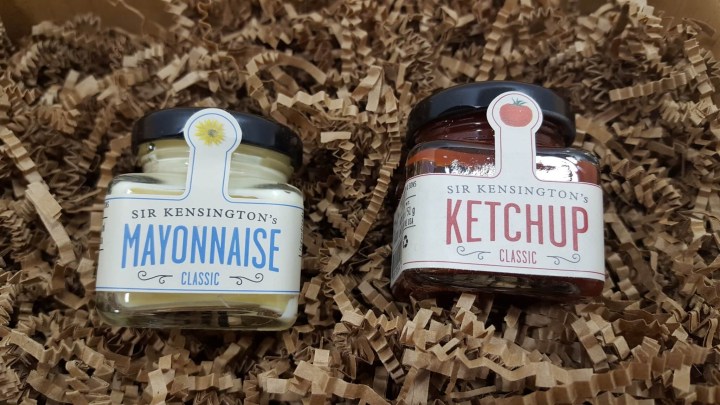 Sir Kensington's Mayonnaise ($8.00 for a full size jar) – I'm not a Mayo eater but my hubby is and he will love this. It is made with sunflower oil, free range eggs, and less saturated fat then normal mayo.  It also has a hint of citrus and will be a good dipping agent for anything.  I see a big sandwhich in his future with this on it.
Sir Kensigton's Ketchup ($6.00 for a full size jar) – My son is going to love this and having his own little sample size of ketchup. He is a ketchup lover and even has a shirt that say "I put Ketchup on my Ketchup".  This will be great with having 50% less sugar and no high fructose corn syrup and has a taste he will love.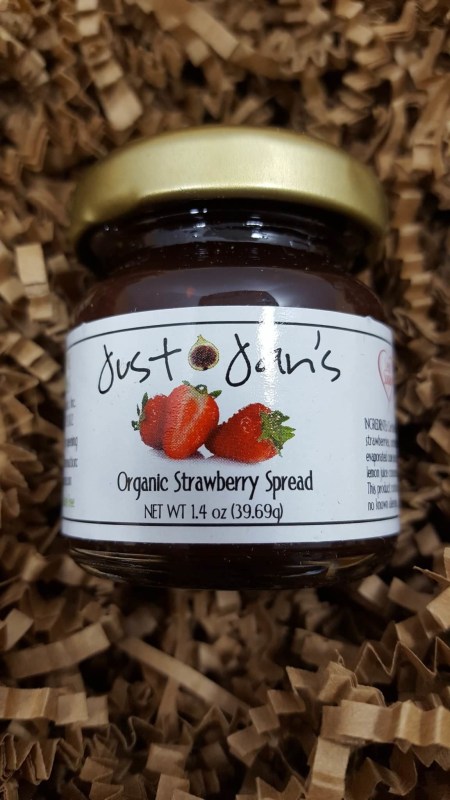 Just Jan's Strawberry Spread ($7.50 for a full size jar) – It is strawberry season here in NC and this tastes like fresh berries in a spread.  This will go great on a sandwich or I might add a scoop into some BBQ meatballs for this weekend.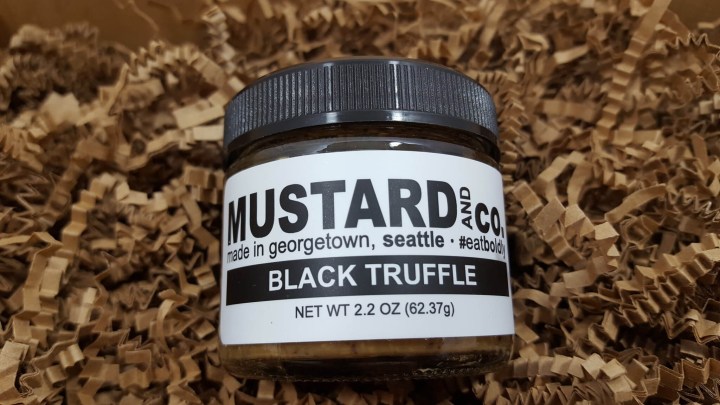 Black Truffle Mustard by Mustard and Co ($7.00 for a full size jar) – Yay a mustard.  Mustard is my condiment of choice and pretty much the one I put on everything that requires a little something extra.  This one has a bite to it and I love it.  We just bought some soft pretzels that I am going to make tonight and then dip in this.  Yummy!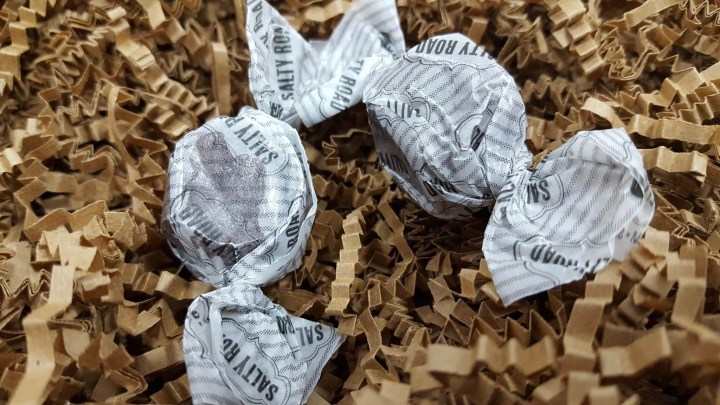 Deep Dark Chocolate Taffy by Salt Road Taffy ($8.00 for a full bag) – Deep dark chocolate and sea salt what could go wrong?  These are so rich and delicious.
I really like this box. It is a great way for me to try some fun new yummy goodies without being locked into a full size bottle of it.  Then if it is something that we love I can jump on and grab a full bottle right from the Eat Feed Love Taste Club store and have even more.
What do you think of the new Taste Club Sample Box?
Save 50% on your first box! Use coupon code  HelloSubscription. Good only on month to month plan – valid on all 3 Taste Club subscriptions!
Visit Taste Club: Sample Box to subscribe or find out more!
The Subscription
:
Taste Club: Sample Box
The Description
: Discover amazing new flavors with this box full of Sample size artisan products. Perfect for those looking to discover new foods.
The Price
: $22.00 per month