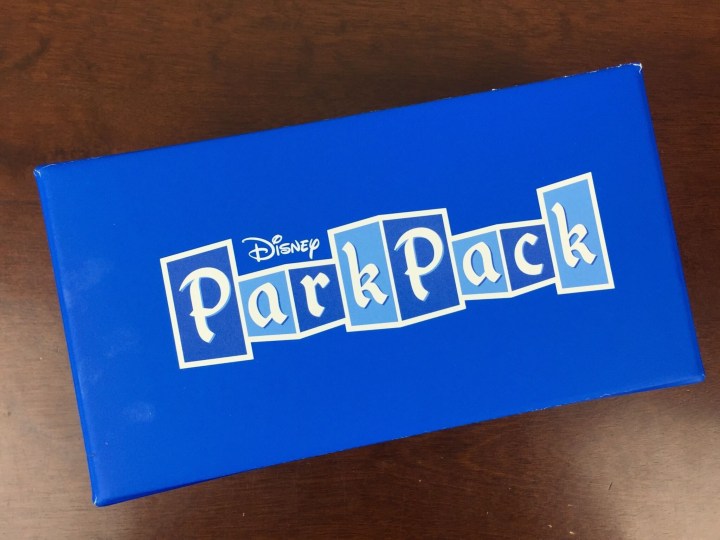 It's the best Park Pack Ever! Disney Park Pack: Pin Trading Edition is a monthly mystery pack from the Disney Store.  Every month in this subscription you'll receive three official Disney pins – 2 open edition (released to subscribers before they're made available to the public) plus a totally exclusive limited edition pin. The limited edition pin has a run of 500 each and there are 4 variations of the pin.
FYI – Disney has started expanding the Park Pack – see my review of the Disneyland Memorabilia Limited Edition Park Pack! I can't wait to see even more editions and I really really really want a Polynesian Park Pack!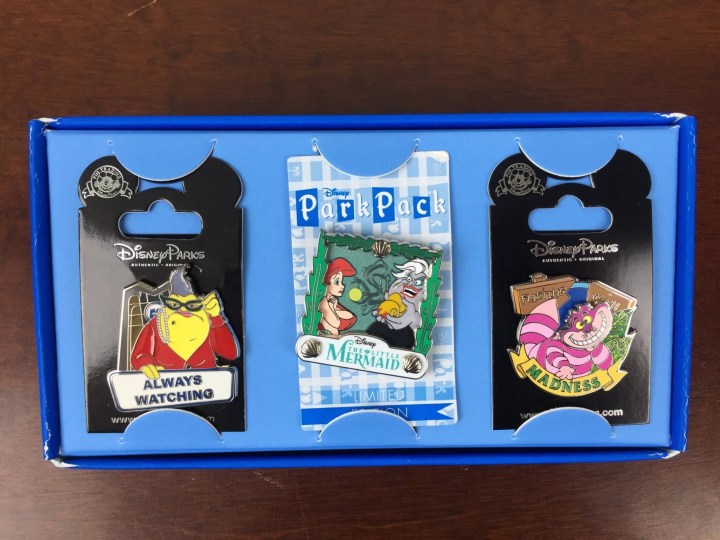 Here are the Park Pack pins for May 2016. I adore it.
Disney Pins are the perfect souvenir – small, not too expensive, and fun to collect.  There's no information card for this box, and just like every other month, I wish they'd include a curator's note – maybe with names for these pins!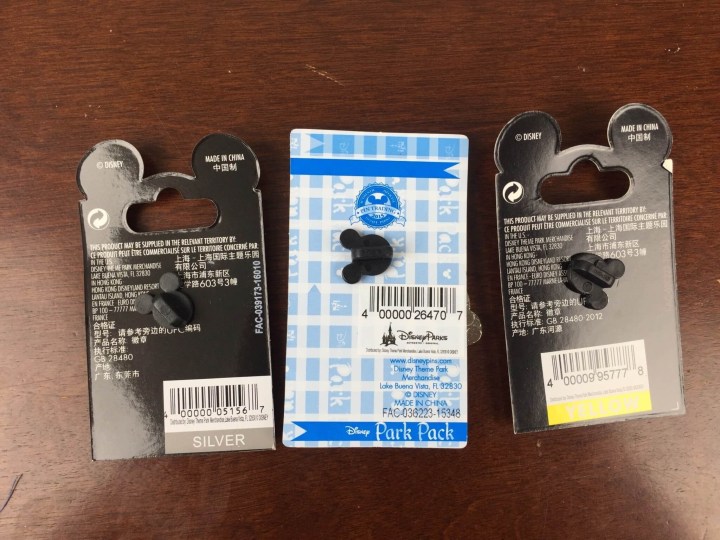 The backs of the pin cards show the prices (via the color coding) for the open editions, but not the exclusive limited edition pin, because it won't be sold anywhere else. All pins include the Mickey pin-backs!
Silver: $8.95. Yellow: $12.95.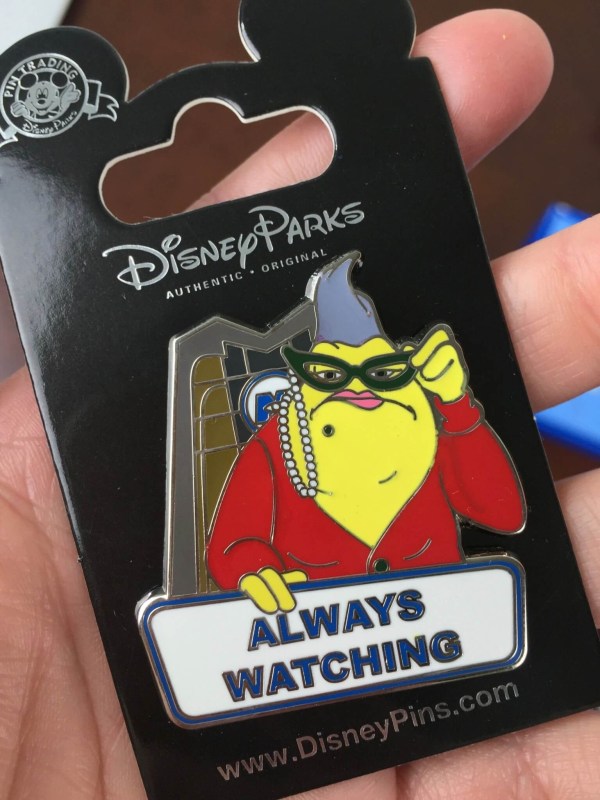 Monsters Inc. Roz Always Watching Pin: ERMAGAWD. This is totally me right now. I also just got reading glasses and everything about this is me. It's awesome. Alena & I were just saying this weekend there needs to be a reading glasses subscription box with matching chain and optional cardigan add-on.
Also, I'm always watching, my kids would tell you that!
https://youtu.be/dJWm0TWH7d0&rel=0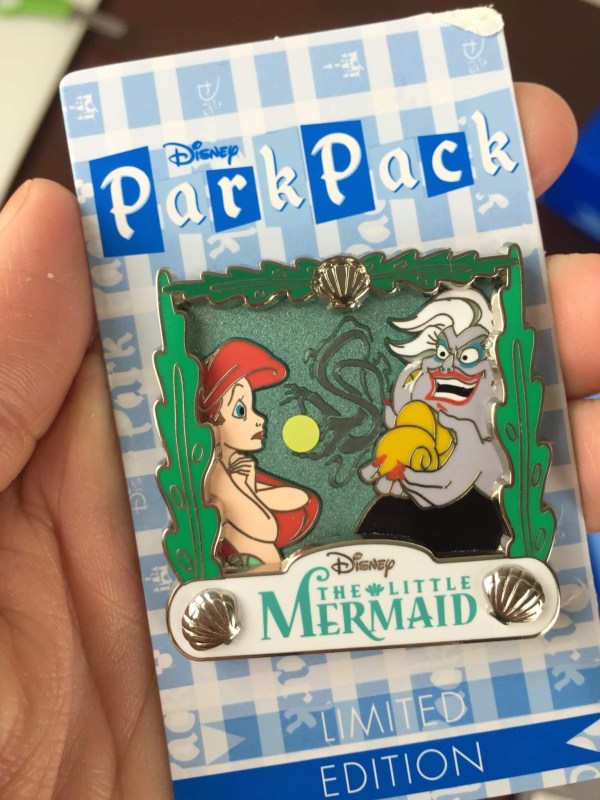 The Little Mermaid Limited Edition Pin: One of 500 in a series of 4 pins – every pin has a different background. This one is absolutely fantastic and captures the moment when Ariel gives up her voice to Ursula! So far I have seen green and blue. This one is really a beautiful classic pin and I love the little shells on the bottom.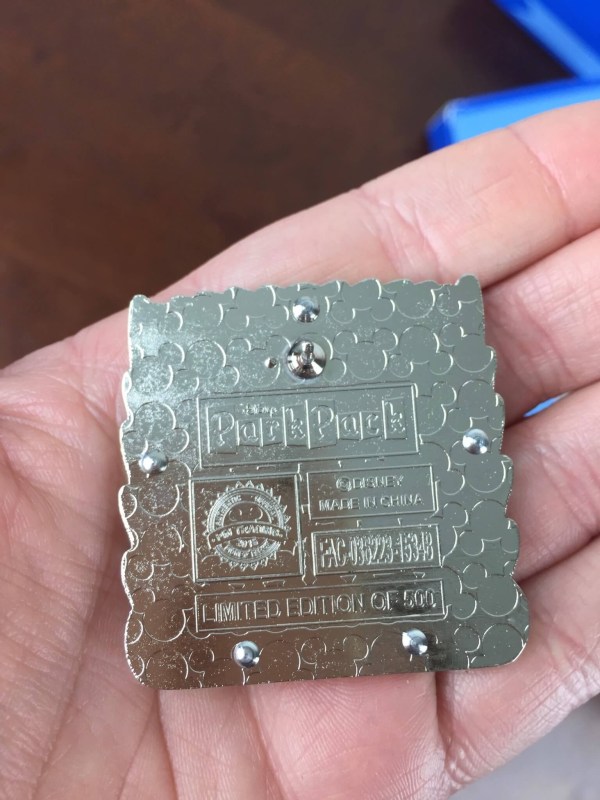 There is only one post on this pin – they changed to one post on these framed pins in March. The back is clearly marked with the run of the limited edition.
Cheshire Cat Flirting With Madness Pin: Perfect timing for the new Alice movie landing this week! Cheshire Cat's head spins totally around!
This was a totally amazing month and I absolutely can't pick a favorite pin – it's easily the best month ever for me!
Which pin was your favorite this month?
Visit the Disney Park Pack: Pin Trading Edition landing page to find out more. It's currently sold out, but we'll post when subscriptions are open again.
The Subscription
:
Disney Park Pack: Pin Trading Edition
The Description
: Disney Park Pack is a monthly mystery box with 3 official Disney pins. Pins are collectible and tradeable! Every box features two open edition pins and one limited edition pin with a run of 500. Now a monthly subscription!
The Price
: $39.95 – Save $5 per month on an annual subscription! (looks like this option is currently sold out)
Some general info about Disney Pins & Trading:
Prices: Green ($6.95) Red & Silver ($8.95) Blue ($10.95) Yellow ($12.95) Pink ($14.95) Lavender ($16.95). Special ones cost more.
Cast Members with green lanyards may only trade with kids ages 3 to 12. You can trade up to two pins per day with any trading Cast Member.
You don't have to trade your pins, you can just collect them.
You can only trade real Disney pins, and they all bear a copyright notice on the back.
Don't buy nice pins to trade, buy lots of pins on eBay from a reputable seller.
Are you a pin trader? Share your advice in the comments!