Crate Chef is a bi-monthly subscription box that brings you your favorite's chef top picks. Each month costs $45, and you'll get a specially curated box filled with a well-known's chef favorite kitchen items, food products, as well as selected recipes.
The Chef-of-the-Month for May is Chef Blythe Beck of Pink Magnolia in Dallas, Texas.
The information card tells more details about the items handpicked by Chef Beck.
A few words from the Chef Beck via the Chef Letter. You can purchase the Chef Letter plus 3 recipe cards for only $7.
The items in the box is secured with straw – a cute look for this month.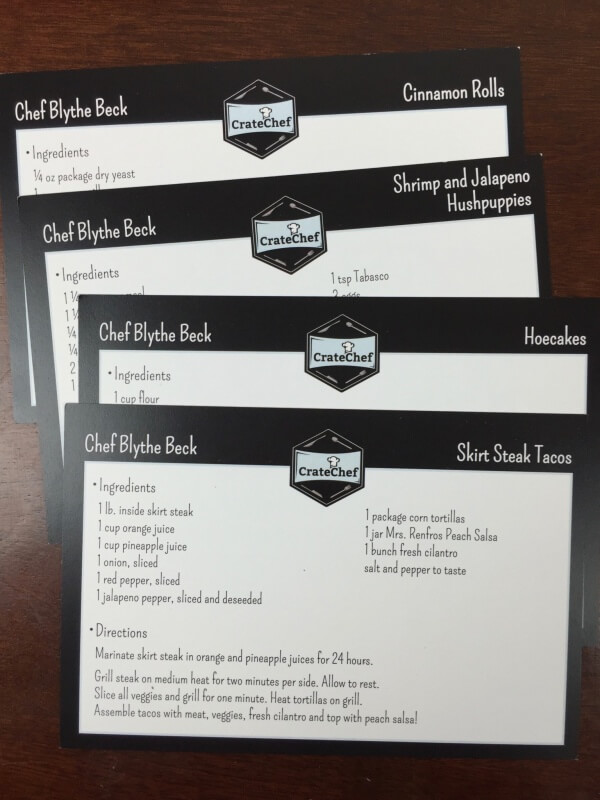 Here are the recipe cards from Chef Blythe Beck. One thing I noticed is that they were all easy peasy to follow and the directions aren't long at all.
Everything is wrapped with care inside the box!
All the goodies from the Crate Chef May-June Box!
My Country Story Pink Magnolia Soy Candle ($8) I think it's delightful that she found a candle with the same name as her restaurant! It smells like a sweet floral southern garden – and is a hand poured dye-free soy candle with a lead free wick too. Perfect!
Mrs. Renfro's Gourmet Foods Peach Salsa ($3.95) Chrf Blythe is obviously a peach, and so is this salsa. Confession – I have to stop myself from eating salsa out of the jar – I will eat half of it before I get to put it on anything – so as always, I'm excited for a gourmet salsa!
This paired wonderfully with nachos and the burst of the peach is unusual but yummy. I can't wait to try it with an actual dinner!
CocoAndre Chocolatier Sea Salt Caramel Turtles ($7) These turtles are everything. There are 2 milk and 2 dark chocolate each topped with the absolute perfect amount of salt.
And the pecans! They are fresh, perfect halves. They didn't last long – I kind of gobbled them this weekend. They were so good because the caramel and chocolate were really showcasing the nut and everything was perfectly balanced.
Lamb's Gristmill Stone Ground Yellow Corn Meal ($2.50) If you have been trying and failing to make southern cuisine, it's all about the corn – don't use regular anything. I find that stoneground adds a depth of flavor and authenticity that you can't replicate with grocery store ingredients. I believe there is a ridiculous cheese jalapeño hush puppy recipe I want to make otherwise I would use this with the included recipe!
Mud Pie Butter Dish Set ($20.25) This was the spoiler item and it's just as cute as the photo! There isn't a thing as too much butter! (Except when my husband puts butter on his French toast with whipped cream, which I don't entirely understand).
This is just cute and witty and is great for serving butter with your dinner. Or dinner with your butter.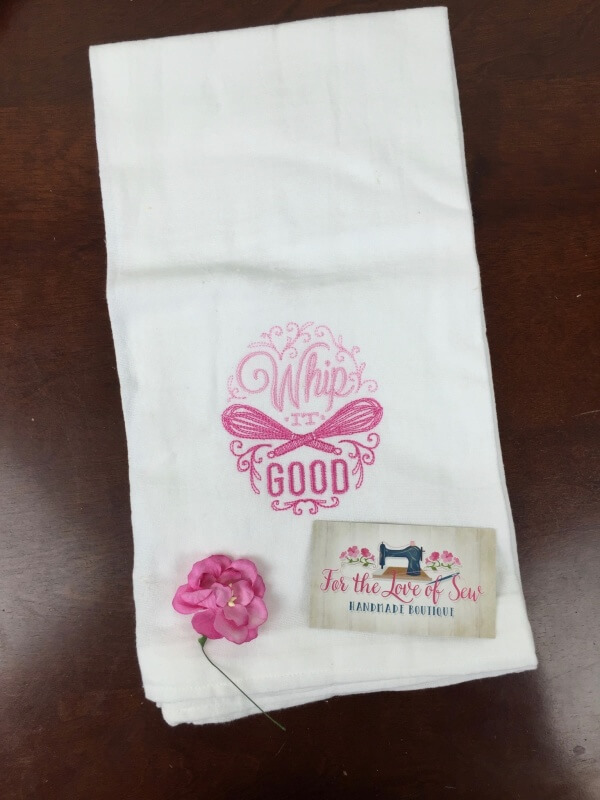 For The Love of Sew Embroidered Hand Towel ($8) can't have enough hand towels for the kitchen! This one was funny and made me laugh. It will be super cute next to a baking station!
This was a great box and clearly reflects the chef's personality and cuisine – I was completely delighted with it. The box was packed with Southern charm and about $50 in value, a bit more than the cost of the box, which is great for this type of subscription. I thought the items were a good mix, high quality, and unique.
What did you think about this box from CrateChef?
Visit CrateChef to subscribe or find out more!  Save 10% off your first order with coupon code HELLO10.
The Subscription
:
CrateChef
The Description
: Curated by a different top-name chef every other month. Each month's box will be filled with that chef's favorite local artisan food products, useful kitchen items, selected recipes and even a personal letter to let you know why they chose each item. Recipients will be delighted to discover new chef-selected foodie products, delivered right to their door. We offer the box and also just the letter and recipes for only $7.
The Price
: $45.00 every other month