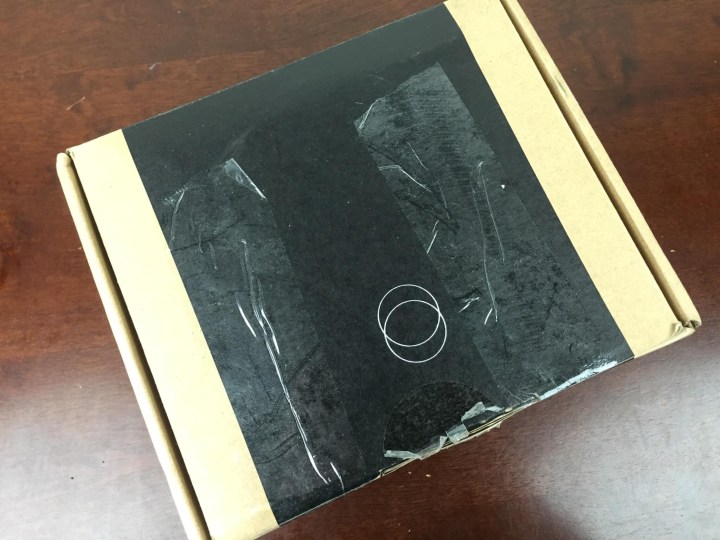 Cora is a subscription box that brings tailored tampons according to your flow. The subscription starts at $9.00 per month, and you'll get a box with premium organic cotton tampons!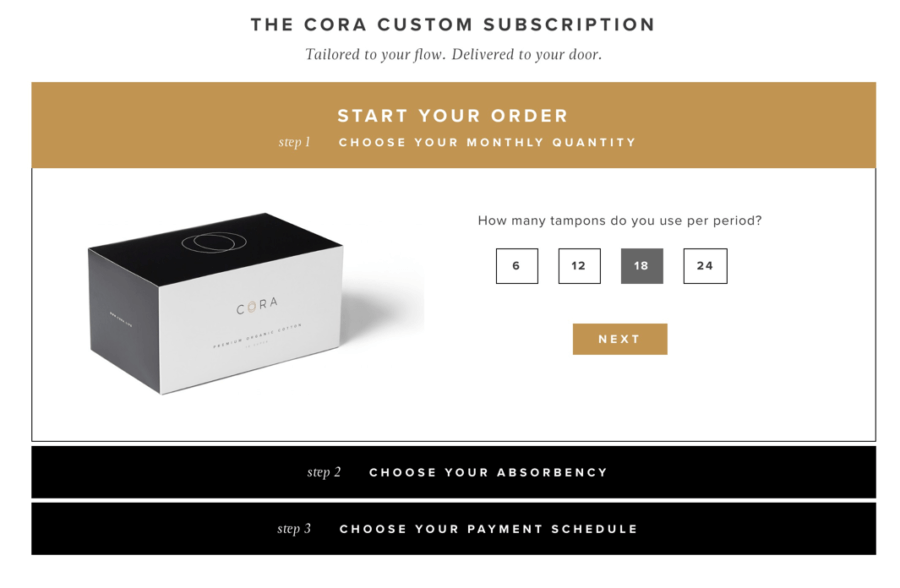 When you sign up there's a super short quiz – how many tampons you use per period, whether you like all supers, all regulars, or mostly one and a few of the other. Your subscription price depends on how many tampons you need monthly and starts at $9 . You can pay quarterly or annually for a discount.
With your first box you'll also get a complimentary Signature Kit, which includes Cora's Little Black Box, Little Black Clutch and Cora's Stowaways.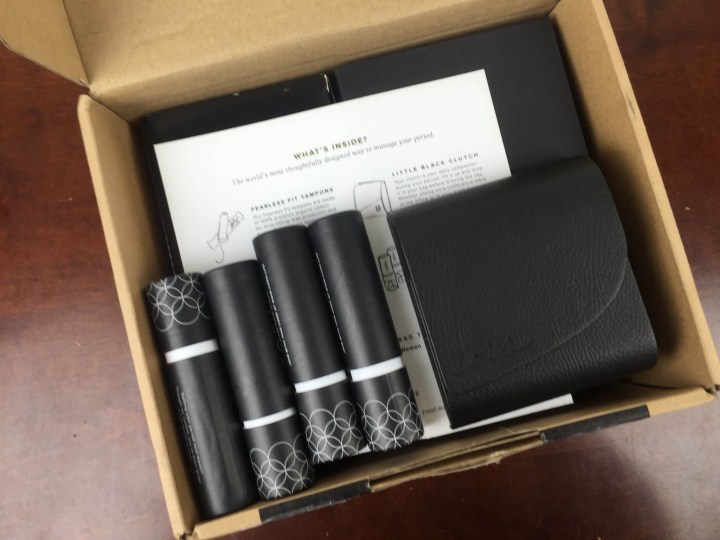 Everything is neatly packed inside the box.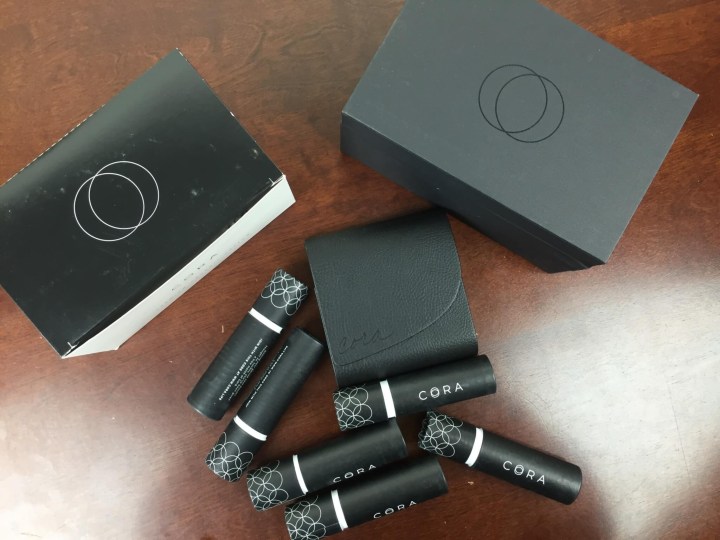 All your period goodies inside. This is really chic for menstrual products!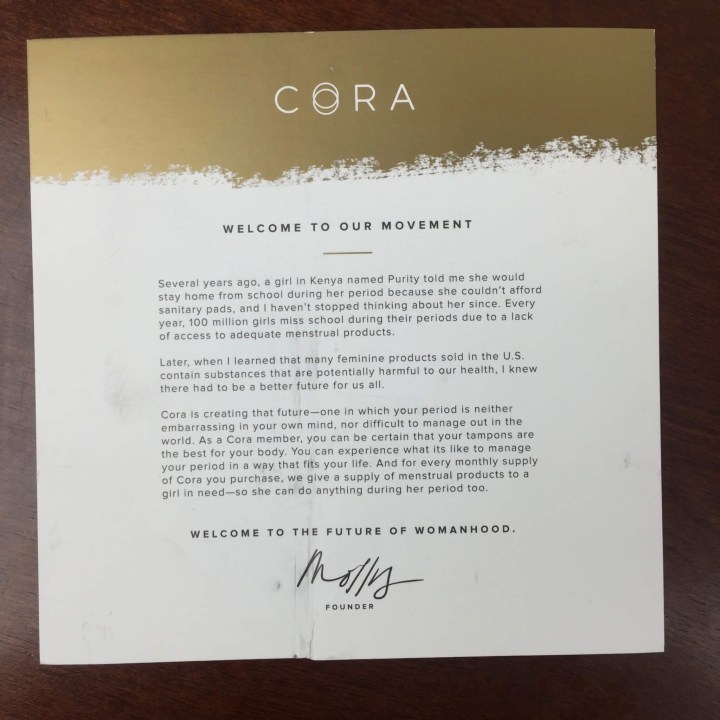 The box comes with a welcome card and a note from the founder of Cora.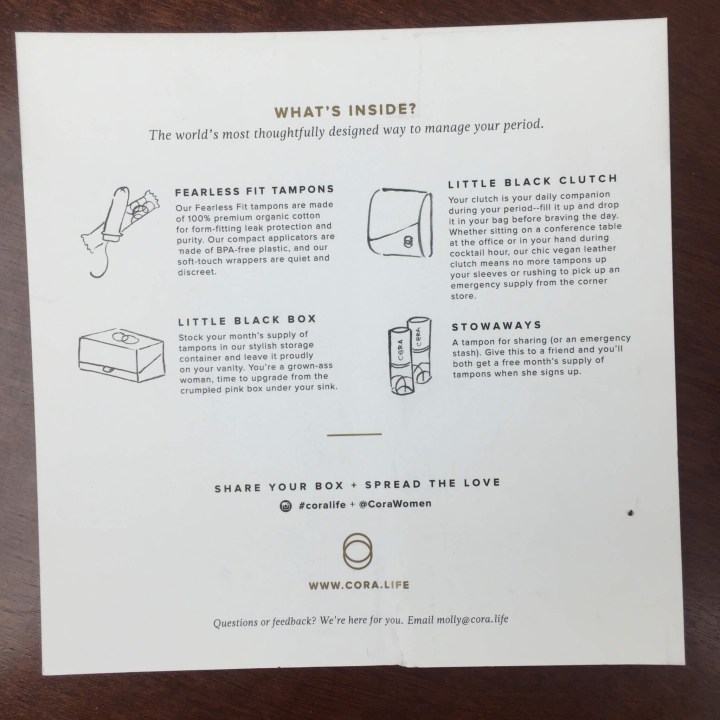 The back of the card shows the list of everything that's in this box. Note – the deliveries for this subscription come quarterly, and what you'll get after your first box consists of just tampons – however many you selected for 3 months, plus some of the extra "stowaways."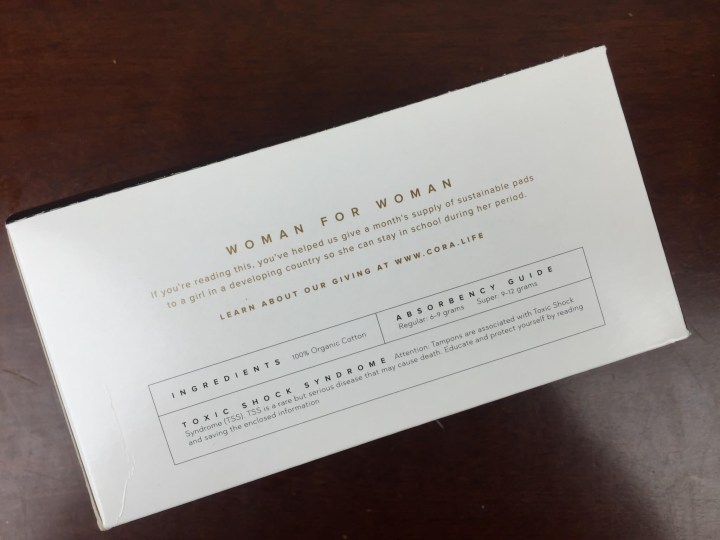 Cora also gives back by giving a monthly supply of sustainable pads to girls in developing countries so they can stay in school.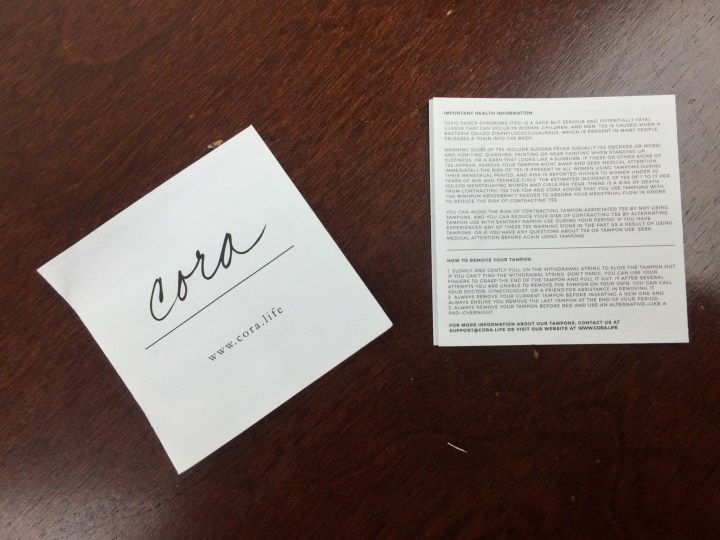 There's also a small booklet included that contains health information and instructions. This is inside the actual tampon boxes but I thought it was good to point out that this was provided!
Cora's Little Black Clutch – This is a chic little vegan leatherette case perfect for toting around some tampons!
Cora's Stowaways – Neat little cardboard cases that you can refill.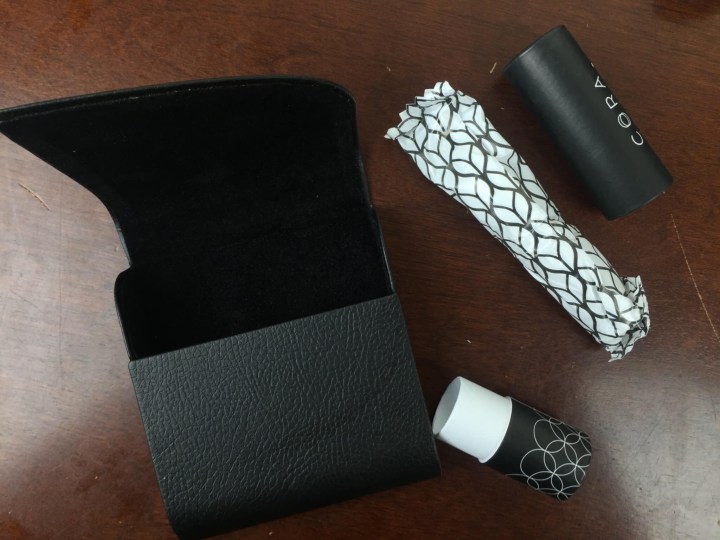 The inside of the case is lined and it fits about 4 regular tampons. It wasn't quite large enough for the supers to fit comfortably.
The stowaways are pretty neat because you can load them up and stash a single tampon somewhere without it getting mangled (which I hate!). Apparently for subscribers a referral code is on the stowaway case, which is great. I generally just stick a tampon in my bra when I need to carry it around but I can think of tons of uses for these.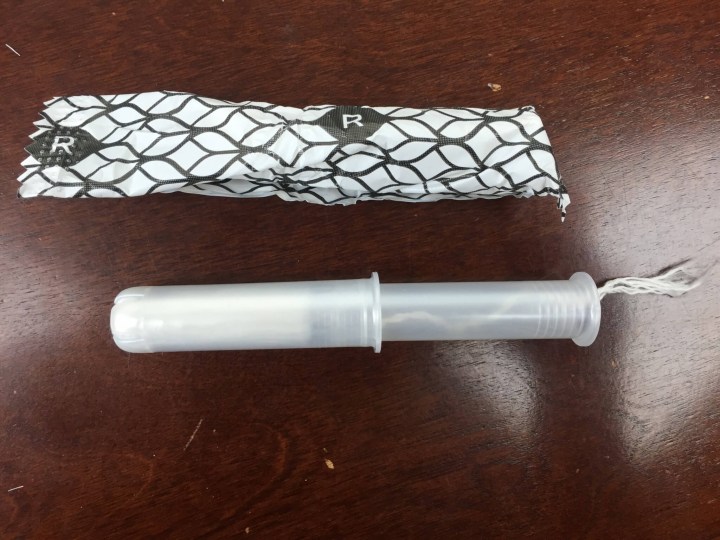 The tampons themselves are organic cotton with BPA-free plastic applicators.  The wrapper is designed to not be loud. I never thought about it before, but I guess I gravitate to brands with quiet wrappers.
Here are the deets on the tampons! In addition to being organic, they expand width-wise and feature an interlocking cord. No synthetics. They're basically an organic version of the brand I typically use.
Cora's Little Black Box: This is perfect for keeping in your fancy bathroom (which it is, right? With all our fancy subscription box soaps and things!?)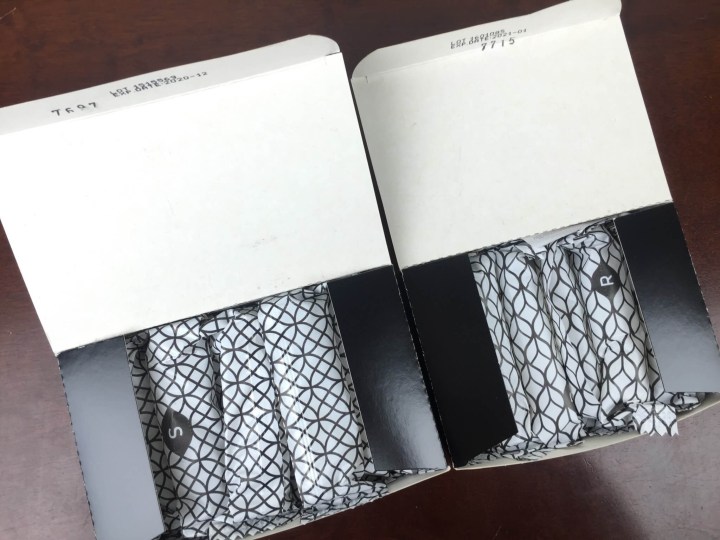 You don't get the Little Black Box every quarter – your tampons come in regular paperboard boxes and I was surprised to find that the tampons themselves are pattern coded, not color coded! This blew my mind.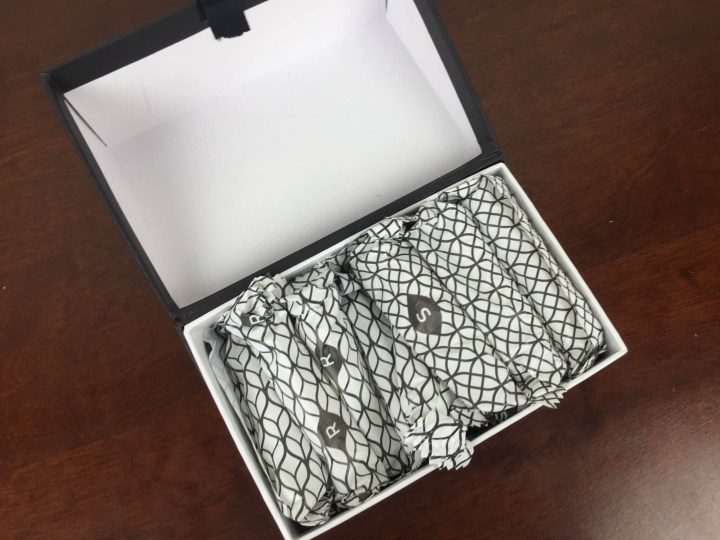 They're all ready to go!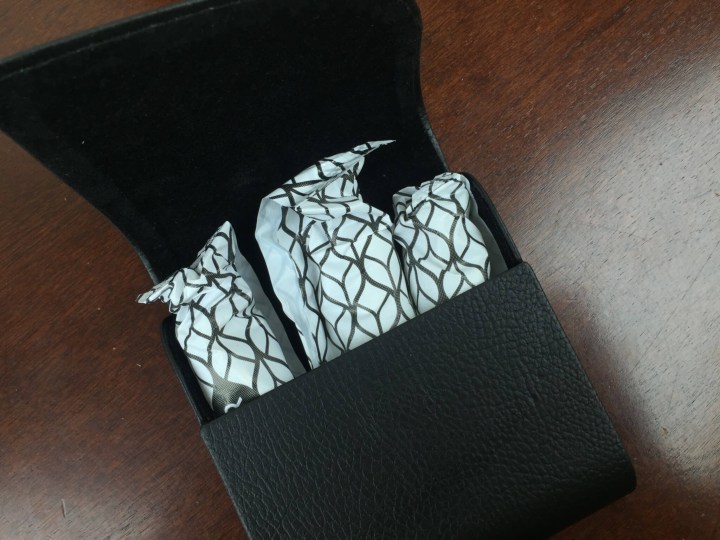 This is so elegant, which I doubt I have ever said about period supplies. I love that they are organic cotton, and they worked well for me. I do wish that they offered light tampons, but I'm betting they will in the future. The applicators are still plastic, but Cora is working on developing a bio-plastic applicator, which is cool. I really liked this service.
What did you think about Cora?
Visit Cora to subscribe or find out more!
The Subscription
:
Cora
The Description
: Tailored to your flow. Delivered to your door.Receive your tailored supply of our premium organic cotton tampons plus our complimentary Signature Kit—including our Little Black Box, Little Black Clutch and Cora's Stowaways (our single tampons ready to pocket or share—our treat).
The Price
: $15.00 per month