Full disclosure: I'm the guy that makes his own beef jerky, so the likelihood of me not liking a box full of meat delivered right to my door is pretty low. But, I'm also a man with very high standards, so you can't just chuck any ol' hunk of protein at me and expect raves.
Fortunately, Carnivore Club really delivered on this month's box, which features Chicago's own 'Njuja Artisans Salumeria, purveyors of some very fine meat products, run by the father and son team of Agostino and Antonio Fiasche. Carnivore Club was an excellent way to sample a variety of their products.
The Carnivore Club packaging is cool… a faux wood finish, sturdy box. It did come in an wrapper to let you know there were perishables inside, as well. Open the box, and inside, it's meat, meat, meat!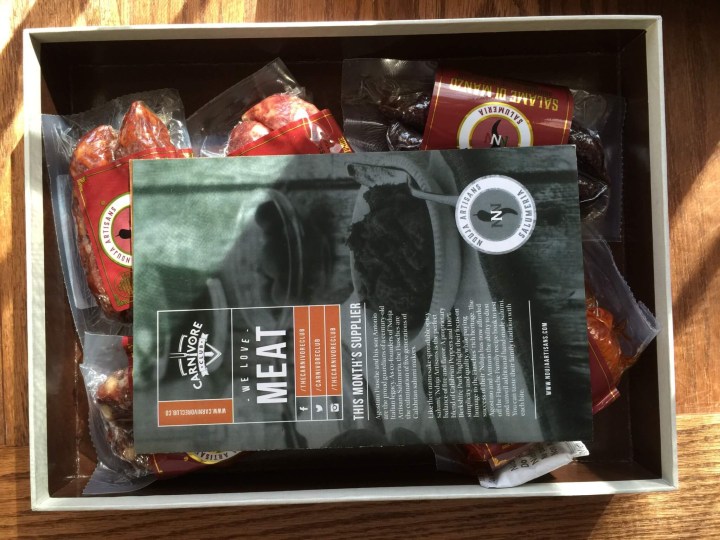 This month's offering included five selections from 'Nduja Artisans, including their Wagyu Salami, Nduja, Nostrano, Finocchiona, Cacciatorini. Much Italian meat, and boy, oh boy, do they know how to produce some tasty treats.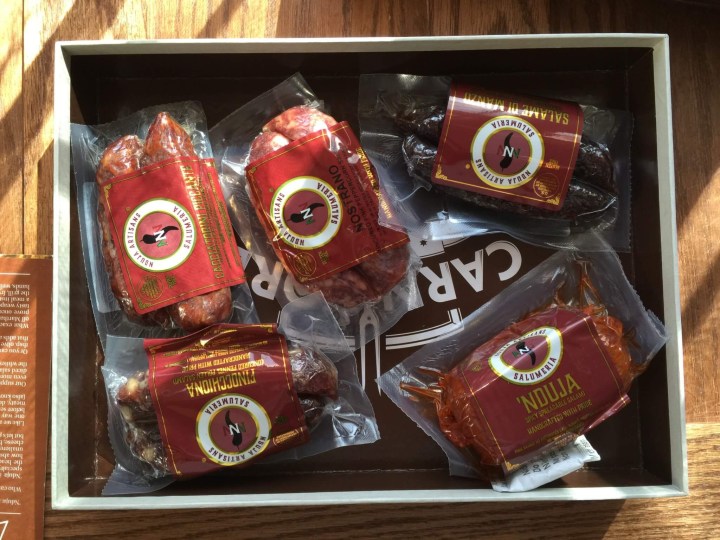 The Carnivore Club also includes a nice insert to let you know both about the featured artisan, which is really great, as well as the different selections that they've picked out for you.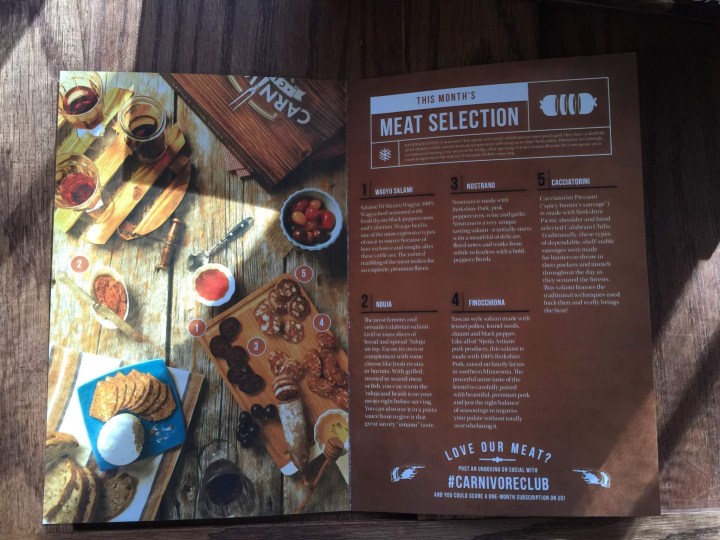 I thought it was really fantastic to have the introduction to the artisan, and I'm not just saying that because they are my home-town boys. When dealing with artisan products, part of the appeal is knowing who is making what you're enjoying. And I enjoyed this entire box. So, on to the meat!
First up was the Salame di Manzo (Waygu Beef Salami).
What They Said: 100% Wagyu beef, seasoned with fresh thyme, black peppercorns, and Cabernet. Waygu beef is one of the most expensive types meat to source because of how exclusive and sought-after these cattle are. The natural marbling of the meat makes for an exquisite, premium flavor.
What I Say: You may have heard of Waygu beef, some call it Kobe beef, and I won't go into why I think it's mostly a marketing gimmick here (Google it sometime.) I *so* prefer Piedmontese beef, which is real lean–but I get that lean meat doesn't make for good salame. The marbling of the Waygu would be better for a salame. And this wasn't a bad salame, but it wasn't a home run, either. I found it very hard and the flavor somewhat lacking. It did have a good balance–not over peppered (which would totally overpower the beef) but on the whole, I just was expecting more. I was a bit disappointed with this "first impression".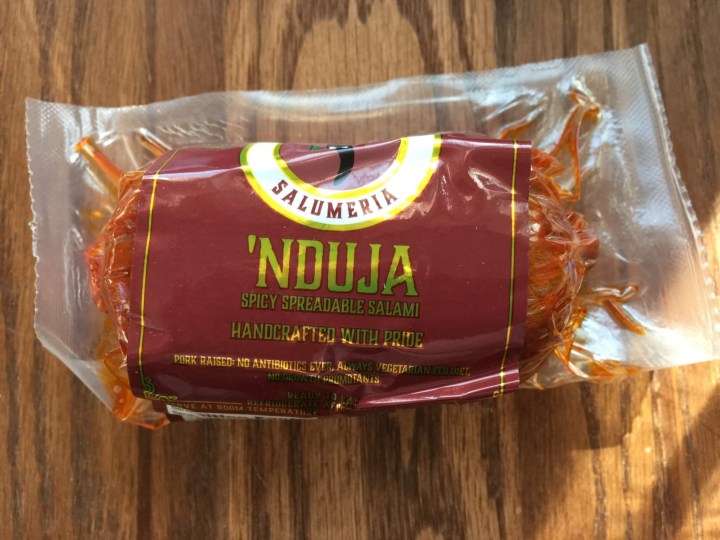 Next up was the 'Njuda, namesake of the artisan producer and a famous salami in it's own right.
What They Said: The most famous and versatile Calabrian salami. Grill or toast slices of bread and spread 'Njuda on top. Eaton its onw or compliment with some cheese like fresh riccota or burrata. With grilled, roasted, or seared meat or fish, you can warm the 'njuda and brush it on your meats right before searving. You can also use it in a pasta sauce base to give it that great "umami" taste.
What I Say: Whoa. I should have had this first! I admit, I was slightly skeptical about "spreadable salami" when I first cracked the package, but wow, it was delicious. It was fairly soft and spread easily on bread (or, a bagel as was the case below). But wow, I put it in eggs, like I would chorizo, and it was out of this world good. It has a slight heat, but nothing severe, and a really bright salami flavor that frankly, I think would go well with just about anything. This was a home run!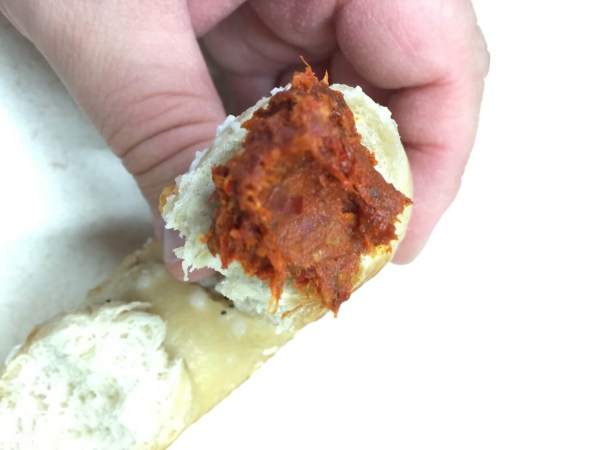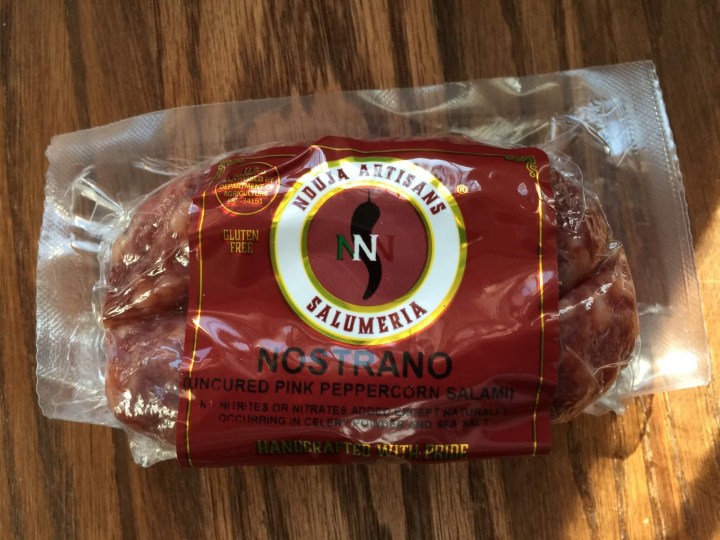 Next, I had the Nostrano.
What They Said: Nostrano is made with Berkshire Pork, pink peppercorns, wine and garlic. Nostrano is a very unique tasting salami–it initially starts with a mouthful of delicate floral notes, and works from subtle to fearless with a bold, peppery finish.
What I Say: They got the description pretty accurate on this one. It does start off mild, with the pepper coming on stronger on the end. I'm not quite sure I would call it a "bold" peppery finish–I've had bolder. But it was very pleasant pepper–perhaps because it's the pink peppercorns it's not as in-yer-face as black pepper? I'm not sure, but I did thoroughly enjoy this salami and would purchase it again.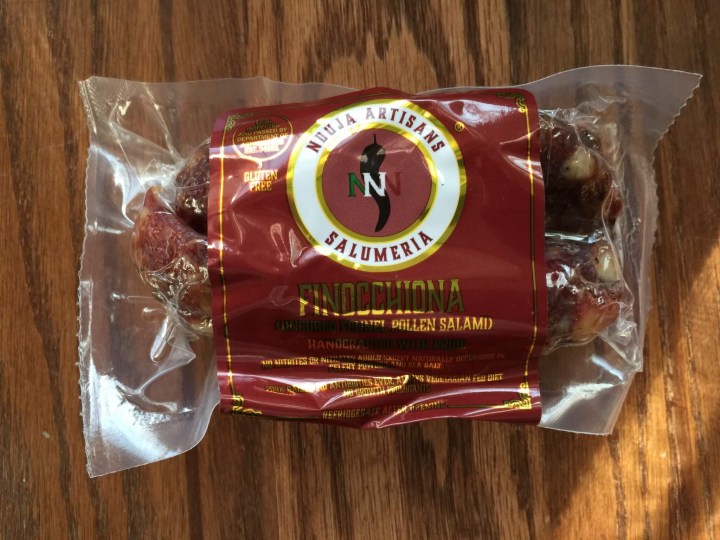 Then is was on to Finocchiona.
What They Said: Tuscan style salami made with fennel pollen, fennel seeds, chianti, and black pepper. Like all of 'Njuda' Artisans' pork products, this salami is made with 100% Berkshire Pork,  raised on family farms in southern Minnesota. The powerful anise taste of the fennel is carefully paired with beautiful, premium pork and just the right balance of seasonings to impress your palate without totally overwhelming it.
What I Say: Well, they were right! I was worried when I read the description… fennel pollen, fennel seeds. Sounds like a whole lotta fennel, right? I'm down with fennel in small doses, but I'm not a fennel nut, so I thought this would be too much. But you know, fennel does go well with the pork, and this was nicely balanced and quite tasty! It ended up being one of my tops for this box!!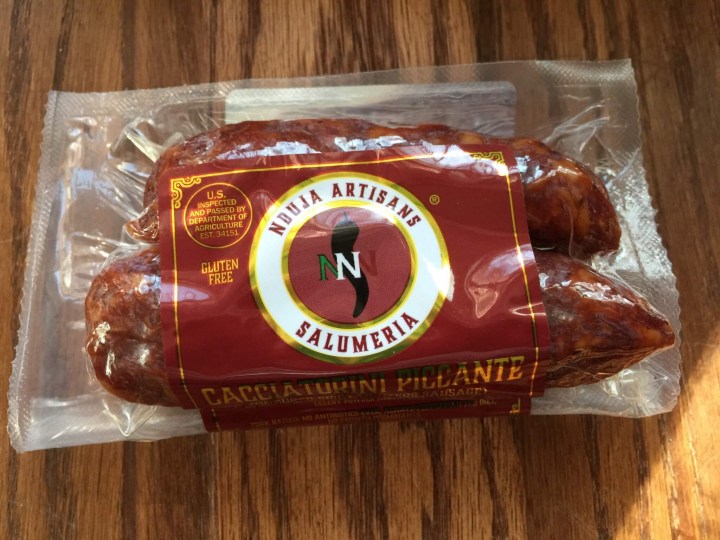 Finally, it's the Cacciatorini Piccanti.
What They Said: Cacciatorini Piccanti ("spicy hunter's sausage") is made with Berkshire Picnic shoulder and hand selected Calabrian chilis. Traditionally, these types of dependable, shelf-stable sausages were made for hunters to throw in the pockets and munch throughout the day as they scoured the forests. This salami honors the traditional techniques used back then and really brings the heat.
What I Say: This is a super nice, very "snackable" salami. I thought the flavor profile was pretty similar to the "spreadable" 'Nduja, but the 'Nduja packs more heat, if you ask me. This had a nice salami flavor, with a very good heat balance–which does build a bit with time. I wouldn't say it "really brings the heat" but I would say it's got a very pleasant spice level. I'd buy it again, just to have for snacks and it would really pair well with many cheeses.
So, the verdict on the Carnivore Club box 'o meat? Very nice and well worth a try. For April, they did a really great job of selecting an artisan salumeria and delivering a nice sampling of their products. There was nothing in the box that truly disappointed–even the Waygu beef salami, which wasn't to my liking, would definitely appeal many carnivores, so I'm glad it was included. At $50 a month, I first thought it might be on the expensive side–but the box included some very fine, hand-crafted salamis and a nice diversity as well. There was no shortage of meat here, so I think you get your money's worth.
Visit Carnivore Club to subscribe or find out more! Save 10% on your first month! Use coupon code  10OFF.
The Subscription
:
Carnivore Club
The Description
: The ultimate meat of the month club for discerning individuals. Every month they curate exceptional charcuterie created by artisan producers from around the world. Every installment features an artisan supplier with 4-6 of their most unique and best in class cured meats.
The Price
: $55.00 per month