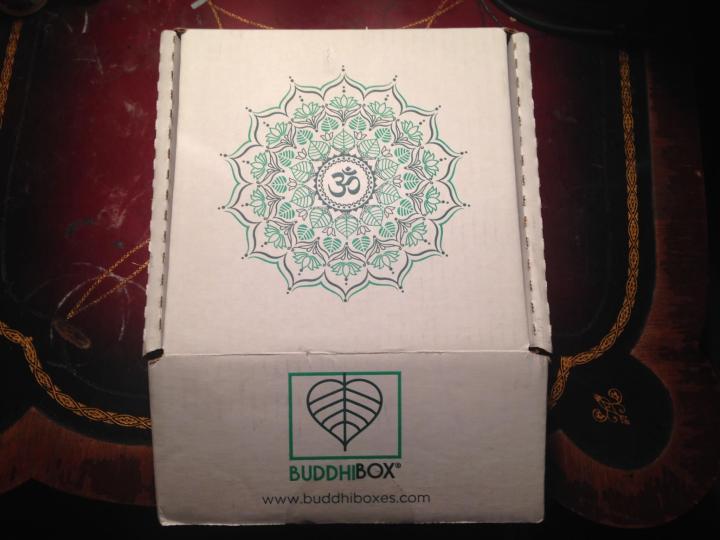 BuddhiBox is a monthly box meant to enhance yoga practice and encourage healthy living. BuddhiBox is $30.95/month for a curated mix of 4-6 samples and full size products. They also offer a sample size box for $11.95/month. BuddhiBox ships via USPS on the 10th of each month. This is a great box for anyone that is new to yoga or even those who are dedicated yogis.  And the box has some really cool designs.
All the items in the April 2016 Buddhibox.
Blend Bee – Calm My Dosha Tea ($7):   This caffeine free, organic Ayurvedic blend helps relive stress and is compatible with all three Doshas (Vatta, Pitta and Kapha).  It is formulated with organic spices and herbs to entice all senses, makes 7 cups and comes with a muslin tea bag.

NeeluKaur – Ayurvedic Oil Blend($30):  This organic Ayurvedic essential oil blend is inspired by Sattvic Living (helping people live in harmony through Yoga and Ayurveda).  This blend helps to bring out an individual's aura, inner strength and beauty.  It includes: Rose, Natural Vanilla, Ylang, Mandarin, Amyris, Geranium, Cinnamon, Cardamom and Jojoba oils to help you experience blissful empowerment.

Wellness by Helen – Ayurvedic Herbal Face Cleanser ($15):  I can't wait to use this!  It is handmade with a blend of Ayurvedic herbs including Manjistha, Orange and Besan which remove dirt and toxins while cleansing.  This formula is designed to cleanse and balance and help make the skin glow.

SKINYOGA – Ayurvedic Coffee Scrub  ($15):  This body scrub was created by three sisters who believe that skin care should be 100% natural.  The caffeine enhances fat metabolism and removes liquid and fat from your skin, ultimately reducing the appearance of cellulite and stretch marks.  The blend also moisturizes, nourishes, treats inflammation and protects the skin from sun damage.  And, the packaging is so cool!

NamasBar – Yoga Bar ($4):  This organic, Vegan, Non-GMO and Gluten Free bar combines wholesome, organic modern superfoods and traditional Ayurvedic ingredients to fuel your practice.  NamasBar also donates a meal to a child in need and funds yoga programs for youth in local communities with proceeds from each bar purchased.

Katie Silcox – Healthy Happy Sexy Book Excerpt:  Katie, a teacher and yoga instructor offers a hip, sensual, spirit-infused, and pragmatic guide bringing the ancient wisdom into our modern lives.  Pretty awesome stuff.

Bajasana Card:  The card provides a concise overview of the pose both spiritually and physically and it also includes a "How to:" section.
Reminder to go within and dream, discover what is within and manifest it in this material world.
BuddhiBox during the month of April will donate proceeds from boxes sold to benefit the Purple Dot Project.  The organization raises awareness for domestic violence, supporting and empowering individuals affected by abuse through yoga.
April's BuddhiBox total value is approximately $71.  It is such a well-curated box and each item fits well with this self discovery theme.   BuddhiBox has an interesting assortment of products that are both practical and useful.  It's really awesome that they donate a portion of their proceeds to charity.
What did you think of this month's BuddhiBox?
Visit BuddhiBox to subscribe or find out more!
The Subscription
:
BuddhiBox
The Description
: A box to enhance your yoga practices and lifestyle. Items will include healthy food, supplements, beauty products and yoga accessories. Boxes will consist of a mix of 4-6 samples and full-size products.
The Price
: $31.00 per month