Blueberry Cove Beads is a monthly bead subscription service. Each month, you'll receive between 9 and 13 different items. It can be a mix of loose beads, bead strings, findings and pendants. You can share your creation on their social media for the chance to win a free box. Boxes are $22 per month plus $5 shipping in the US & Canada and their website features projects you can create with your beads.
Inside the box, there's always a nice black satin pouch with a postcard showing the theme of the month.
Each month has a different theme. This month's theme was Monochrome. As soon as I saw the postcard, I knew what it would be and I was super excited! I love black and white!
There is no info about the content of the box. Instead, we get a card explaining the challenge (optional) for the month. We can share our creation on their social media to enter a draw for a free box. Also, it's really neat to see what everyone else creates with the same set of beads!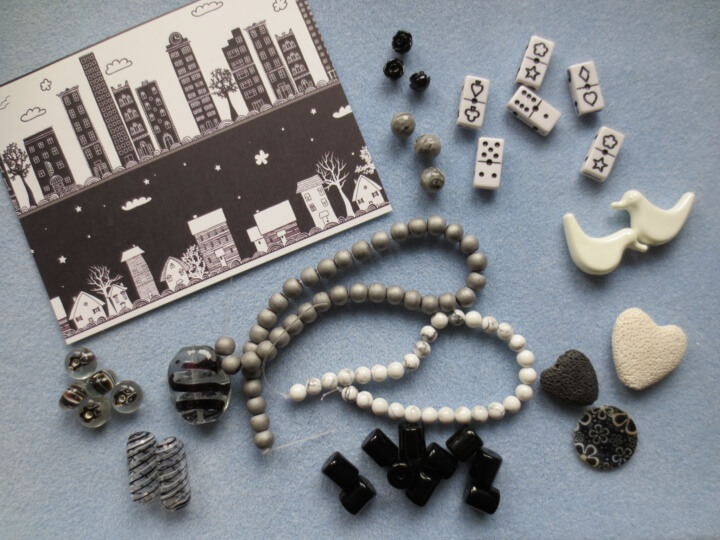 This box is definitely monochrome and lovely! This month, we don't get any metal beads or findings.
Hearts and flowers! Two synthetic lava hearts in black and white. They are top drilled and very light, so they could be turn into pendants or strung on a wire easily. They are to be used for the challenge in some form. The flat shell bead has a nice black and white print on it and I'm sad we only get one of it. It would have been pretty as a simple set of pendant and earrings on a cord.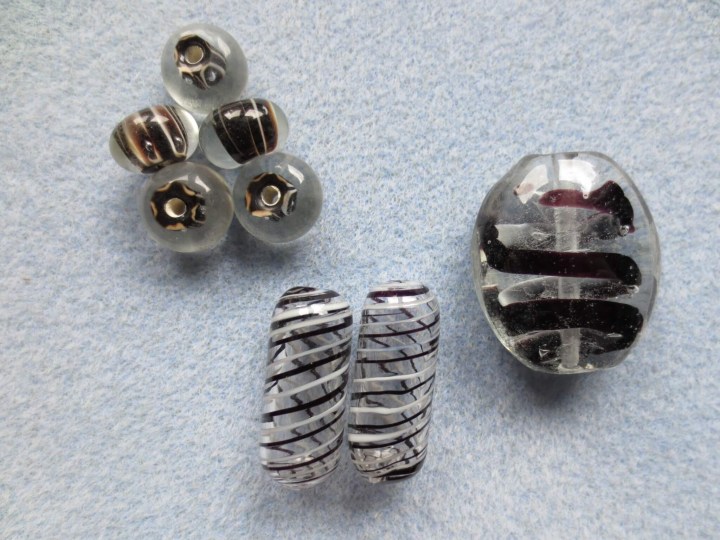 Set of lampwork glass beads. 5 rondelles that would make lovely earrings with a crystal to add some sparks! They are black and white with a hint of brown, so copper or brass colored findings would go nicely with them. The focal bead is very pretty and heavy and I would use it as a central piece on a necklace or on a bracelet. The two long cylindrical beads are very thin, so they are very light. The hole is big enough to string them on a cord.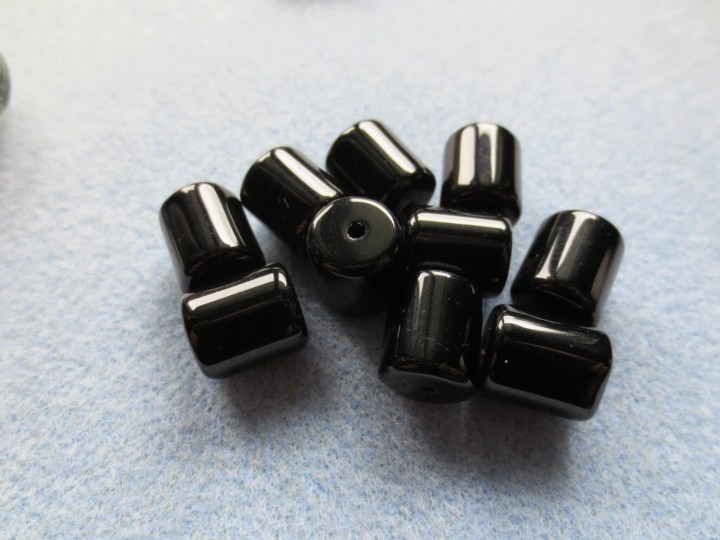 10 cylindrical black beads. Those are great! They are very simple with a smooth surface, almost velvety in touch, but they would contrast nicely with purple or burgundy crystals.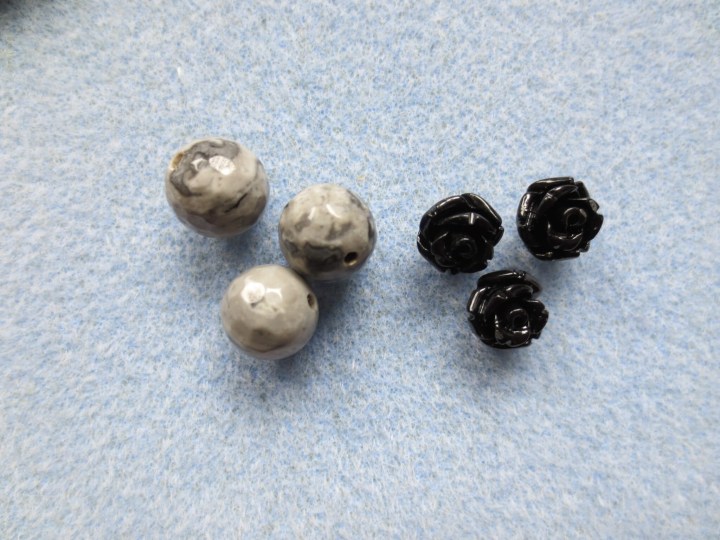 10mm faceted marble beads and three little black flower beads. The flower beads are drilled sideways. Both sets of beads could be interspersed on a white pearl necklace or bracelet, just to add a little something interesting.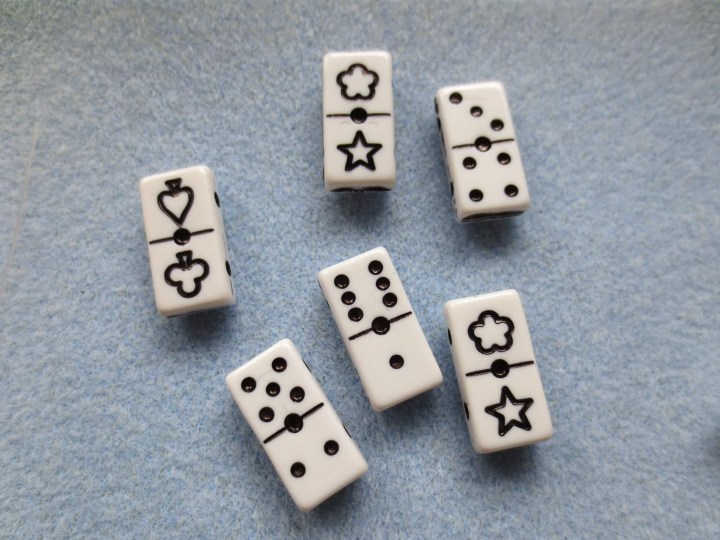 A set of 6 dominos. They are just adorable! I've got 3x 5-2 beads, 2x 6-1 beads and 1x 4-3 bead. When I first saw them, I thought they were playing cards so I imagined something based on Alice in Wonderlands with red beads. They have two holes sideways, so they would be well suited for bead weaving. I've never done bead weaving before, but I might give it a try just to use them and add fun to my wardrobe!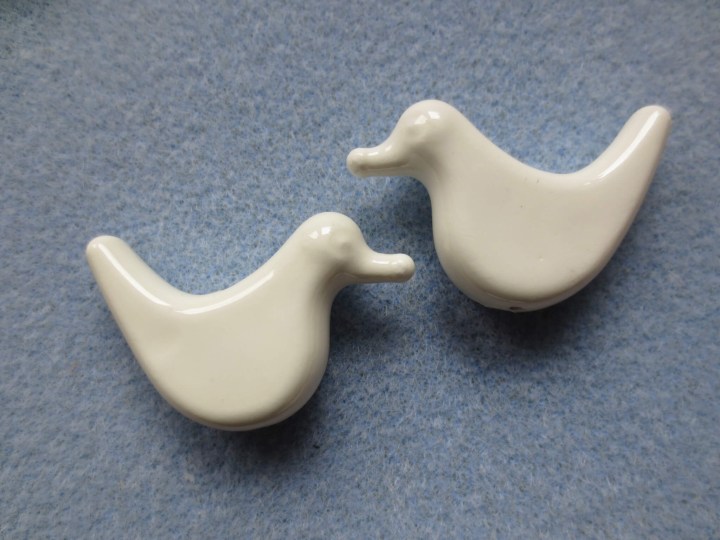 I love, love, love these ceramic birds. I would have been happy with a box full of birds! Yes, I love birds. They are top drilled so I can imagine them hanging from a necklace. Seeing that we received two of them, someone could be tempted to make earrings with them, but I find them a tiny bit to heavy to hang from my own ears. But a set of necklace and bracelet would be lovely. Did I mention that I love them?
Two strands of 6mm gemstone beads. Yes, that's right, we got gemstones in this box! I love when we get them because they are usually quite expensive, so they are not seen as often in a subscription box. This month, we have a strand of white howlite and one of matte grey hematite. Howlite, naturally white with grey veining, such as these beads, are frequently dyed blue and sold as turquoise. So I'm glad we had the natural one! As for the hematite, we usually see them polished to the point of looking almost metallic, so it was a nice surprise to see them like that. The sides have a red tint to them, where the beads rub each others, but it's a normal effect of hematite. I could totally see a mix of the two strands turning into a "pearl" necklace.
I really like the big focal lampworked bead and I decided to pair it with black chain and findings. I also added some lightly tinted blue crystals. I didn't want to add any color as I love the monochrome feel to it and I wanted something that would match my summer black dress.
Although last month was a bit of a meh for me, I really enjoyed Blueberry Cove Beads box this month. I loved the colors (or the lack of!) because I could stay within that color theme or I could decide to add pretty much any color I wanted. I also found that this month, all the beads were really working together. I don't like mixing different metals, so when there is copper, silver and brass beads in a box, it's quite a challenge for me. I'm not sure I want this subscription box to avoid metal beads altogether, but having a month when it's not an issue is a nice change.
There was so many possibilities with this box, what would you have done with it?
Visit Blueberry Cove Beads to subscribe or find out more!
The Subscription
:
Blueberry Cove Beads
The Description
: A monthly bead subscription box. Each box will contain between 9-13 items such as loose beads, bead strings, findings, pendants and more.
The Price
: $27.00 per month