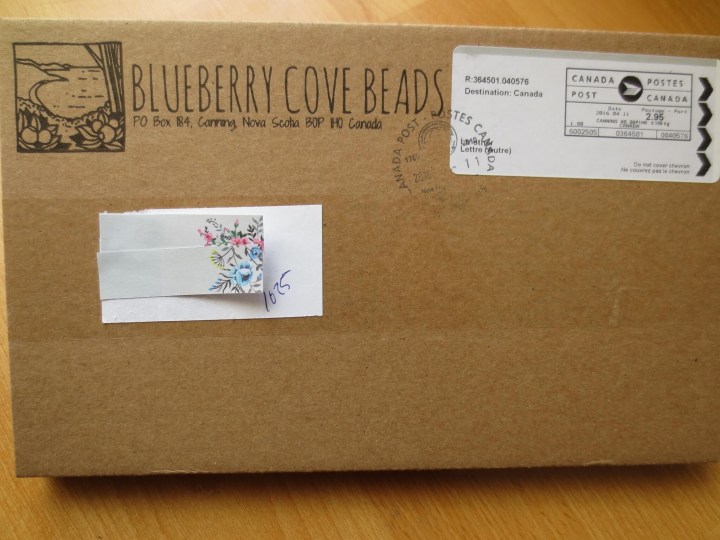 Blueberry Cove Beads is a monthly bead subscription service. Each month, you'll receive between 9 and 13 different items. It can be a mix of loose beads, bead strings, findings and pendants. You can share your creation on their social media for the chance to win a free box. Boxes are $22 per month plus $5 shipping in the US & Canada and their website features projects you can create with your beads.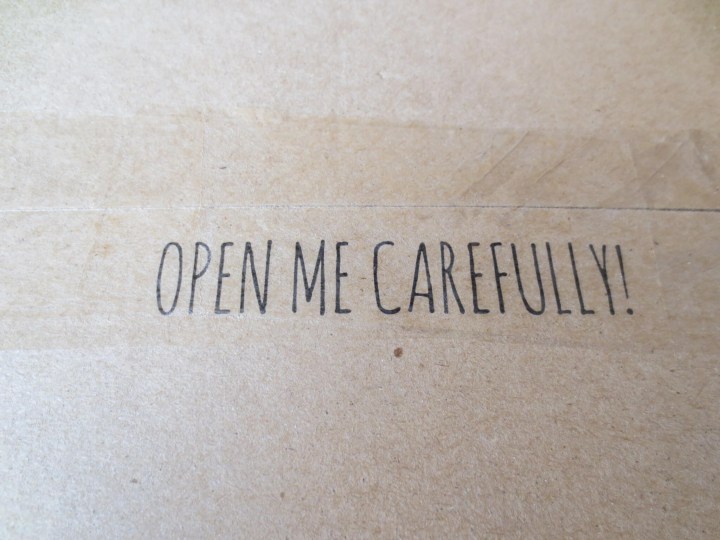 It reminds you to open the box carefully, which you should do! Inside, there is a picture of the theme and all the beads are nicely packaged in a black satin bag that you can reuse for gifts.
Each month has a different theme. This month's theme was Fairyland. The picture is so cute and I will keep it around to get the creativity flowing!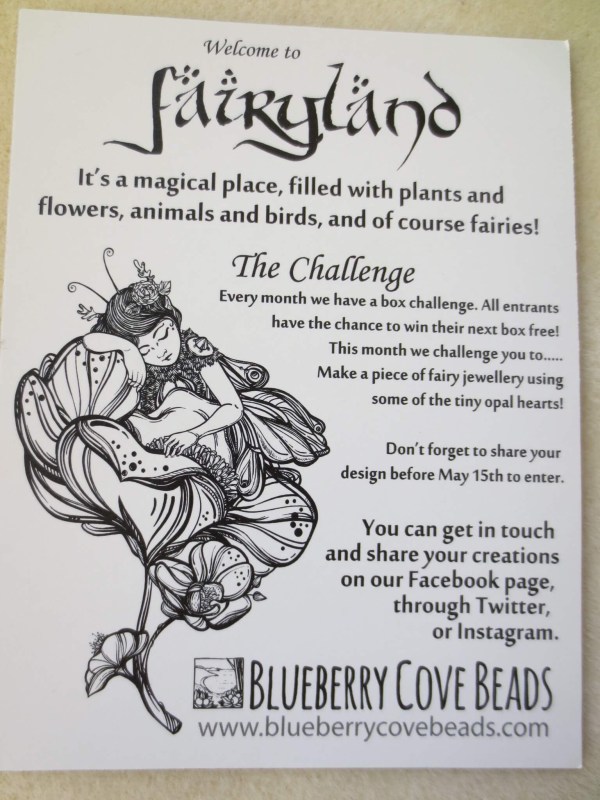 There is no info card in this box, just a nice card with the challenge explained. This month, we have to use the opal hearts in some form of jewelry. Earrings, necklace, bracelet, anything.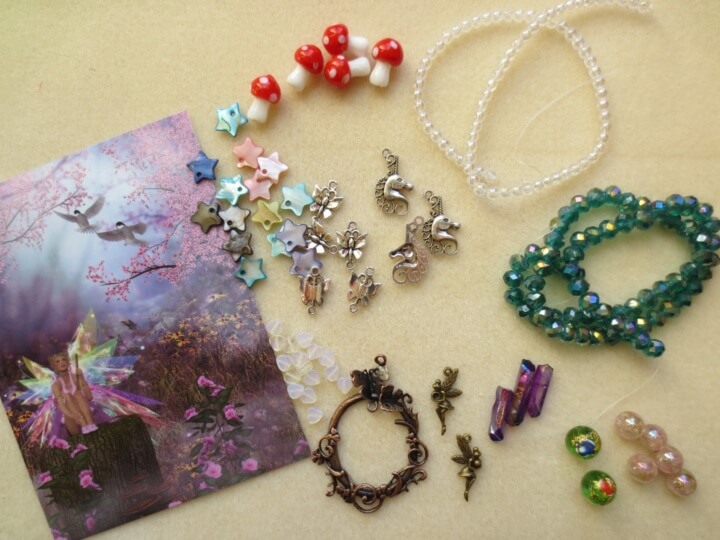 Here come the beads! Already, we can see a bunch of different crystals, metals and also some charms.
The first thing I've noticed is this big pendant in ancient copper. You can hang something sparkly or just a nice small charm in the middle to give it some flow. The pendant is quite high, about 2.5 inches (6cm). The fairies have a brass color and a crystal could be glued above their hands to give it some color.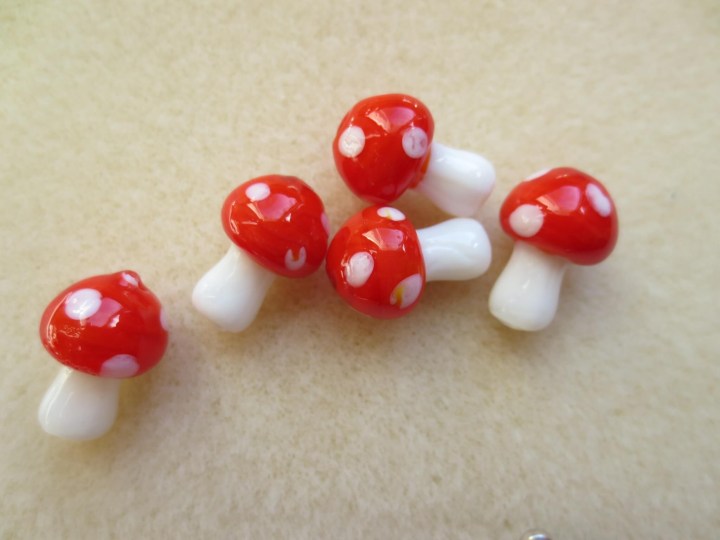 Lampworked red and white mushrooms glass beads. Of course, you can't have fairies without mushrooms, this is how you can find them after all! Those could be used as charms on a bracelet with lots of colors and other bold beads. The hole goes from the top to the bottom.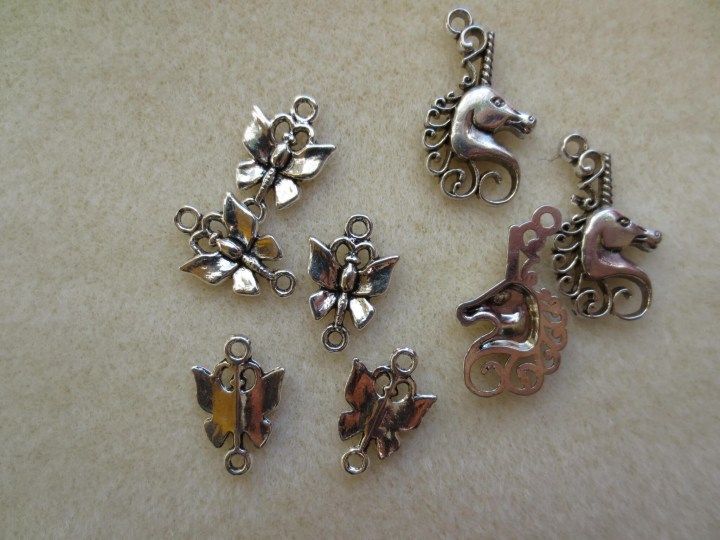 Silver charms : 5 butterflies and 3 unicorns were included. I love the butterflies because they can be used as connectors or as part of a pendant with some other beads hanging from them. The "hair" on the unicorns are all closed, so you could also hang something from them or use them as connectors. The reverse side is not as pretty or well drawn, but they're cute. Having a big stone as a backdrop to a unicorn would be fun!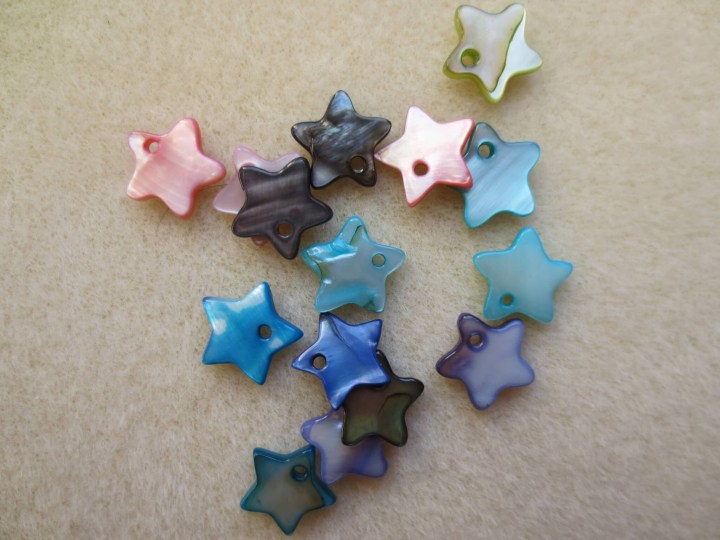 Dyed mother-of-pearls stars (?). I'm not sure of the kind of material they are made of, but they are opalescent and have nice colors to them. I'm happy to see they are not all of a light color. They could be nice as a row on a necklace, but I will use mine to make something for a young girl.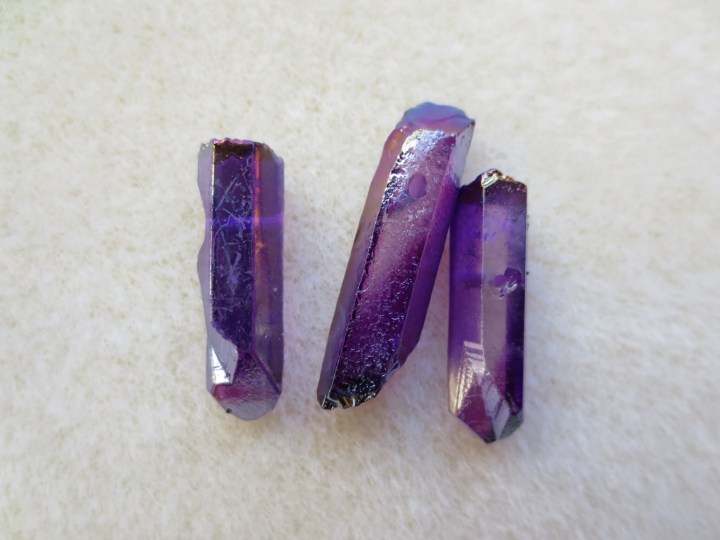 Purple crystals. The hole is about 1/3 from the top, side ways. You could strung them as is, or do some wirework around the top to use as an elegant pendant on a simple chain.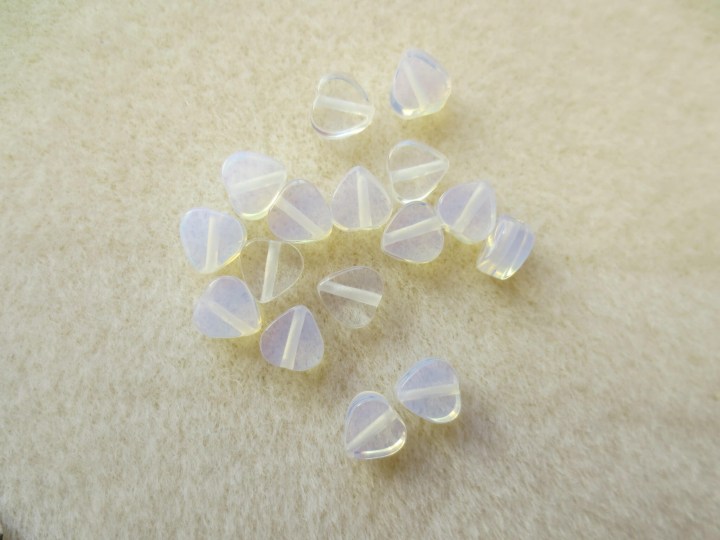 Opal hearts. Made of stone, they have a nice opalescent effect. Those are the beads to be used for the challenge. I'm not a fan of them, but they are nice next to the pink beads.
Loose beads. 5 pink cracked glass beads and two painted green beads. I love the green ones. The flowers on them are well detailed and they would be great with blue or red beads. I really like working with cracked glass beads, and it's a very nice pink.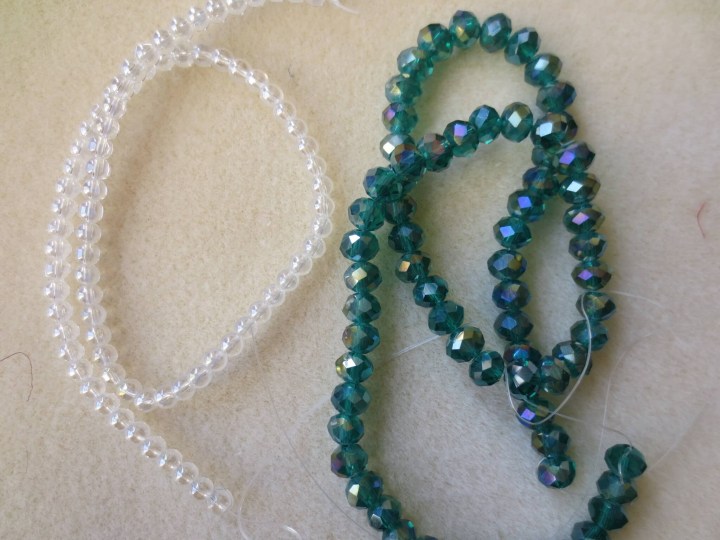 4mm white round glass beads and AB green rondelles. I really love both of them. I was afraid the white ones would have been bland, instead they have a nice coating that gives them shine. They are nice to have around, you never have too many of this type of beads. They can be used to accentuated other beads, or to add breathing room to a beaded necklace. The green beads have an AB coating (aurora borealis) and they are very shiny. Sadly, some of my beads (2-3, not a lot) were broken, but that has to be expected.
And then, I tried to make something with this box. Fairyland is not a theme that really inspires me, so it took a while to come up with something that looks ok to me. At first, I tried to do a three rows necklace. Then I changed my mind and tried a two rows necklace shaped in the form of a butterfly but the results was less than stellar and very childish. So I went for a simple pair of earrings with the opal hearts and the fairies.
From the box, I used AB green rondelles, opal hearts and the fairies. I've added brass findings (earring fish hooks, chains, bead caps, jump rings, and headpins), glue-in crystals and 4mm amber bicones from my own stash.
I love Blueberry Cove Beads boxes as there are always unusual beads that I can't find anywhere near where I live. It's a bit of a downside if I want to have more of them for bigger projects or if I want to use them in more than one project. Also, not all the metal components are of the same color, so that might be a problem for someone who doesn't like to mix metals or doesn't have any other findings in their own collection. But I really enjoy the variety, and how it forces me to push my creativity in different directions.
Visit Blueberry Cove Beads to subscribe or find out more!
The Subscription
:
Blueberry Cove Beads
The Description
: A monthly bead subscription box. Each box will contain between 9-13 items such as loose beads, bead strings, findings, pendants and more.
The Price
: $27.00 per month