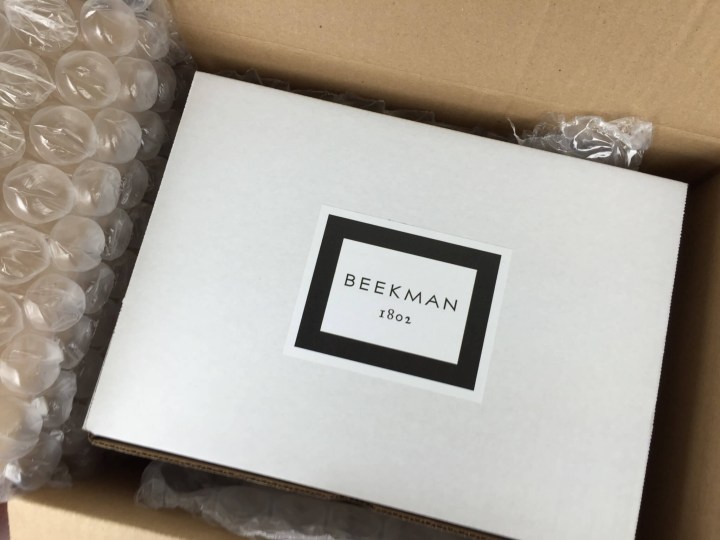 Beekman 1802 Specialty Food Club is a monthly food subscription for all gourmet food lovers.  You'll get a box of delicious artisan food items for only $50.00 each month.  Not only will you receive superb gourmet ingredients, but also recipes from the artisans themselves.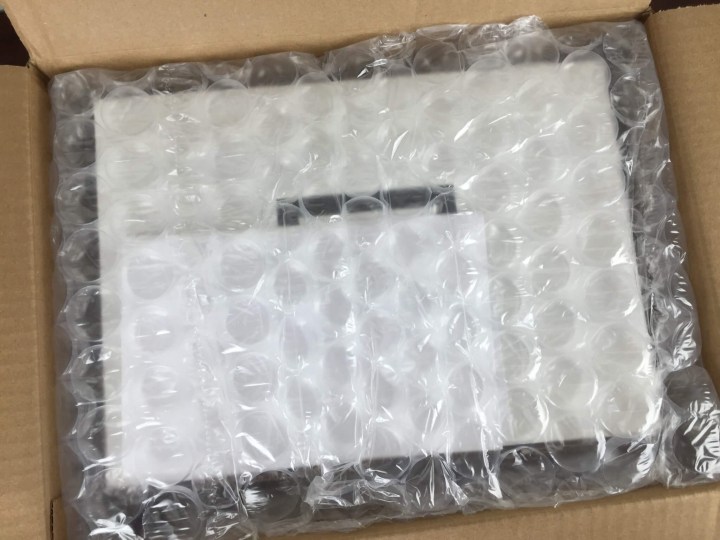 The elegant inner box is well-protected by a 360 degree layer of bubble wrap inside the outer shipping box.
The theme for this month's box is "Hearty Breakfast."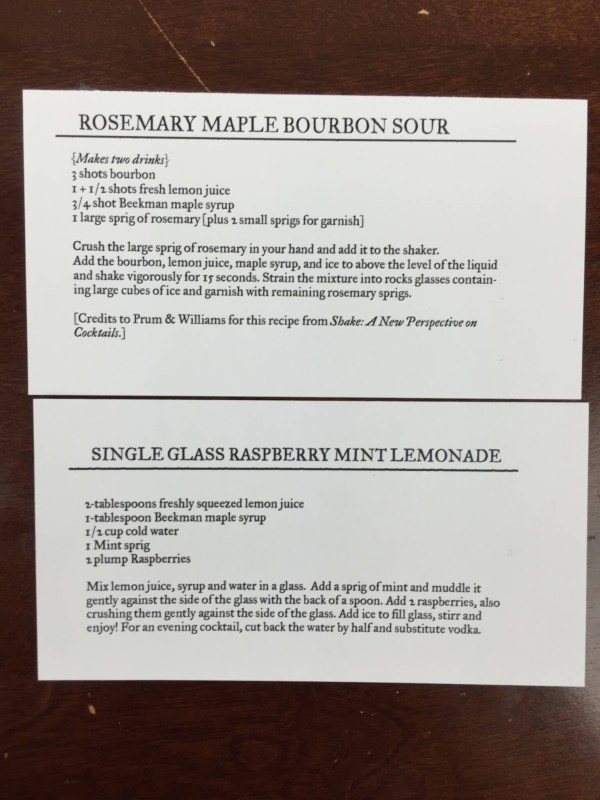 Nothing says breakfast quite like bourbon.  You may want to wait until later in the day to try that one out, but the recipe simple and clearly written cards offer a great way to extend the flavors of the box into your afternoon and evening.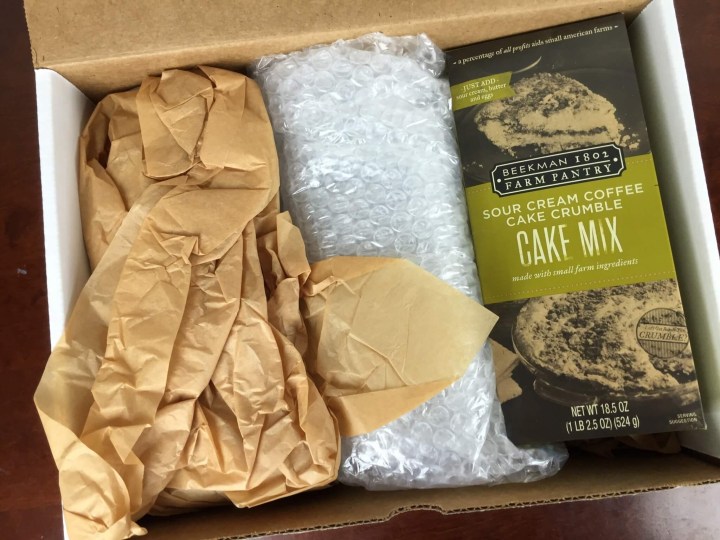 The items are properly wrapped and secured to avoid damage while in transit.
Everything in my May box!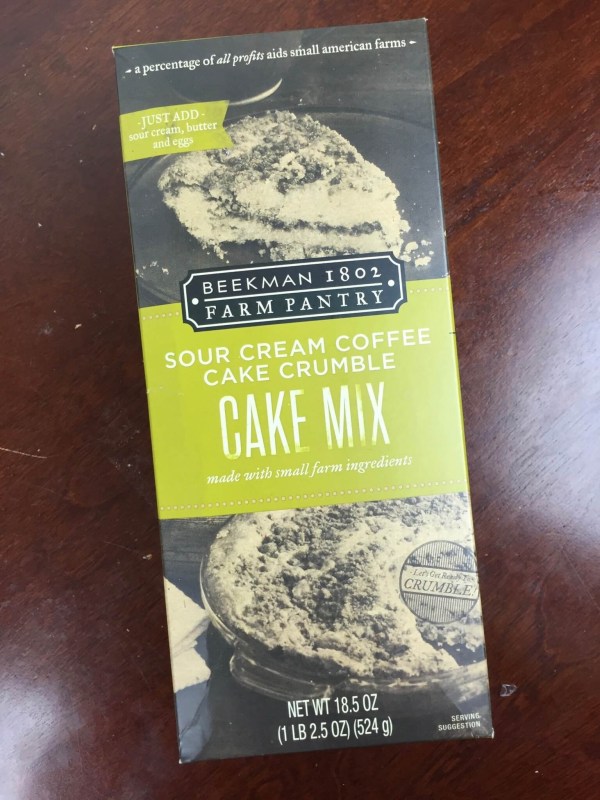 Beekman 1802 Farm Pantry Sour Cream Coffee Cake Crumble Cake Mix ($4.49):  I am actually surprised that this mix retails for so little, as gourmet mixes usually are priced at nearly double that.   You add dairy and eggs, but all the other ingredients you need to make this delightful cake, crumb topping and all, are included.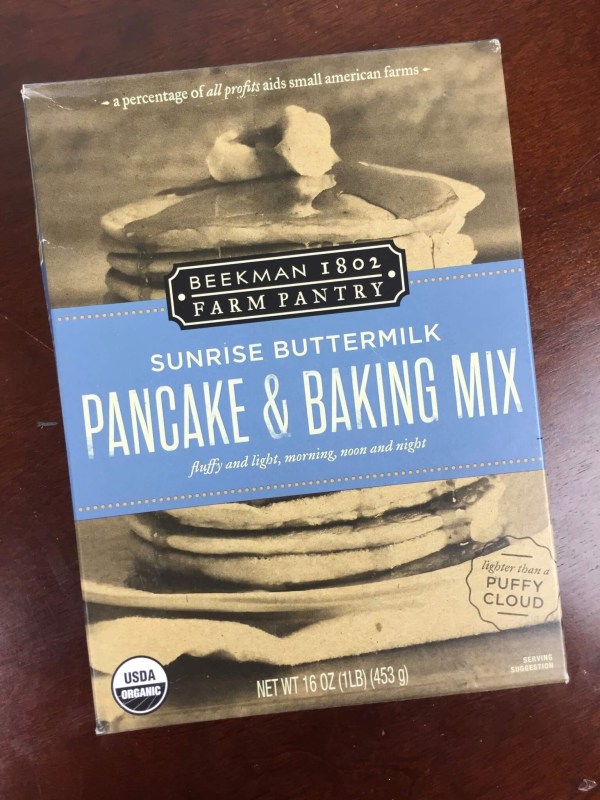 Beekman 1802 Farm Pantry Sunrise Buttermilk Pancake & Baking Mix ($4.49):  This versatile mix can do anything Bisquick can do, but it is made with love from organic ingredients.  Real buttermilk powder gives the mix that superb tang and complexity of flavor that improves everything from pancakes to fried chicken.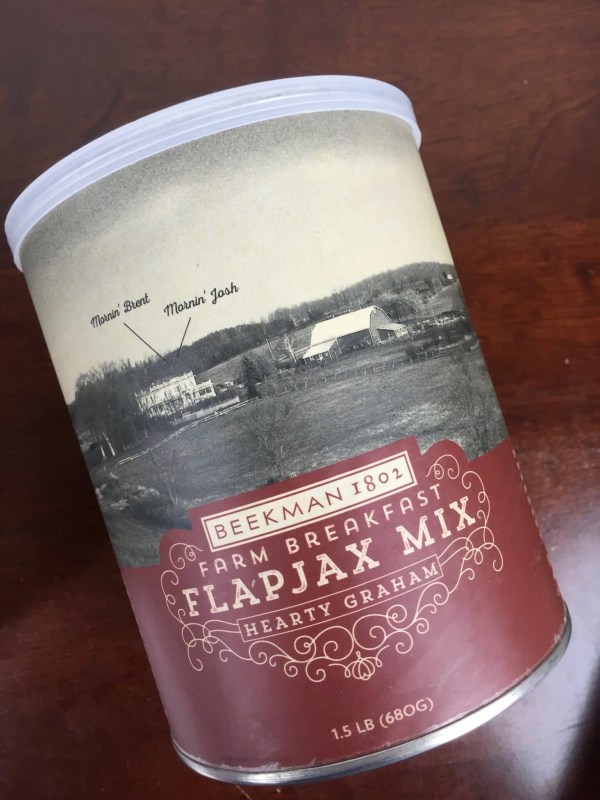 Beekman 1802 Farm Breakfast Hearty Graham Flapjax Mix ($10.95):  This canister holds a truly original gourmet offering I've never seen elsewhere.  This version of pancake mix contains graham flour and powdered goat's milk, so it has a beautiful richness of flavor and makes a lovely pancake.
The mix is finely ground and makes a very delicate textured pancake, despite the heartiness of the flavor.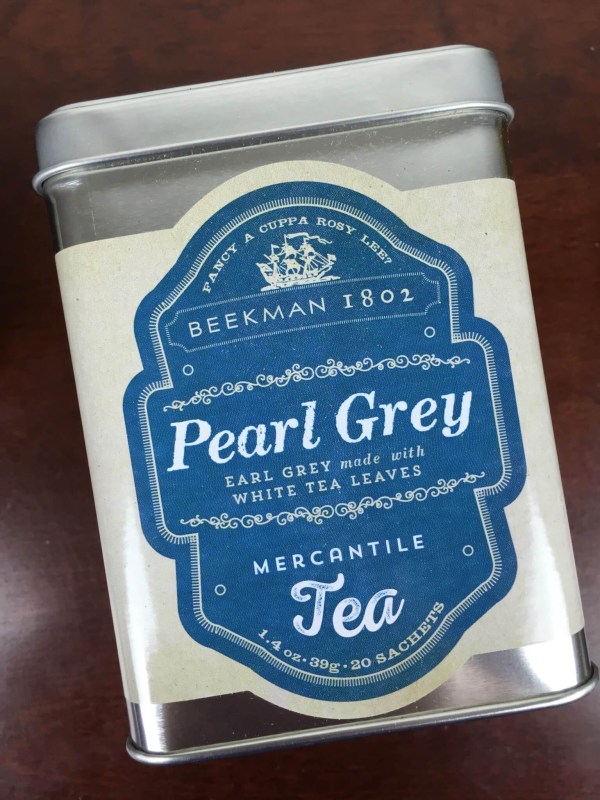 Beekman 1802 Pearl Grey Mercantile Tea ($10.95):  This version of the classic bergamot infused tea uses white tea leaves instead of black.  Each serving is enclosed in a silky pyramidal tea "sachet."
This is a must if you are a fan of white tea.  I love black tea, but I can definitely see the merits of this pairing.  The tea still brews up a translucent oaken color, but the flavor is crisper and less tart.  I brewed up a pot to chase away a cold, and I found it a great afternoon tea.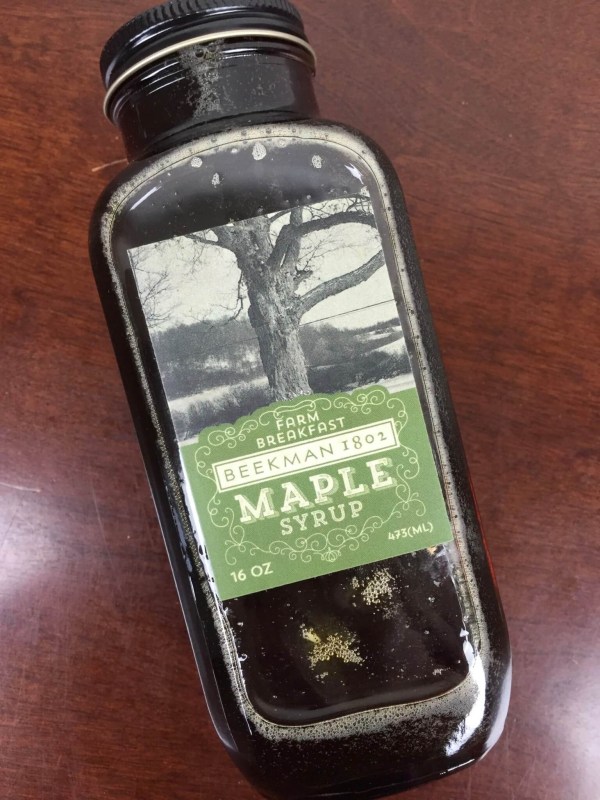 Beekman 1802 Farm Breakfast Maple Syrup ($24.95):  Syrup is terribly expensive, so it is quite impressive to see a bottle this size included in a box.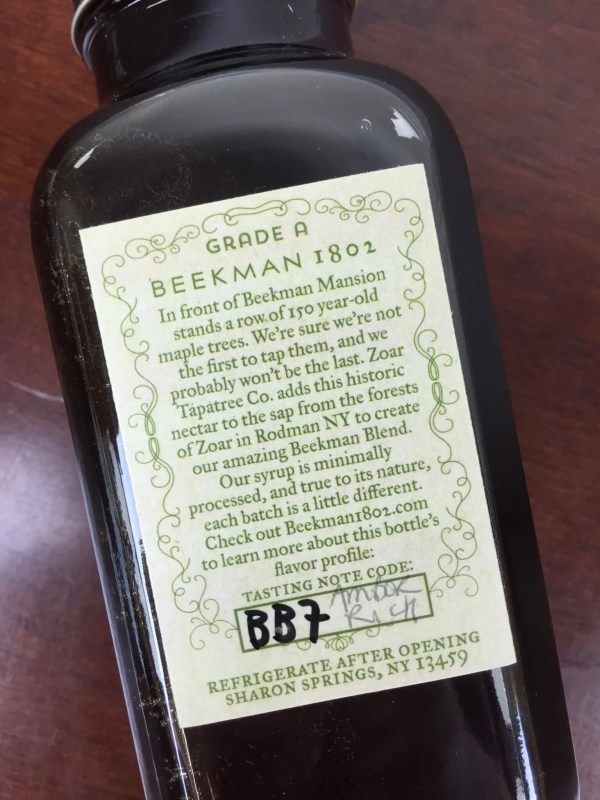 The syrup is made in small, numbered batches and contains some syrup from the aged trees around the Beekman farm in Sharon Springs, NY,  blended with syrup from Rodman, NY.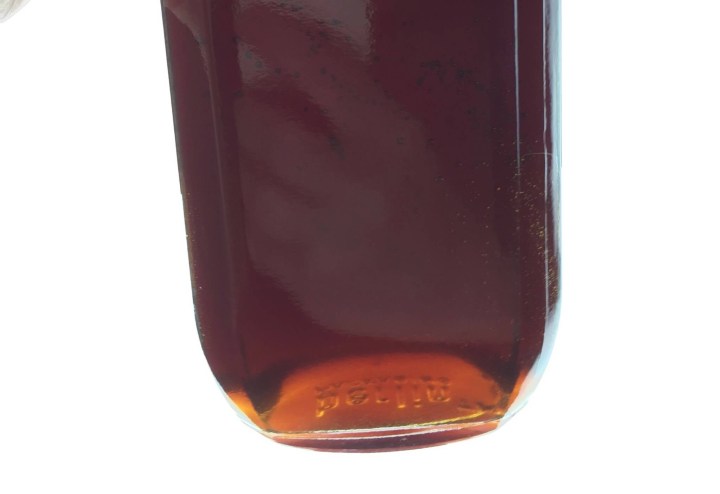 I was delighted to see that the syrup is a beautiful amber (B grade) syrup. Don't be fooled by the letter grade, as the system was designed to convince tourists to purchase the lighter, less flavorful, and more abundant "fancy" syrup.  The amber is the good stuff — it cooks longer, so it is more concentrated and has much better flavor.
[Note from Brandy: My husband is a Vermonter, and he can't wrap his brain around the new maple syrup grades. This is what used to be called a Grade B but is now a Grade A Dark Color & Robust Flavor]
We cooked up a double batch of the FlapJax and smothered them with syrup and a dollop of whipped cream.  What a delightful way to start the day!  The FlapJax had superb flavor and a light texture — the graham flour really adds a wonderful flavor to them.  We actually got half again as many pancakes out of the recipe as it said it would make — it's very rare to see a product underestimate the yield, so it was a pleasant surprise. The syrup was the perfect accompaniment, and we really poured it on.
I loved everything I tried, and I could tell that these guys know their food.  The value of the box came to $55.83, exceeding the cost of the subscription.  This is a great way to enjoy low-fuss gourmet food made with small farm ingredients.  Definitely a cut above what you find in the market.