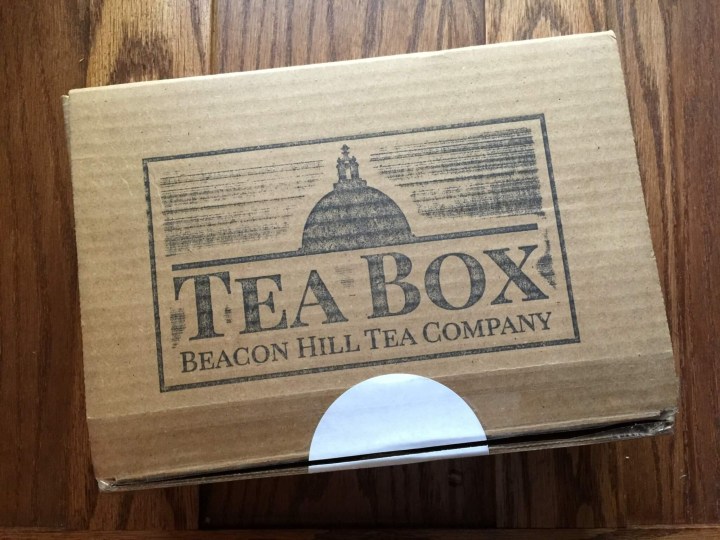 The "Tea Box" from the Beacon Hill Tea Company is exactly what it says it is: a box of tea. There's no messing around here, no filler, no fluff. Just a box of premium teas for you to enjoy. For $19.95 a month you can enjoy four different loose leaf teas each month, with enough to brew around 10 cups of each variety.
The box doesn't include any extras, at all. Which I don't mind in the least. With some other tea boxes, I've found the extras to be completely superfluous, to the point of being utterly unnecessary. So I appreciate the focus in the Beacon Hill box being on the tea. Each tea comes in a re-sealable pouch, with a description of the tea and steeping instructions. So, to the tea!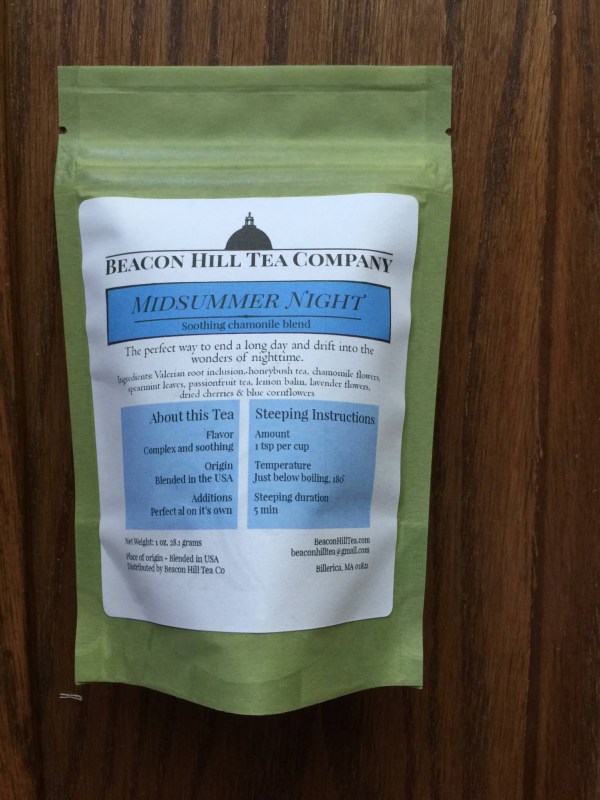 First up is the Midsummer Night, a soothing chamomile blend.
What They Said: The prefect way to end a long day and drift into the wonders of nighttime. Flavor: Complex and soothing. Additions: Perfect all on its own.
What I Say: Disclaimer up front: I hate chamomile, so keep that in mind. If you love chamomile, then you'll probably feel differently about this blend. That said, I didn't hate this blend. It does have that obnoxious, floral aroma that smells a bit perfume-y underlying, but the mint helps balance that out so it's not as pronounced. And the flavor reflects that as well, the chamomile is definitely there–but the mint helps mask it somewhat, so I was able to drink it, it just wouldn't be my favorite. But if you liked chamomile, I think you would probably like it.
Next is the Pearl of the Dragon, green tea.
What They Said: This treasure is grown in the mountains of the Fujian province and its leaves are carefully rolled alongside its silver and velvety buds. Taste the deep, nutty flavor under a veil of smokiness. Flavor: Balanced and smokey. Additions: Perfect all on its own.
What I Say: This is a solid green tea. It has a really light liquor with a strong vegetal aroma, slightly smokey, but really more like… spinach. (Which to me is very good.) There is a hint of nuttiness to it, and some smoke, but really that dark, leafy green characteristic is front and center. This would pair really well with a plate of barbecue. The flavor is bold upfront, with a quicker finish than I expected, and a mild astringency. I enjoyed it quite a bit.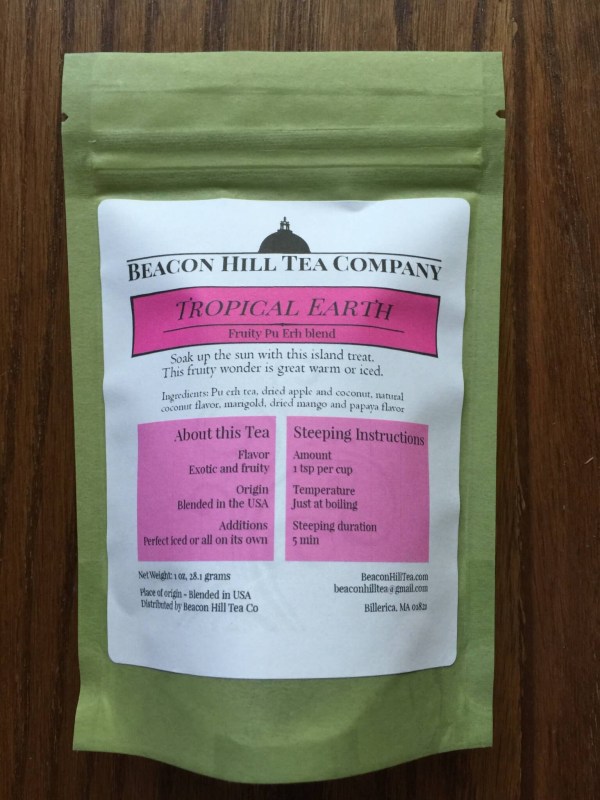 Next is Tropical Earth, a fruity Pu Erh blend.
What They Said: Soak up the sun with this island treat. This fruity wonder is great warm or iced. Flavor: Exotic and fruity. Additions: Perfect Iced or all on its own.
What I Say: This did, unquestionably, taste tropical! It had a brown liquor that reminded me of water that you just used to rehydrate mushrooms. But it didn't taste like that at all. The aroma was really pleasant and soothing, with hints of the apples and corresponding spices (cinnamon? all spice?) The fruit comes through in the flavor, I definitely picked up on the mango/papaya, and you cannot miss the coconut. It's a really good balance of flavors and I think it's really killer sweetened and iced. It would be refreshing on a hot summer day.
Finally, we have Green Chakra, a green chai blend.
What They Said: Ground yourself with a cup of this soothing green chai blend and let the subtle flavors dance on your tongue. Flavor: Light chai notes. Additions: Great alone or with some milk and honey.
What I Say: I love green tea. I love chai. So this was a blend that held a lot of promise for me. It had a nice, light liquor and smelled amazing. The spicy notes of the chai are right up front and really pull you in (especially if you're a chai fan)… the orange, the clove, the cinnamon. Ahhh. It's when you taste it that things get weird. There's a very strong vegetal flavor from the green tea that almost completely overwhelms the palette and then, as it fades, you get hit with the spices. It's almost like drinking two teas, simultaneously. It's not that it's bad, it's just that it isn't particularly cohesive. It does have a longer finish with only a mild astringency. It's not a bad blend, but definitely not as successful as Tropical Earth.
Overall, Beacon Hill Tea Company put together an interesting collection of teas. Even though I didn't personally care for the chamomile, Midsummer Night was worth trying. And so was the Green Chakra, even though I'm not sure it was a great blend. But the Pearl of the Dragon was a great green tea, and I thought Tropical Earth was absolutely outstanding. That's one of the reasons I love tea boxes–not only do you get to try a variety of teas, but you can find some real gems to add to your regular rotation, and I think the Beacon Hill Tea Company's Tea Box was a great way to try interesting blends.
Have you tried Beacon Hill Tea Company's Tea Box?
Visit Beacon Hill Tea Company to subscribe or find out more!
The Subscription
:
Beacon Hill Tea Company
The Description
: Experience new and delicious flavors of loose leaf teas from around the world, monthly. In each box, you'll find four carefully packaged varieties of loose leaf tea, with a mix of blacks, greens, whites, reds and herbals.
The Price
: $19.95 per month