Bargain Bead Box is a monthly bead subscription service. Each month, you'll receive over 40$ worth in top-quality jewelry supplies. It can be a mix of loose beads, bead strings, findings and pendants. You can share your creation on their social media for the chance to win a 25$ gift certificate to their sister store Bead Box Bargain. Boxes are $15.95 per month. Shipping is free in the US and $7.50 to Canada. Even if it's technically a subscription box, it comes in a teal bubble mailer, which is less expensive than a box so they can send more beads!
Inside the bubble mailer, the beads come nicely package inside three bags and wrapped in tissue paper.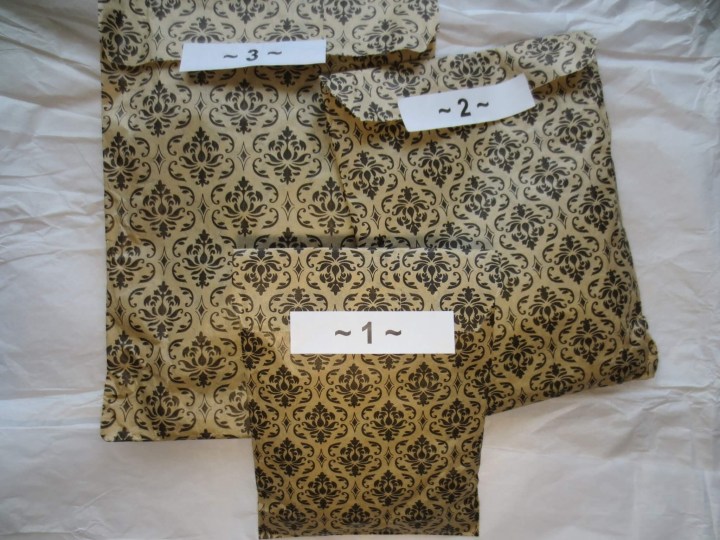 Each month is curated around a different theme and all the beads and findings are coordinated. This month's theme is Memories and includes a heart-shape locket pendant, pearls and crystals. Sounds interesting! With the note, included in the package, you also get a discount for their sister store "Bead Box Bargains".
On the reverse of the letter, the content of the three bags are described.
Bag 1 contains focals in antiqued brass finish.
Everything comes in individual plastic bags.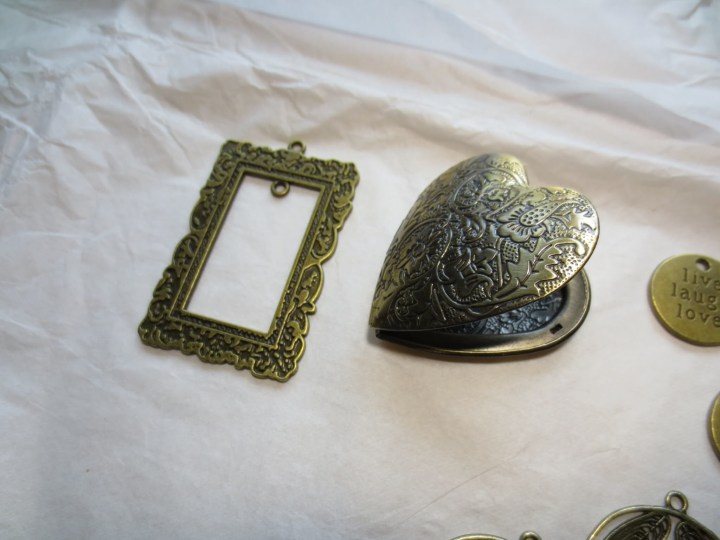 The heart locket pendant can be opened and two pictures could easily fit in. It is a lovely pendant, but I feel the latch is ever so slightly off so I have to push it down for it to close properly. I would never have picket this locket by myself, but it will make a nice gift to a friend who likes vintage necklace. The frame is also pretty, and the reverse side has a different pattern. Again, it's not the kind of pendant that really inspires me, but it could be nice with a rectangular gemstone hanging on the inside.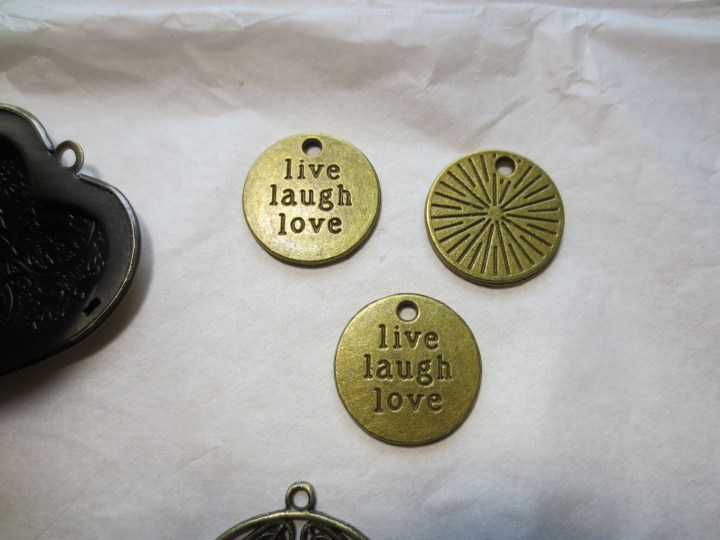 Three "live, laugh, love" drops. They are very nice and the size is perfect to use them as charms for a bracelet, or as a pendant on a small chain.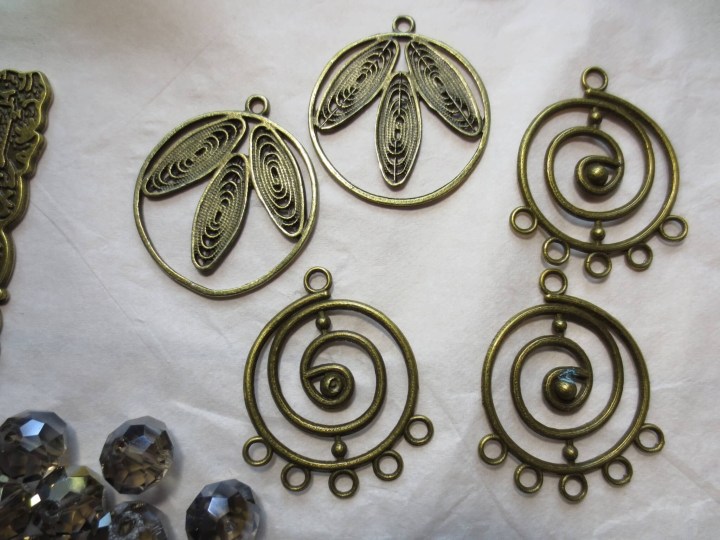 The two filigree drops are very light and would be great as a dangle on boho style earrings. The spiral drops could also be used for chandelier style earrings, but someone could try a five row necklace with them. Sadly, one of my spiral drops has a bit of blue oxydation in the middle, so I need to clean it and apply a protector on it.
Ten grey AB crystal rondelle beads. I feel that they are more champagne colored, because they look more brown than grey. But they are sparkly, and they would go well with any of the pendant in this bag.
Bag 2 is all about crystals and pearls!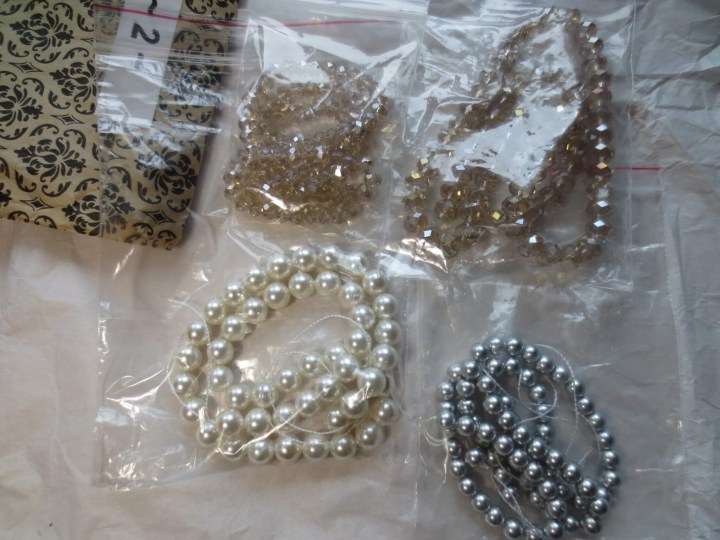 Four strands of beads were included in this bag, and what a show! There is two different sizes of champagne AB Chinese crystal rondelles and they have a lot of sparks! We also have pale grey glass pearls, very shiny. They're almost like silver. The shell pearls are lovely and very good quality. I love how they feel on the skin, like satin. Together, all the strands could be use for a wedding necklace, or a bracelet to go with a black dress. Or just using the pearls in a two colors pearl necklace. Simple but great. You can never go wrong with pearls!
And bag 3 contains findings in antiquated brass finish and glass beads. So many beads!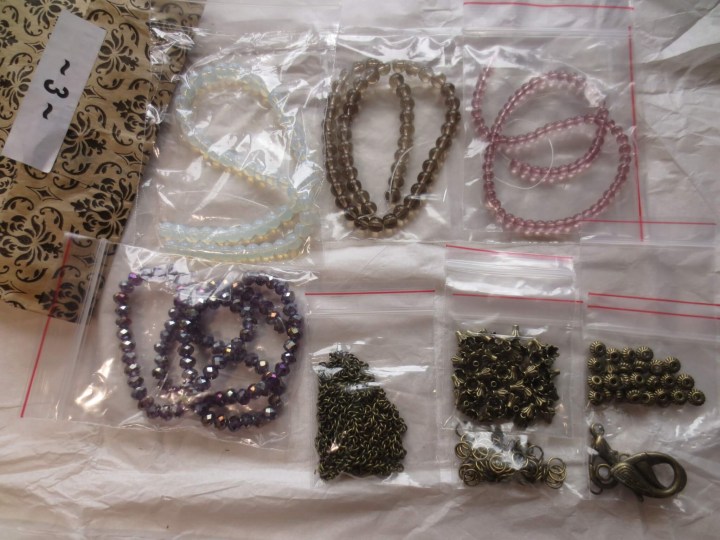 More beads and findings!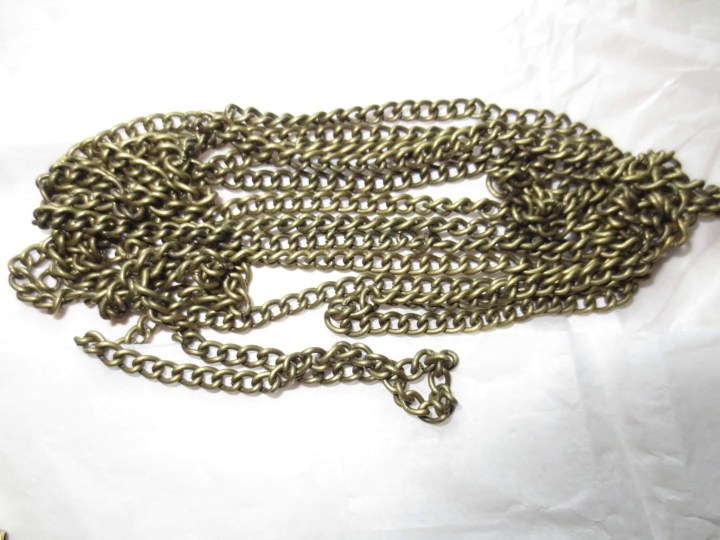 I love that they added chains in this box. You can cut it to the desired length and just hang the heart locket or the frame pendant for a simple look, or use different length of chains to create a fringe on a necklace. It could also be used to create a bracelet with a crystal dangle on each link.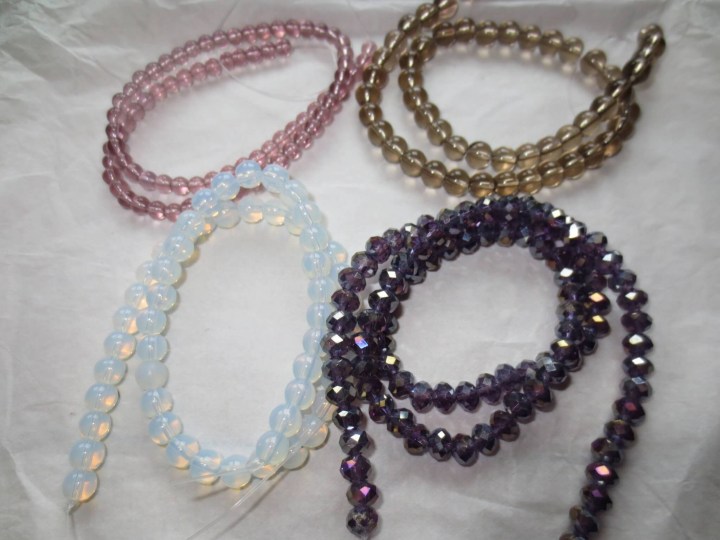 The glass beads (amethyst, grey and opal) are always nice to use between crystals to tone down on the sparkle, or to lighten a necklace with a lot of metal components without adding to much distraction. I'm not a big fan of the "opal" one, but I will probably use it for more wintery design. Yes, I know, we are all hoping that summer will come, but that color of beads doesn't give me a summery feeling at all. The purple Chinese crystal rondelles, like the champagne ones in the other bag, are just so sparkly! They are quite dark, like dark amethyst, and I find them very pretty besides the grey pearls.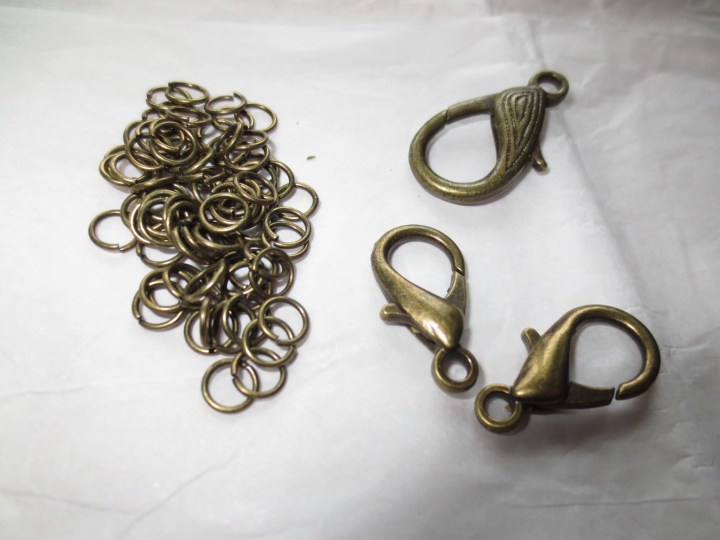 This subscription box always gives us findings to help with our project. They always includes some form of clasps, this time two types of lobster claw clasps. The bigger one has a nice design on it and would be very useful with a multi-row necklace. Jump rings are always needed when comes the time to attach the necklace to a clasp or when doing a multi-row necklace.
Spacer beads are a great tool to enhance the beauty of beads by surrounding them with metal, the same as for the bead caps that adds a finishing touch to beads.
From this box, I've decided to go with a long necklace using glass beads, crystals, and spacer beads as well as the chain. I've added some findings and an other type of spacer beads. With this project, I've only used a small fraction of the box (so many beads!!!), but I wanted to do something that reminded me of what my grand-mother was wearing when I was younger. I still want to do a pearl necklace in the near futur with the shell pearls and the grey-silver beads!

Over all, I love this month's Bargain Bead Box. I feel that this box gives a lot of freedom to create, and there's enough beads in it to create more than one project. The beads are very good quality and they have a lot of sparks.
Visit Bargain Bead Box to subscribe or find out more!
The Subscription
:
Bargain Bead Box
The Description
: Get $40+ of designer-quality factory closeout beads delivered monthly! Subscribers get 10-15 full-size packages and strands of glass, crystal, gemstone, and/or metal beads & findings each month.
The Price
: $15.95 per month