The Art of Tea is an importer of Fair Trade certified, organic tea and botanicals. At their operation in Los Angeles, they hand-blend teas for distribution. They currently sell roughly 150 teas from which they select their most popular teas for distribution through their monthly subscription service.
Their monthly subscription offers great flexibility: you may opt to receive loose leaf teas, iced teas, sachet teabags, wellness teas, signature teas and caffeine-free teas. I've elected to receive caffeine-free teas. All subscription boxes qualify for free shipping within the United States.

For those who may prefer to select teas for purchase, they have a Tea Wizard on their website that offers suggestions of teas you might like. All of the teas it recommended for me looked great!
These were six of the tea wizard's twelve recommendations. I'm happy to say that this month I received one of its recommendations in my subscription box!
This month I received a bag of Banana Dulce Caffeine-Free tea.
My box included a nice note from the CEO/Founder of Art of Tea, Steve Schwartz. Members can receive discounts off future purchases for writing reviews.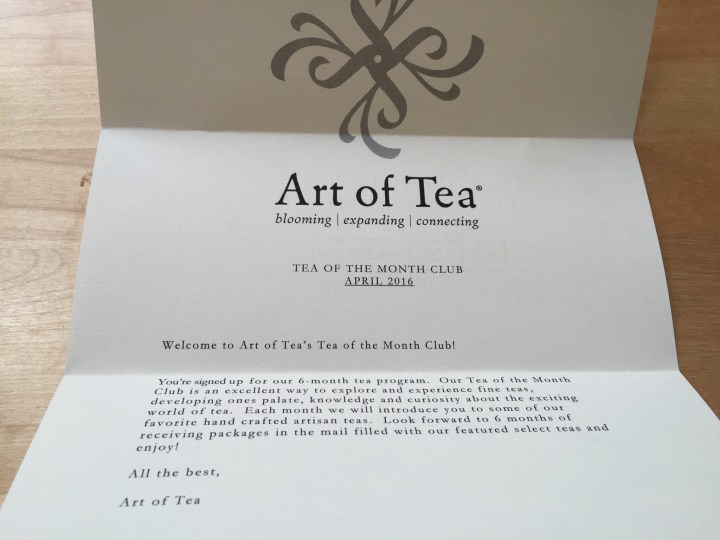 I love how the 6-month subscription introductory letter was written on stationary-grade paper!
This steeping chart will surely come in handy as I continue to explore the world of loose leaf teas!
This month I received Banana Dulce Herbal Tea. Before opening the bag, I smelled a potent banana smell–similar to the taste of banana runts. Upon opening the bag, though, the smell became much more nuanced, full-bodied and interesting. The banana scent gave way to a complex pot pourri of spices. I couldn't wait to taste this tea!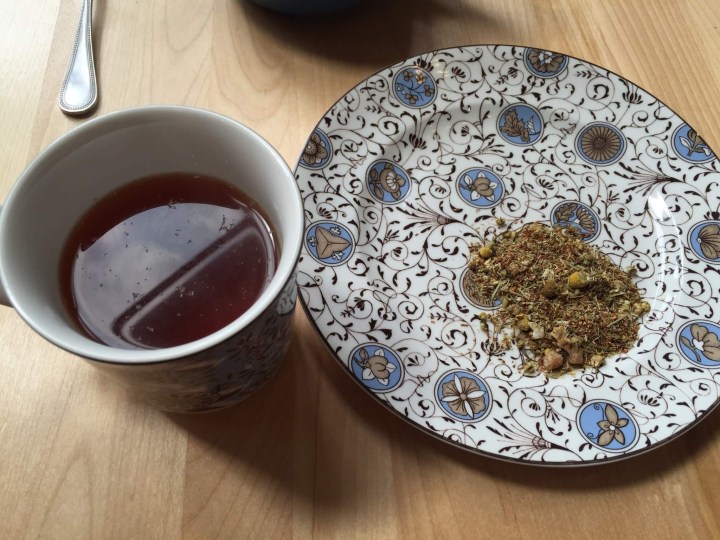 Following the steeping guidelines on the bag left me with a very mildly flavored tea. After finishing the first batch, I remade the tea, doubling the amount of tea I left to seep in the pot. The result was fantastic. A delightfully rich and sweet tea containing notes of banana, caramel and spices, this tea evokes the comforting homeyness of freshly baked banana bread.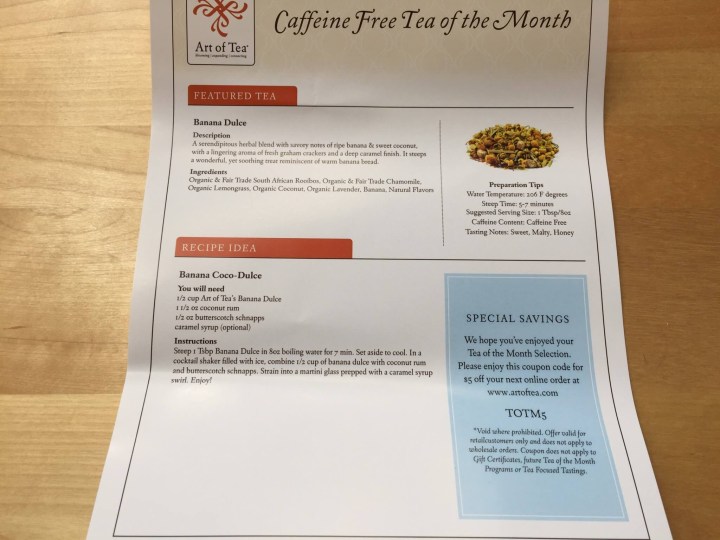 I love that Art of Tea includes recipe suggestions with their tea! This one looks great, but I don't have any of the required ingredients at home. I'm going to save this and take it with me the next time I go to the liquor store.
I really enjoyed my first installment of Art of Tea's Caffeine-Free Monthly Tea Subscription. Everything included was well thought out and lovingly presented. The recipe suggestion was an added bonus! I can't wait to see what they send out next month!
What's your favorite tea?
Visit Art of Tea to subscribe or find out more!
The Subscription
:
Art of Tea
The Description
: Each and every month The Art of Tea selects from years of sourcing and blending the best of the best in order to deliver the world's finest teas to your doorstep.
The Price
: $18.00 per month