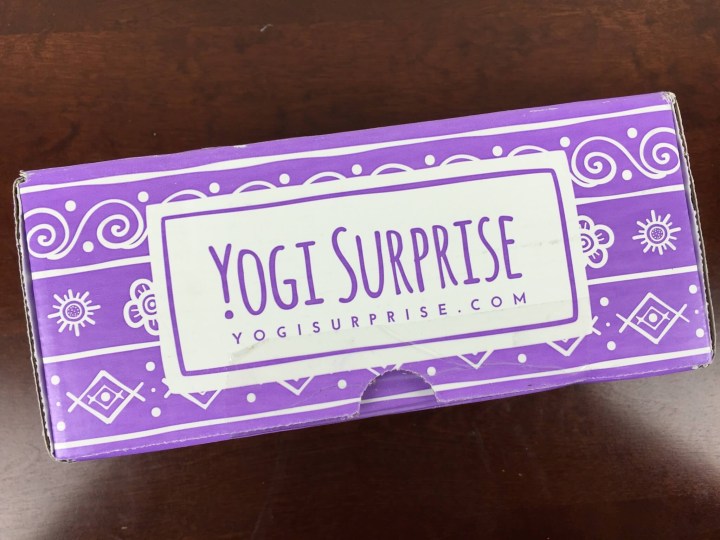 Yogi Surprise is a subscription box for a healthy centered lifestyle. Each monthly box contains 6-8 products picked by experienced yogis to complement your yoga practice and your life!
Love the fun art on the box and the purple!
The April 2016 theme is "Connecting With Nature."  This month is focused on rebirth.  The aliveness of Spring can help inspire us to meditate on anything we are subconsciously carrying around with us that needs to be identified and explored further so it can be completely released.  Living in harmony with nature not only helps us on a micro/individual level but also helps us on a macro/global level by creating a more sustainable environment.  Whenever I feel like crap, nature always soothes and inspires me.  I used to work at a State Park, and it was probably my favorite job of all time-giving back to nature and thanking all of it for what it has given me.
The information card gives details on each item and how they might be used!
All the items in the April 2016 Yogi Surprise box.
Herbal Zap Ayurvedic Immune & Digestive Support:  Each packet contains 412mg of freshly dried herbs to balance and vitalize energy.  The ancient Ayurvedic blends are Non GMO Verified, Vegan, GLuten Free and Kosher.  They are 100% safe and natural with no fillers or artificial ingredients.   And the herbs are sustainably and ethically grown.
Yogi Surprise Yoga Sequence Series Card – This is a really nice bonus!  Yogi Surprise includes a new sequence monthly to match the theme. This is a great way to try a new move or rediscover a new favorite.  It gives both the English and the Sanskrit names of the postures as well.
Stoneridge Orchards Montmorency Tart Cherries:  Montmorency cherries are known for their powerful enzyme content and anti-aging properties. A stellar antioxidant in its own right, Montmorency cherries are also a good source of fiber and contains superior levels of vitamin A, beta carotene, and vitamin B6. They are excellent for baking, salads, or as an anytime snack.  Also, they are all natural and non GMO.
Suja Juice – 1 Free Organic Juice Coupon:   I love these juices.  They are organic, cold-pressed, non-GMO and delicious!
Rishi Tea Organic Tea Tin:  This smells soooo delicious.  And, it comes in a pretty tin.  This organic Tangerine Ginger blend includes: Organic hibiscus flowers, organic ginger root, organic rosehips, organic licorice root, organic orange peel, organic schizandra berries, essential tangerine and orange oils.  The tea is award-winning, loose leaf and is imported fresh each season from tea gardens around the world.
Herban Essentials – Essential Oil Towlettes:  These towlettes are made with the highest quality pure essential oils and are antibacterial and antiseptic.  They are perfect for the purse or in the car.  And, they smell so gooood.
Dosha Bar:  This organic unsweetened bar harnesses the power of Ayurveda.  The Blueberry Balance bar includes the following ingredients: Dosha® Pitta Organic Unsweetened Fruits Blend (Blueberries, Dates, Raisins), Dosha® Pitta Organic Seeds Blend (Sunflower Seeds, Pumpkin Seeds, Quinoa Crisps, Puffed Amaranth), Organic Brown Rice Syrup, Organic Cinnamon, Organic Sunflower Oil.  It is delicious and is a perfect guilt-free snack.

Foursigmatic Foods Reishi and Chaga (1 Reishi Elixer + 1 Chaga Elixer):  Reishi mushrooms are often called "the queen of mushrooms" due to their amazing body- and mind-balancing properties.  This ancient mushroom drink helps you calm down and ensures better sleep by naturally regulating the hormonal system and lowering cortisol levels. Reishi mushrooms increase the amount of and enhance the quality of deep, slow-wave sleep. The triterpenes support and balance the endocrine system, which accounts for its hormonal-balancing effects.  I cannot wait to try this.
Go Raw Various Sprouted Snacks: These handcrafted, organic, non GMO tangy lime coconut crisps are absolutely delicious.  I scarfed them down so fast, they were sooo good.
The Seaweed Bath Co Eucalyptus & Peppermint Seaweed Powder Bath: This hand-harvested, brown seaweed blend helps to soothe irritated skin and to stimulate your senses.  I need a bath.  Will have to use this these weekend upstate, where I have a tub!
Rescue Plus Stress Relief Lozenges:  These homeopathis stress relief lozenges are made with orange & elderflower, B5 and B12 vitamins.  I love them.
Bambooee Reusable Bamboo Towel:  These organic bamboo towels are strong, absorbent, durable and machine washable.  They are really great.  I hate using paper towels.
This was a supremely eclectic box with very interesting items.  The selections fit generally well with the them since they are mostly from nature (fruits, veg and plant based).   And there are so many items in this box making this box a good value.
Are you a Yogi Surprise subscriber? What did you think of the box?
Visit Yogi Surprise to subscribe or find out more! Take 15% off your membership for life! Use coupon code  HELLOYOGI.
The Subscription
:
Yogi Surprise
The Description
: Receive a box full of Yoga inspired goodies. Yogi Surprise is the perfect complement to your healthy lifestyle. Each box is packed with love and positive intention, e, ranging from handcrafted yoga accessories to decadent superfood treats.
The Price
: $44.95 per month