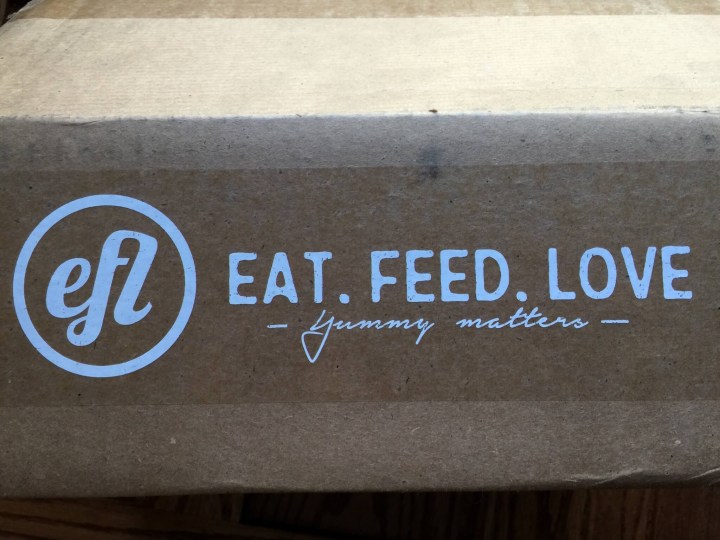 The folks at Eat. Feed. Love offer a variety of food boxes via the Taste Club. Up this month is the Snack Box, which delivers tasty, artisan snacks to your door for $35/month.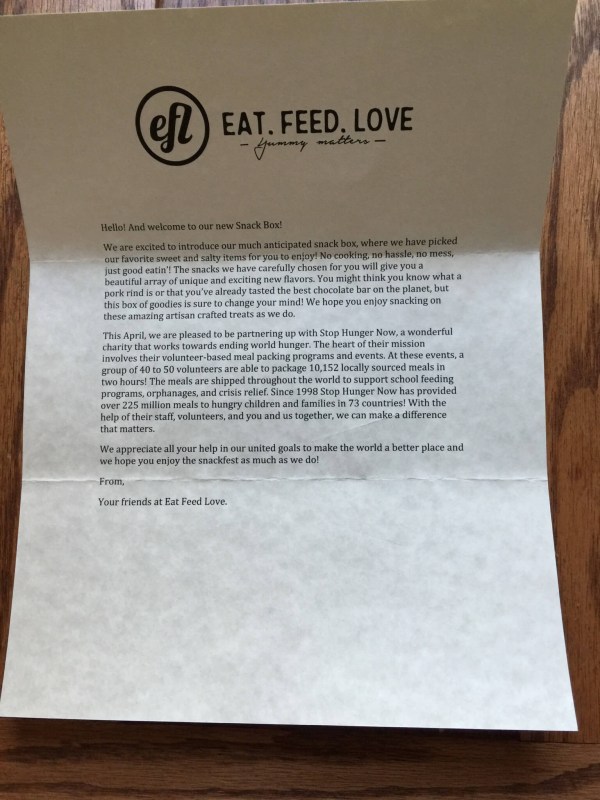 It's not just tasty snacks–Eat.Feed.Love. also works with various humanitarian organizations to give back. The letter that accompanied this month's box talked about their work with Stop Hunger Now, a great organization that works to help end world hunger. It's nice to know that you can help stop world hunger and your own at the same time!
The box itself is well packed, with any glass items wrapped in extra padding, to keep them safe on the journey to you!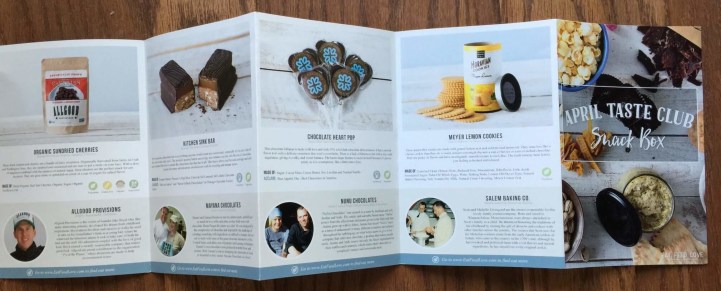 They also include a nice looking fold-out that tells you all about each snack selected and the people who make it. It's a great way to learn more about the snacks and the artisans. Especially when some of the snacks are so good, you'll undoubtedly want to seek them out on your own. So now, on to the snacks!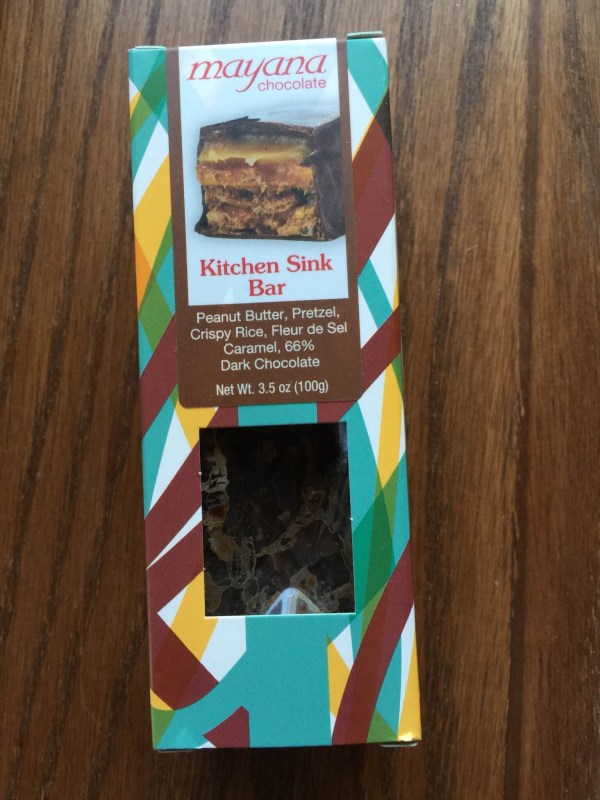 Kitchen Sink Bar
The first thing I noticed about the Mayana Chocolate "Kitchen Sink Bar" is that it comes in a box. And it's hefty for a candy bar. That bodes well. Sadly, I think my box ran through a heatwave, because the bar had been flattened a bit when I took it out, so even though it looked gorgeous in the promo pics, it was a sad looking mash of chocolate when I saw mine. That doesn't matter though, because it tastes awesome. It's an amazing blend of chocolate, peanut butter, fleur de sel caramel, pretzel and rice crisps. The sweet elements are delicious and really well balanced, and the salty crunch just puts the bar over the top. I noticed there was no calorie count on the box, because I can't imagine your supposed to eat this entire thing by yourself. But I did. So there.
Pork Clouds
I'm a "salty-snack" kind of guy, and these hit the spot. They are light and airy–more so than traditional pork rinds, which is probably due to their "Olive Oil kettle cooking process".  They still pack a nice crunch that satisfies, and a hint of bacony pork with a little black pepper, without being heavy or greasy. They make for a really excellent snack when you're craving something crunchy and are far superior to regular potato chips.
Organic Sundried and Sweetened Cherries
I'd like to think the development process for these went something like this: "Okay, we all know raisins suck, but they are a really convenient snack. What could we make that has the convenience of a raisin, but, you know, without the suck?" "Uh, how about cherry raisins?" "That's it! Like raisins, but made out of cherries, so they'll be good!!" Well, they succeeded. The cherries are organic, too, from Utah and Washington, and they are sweetend with natural sugar. I don't know that they even need to be sweetened–they are super sweet. But they are also super delicious. I couldn't eat more than a few at a time just due to the sweetness (I'm a salty snack kind of guy). But less you think that means, they aren't good, no, not at all. My wife and kids absconded with the packaged and devoured them, and now I wish I had more.
Morovian Meyer Lemon Cookies
These cookies from the Salem Baking Co. are crisp wafers with nice, burst of lemony goodness. Now, I typically a "chewy" cookie kind of fellow–give me a gooey chocolate chip any day. But these would be really nice with a cup of tea (the lemon flavor especially). My wife also loved these–in fact, we even have a packet in our pantry before the snack box even arrived. So if you are a crunchy cookie fan, or are looking for something that would be a great accompaniment to tea, or if you love lemon, these would be  a really great cookie to try.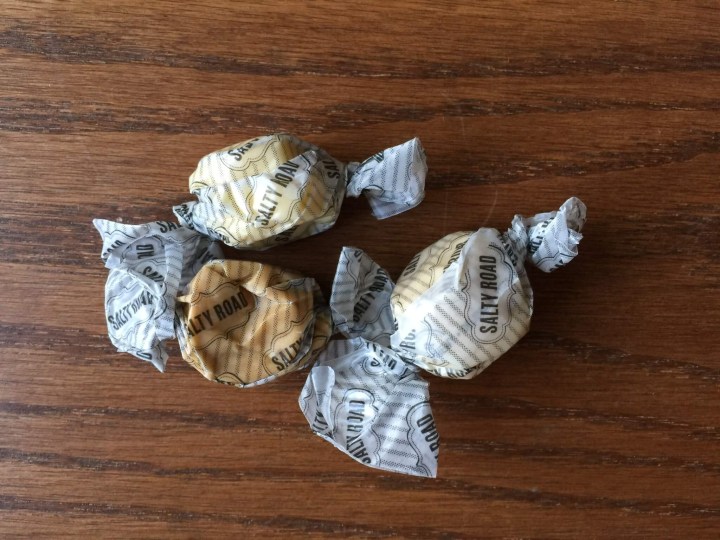 Saltwater Road Taffy: Vanilla, Caramel, Mango Lassi Taffy 
The snack box featured one piece of each flavor, and the were all three delicious. The vanilla is anything but "plain Jane" it was absolutely divine, the caramel was exactly what you'd expect from an excellent caramel taffy, but the standout for me was the Mango Lassi. It was really delicious, sweet, but not too sweet, and it tasted exactly like mango lassi made into candy! Now, the one thing I did not like was that the taffy was very sticky. More so than many taffies I've had over the years. I don't have any dental work, but it still gave my teeth a workout–so if you have any dental work, I'd stay away from this, even though it's tasty.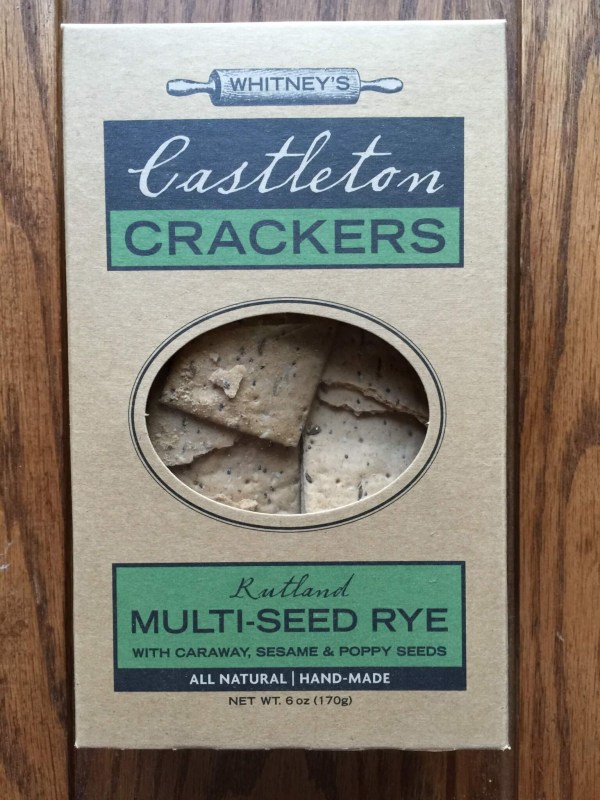 Whitney's Castleton Crackers – Multi-seed Rye
Simply put, these are outstanding whole-grain crackers. They are substantial–they have weight and crunch, and a full, rye flavor that is great just by itself. I tried them plain and with the Asiago-Parmesan spread (see below) and they were excellent, either way. I think they would be even better with a goat cheese, like a really nice, fresh chevre. I really enjoyed these crackers, so much so I hope I can get them locally to add to my pantry!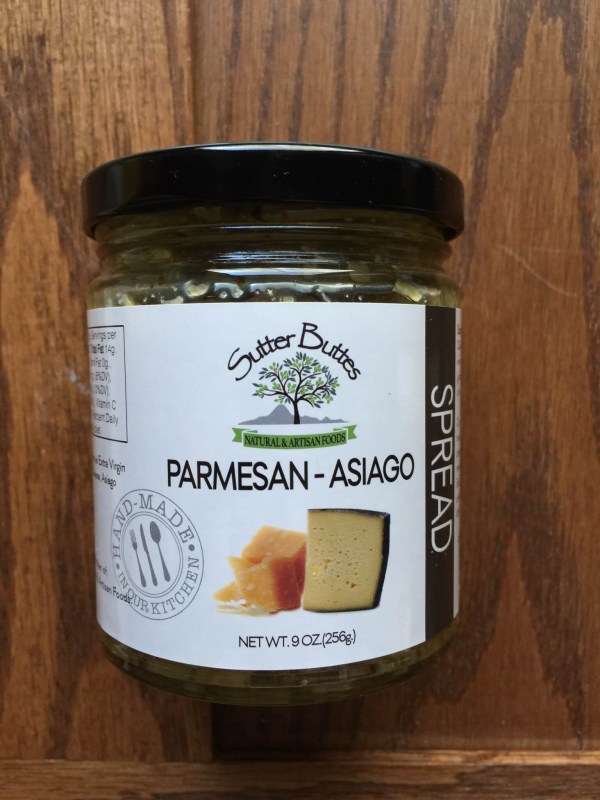 Sutter Buttes Asiago-Parmesan Spread
Imagine you're at an Italian restaurant, there's a bottle of really great olive oil on the table, so you pour some on your plate, add a touch of pepper, and a bunch of parmesan cheese. You dip your bread and it's delicious. Now, imagine someone took that, added some asiago to round out the flavor profile, and bottled it. That's what the Sutter Buttes Asiago-Parmesan Spread is like, it's really, really delicious. It's really outstanding on the Whitney's crackers, but it's also really, really great on a crusty french bread (and it would be outstanding on a focaccia, too).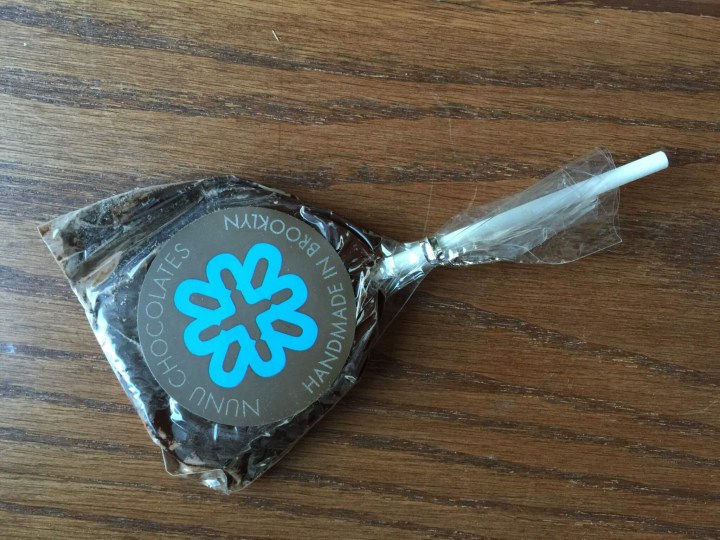 Nunu Chocolate Lollipop
The NuNu Chocolate Lollipop boasts that it's hand-made in Brooklyn, but I'm having doubts it was made on Earth, it's so good! Mine went through the same heatwave that the Kitchen Sink Bar did, apparently, as it was no longer heart shaped, but who cares? It's a smooth, rich dark chocolate–but not bitter at all. It has a really great, chocolate/coco flavor, not too sweet, but just sweet enough to leave you wanting more! Which is my biggest complaint about this–there was only one in the box! It was so good, though, that I sought out the Nunu site to order more of their chocolates, which is something I rarely do.
So, what's the overall verdict? Wow! This is a great box full o' snacks! All of the snacks were great, even the ones that I didn't like, others in my family did–which shows how there's something for everyone in the Taste Club Snack Box. There's a good variety of sweet and savory snacks, and enough that you do get your money's worth, even if sometimes you wish there were even more of a particular snack. That's a much better problem to have than being stuck with things you don't like, which I'm pretty sure is not going to happen with this box. If your family is like mine, you'll end up fighting over some of them and in the end, seeking out the artisan to order more!
What did you think of Taste Club's new Snack Box?
Save 50% on your first box! Use coupon code  HelloSubscription. Good only on month to month plan – but valid on the Pantry Box, the Snack Box, and the Sampler Box!
Visit Taste Club: Snack Box to subscribe or find out more!
The Subscription
:
Taste Club: Snack Box
The Description
: Tasty artisan snacks, no cooking required, just un-pack and enjoy. From chocolate fudge to caramel corn. The connoisseur snacker's dream..
The Price
: $35.00 per month