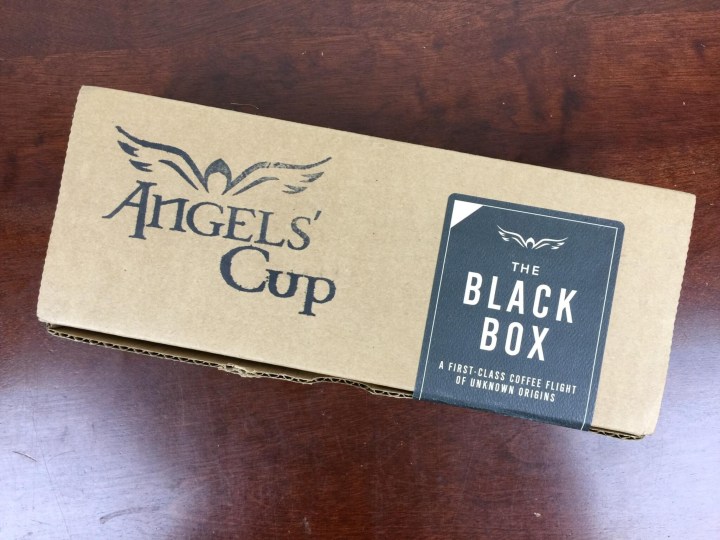 Not one, but four word-class coffees in one box!  Angels' Cup is a subscription coffee sampler.  You have two sampler-style options:  For nine bucks, you can get four coffee selections in the Cupping Flight.  I find that each 1 oz package in the Cupping Flight is just right for making a batch in my French press (which is 2 giant mugs or 4 conventional servings) or one big Aeropress serving.  Or, for twenty bucks, you can get the Black Box, which is 4-2.5 oz bags.  This box contains all the same coffees as the the Cupping Flight, but it comes with 150% more coffee and is cloaked in mystery.  This review covers the latest Black Box Sampler.
The Black Box challenges you to identify the coffee by region and preparation by identifying taste characteristics.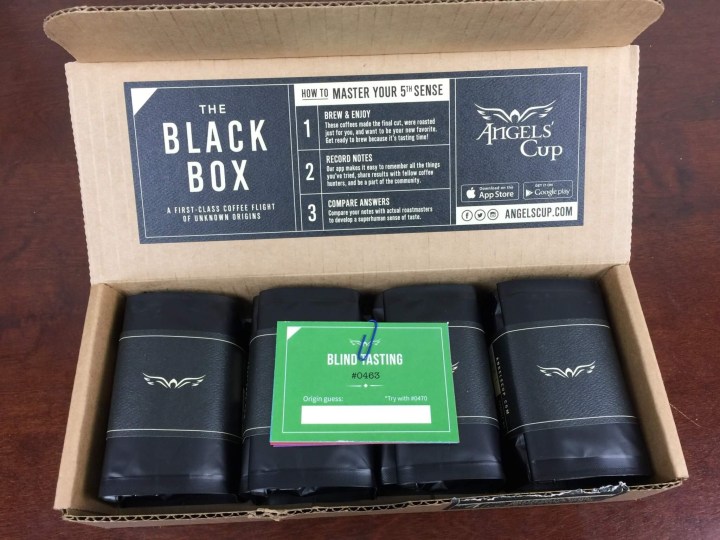 The Box comes with four mysteriously packaged coffee selections and a Blind Tasting card for each.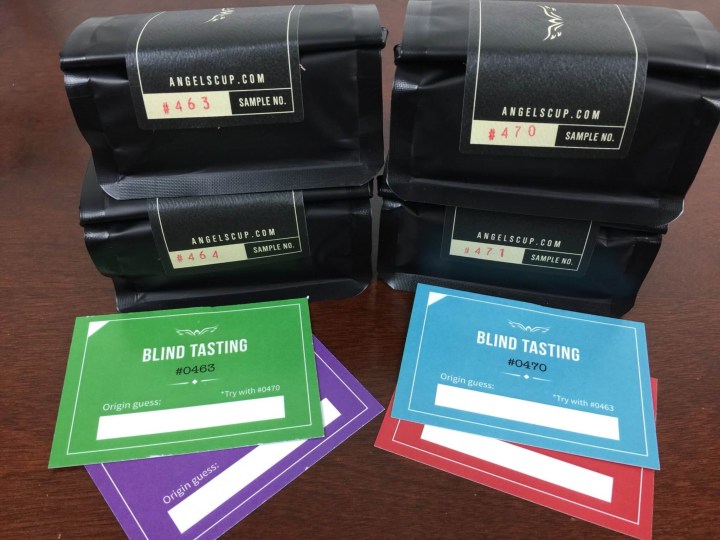 The Blind Tasting Cards lets you guess the origin of the coffee first before you peek at the tasting notes.  To record more detailed observations, the cupping app is where it's at.
Take $40 off your first Hello Fresh with coupon code  7UT7K8.
Each pack is stamped with a numeric identifier and the roast date but is otherwise unidentifiable.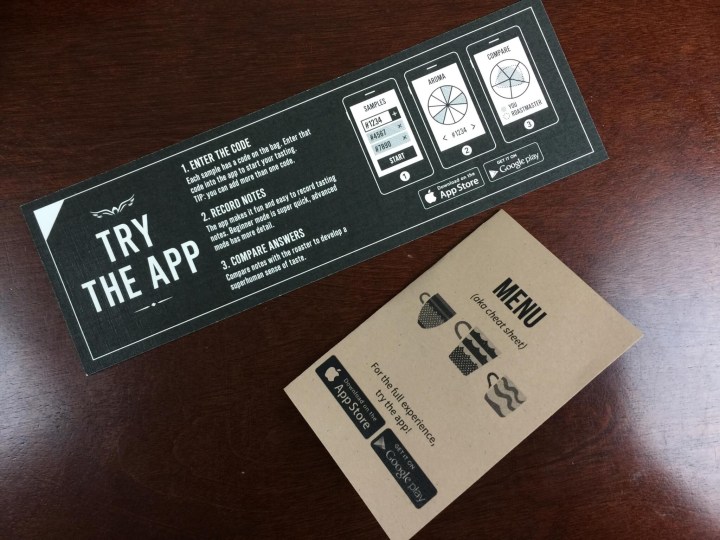 Your tasting is also supported by a cupping app.  The shots above are from a previous Black Box that promo'd the app — the app is still available, but they've tossed the promo materials and the cheat sheet booklet from the Black Box.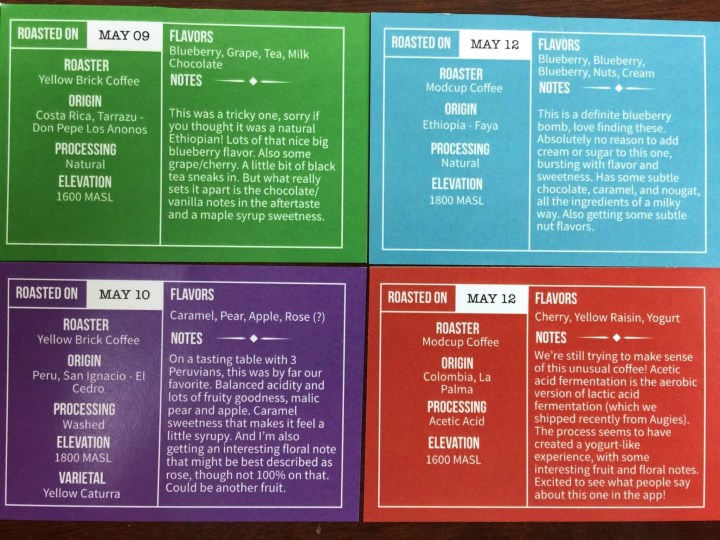 They still include cards with detailed tasting notes.
#463:  Costa Rica, Tazzazu Don Pepe Los Anonos by Yellow Brick Coffee:  This Costa Rican bean showcases one of the wonderful qualities of some Central American varieties – their ability to exhibit both the light, fruity, and tea-like flavors of an Ethiopian, and the bold undertones of a South American coffee.  This one had some nice fruit notes, predominantly blueberry, plus some tannin.  The body was incredibly light, but a nice chocolate baritone note comes through at the end.
#464:  Peru, San Ignacio El Cedro by Yellow Brick Coffee:  This coffee has a nice mouthfeel and fruity sweetness.  lots of pear and apple notes, plus some vague florals.
#470:  Ethiopia, Faya by Modcup Coffee:  Anyone who secretly enjoys flavored coffees (come on, coffee snobs, it's OK to admit) will want to try this coffee at some point.  A mild nougaty flavor unpins a giant helping of bright blueberry flavor.  This is the most distinct blueberry flavor I've seen in an unflavored cup, and it is berry nice.
#471:  Colombia, La Palma by Modcup C0ffee:  This coffee is a very unique offering.   It has a tart note that is actually quite a lot like the tartness of a yogurt.  A little bit of cherry can be found, but the most striking quality is the yogurt taste and the acidic mouthfeel accompanying it.  The roastmaster on the cupping app gave it a 41, but I thought it was OK and a decent cup to try once.
In place of the cheat sheet are individual tasting cards describing the numbered brews in greater detail.  The selections tracked the tasting notes very well.  I am impressed with the notes — they point out the major flavor notes, identify the roaster, variety, and growing conditions, and even give a nice brief narrative of the flavor profile.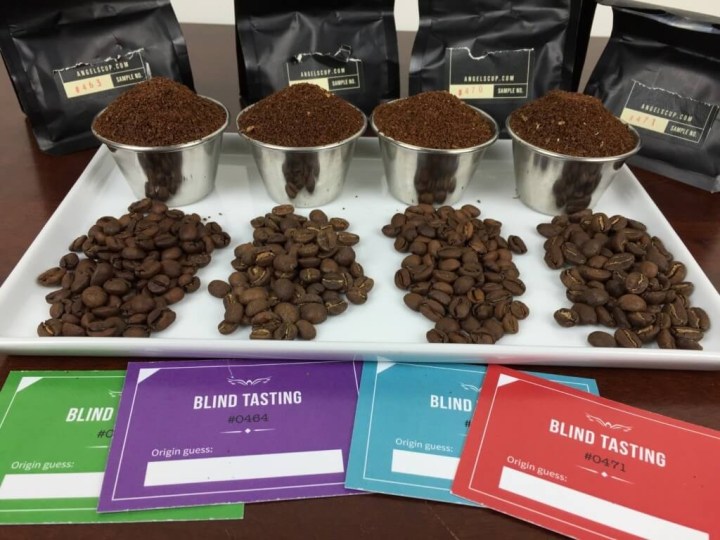 I like the roasting preference of Angels' Cup — it is dark enough to develop the flavor of the beans, but they stop well short of allowing the roast to overwhelm the beans, so the subtle notes aren't cooked out or charred over.  This is a great subscription for coffee lovers.  Their selections are high-quality and well-prepared, plus I'll get about 12 big brews out of the Black Box.
The Angel's Cup tasting app available on the Android & Apple app stores! You can record and track 8 different properties of your coffees and compare them, providing a fun and informative resource and sounding board for your tasting adventures.
The app asks you to identify the brew by number, and you can input information on your brewing method, including time, temp, apparatus used, volume of coffee, grind, etc.  Then you move on to describe qualities of the coffee — everything, ranging from color and strength of brew to scent, flavor, and even defects.  The aroma and flavor wheels expand when tapped, allowing you select more precise notes within each category.  For example, the fruit section expands to allow selection of various categories of fruit (dried, tropical, etc.), which expand even further — within dried fruit, for example, you can select prunes, raisins, figs, and more.
There is a chart which allows you to graphically describe the qualities of the coffee along four indices.  This creates a unique four-sided shape to describe the coffee that can easily be compared to the shape other reviewers have noted.
Putting accuracy above self-promotion, they even include a wheel where you can document any physical or flavor defects you may detect in the beans.  Some beans have a pretty wild profile, but I've yet to taste any evidence of spoilage or adulteration.
Once you've input your notes, the brew is identified, and you can then compare with the notes of the roastmaster.
You get a composite score for the coffee. And you also can compare your various notes, including the graphically representation of the coffee's flavor profile.
In addition to the roastmaster's notes, they also have a five point graphic to compare your notes with those of the community of various reviewers.
What do you think about Angel's Cup? Get 20% off your first month in a pay per shipment plan! Use coupon code HELLO20.
Visit Angels' Cup to subscribe or find out more!
The Subscription
:
Angels' Cup
The Description
: Coffee tasting experience. Every tasting flight features different roasters and different origins, making every cup special! Flights include four 1 oz samples of coffee, or 2.5 oz for the Black Box. You can order just one or subscribe.
The Price
: $8.99 per delivery (weekly, bi-weekly, or monthly) for the Cupping Flight, 19.99 for the Black Box