Topbox is one of Canada's oldest beauty subscription boxes. I had been subscribed to it about two years ago, as it was one of the first around and the price point was great. There was actually a waiting list for it, and I remember how happy I was to get off of it after a few months. With Birchbox Canada no longer in business and the weak Canadian dollar making Ipsy just not worth it anymore, I've gone back to Topbox!
This month's package was fairly bulky!
Topbox has an interesting customisation option. At the end of the month you are able to make your wishlist requests for the following month's box. There's the standard Topbox (4-5 samples) or you can choose a Privé box. Privé boxes are either a brand-specific collaboration (such as Benefit Cosmetics) or an upgrade to a more deluxe line. Some Privé boxes will only contain one or two items — they're very clear when this is the case. Your wishlist doesn't guarantee you a Privé box if you ask for one. You will also be asked whether you would like your goodies in the traditional Topbox tube or an organza bag. I pick the bag because I reuse them!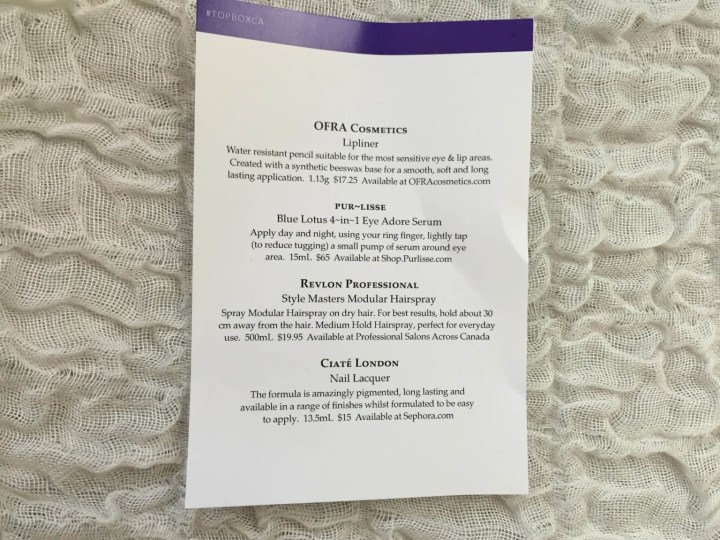 The product card lists four items, but I received five with one not included on the card.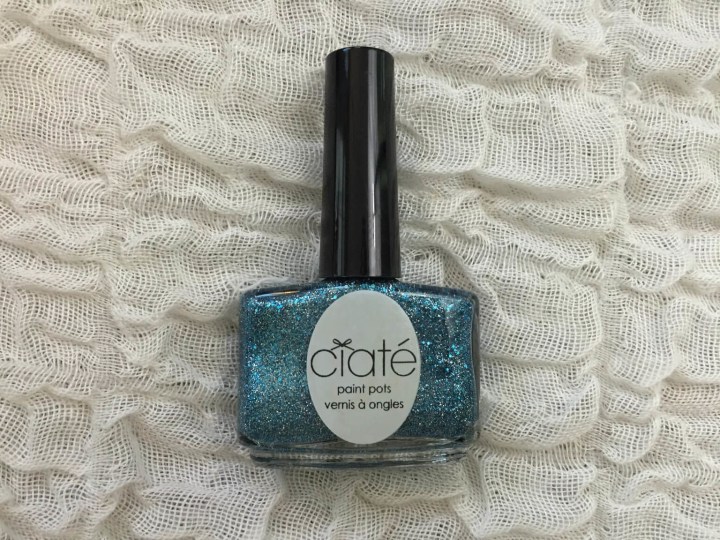 Ciate Paint Pot in 'Roller Coaster' ($15) This item makes up the entire value of the box for me, honestly! It's a gorgeous ocean blue/green glitter and it's perfect for spring. I've started doing my own nails and I'm really excited to try this.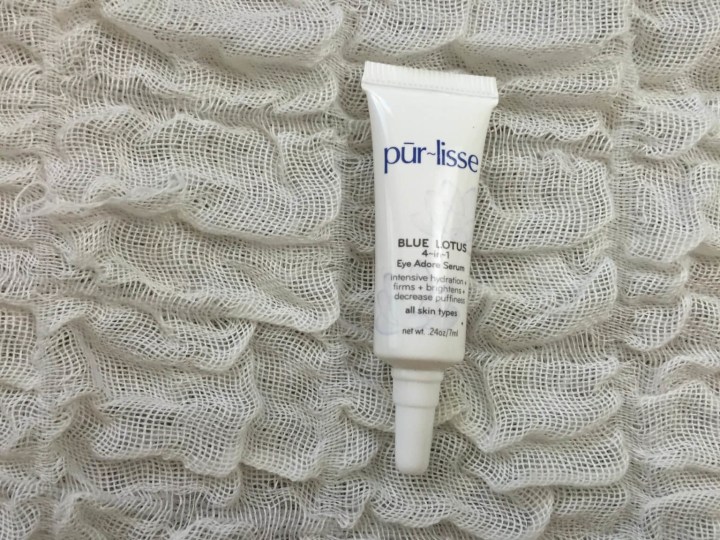 Pur-Lisee Blue Lotus Eye Adore Serum (Fullsize $65) I know Pur-Lisse has over-saturated a lot of beauty boxes lately, but I don't mind because I have really liked everything I have tried. (Their soy cleanser is a staple for me). I'm excited to try this eye cream. Not sure I would pay the $65 for the full size, but if it works miracles, maybe!
Revlon Professional Style Masters Hairspray Modular (Fullsize $19.95) I don't use hairspray but it's interesting to read that Revlon has created a salon-quality line!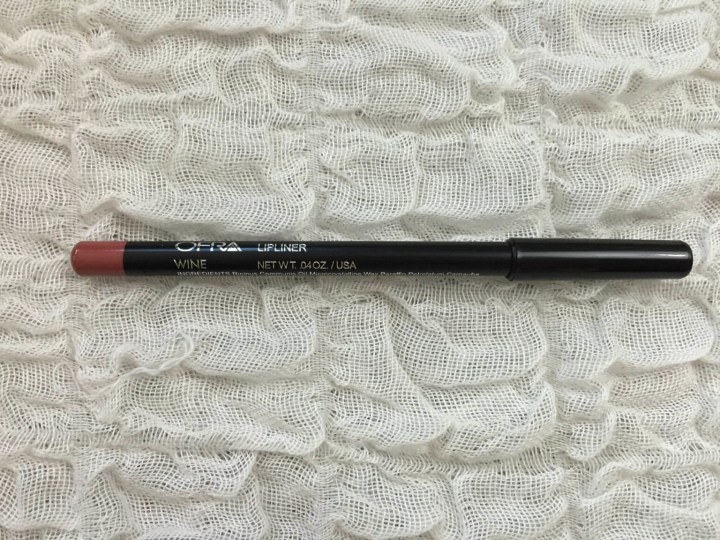 Ofra Lipliner in Wine ($17.95) Wow, another full-size item! I've tried an Ofra gloss before and I liked it, so while this lipliner isn't that exciting I'm sure I'll get use out of it.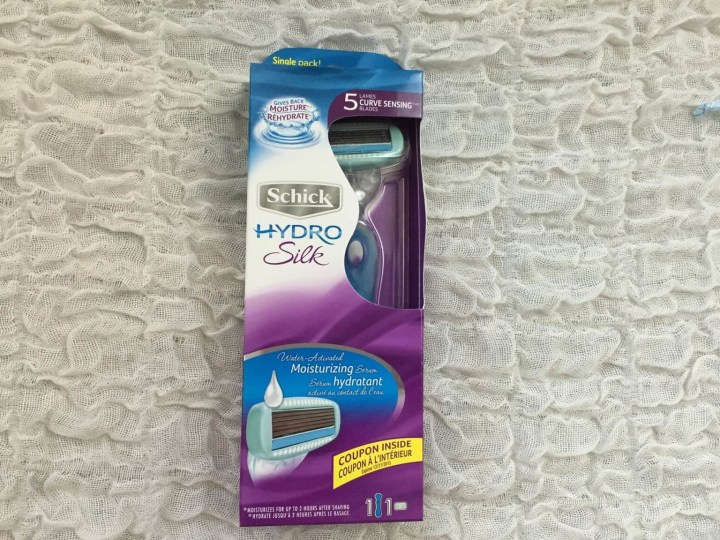 Schick Hydro Silk Razor This item wasn't included on the product card, but I can always use another razor — they're expensive! I used to get so excited when Glossybox Canada would throw in a new Venus. I'll definitely give this one a try since I've never used a Schick before. They also included a coupon for $5 off.
This month's Topbox had great value! Including the bonus item, there were three full-size items! I'm excited to try the eye cream and the nail polish. I like that there was a real variety of items — something for your skin, for your hair, for your nails, and a makeup item as well. It felt like a well-rounded Topbox.
Visit Topbox to subscribe or find out more!
The Subscription
:
Topbox
The Description
: Get 4 generous helpings of premium delight each and every month! This is a *Canadian* subscription box and they do not ship to the US.
The Price
: $12.00 per month