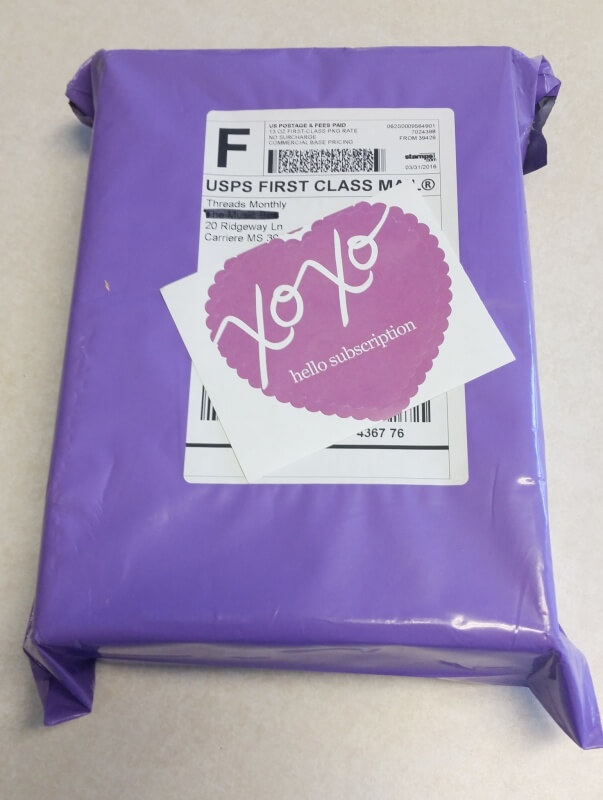 Threads Monthly is a subscription box for "women who love clothing and accessories."  Each month promises one t-shirt, one or two pieces of jewelry, and a themed accessory, all for $20 a month.  I reviewed this box with the help of my budding fashionista daughters, aged 14 and 11.  The box is aimed at women, but my girls wear adult clothes and the items in the package were perfect for tweens, teens, and grownups too!  The girls really liked the last Threads Monthly box we got, so we were excited to when the pretty purple box showed up in our mailbox this week!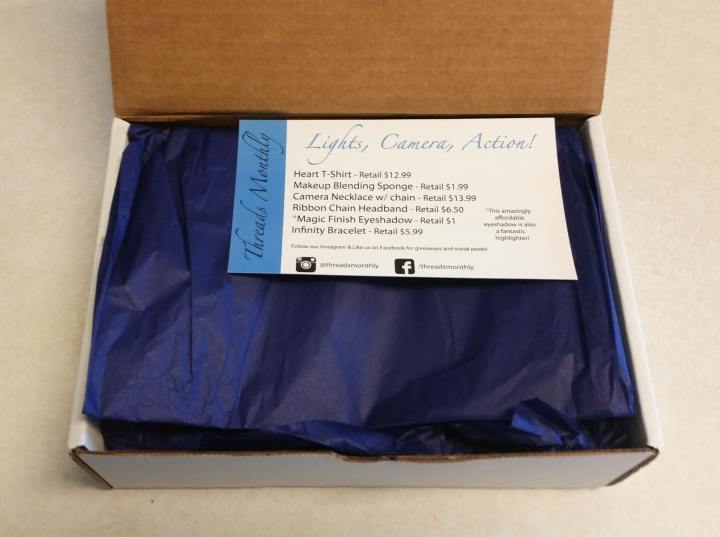 When we opened the box, inside was this gorgeous navy blue tissue paper & a card previewing what was inside.
And here's a picture of everything in the box.  Again the camera on my phone gets very distracted when there's too many shiny things in one place – so I apologize for the blurriness.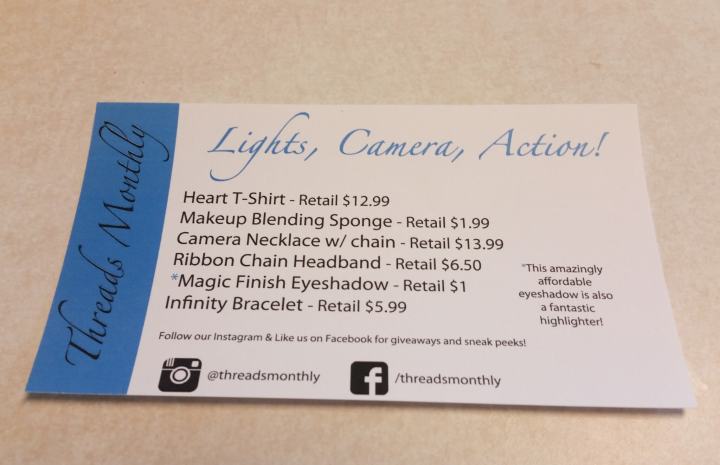 The enclosed card listed the items, as well as retail price, and even a hint on how to use one of the products.  Plus this month, there was a theme – "Lights, Camera, Action!"  Fun!
The T-Shirt:  This month's t-shirt was a dripping heart – super cute.  My younger daughter really liked the "drama" of this shirt – plus she liked that it was more of a technical, silky material than last time (which was a normal cotton t-shirt material).  The shirt was very comfortable to wear & she is excited to add it to her wardrobe.
Jewelry Piece #1:  This is a cute camera-pendant necklace.  It has a nice long chain and the camera is a pretty blue color.  Both of my daughters liked this piece of jewelry.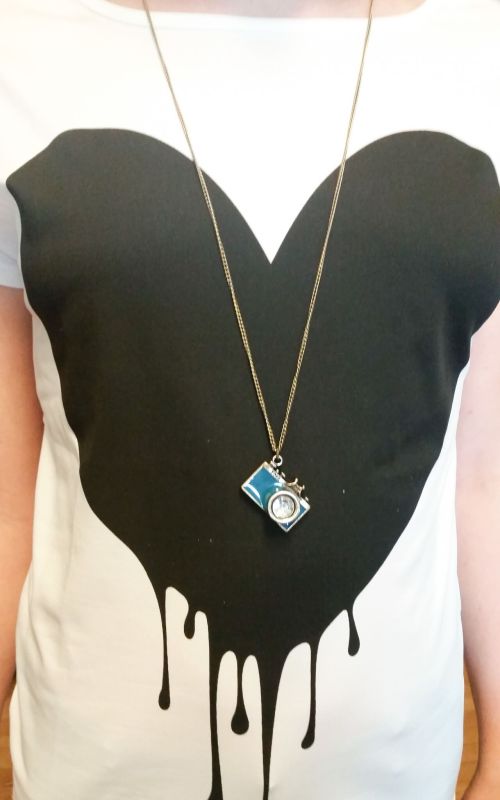 And here she is wearing the shirt and the necklace.  As you can see, it is nice and long – hanging to about mid-torso or lower.  Both the shirt and the necklace are fun statement pieces.
Jewelry Piece #2:  The second piece of jewelry was an infinity bracelet.  This is super pretty – I may have to borrow it myself!  My older daughter really liked this piece.
Accessory #1:  This is a pretty ribbon chain headband.  The ribbon is a soft lavender color which is great – my younger daughter loves purples!  The ribbon woven through the chain is a very pretty and a trendy look I've seen around for spring.  My younger daughter wasted no time in putting the headband on.
Here she is wearing the headband.  I think it looks really cute on her.  Very pretty and a perfect spring look!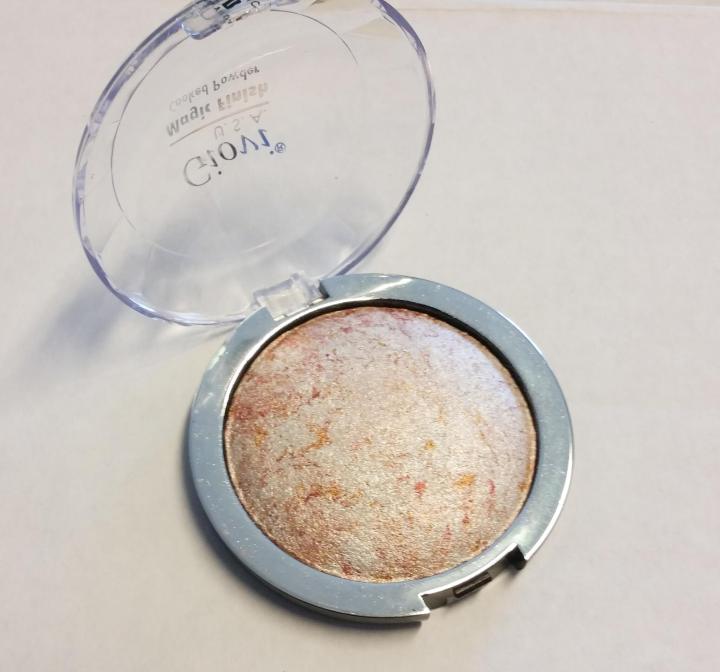 Accessory #2:  Magic Finish Eyeshadow – this is a really pretty gold/light copper eyeshadow.  The card included in the box said it also works great as a highlighter.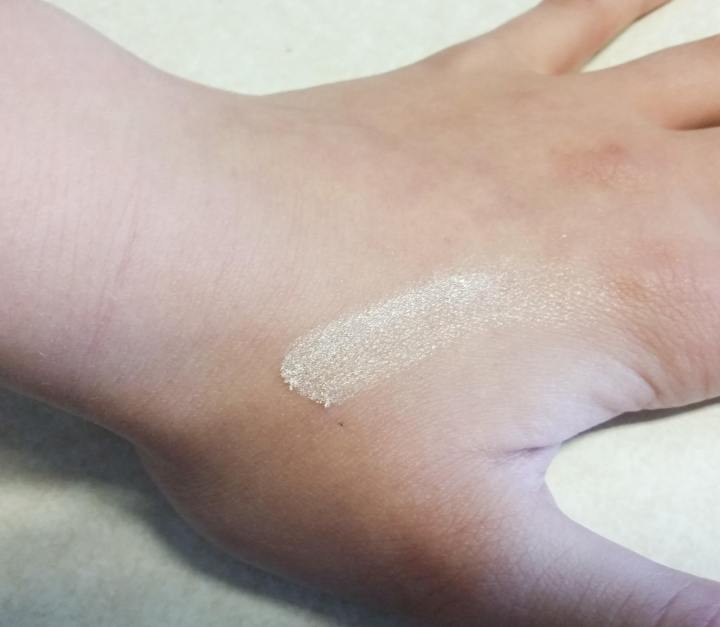 Here is what it looks like on skin – definitely great as either an eyeshadow or highlighter.  My older daughter took it instantly, so I'm guessing it was a hit.  I thought it was a nice color too.
Accessory #3:  A bonus – there were lots of items in this box!  Last but not least is this egg-shaped makeup sponge.  It's a nice quality sponge and will see use in our house.  Budding fashionistas can always use more makeup tools!
We really enjoyed this month's box from Threads Monthly.  Just like last time, every item was trendy, on-topic, and cute and will definitely make it into our wardrobe and accessory rotations.  We especially like the t-shirt in every box – it's a fun change from other makeup and accessory boxes we have tried.  All in all, this is a great box, appropriate for teens and grownups, as well as older tweens who wear grownup sizes (subscriptions are from adult S to adult XL, subject to inventory availability).
Visit Threads to subscribe or find out more! Save 20%! Use coupon code HELLO.
The Subscription
:
Threads
The Description
: Included in every month's subscription is one T-shirt, one or two pieces of fantastic jewelry, and one "Monthly Themed" accessory.
The Price
: $20.00 per month