Terra Bella Box is a monthly beauty subscription box featuring all-natural products! In every box are 5-6 natural products like soaps, bath products, body products, lotions, fragrances, cosmetics, and more. Terra Bella Box also offers a "Lite" subscription with just 2-3 products! All the products are small-batch produced by local businesses! Terra Bella Box focuses on variety, so you won't receive a drawerful of mascara, but instead get a rotating variety of products to replace or enhance your existing regime.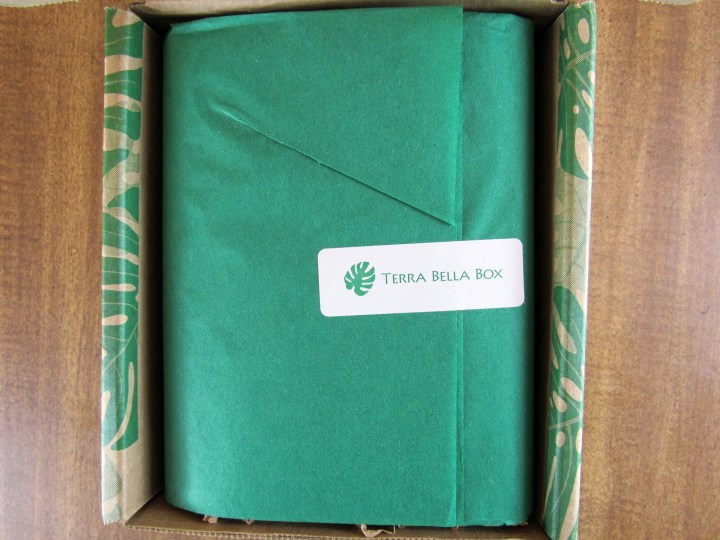 I am looking forward to seeing what is in the Terra Bella Box Lite. The Terra Bella Box Lite is $16.95 plus the actual cost of shipping. It contains 2-3 products from the regular size Terra Bella Box.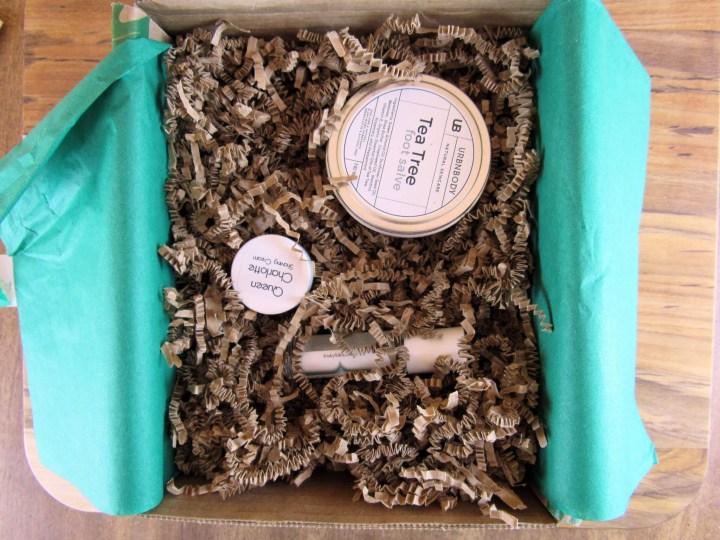 Oooh! I can't wait to look at the items.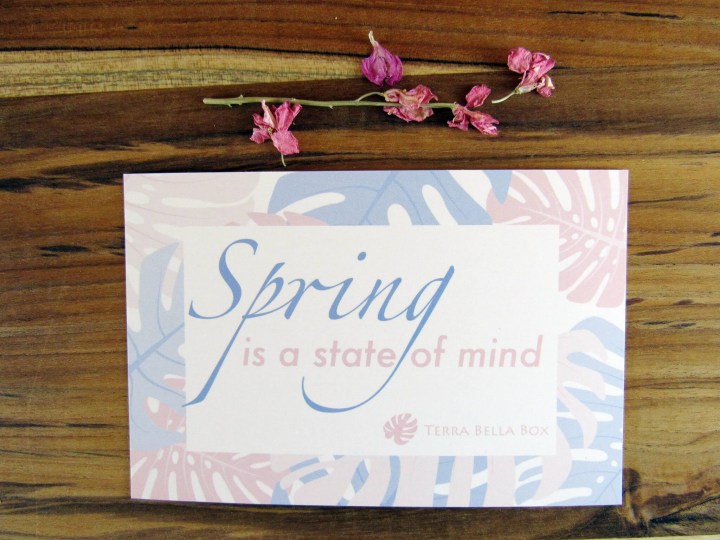 I am placing this card in my mirror because it has been a cold spring. The Theme is "Spring is a state of mind."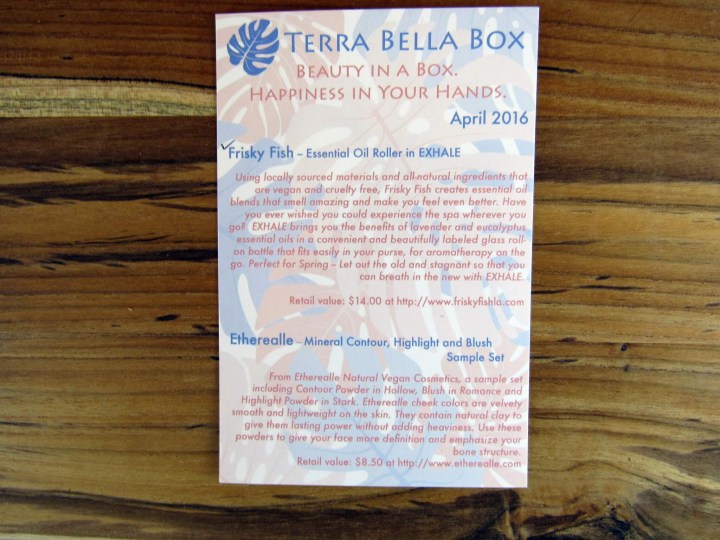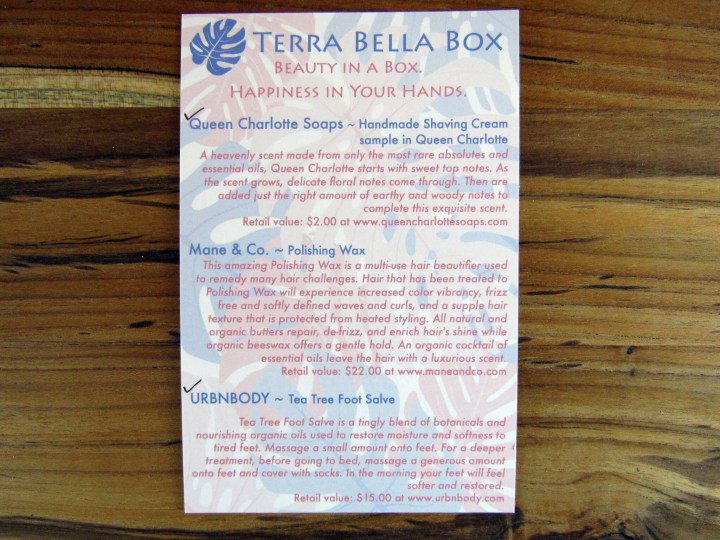 The information card provides details on the April 2016 products along with where to purchase them and the price. A checkmark denotes which items were included in the Terra Bella Lite Box.  My only regret is that I missed the Mane & Co Polishing Wax! I need soft waves and curls!!!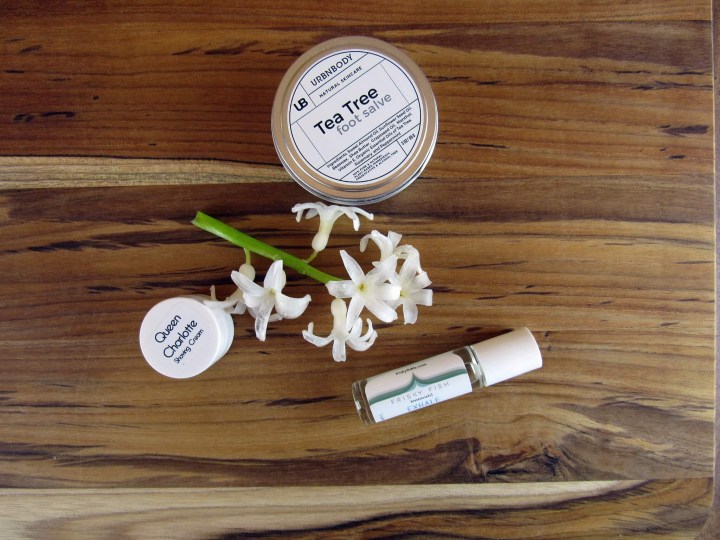 I can feel my mind switching to spring thoughts. I am ready for shorts and sandals!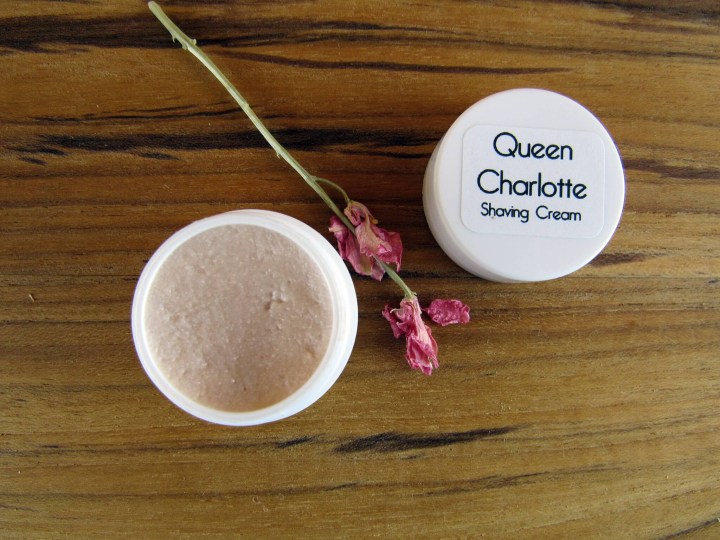 It's that time of year again! The Queen Charlotte Shaving Cream Sample ($2.00) feels moisturizing to my skin. It starts off with an earthy scent that develops into a blend of woodsy and floral. I can't place the woodsy scent which smells familiar.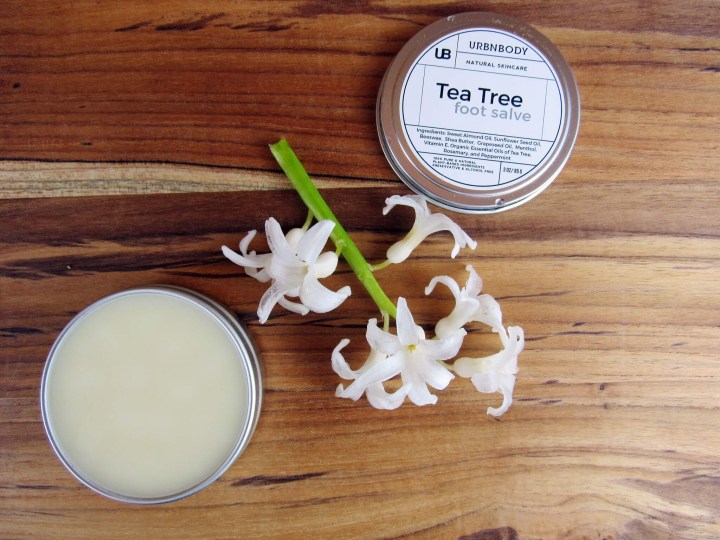 I am ready for sandal season to begin. Now if it would only hit above 60 degrees! The Urbnbody Tea Tree Foot Salve ($15.00) moisturizes and refreshes your feet. The scent is an amazing combination of organic tea tree oil, organic rosemary oil, and organic peppermint oil. My feet are loving this salve!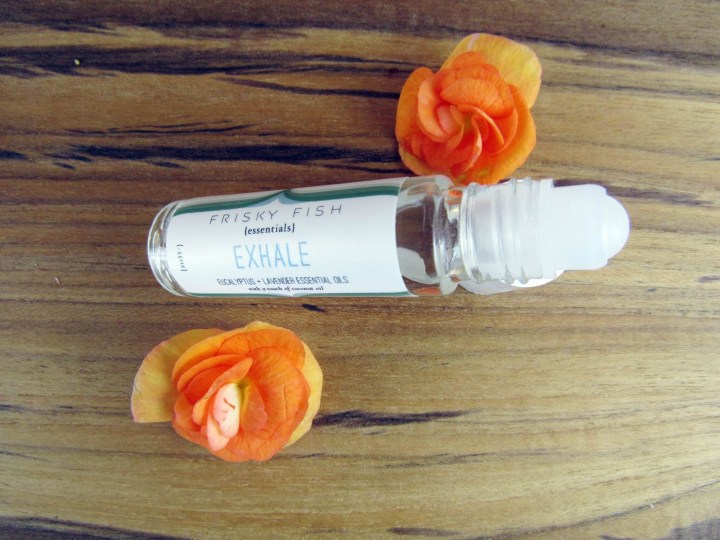 Frisky Fish believes that you should smell good with affordable high-quality essential oils. The Frisky Fish Essential Oil Roller in Exhale ($14.00) is a stimulating blend of lavender and eucalyptus oil. It will help you feel refreshed and sharp. It clears out subconscious junk while also clearing out your sinuses allowing you to exhale. I am trying it out and can't wait to see how I feel at the end of the week!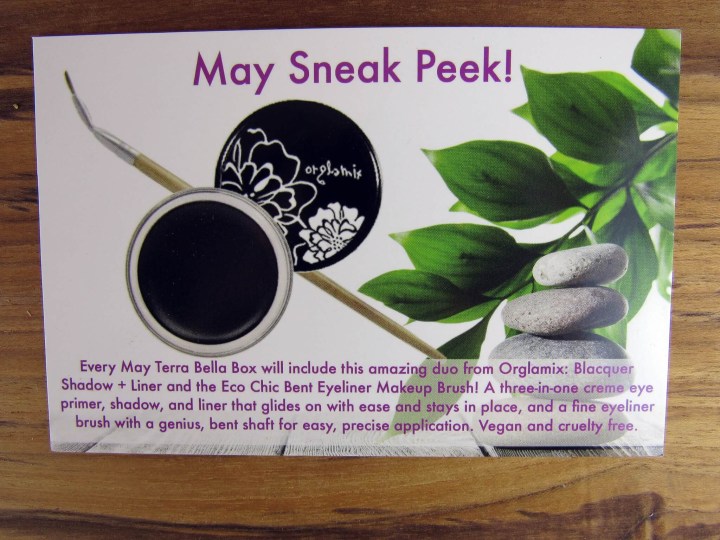 Every May 2016 Terra Bella Box will contain an Orglamix Blacque Shadow + Liner ($18.00) and Eco Chic Bent Eyeliner Makeup Brush  ($7.50). I like that the brush is included!
The Terra Bella Box Lite is fantastic! It's a budget friendly box with high quality products. The items stay true to the theme 'Spring is a state of mind.' The value is $31.00 which is almost double the price of the lite box. The products selected are reflective of their philosophy of being natural and cruelty-free. It's an excellent box that will keep you happy with beauty and bath products, while not overwhelming you with too many items.
What do you think of the April Terra Bella Box Lite? Share below and let us know!
Visit Terra Bella Box to subscribe or find out more! Get an extra bonus item in your first box with coupon code HELLOEXTRA. (Valid on full box, not the lite box.)
The Subscription
:
Terra Bella Box
The Description
: Terra Bella Box is a different kind of beauty box. We find products that are created in small batches by small businesses, are always cruelty free, and are made with the finest natural ingredients. Good for your body, good for the earth, good for local economies.
The Price
: $34.95 per month for the full-size box (5-6 products), $16.95 for the lite box (2-3 products) + Shipping