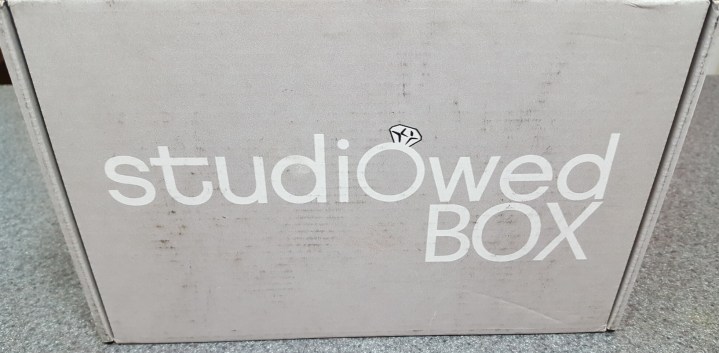 StudioWedBox is a monthly subscription box that helps brides get ready for their big day! Every month you'll receive items to help you through the wedding planning process and help spark ideas for your wedding! It's like a wedding planner in a box.
Everything in the You're Invited box.  I'm a paper crafter and love sending cards so I was very excited to see all the goodies in here.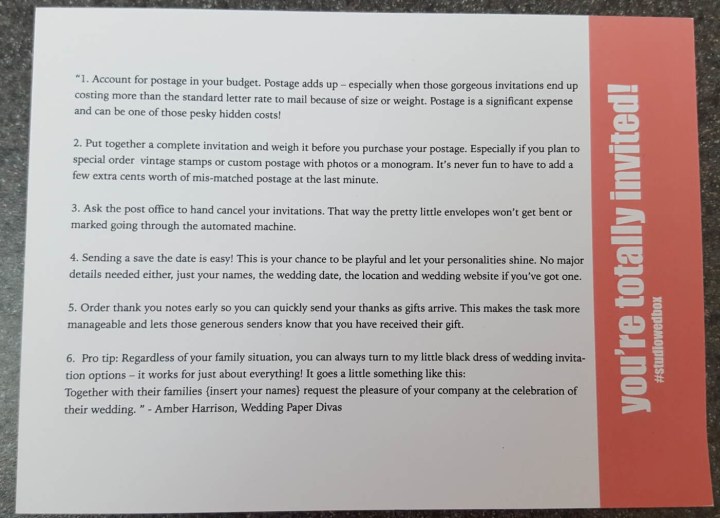 The front of the information card gives some great tips for sending out cards, thank yous etc for the big day.  This is great since I've gotten bit by sending the wrong postage out before and it is not something I always think about. I normally just toss a stamp on it but I need to be more cautious when my cards aren't a normal size and weight.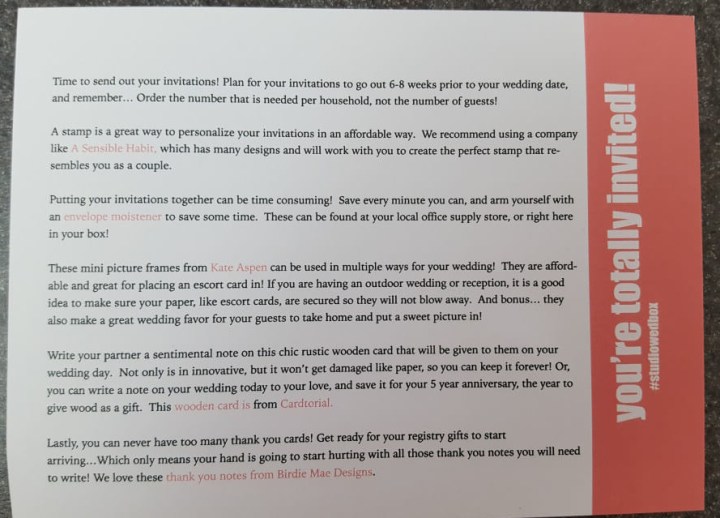 The information card with everything in the box listed and little notes to help you utilize them.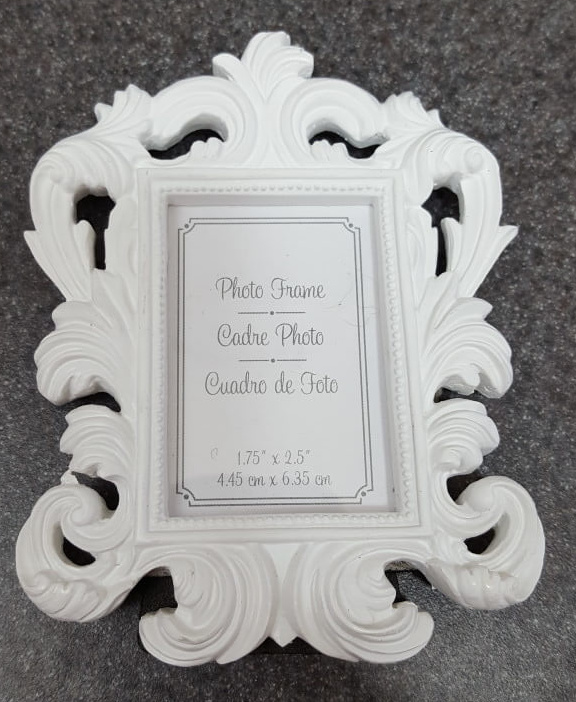 White Frame by Kate Aspen ($2.95) – the info card says this can be used as escort cards or wedding favors but I plan to just use it as a cute picture frame. It is small and cute and will fit right in with my other frames. The Kate Aspen brand is great to include – they make all sorts of favors that are perfect for weddings.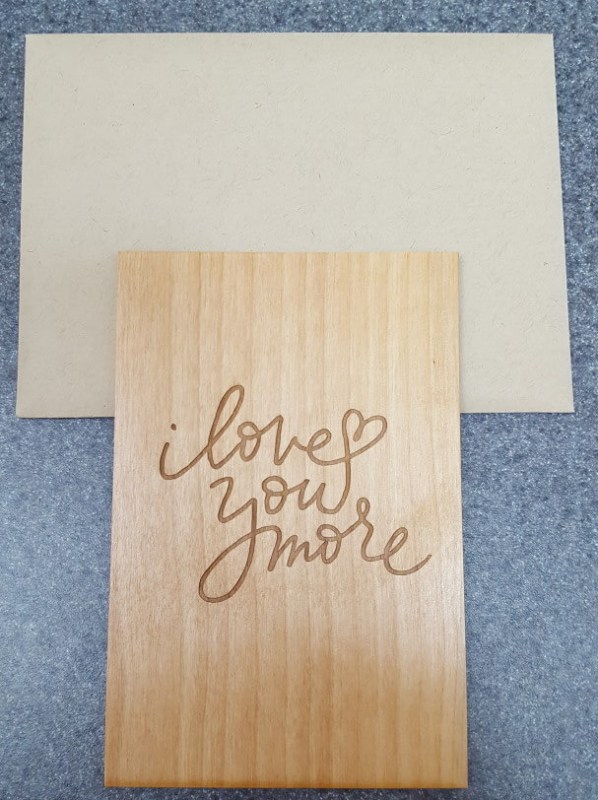 I Love you More Wooden Card by Cardtorial ($13.00)  – This is really nice and different. It says you can write on it with a sharpie and while I'd love to do that I'd be afraid that I would mess it up – a tutorial for lettering or link to one would have been the perfect addition to the box. I'm actually thinking I will just frame this and add it to a collection of pictures. It is flat and they sent an envelope so you could mail it with the correct postage since it does have some weight to it.
Thank You Cards by Birdie Mae Designs ($11.25) – I agree with the info card in saying you can never have too many thank you cards. It always surprises me how happy I get when I receive one in the mail from a gift that I have sent especially if it is one that I've mailed out.  It really is a small thing to do but I know it falls to the bottom of my list so often.  These cards are a nice thick quality and are simple enough that even if you don't need them for your wedding you could use them for about anything.
Why Thank You stamp by A Sensible habit (I can't find the exact stamp but others go for about $15) – I love rubber stamping and this is a nice sentiment to add to my collection.
Gold ColorBox ink pad ($4.00) – a fun new ink pad to use with your stamp.  I love using gold in since it can go on light color paper or on a dark or even black cardstock.  The gold will pop off the page or tag when you stamp it.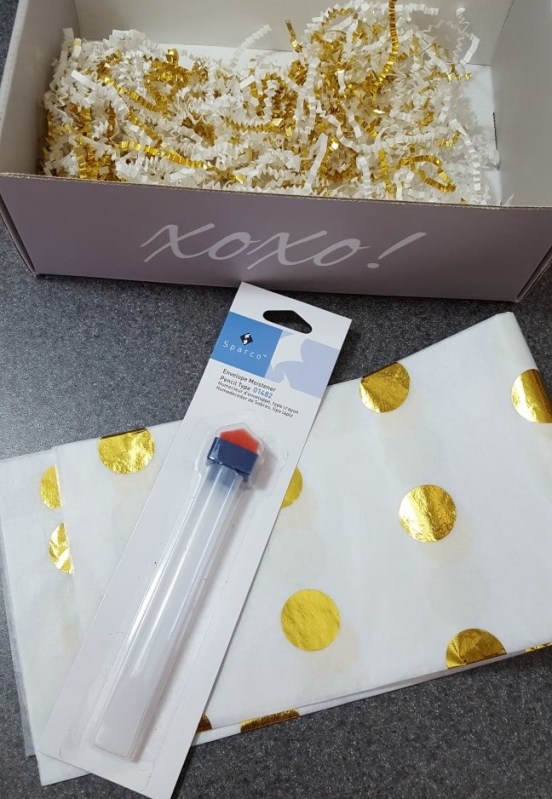 Envelope Moistener ($.76) – While most everyday envelopes have sticker type closures most invitations and fancier envelopes still require moisture of some kind to close and if you don't want to be licking them all this is great.  A very practical inclusion which I actually need since I recently tossed the one I had.
I also plan to reuse the tissue paper that was in the box. The bright gold dots are so fun and pretty.
This is a great box that was curated really well for the theme of You're Invited.  I really liked how the information card gave little ideas on how to use the items and why they would be useful.  Planning a wedding gets really exciting and overwhelming pretty quick so it can be easy to overlook things and this will keep you ontrack for the theme.  I can't wait to see what other themes they include in the boxes and how they change as you get closer and closer to the big day.
Visit StudioWedBox to subscribe or find out more!
The Subscription
:
StudioWedBox
The Description
: Only the best curated items for your wedding delivered to your door. Get tips based on how far along you are in your planning, products & samples for your big wedding day.
The Price
: $40.00 per month