StitchyBox is a bi-monthly subscription box for counted thread embroiderers and cross-stitchers! There are two options – the Big Picture Box and the Detail-Oriented Box. With both styles you'll receive a variety of threads, from staples like DMC to specialty threads you may not have met yet, and embellishments, stitching accessories and other goodies! They also have a "Just the Threads" subscription for anyone who is a fiber fiend! This subscription no longer comes in an actual box and ships in a little mailer, which I prefer!
With the Big Picture Box choose
2 Fat 16ths (one 14-16 count Aida, one 28-32 count linen OR evenweave – your choice) OR
1 Fat 8th (Aida, linen or evenweave).
With the Detail-Oriented Box pick
2 Fat 16ths (one 32-36 count linen, one 40 count linen) OR
Select 1 Fat 8th (either 32-36 count linen or 40 count linen)
The information card gives a bit of details about each item, plus info about the supply shop (you can buy more of what you love, but usually only for a limited time – supplies are sometimes hand-dyed just for this box).
This month the inspiration was drawn from Munch's The Scream.
The first bag I opened had my embellishments. It included the following items:
Planet Earth Yellow Brick Road 4mm Silk Ribbon ($4.50)
Toho Purple-Lined Amethyst Matte 15/0 Seed Beads
Toho Bronze-Lined Aqua Rainbow 15/0 Seed Beads
Toho Raspberry-Lined Olivine 15/0 Seed Beads
I looove that ribbon – and it's the perfect chance to practice something fancy.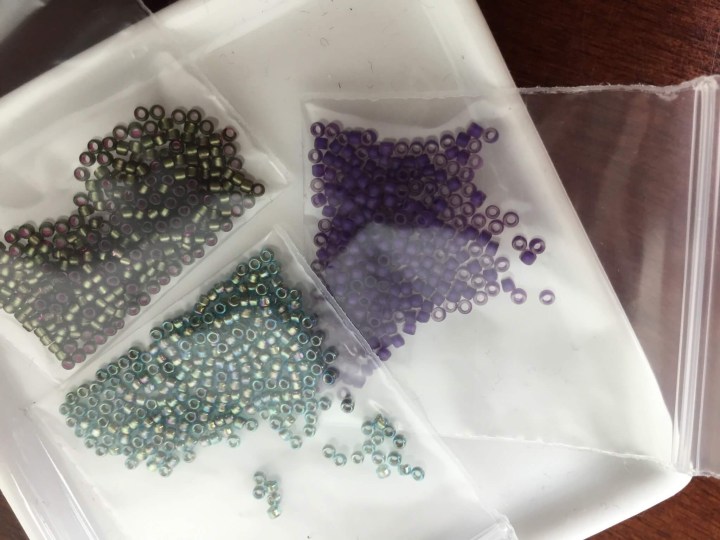 Here's a closer look at the beads.
I thought the colors and the feel went amazingly well with the theme and I love the sparkly color changing finish on the left two!  FYI you can see the theme for the next Stitchy Box here.
Weeks Dye Works Dove 28 Count Jobelan ($12.25) I'm really not sure what pattern to pair with this at all – but I'm betting it will be a Halloween themed pattern from The Frosted Pumpkin!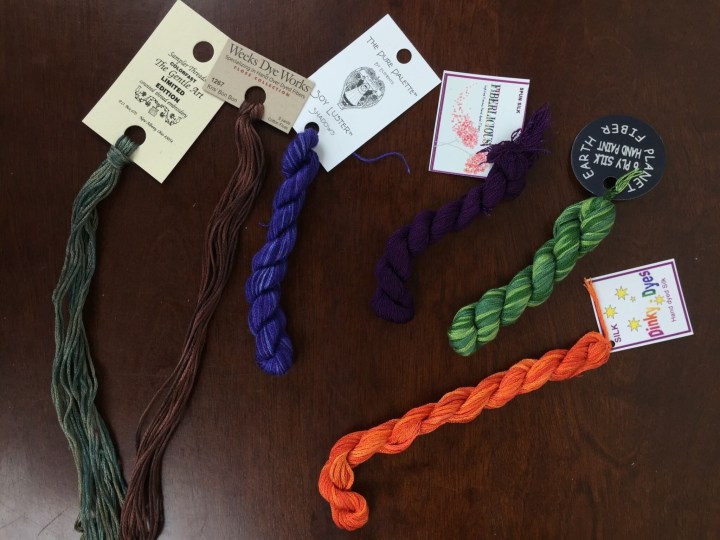 All the fibers included in this box. Stitchy Box hinted that this box was fiber-heavy but I was pretty blown away! The purples and oranges are really fantastic for Halloween – and just in time for starting a fall stitching project.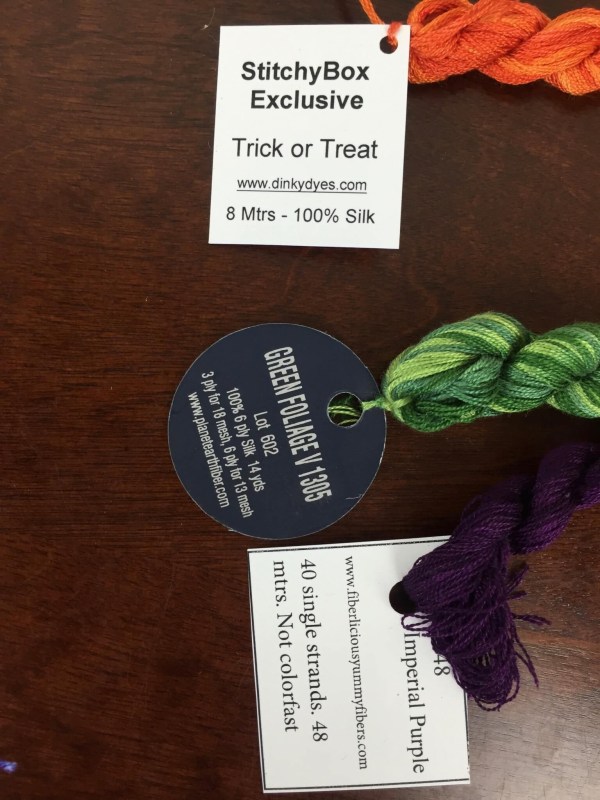 Dinky Dyes Trick or Treat Exclusive Colorway ($4.50)
Planet Earth Fiber Green Foliage 6-Ply Silk ($4.80)
Fiberlicious Spun Silk Imperial Purple ($3.75)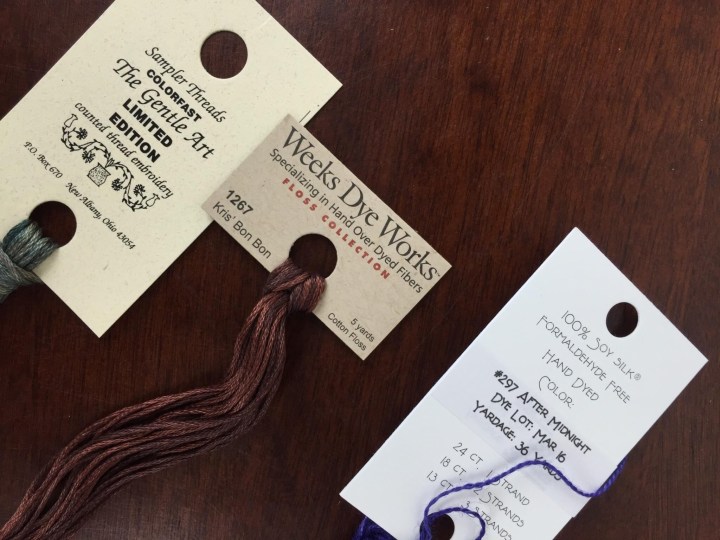 The Gente Art Wood Nymph Exclusive Colorway ($2.40)
Weeks Dye Works Kris' Bon Bon ($2.60)
The Pure Palette Soy Luster After Midnight
It's a bit difficult to estimate the value of this subscription, but I think it comes in at just above the monthly cost. I think it's an excellent sampling subscription because you can actually use everything in a project, not just sample it, but it gives you some nice exposure to different colors and artisans.
This was a Halloween-licious box and I'm really looking forward to finding the perfect place to use all the fibers in my stitching (and the beads! so pretty). I love how this subscription really knows stitchers (and their schedules… and proclivities to start multiple projects and need to start 6 months in advance for the holidays!).
Visit StitchyBox to subscribe or find out more! Save 10% off your first month. Use coupon code SUBK2.
The Subscription
:
StitchyBox
The Description
: Each themed box contains two cuts of stitching fabric along with a variety of threads and embellishments to get your creative juices flowing.
The Price
: $36.50 per month