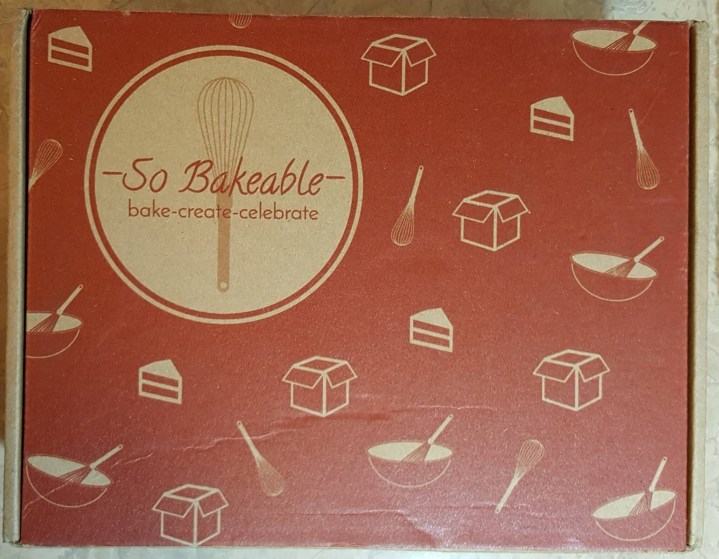 SoBakeable is a new subscription created by a team who have both a passion for baking and love desserts.  Every month, your box will include: recipe cards, all measured ingredients, decorations, and extra tools.   All you'll need are milk, butter, and eggs.  Monthly subscriptions start at $35, but 3 and 6 month terms have discounted rates.  As a Hello Subscription reader, save 15% on your first box with promo code HELLOSUBSCRIPTION15.  
Before your box arrives,
SoBakeable
will send you an email notification that it has shipped, along with a list of items that you will need to provide from your fridge and supply of kitchen tools/utensils.  Sorry that this is so blurry.  I had some trouble trying to isolate the image from my email, but you get the gist.
For April, SoBakeable featured a Spring Cream Puff Tower.  If you want to sound fancy, use the French terms croquembouche (refers to the cream puff tower) and profiterole (refers to the cream puff) when talking to your friends or family about this project.  When I'm done, my project should look like the one on the cover of the information booklet.  We'll see if it comes close or is a #pinterestfail.
Wave goodbye to Winter & say hello to Spring with this sweet tower. You'll bake deliciously light & airy cream puffs, filled with decadent chocolate pastry cream. Dip them in gorgeous pastel glazes & then let your creativity shine. The season of Spring brings the beauty of new flowers in bloom & your cream puffs will feature floral details to match! The batch of cream puffs you make will be individual works of edible art. We'll teach you how to stack them into an impressive masterpiece, so visually appealing that your friends & family won't be able to resist. Easy to serve to a crowd – let everyone grab a puff & pull apart, until your tower is reduced to sweet crumbs.

This tower is piled with 25 individual cream puffs – make sure you grab one fast, before they're all gone!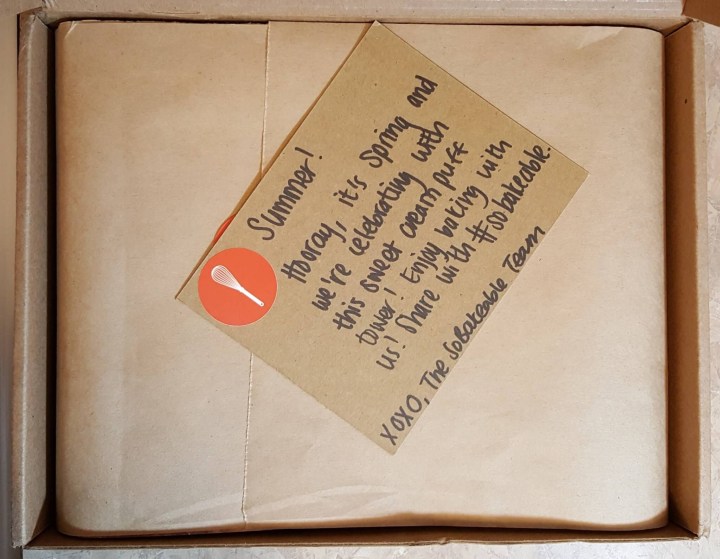 Inside my box was a personalized welcome note from the SoBakeable team.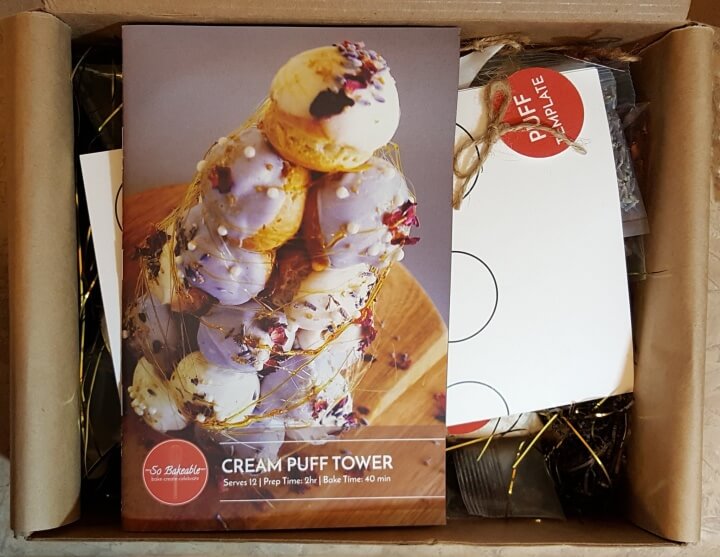 My first look in!.  Items were nestled in paper and foil shreds, and everything was wrapped in a butcher paper band.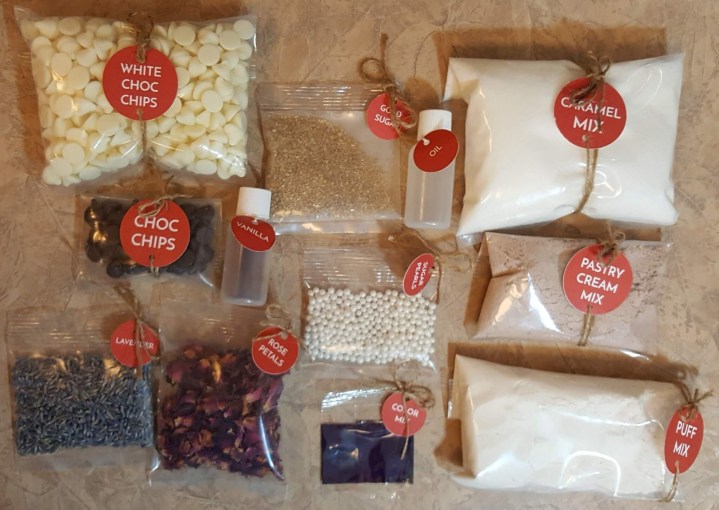 All of the pantry (food) items in my box.  Each ingredient is pre-measured and clearly labeled.
The tools provided by SoBakeable to assist in making this month's dessert.
Inside the project booklet, SoBakeable has outlined what ingredients and tools will be needed for each component of the dessert – any items not provided in your kit are outlined with a box.  There are step-by-step directions to guide you and pictures so you know what outcomes to expect.  This cream puff tower has an expected prep time of 2 hours; this includes a total bake time of 40 minutes.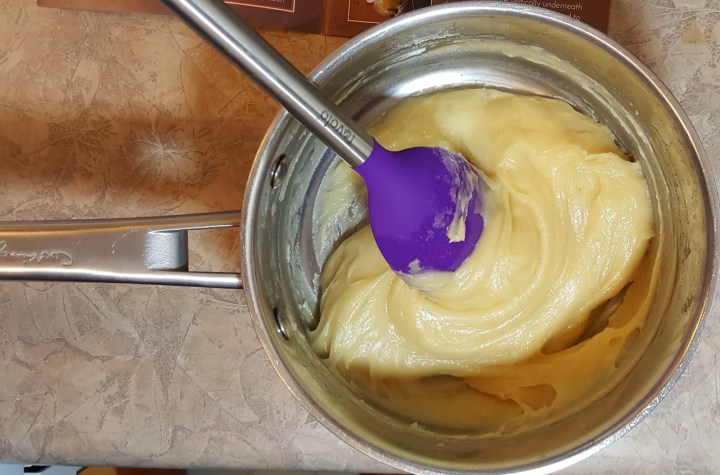 Step 1) Making the choux pastry.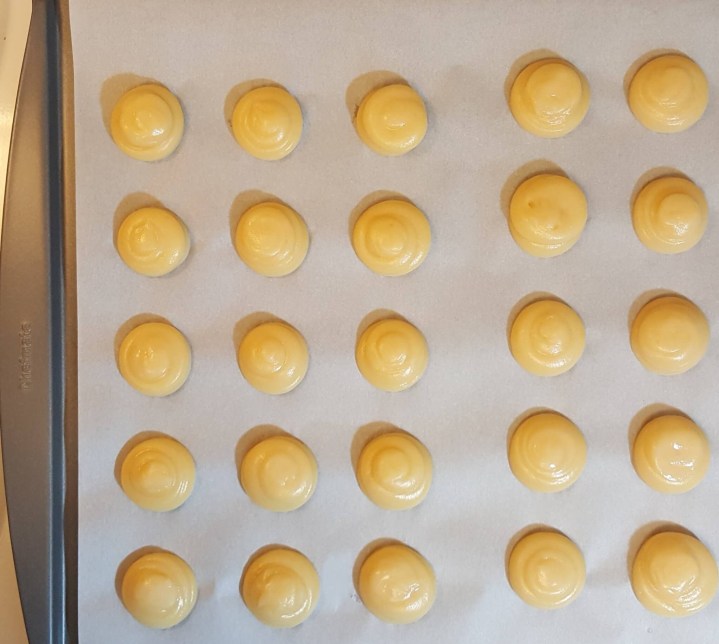 Step 2) Use the template and large tip to pipe choux to correct size.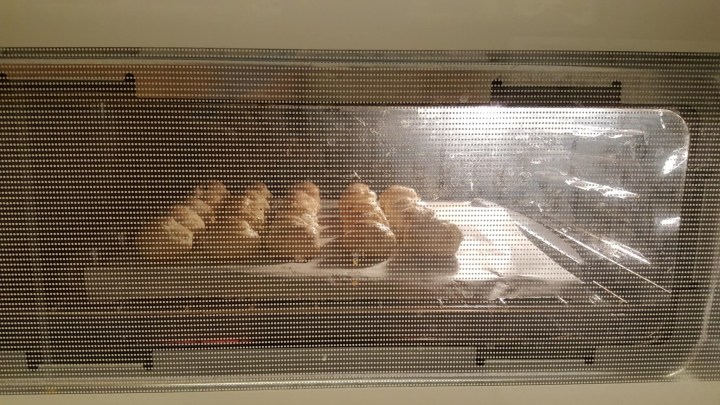 Waiting is the hardest part!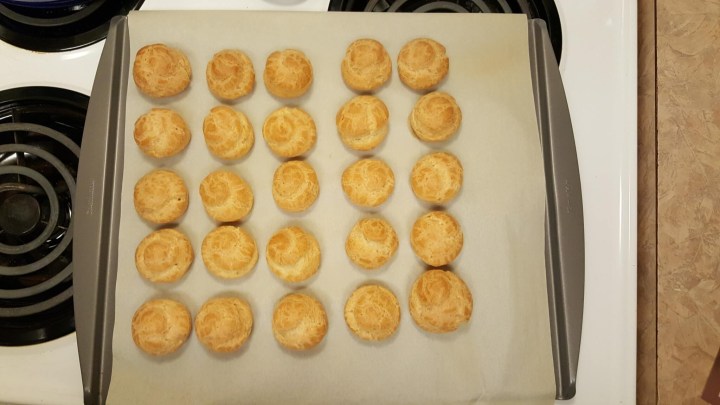 40 minutes to reach golden perfection.  At this point, I'm an hour into prep.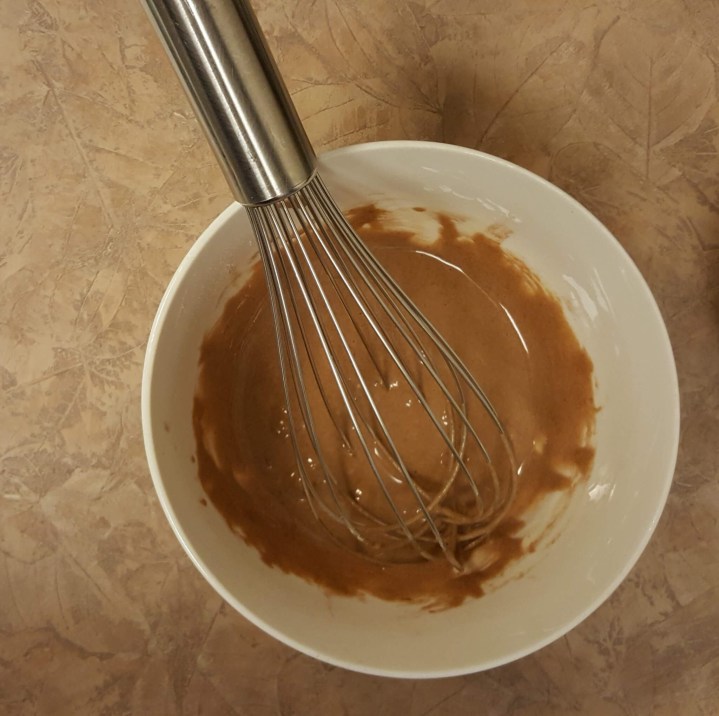 Step 3) Make the pastry cream / cool / fill puffs.  Here's where I ran into some trouble.  The chocolate pastry cream mixture only filled half of my cream puffs.  The directions say to fill until the cream puffs feel heavy – I filled until it was full.  So, I actually looked up a recipe for plain pastry cream and used that to fill the other half.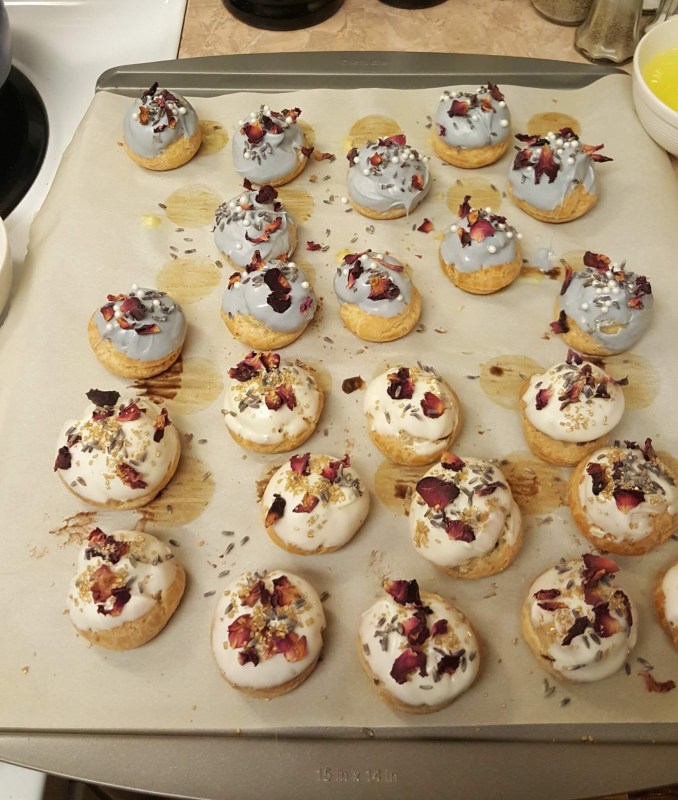 Step 4)  Prepare white chocolate glaze / dip puffs / decorate.  The white cream puffs are filled with the chocolate pastry cream, and the bluish purple have the plain pastry cream.  Toppings were rose petals, lavender, sugar pearls, and gold sugar.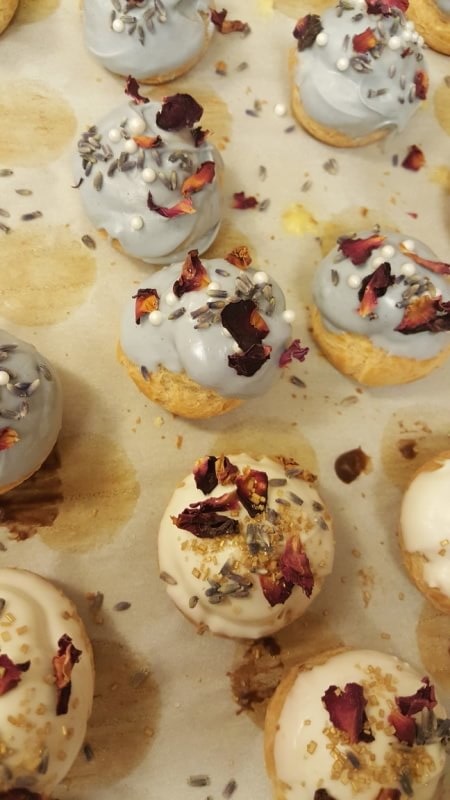 Up close and personal with my cream puffs.  At this point, I should have left well enough alone, but I was excited that these had turned out so well.  So…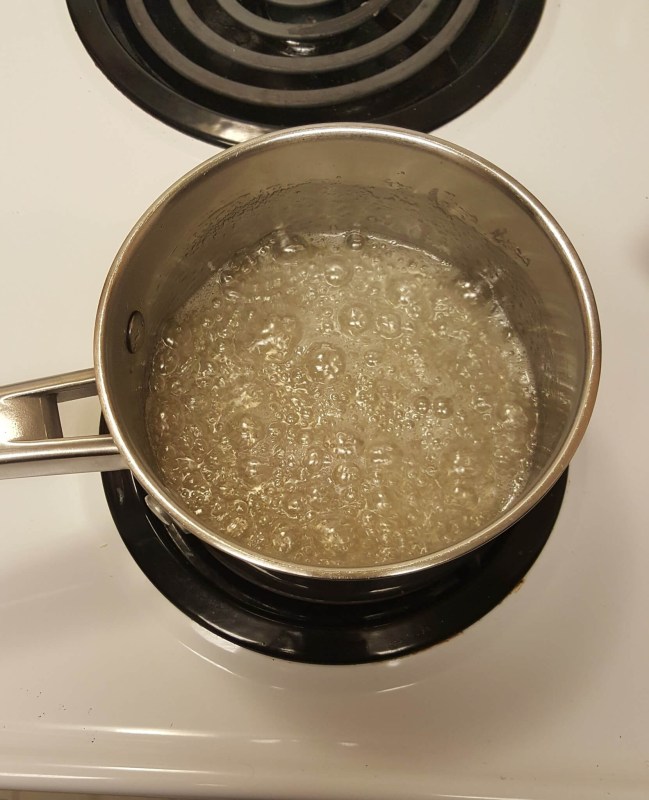 Step 5)  Make caramel / build cream puff tower / add spun sugar.  I misunderstood the assembly directions at first, and when I realized my mistake was too far in to correct how I stacked my cream puffs.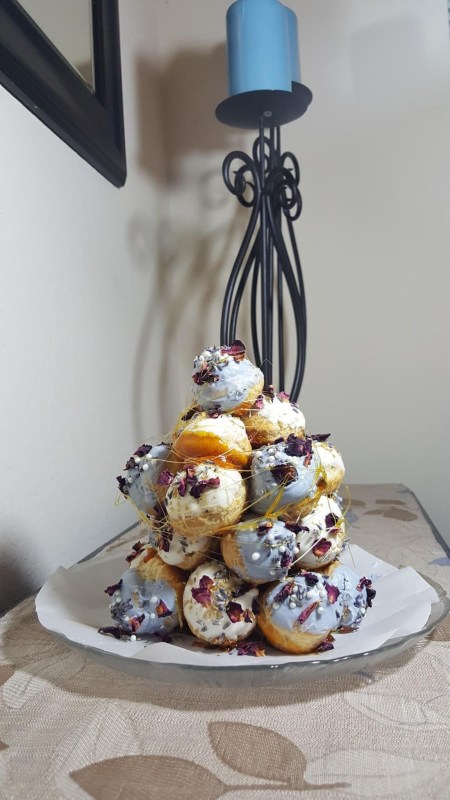 And voila, my finished kit!  So, not a complete #pinterestfail, but I didn't exactly nail it either.
Final verdict… Considering all of the items that I received in my SoBakeable kit, and what I would have spent to purchase 2 dozen cream puffs at a bakery, I would say the $35 cost of the subscription was justified.  The only downside was that I did have to provide a bit more of my own ingredients, but as I noted earlier that may have been my own fault for overfilling the cream puffs.  By the way, I did the entire project in one session.  The instruction booklet actually has it spread across two days, and I should have heeded their directions because there is a lot involved (I really simplified the steps for you all).  If you are new to baking, definitely follow the suggested timeline.  I completely felt like a master pastry chef before I tried to build the cream puff tower, so bring on the next challenge.  Er, I mean dessert.  LOL
Visit SoBakeable to subscribe or find out more! Save 15% on your first box! Use coupon code  HELLOSUBSCRIPTION15.
The Subscription
:
SoBakeable
The Description
: Embrace your inner-baker & create something that's wow! We provide ingredients, tools & instructions – you make it spectacular with your creativity. Subscribe to bake along with us every month or gift a box to someone special! We're a community that loves to bake, create & celebrate life's moments – join us!
The Price
: $35.00 per month