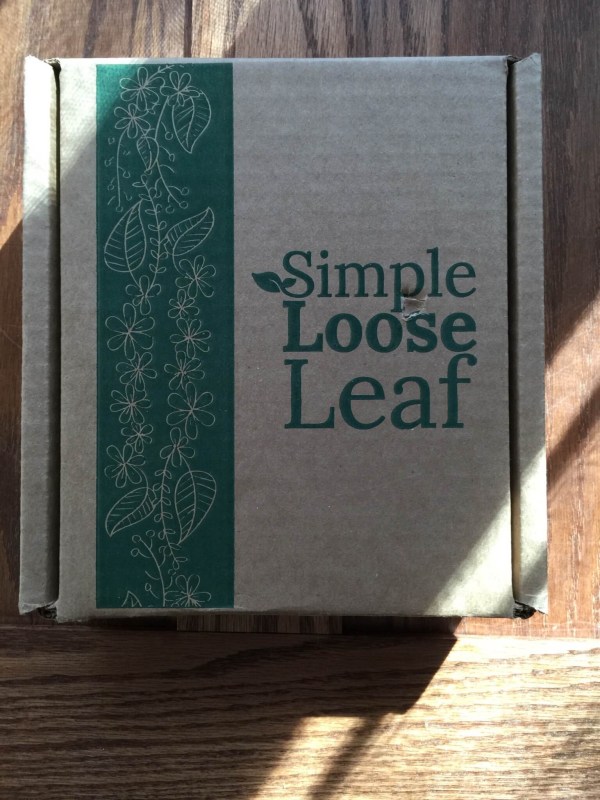 Simple Loose Leaf is a monthly tea box, which promises to delivery anywhere from 12 to 24 hand selected, loose-leaf teas each month, based on your subscription level. Subscriptions range from $12.99/mo. for a three month plan to $11.99/mo. for a six month plan. They are currently also running a special on their monthly plan, regularly $13.99/mo. to receive your first month for $3.99.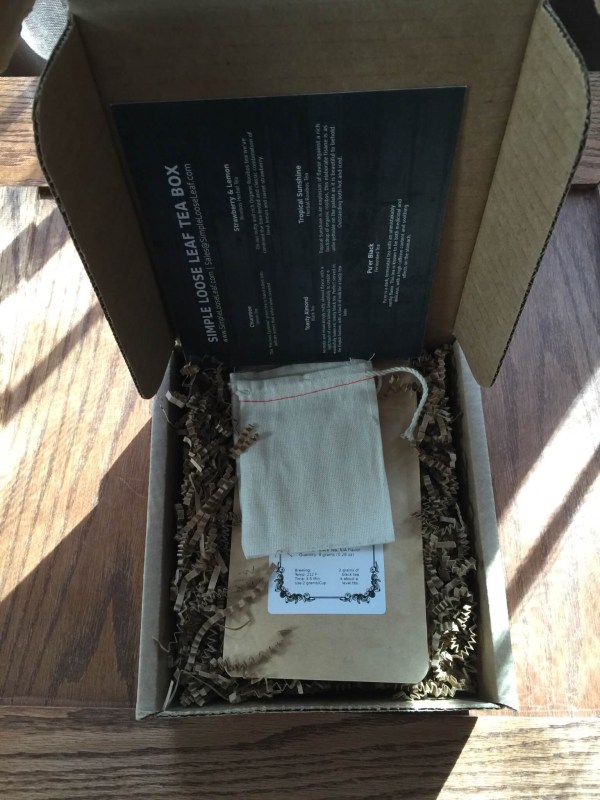 The box itself is a straightforward affair, which includes two rather useless bags for steeping. They work just fine, but you'll never clean them out well after use and honestly, just buy some bags. I noticed that they are no longer including the sugar packets, which I think is fine. If you like your tea sweetened, you probably have your own sweetener of choice handy anyway.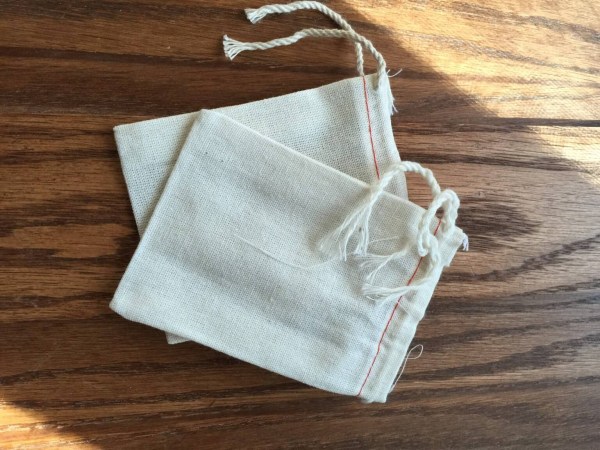 Simple Loose Leaf does include a very handy reference card with a description of each of the teas in that month's box.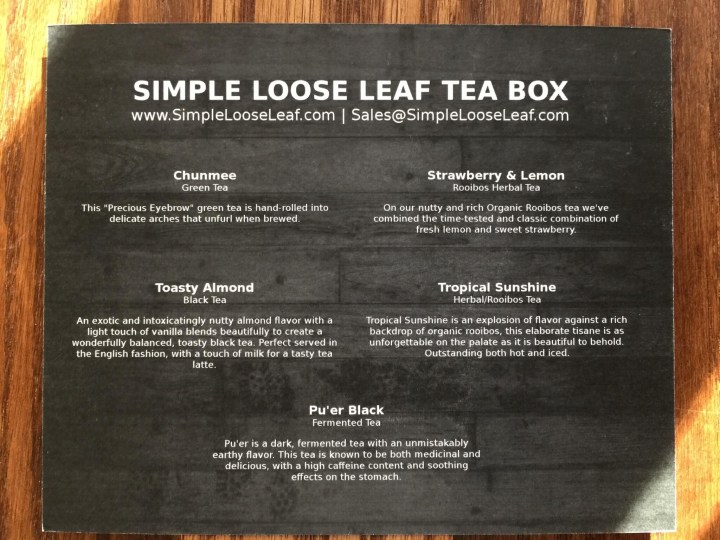 That same information, along with recommendations for the proper brew temperature and steep time for each of the teas is also printed on the tea packet–which is really, really helpful. To get the most from each tea, you want to try to follow those guidelines.
So… on to the teas!
First up was the Chunmee.
What They Said: This "precious eyebrow" green tea is hand-rolled into delicate arches that unfurl when brewed.
What I Say: Yes, the arches *do* unfurl when you steep this. And the result is a brownish-green liquor, fairly transparent. Like most green teas, it has a strong vegetal component, which lingers in the finish. It is a more robust green tea–some can be quite delicate–but it's still not super in-yer-face, which is nice. It does have that characteristic dry/astringent finish, but not extreme. It's nice, overall, but won't replace my beloved milk oolong anytime soon. Or ever.
Next was the Strawberry & Lemon, the first of two herbal blends in this month's box.
What They Said: On our nutty and rich Organic Rooibos tea we've combined the time-tested and classic combination of fresh lemon and sweet strawberry.
What I Say: Huh. Well, this was *bad*. It's a nice rooibos base, but I didn't find the fresh lemon all that citrusy or tangy and the sweet strawberry was lacking. I could smell it before steeping, but it was just too subtle in the final brew and overall, I think this one fell flat. It's a classic example of why I tend not to like these types of herbal blends–the name is big on promise, but the tea just fails to deliver.
Coming off that was the Toasty Almond, which totally brought it.
What They Said: An exotic and intoxicatingly nutty almond flavor with a light touch of vanilla blends beautifully to create a wonderfully balanced, toasty black tea. Perfect served in the English fashion, with a touch of milk for a tasty tea latte.
What I Say: Oh, yeah… yum!! This one was straight up delicious. First, is smells wonderful. You get the nutty, almond smell with the vanilla hit–it almost smells like a flavored coffee. It's not a "tea purists" kind of tea–but man, put in a packet of sugar and a bit of milk? Wow. Out of this world good. It's definitely not for everyone–if you have ever rolled your eyes at someone ordering a frappuccino at Starbucks, you'll roll your eyes at this one–and then you'll secretly love it, because it tastes so good.
I was actually kind of dreading Tropical Sunshine, as the other herbal offering this month, but I was pleasantly surprised.
What They Said: Tropical Sunshine is an explosion of flavor against a rich backdrop of organic rooibos, this elaborate tisane is as unforgettable on the palate as it is beautiful to behold. Outstanding both hot and iced.
What I Say: Well, they are right that it's beautiful to behold. It has a gorgeous red-amber liquor that makes you almost want to dive in. And I'm not really a fan of herbal blends, have you noticed? Still this has a really great potpourri smell to it (and I mean that in a good way) and is really warm and inviting. There's definitely the flavor of cinnamon and orange peel, maybe a hint of allspice… or mace? It's really good, overall, but I'd definitely go iced.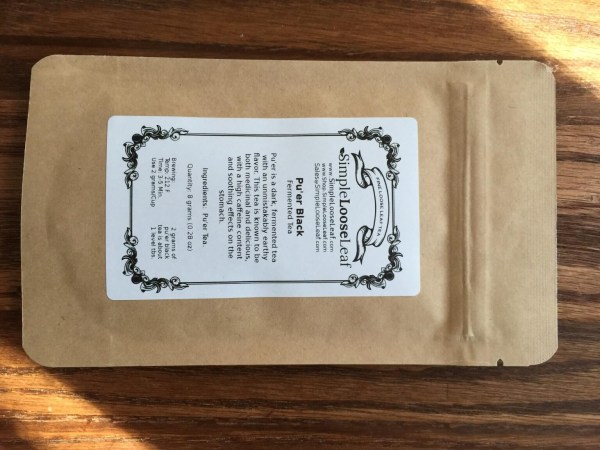 Finally, we have a return to tea for tea drinkers: Pu'er Black.
What They Said: Pu'er is a dark, fermented tea with an unmistakable earthy flavor. This tea is known to be both medicinal and delicious, with a high caffeine content and soothing effects on the stomach.
What I Say: The initial smell of this one put me off a bit. It's *very* earthy, I might describe it as "medicinal dirt". However, after steeping it had a dark brown, amber liquour that was tempting, and I must admit, was quite pleasant going down. There are definite earthy tones to it, but it has a gentle finish, not very astringent at all, with just a nice, pleasant linger that left me, well, oddly satisfied.
So the final verdict? Once again, Simple Loose Leaf has put together a really nice collection of teas. Not all of them were, uh, my cup of tea? But they still delivered an herbal that I actually liked, which is one of the reasons I like this box–they do get me to try teas that I normally would never think of trying or buying at the tea store. I would recommend the Simple Loose Leaf box if you're interested in broadening your tea horizons and trying some new things. Overall, it's a good value to try some great new teas.
Visit Simple Loose Leaf to find out more or to subscribe–take advantage of their 3.99 first month introductory offer! Just use coupon code 399TEABOX at checkout!
The Subscription
:
Simple Loose Leaf Tea
The Description
: Each month you will receive a box of wonderful and unique loose leaf teas. Every month we make sure you have everything you need to get the perfect cup of tea brewing right out of the box!
The Price
: $16.98 per month