SheroBox is a monthly box for women made up of products from all women entrepreneurs and/or women owned or operated businesses. This month the box was themed with Spring has Sprung.
The information sheet had a nice note from the women curators on the front of it.  Shero box also has new packaging this month so everything is bright and pink.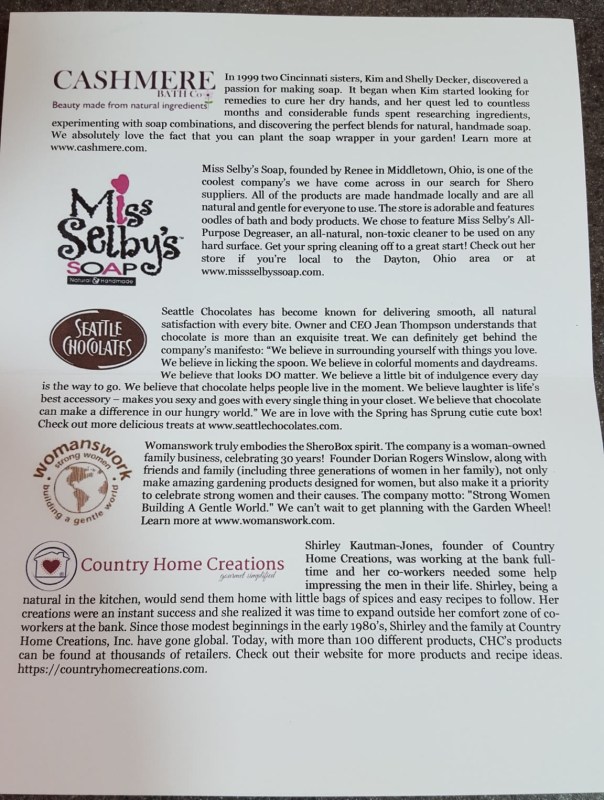 The information sheet for the box.  It focuses more on the businesses and the women behind them then the actual product in the box.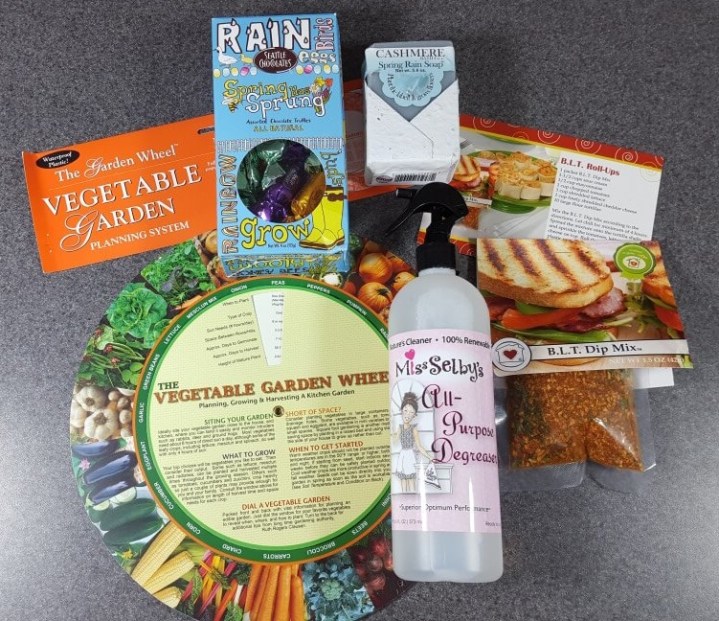 Everything in this month's Spring box!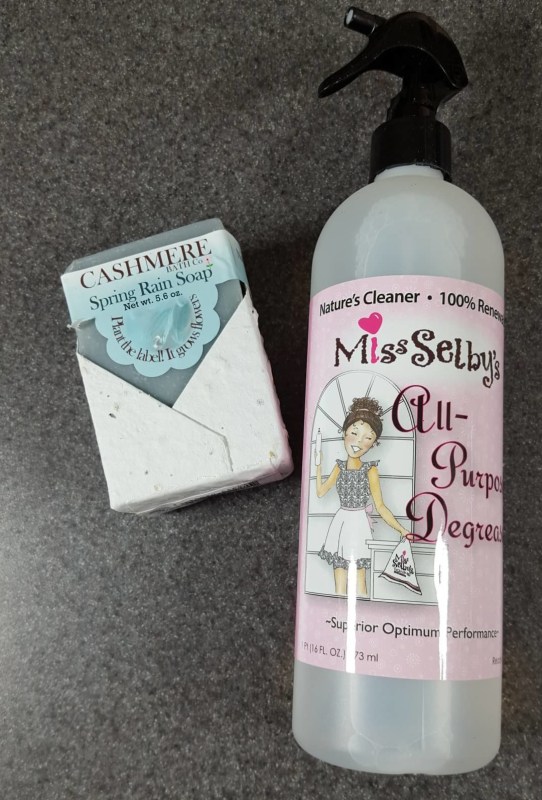 Cashmere Bath Co Spring Rain Soap ($5.99) – Cashmere makes natural, homemade soaps.  It is also pretty awesome that you can plant the wrapper in your garden and wildflowers will grow. This soap features the crisp, light, clean fragrance of spring air after the rain!
Miss Selby's All Purpose Degreaser ($5.95) – These soaps and cleaners are all handmade locally and are all natural and gentle for everyone to use.  The degreaser can be used on any hard surface and is sure to get your Spring cleaning kicked off.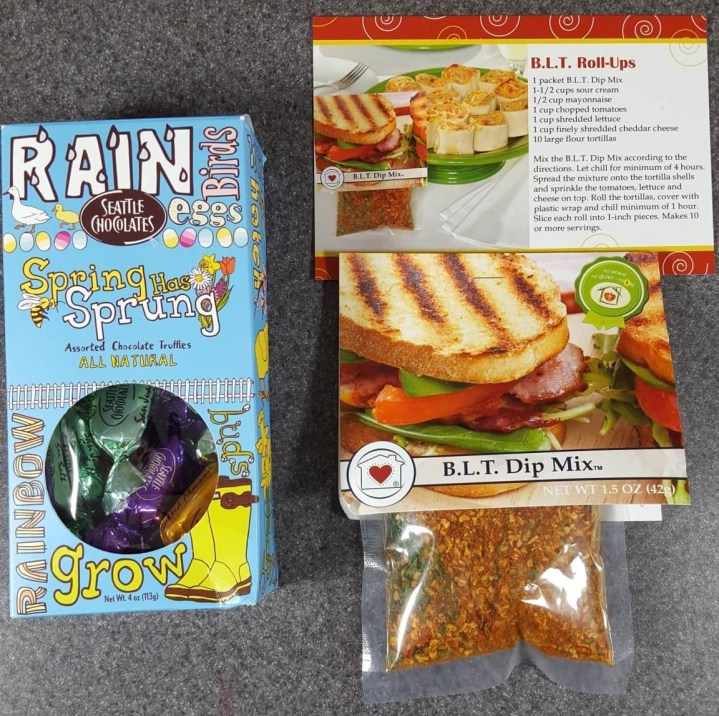 Spring Has Sprung Assorted Chocolate Truffles by Seattle Chocolates ($7.95) – This is a fun company and I love their manifesto almost as much as I love their chocolates – and an entire box of truffles was included!
We believe in surrounding yourself with things you love.

We believe in licking the spoon.

We believe in colorful moments and daydreams.

We believe that looks DO matter.

We believe a little bit of indulgence every day is the way to go.

We believe that chocolate helps people live in the moment.

We believe laughter is life's best accessory – makes you sexy and goes with every single thing in your closet.

We believe that chocolate can make a difference in our hungry world.
Country Home Creations BLT Dip Mix ($4.95) – Who doesn't love a BLT?  My guys aren't usually keen on rollups but I think even they would get behind a BLT one.  This looks delicious and I can't wait to make them for everyone.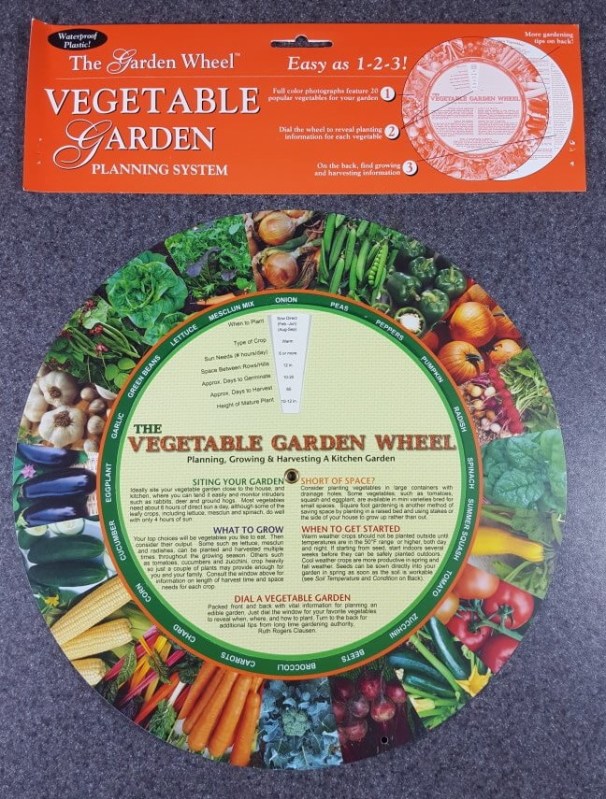 Vegetable Garden Wheel by Womans Work ($10.95) – This wheel is great for helping plan your garden. The woman-owned family company has been around for 30 years and celebrate strong woman and their causes. My sister is the grower in my family but since she will be going away to grad school next year I can use this to help me keep my garden going.
I like this box more than last month's box.  These are very usable items for my family and I can't wait to get into them.  I still love the idea of showcasing and using women owned/run businesses.  The value of the box this month was only $35.79 so still only slightly above the cost of the box which is great but so much also goes into the discovery and information on the companies so I'm happy with that.
Visit SheroBox to subscribe or find out more! Save 20% on any new subscription! Use coupon code SPRING16.
The Subscription
:
SheroBox
The Description
: In SheroBox, every month you will receive a box filled with different goodies for home, beauty, family and life in general. All of our products are from women entrepreneurs and woman-owned or operated businesses.
The Price
: $34.99 per month