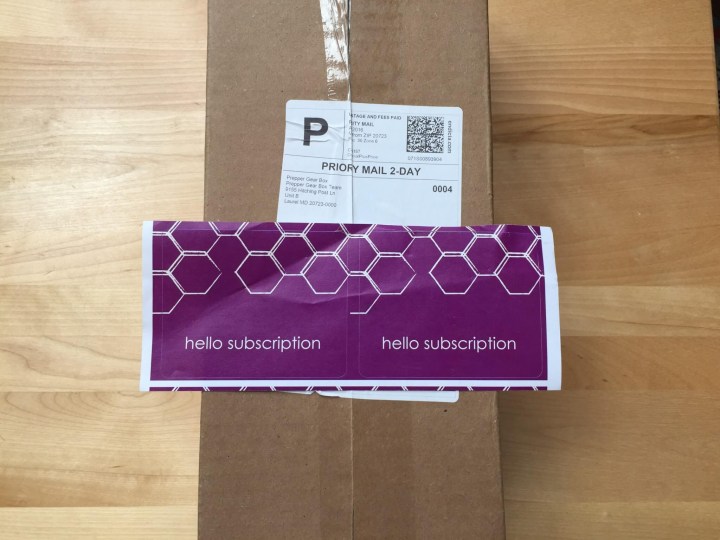 Prepper Gear Box is a subscription box that delivers, on average, 2-3 items of practical survival gear plus an information card to help you learn and practice new survival-related skills each month. Prepper Gear Box wants its subscribers to be prepared for any situation or emergency that may arise. As such, it's an ideal subscription for outdoor enthusiasts, hunters, hikers, campers, backpackers and survivalists. As a company, they try not to waste money on fancy packaging so that your money goes as far as it can into what matters most: gear and information.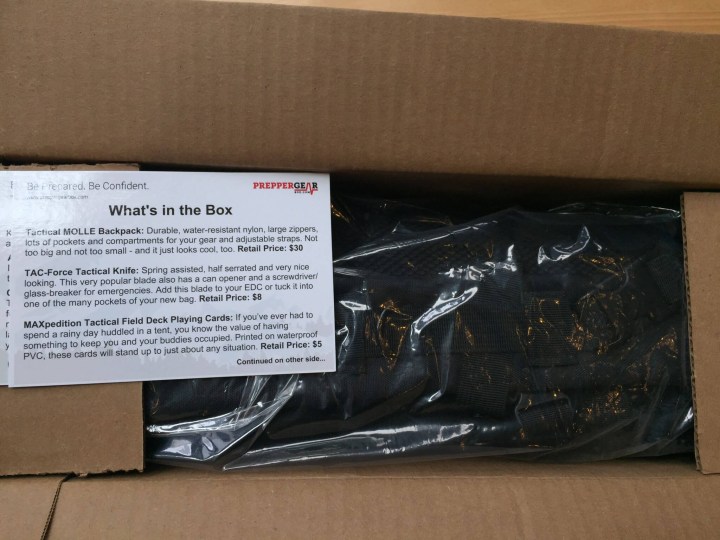 Last month we received one really cool but small piece of gear. Prepper Gear Box promised a bigger box this month. They weren't kidding!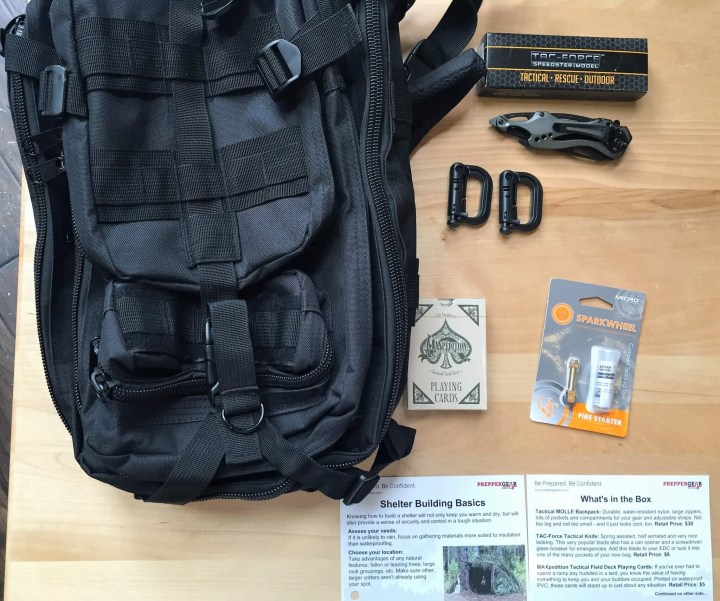 This month's box contained a backpack, knife, playing cards, D-ring clips, a firestarter and information on how to build a shelter.
I love how the curators include notes as to the importance of each item in the box and why the item was included in this month's shipment.
The Tactical MOLLE Backpack ($30) is the perfect size for a day pack–not too big, but not too small either. Well-padded for comfort, it contains lots of storage room for gear and looks very ruggedly masculine. This pack does not show up on the MOLLE website.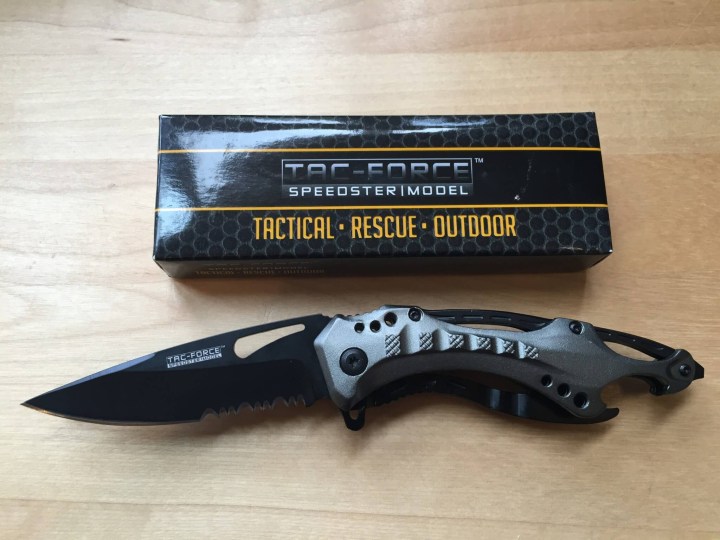 Tac-Force's Speedster Model Knife ($8) has a spring assisted, partially serrated blade. It also has a built-in can or bottle opener and screwdriver/glass breaker to provide assistance in a pinch. As such, it's an ideal item to put in your (new and included!) everyday carry pack.
I was especially excited about this month's Maxpedition Hard-Use Gear Playing Cards ($4.99). I never knew such durable playing cards existed. How cool! I met my husband playing cards, and we're currently trying to get our son hooked too. These are definitely going with us on our camping trip this weekend!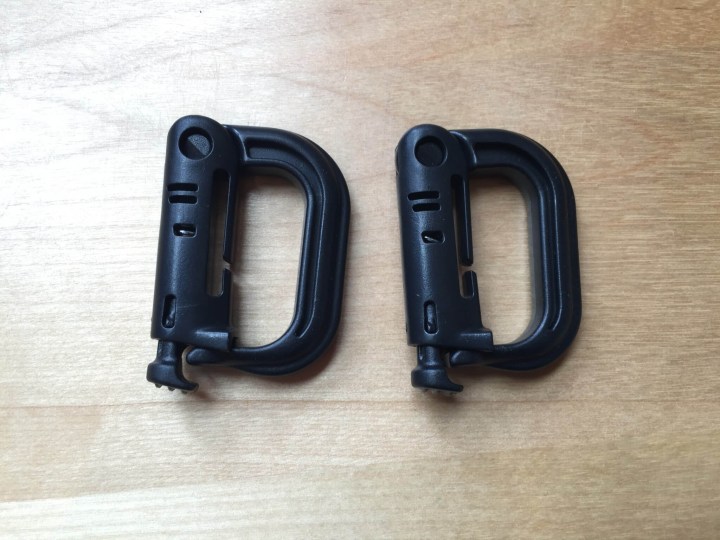 These Grimloc-style D-ring clips ($3) can be used in conjunction with the MOLLE pack. Similar clips are available on Amazon for double the price.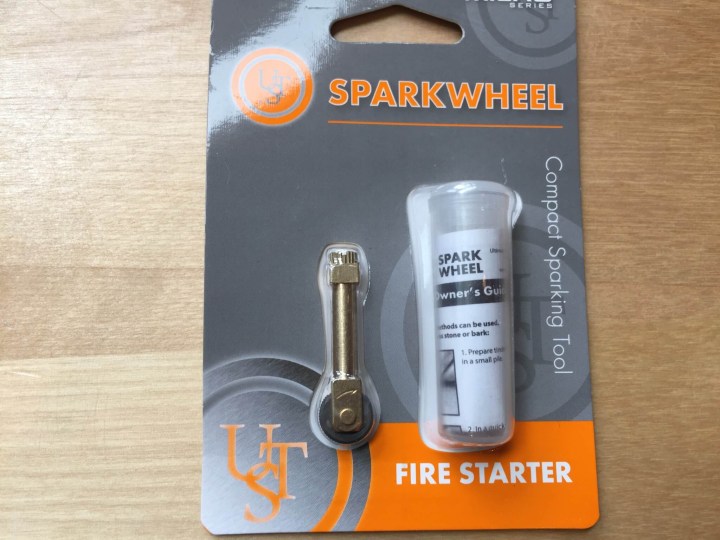 UST's Sparkwheel Firestarter ($3, but $3.99 on Amazon) can be used as a backup one handed fire starter, freeing up your other hand to help block the wind.
I enjoyed this month's included suggestions for shelter building. While I hope I will never need to use this information, it's good to have nonetheless (just don't tell my animal tracking buddies I said this! All they ever talk about is the time they spent on their five-day survival intensive and how awesome they thought the experience was).
This month's Prepper Gear Box included loads of helpful tips and a lots of cool gear at a value roughly double the box. I can't wait to see what they have in store next month!
Visit Prepper Gear Box to subscribe or find out more! Save 10% on your first box with coupon code CRATE10
The Subscription
:
Prepper Gear Box
The Description
: A new monthly subscription box service for those who like survival gear and
education.Every
Prepper Gear Box contains 2-3 (or one very cool) carefully selected, high quality survival gear and preparedness items. Plus each box will have helpful tips, instructions and challenges to grow your survival skills and confidence in any situation.
The Price
: $25.00 per month