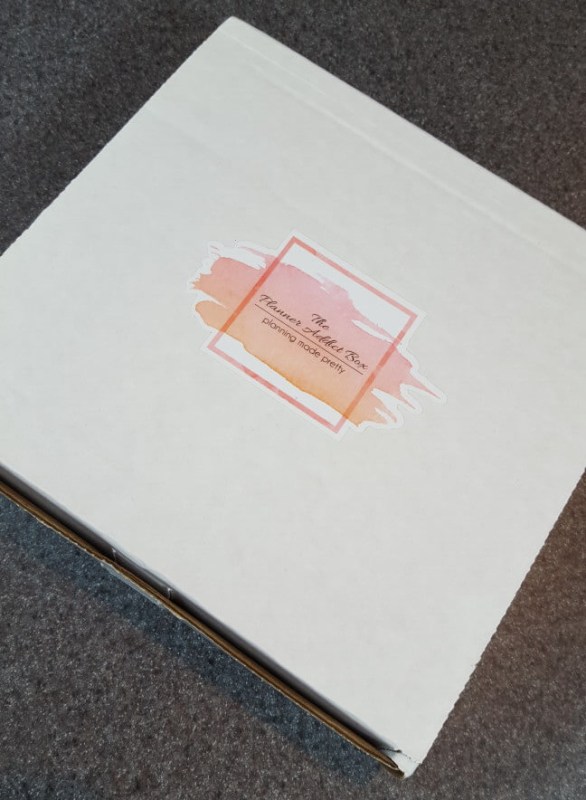 The Planner Addict Box is a monthly subscription box for planner nerds. The box is filled with planner products you can use for any type of planner. You can expect products from well-known designers such as Heidi Swapp, American Crafts, Amy Tangerine, and some Planner Addict Box exclusives. If you don't already know, decorating your planner is a "thing." It's sort of a cross between journaling, scrapbooking, and of course, keeping your schedule.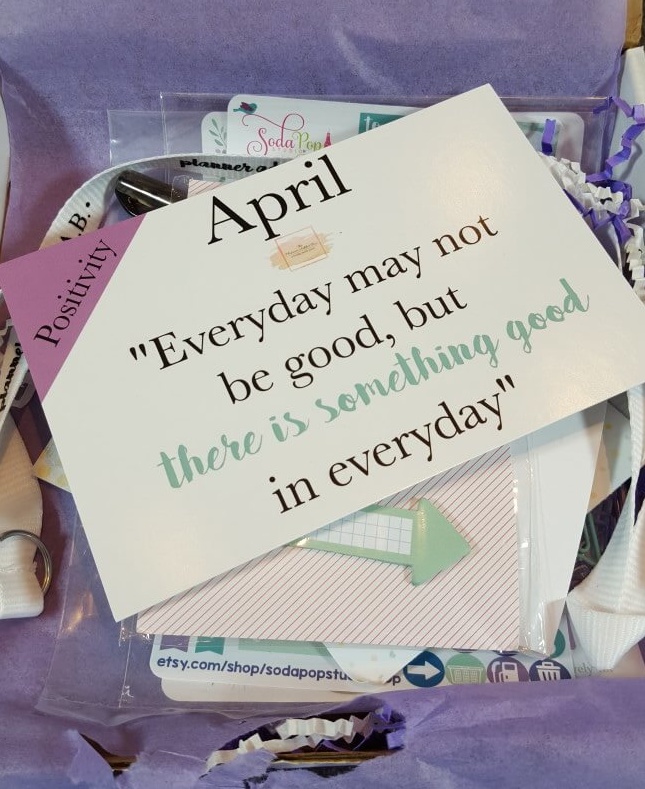 Pretty sure I've said this before but I love how they use a different color tissue paper and squiggles each month. They color coordinate them to the theme of the month.  This is such a fun and detailed little touch to the curation of the box.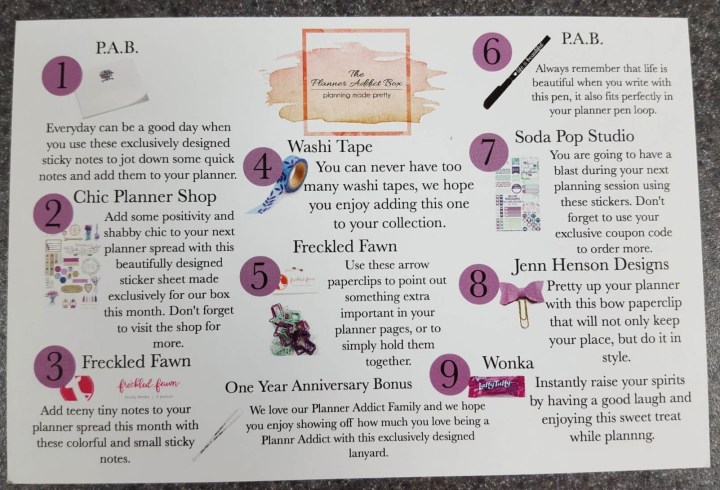 The information card has a collage of all the items in the box. The items themselves are very journal-ish or "memory planner." The information card will help you figure out how to use them in your planner, instead of just regular papercrafting – although scrapbookers and other paper crafters will enjoy this box too.  I love decorating my planner but I'm also a scrapbooker and I've been using my monthly goodies in both of my crafting worlds.
Everything included in this month's box.
Chic Planner Shop stickers (These are exclusive to Planner Addict but similar ones go for about $4.50) Purple is my favorite color so I'm loving the stickers this month.  This sheet is very springy and will add nicely to April showers pages and layouts.
Soda Pop Studios stickers (This is also exclusive to Planner Addict but similar ones go for $4.50) These are really nice an basic everyday use stickers. I really like when the stickers have some quotes on them and since I work my daydream everyday this month's quote is perfect for me.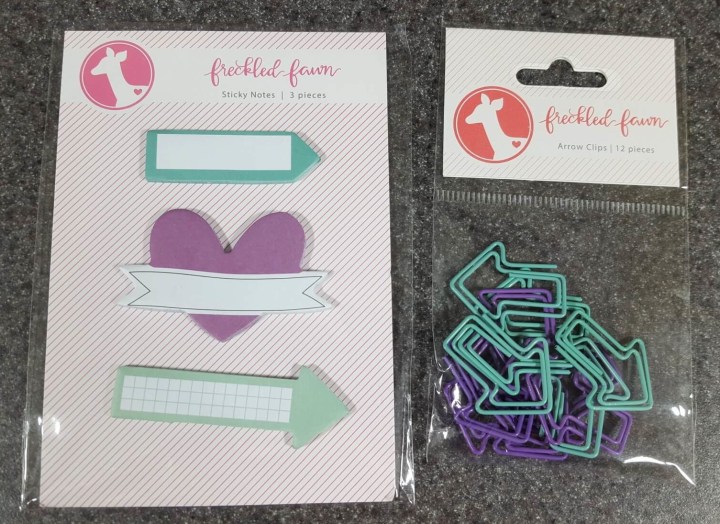 Freckled Fawn Sticky Notes (I can't find this one but others are $2.50) I love sticky notes. I'm forever adding these to my planner and to notes I send out and well pretty much everything.  The colors on these coordinate really well with the stickers so they will all go great on some pages.
Freckled Fawn Paper Clips (I can't find this color combo but others are $2.99) These are so fun. I use paperclips a ton for all sorts of things so I'm always in need and I love getting fun and funky ones.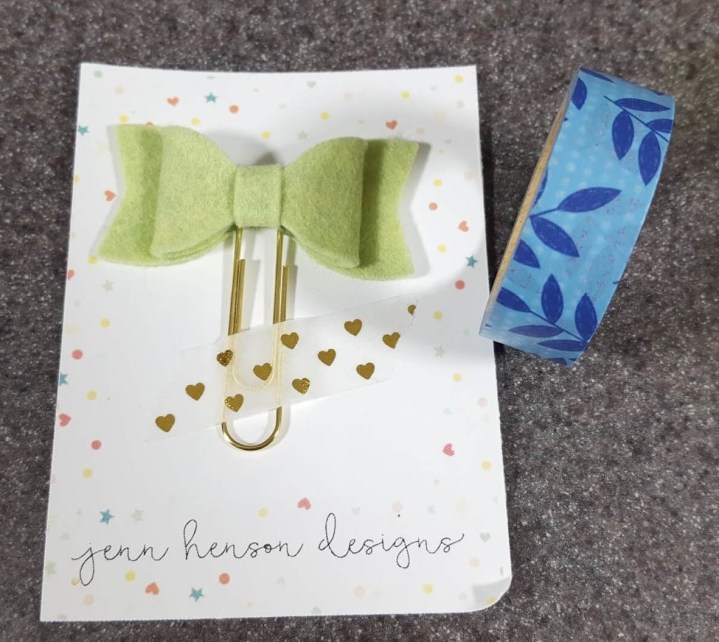 Light Green Felt Bow y Jenn Henson Designs ($3.00)- This is so pretty.   I'm planning on using this as a bookmark since I've been doing so much reading lately. This will slip easily over the pages and mark my place.
Blue Leaf Washi:  I know I've said before that you can never have too much washi and if you read the info sheet The Planner Addict Box has the same opinion.  This one is really pretty and I don't have any like it so I will quickly add it to my stash.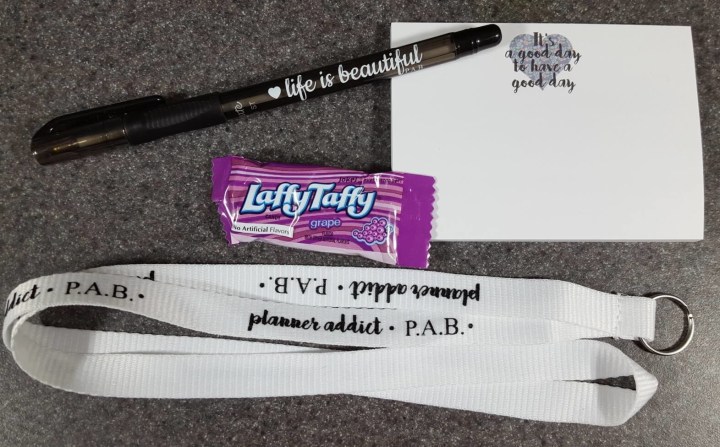 Planner Addict Box Pen: The box sends a pen every month which I think is great since we are decorating our planners. They have some great sayings on them and this month is no exception.
Planner Addict Box Sticky Notes: Eeehhh so exciting more sticky notes.  These are larger the the other ones and have lots of writing space for notes and thoughts as the day goes on.
Laffy Taffy: My monthly treat. I actually love Laffy Taffy and already stashed this with my stuff for my scrapbooking weekend.  A great little pick me up when I'm starting to get sleepy.
Planner Addict Box Lanyard: This is a bonus this month to celebrate Planner Addict Boxes One year Anniversary.
Another month that I'm loving this box.  The stickers are great for my planner or to add it pocket page scrapbooking or even on my regular pages. This month also had lots of sticky notes which are some of my gotos in everyday work so that makes me smile.
Visit Planner Addict Box to subscribe or find out more.
The Subscription
:
The Planner Addict Box
The Description
:Get the fun of "planning made pretty and get handpicked planning supplies sent straight to your door every month for you to enjoy! You can expect products from well-known designers such as Heidi Swapp, American Crafts, Amy Tangerine, and some Planner Addict Box exclusives.
The Price
: $15 per month + 3.75 shipping